Hi, and welcome to the '1st of the month' update to AidanBooth.com for September 2015!
If this is your first time here, thanks for visiting! Before you do anything else, make sure you click the button below to get my Passive Income Cheatsheet:

The cheatsheet reveals my 4 PROVEN passive income strategies, and how you can get started with each one.
Now, on to what this blog post today is all about…
Case Study: 1,000 Fans in 5 Days
Today I'm giving you a complete "over the shoulder" case study revealing how I built a 1,000-strong fan base in under 5 days using Facebook (in a niche I know NOTHING about).
On top of this, as a bonus, I've also created a PDF guide that details 3 simple ways to leverage your new audience to build a lucrative income stream. You can click here to get the PDF.
Remember… this experiment took LESS than 5 days, and it's something you could EASILY replicate.
This Is 100% FREE… (But Worth THOUSANDS)!
Just like everything I release on AidanBooth.com, the information I'm giving you today is 100% free.
Be careful though…
That doesn't mean it's not incredibly valuable… in fact, I know people who would sell what I'm giving you today for hundreds (if not thousands) of dollars.
I urge you to watch all 4 of the case study videos shown below, to download the monetization guide, and then take action!
The 3 monetization plans are simple, yet incredibly effective.
Day 0: Let's Get Started
This video explains:
The challenge I've set myself
The chosen niche (which I know NOTHING about)
How to build and optimize a Facebook page in 2 minutes
How to find great content to share with your audience
How to build a a rock-solid foundation of content
How to create a set of highly effective Facebook ads
What countries to run ads to
How to choose the right audience to advertise to (and the 7 audiences I'm targeting)
Where to get images for your ads
How to set up split tests for your ads
My campaign budget (and what I recommend you to do)
Check out the video below:
24 Hours: Update #1
This video updates you on progress after 12 hours and also after 24 hours. You'll see:
The cost I'm paying for each fan (Like)
The most expensive interest I'm targeting
The cheapest interest I'm targeting
How to look different results for each ad variation
How the cost per like dropped by 15% in 10 hours
How to duplicate ads for greater exposure and faster results
The winning ads so far
Check it all out below:
72 Hours: Update #2
After 3 days, we're now at 661 Likes
How the 'Nikon' audience cost dropped by 84.6% since the campaign began
Turning off the most expensive ads
An update on the duplicate ads set up in Update #1
Here's the video:
4 Days & 2 Hours: Final Update
After 4 days and 2 hours, we're now at 1,061 Likes!
This video shares:
The exact amount I spent to generate my audience
The trend line showing cost optimization each day
How the most EXPENSIVE interest on Day 1 ended up being the cheapest (and exactly what I paid)
Males vs Females… which gender is more expensive? See the actual data!
Price per country… which country is the cheapest and which is the most expensive?
The ad placement data… where Facebook displayed the ads, and how each location performed.
How I got 6.1% of my fans without paying a dime…
Facebook Page Insights, and an up-close look at the audience I built
What percentage of my audience are women vs men
Where is my audience located (this might surprise you!)
Post engagement statistics
Check it all out in this video:
Before you go, make sure you access the bonus material below…
Download The Monetization Guide!
Congratulations, you now know how to build a hyper-targeted audience in just a few days.
It all means nothing if you don't know how to monetize it though!
Click the button below to get instant free access the detailed monetization plan: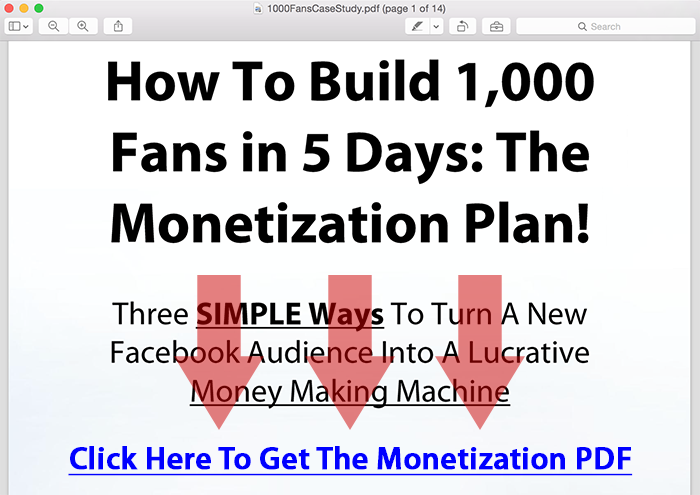 The PDF covers 3 SIMPLE ways to turn a new Facebook audience into a lucrative money making machine.
IMPORTANT: There is NOTHING to buy. Just click the button above, add your email, and I'll send you the PDF immediately 🙂
What Do You Think?
I'd LOVE to hear your feedback! Leave a comment below, and if you've got any question, let me know. All comments get published, and I read them all!
Thanks for reading,
Until next time!
Aidan
P.S. If we're not already connected on Facebook, head over to my Facebook page and click the 'Like' button.