Imagine being able to grow your eCommerce business WITHOUT being hand-braked by investment capital, without complexities of Facebook ads, without customer services, and without building a brand or developing a new product.
That is EXACTLY what we're planning on doing in 2018, here's our $1,000,000 plan…
Holy crap, it's 2018!
Happy New Year, I wish you and your families all the best for 2018! ☺
I find it a little hard to believe, 2018 already? Where did 2017 go?
I do love when a New Year rolls around, it's an easy time to set new goals, plan new initiatives, and start with a clean slate. You can let yourself off the hook for the things you didn't achieve the previous year, and have another crack at it this year.
Today I'm going to share a secret plan that Steve and I have been working on for the past 14 months, and how it'll net us an extra $1,000,000 this year.
Before we dive in to that though, if you haven't been participating in our '12 Day Giveaway', it's not too late! We're only 8 days in, and STILL have over $30,000 in prizes to give away…
Find out all the details here: http://www.the12daygiveaway.com
Live Training on FRIDAY
This blog post talks through our new big initiative for 2018 and gives the 10,000ft view.
In a live webinar on Friday (this week), we'll dive into everything discussed below in more detail.
We're not selling anything on the webinar, it'll be 'information only', and during the workshop we'll also announce the BIG winner of our 12 Day Giveaway celebration, a $30,000 private luxury yacht cruise.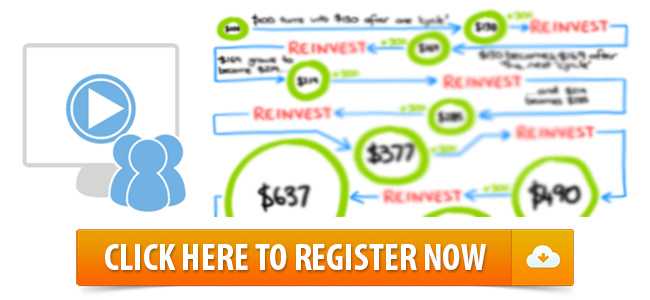 An EXTRA $1,000,000… What's The Big Idea?!
In November 2016 (14 months ago) Steve and I started running 'pilot tests' for a new way of selling physical products online… well, not THAT new to us, but at least a significant new channel of income.
In the past 14 months we've done a LOT of testing, and we've 'tooled up' our business to be able to explode with this in 2018.
In a nutshell, the idea is simple:
Buy products from USA based wholesalers
List them for sale on Amazon
Sell at profit margin of 30% or more
Rotate inventory every 15 days
Just to be clear:
This is NOT white label/private label Amazon selling (where you develop your own product)
This is NOT dropshipping from China (aka 100k Factory)
This is buying tiny quantities of random products, and publishing them for sale on Amazon WITHOUT any form of brand building, without any paid advertising, without any customer support, and without even needing a website (because it's all sold on Amazon).
In fact, the products we're talking about are ALREADY being sold on Amazon, that's an important thing actually, because it means we can analyze the sales volume and determine what our revenue could be… more on this shortly.
We've had a unique inside look at this business model for quite a while now.
As you may know, we own a warehouse in North Carolina (www.yourwarehouse.com), our partner in that venture (John) sells these kinds of products BY THE CONTAINER LOAD on Amazon, it's HUGE business.
Another couple of our friends have also been doing something similar for a while now, like our partner John, Chris and Todd sell millions on Amazon every year leveraging the exact same method we're talking about today.
So… it's not like we're inventing anything radically new here, or going into unchartered territory, we're just focusing on leveraging a system that is already proven to work.
The Amazon Land-Grab Is Here…. AGAIN!
In the past 14 months it's become VERY apparent that there's an entirely new 'land grab' happening on Amazon.
We saw a similar phenomenon back in 2012-2013 when there was an enormous influx of 'white label' sellers to Amazon, people selling their own brands. It was easy, and thousands of new millionaires emerged.
During the .com boom the same thing happened with domain names, people were snapping up amazing one-word domain names, and many of these people became MEGA-rich in the process.
A land-grab also happened when Facebook started allowing people to advertise and laser target their buyers, the first-movers cashed in enormously, and millionaires were made.
The exact same thing is happening now.
But this time, unlike the last Amazon land grab of 2012-2013, it's not about developing and selling a new brand, it's about piggybacking on EXISTING brands and leveraging the thousands of USA based distributors and wholesalers who are screaming out for a way to market their products.
It's Synergistic
For the past few years our main focus has been on building up our 100k Factory style stores (using Facebook ads to drive traffic to Shopify websites and drop-shipping products from China) and our white label Amazon brands.
Both of these businesses continue to flourish, and both will benefit from our new venture.
There are lots of synergies at play here, including:
We already have Amazon accounts (in the USA, UK, etc)
We already have warehouse/logistic facilities (we own www.yourwarehouse.com)
We already have a team of staff, and the know-how to grow that team
We understand the power of eCommerce and that it's here to stay…
In addition to this, the new model offers:
The ability to cash-in WITHOUT running Facebook ads (so it's diversified income)
We can get started WITHOUT investing much capital into inventory (unlike Amazon private label, the investment required here is under $100)
It's a cash-friendly business, meaning when times are lean in the other businesses, this one can prop it up.
We Actually Started Doing This In 2010…
If you've been following Steve since 2010 (before he and I were partners), you'll know that he hit it big selling pitching machines (excuse the pun, I couldn't help myself!).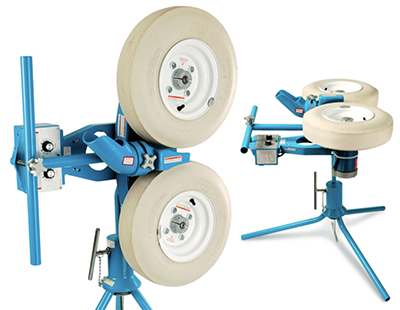 What you might not know however, is that in addition to selling pitching machines on his own website, he ALSO sold them on Amazon!
He didn't develop his own pitching machine, nor did it have his brand on it, he simply set it up to sell on Amazon, leveraging the manufacturers existing Amazon listing and made a decent chunk of change as a result.
Back then Steve was using 'FBM', which stands for 'Fulfilled By Merchant'. Basically this meant that every time he got an order, the manufacturer (or wholesaler) would send it out to the customer.
Amazon FBA (fulfilled by Amazon) was in it's infancy, in fact, 8 years ago Amazon was quite a different beast altogether.
What we're doing now is selling products (like pitching machines, but normally much smaller, much lighter, and much cheaper) on Amazon, but we're leveraging FBA… it's one less thing to worry about, and in 2018 Amazon makes it EASY to leverage FBA.
Although Steve was selling pitching machines on Amazon and doing well from it, the focus way back in 2010, and where he was doing even better, was selling pitching machines on his own website, and driving traffic using Google SEO, and Google Adwords (Facebook ads didn't even exist until 2012, and they were VERY different to what they are today).
Selling products on Amazon remained part of the business, but there was never any focus to expand it.
The $1,000,000 Plan…
Now that you've heard the back-story, it's time to get into the exciting stuff… how we'll earn an extra $1,000,000 from this new business model in 2018!
First, let's reverse engineer what $1,000,000 actually looks like (it's not really all that intimidating).
$1,000,000 is $83,333 per month.
If we assume an average revenue of $35 for each product we sell, that's 2,380 sales per month.
2,380 sales per month is 79 sales per day.
The products we've found are the easiest to cash in with, and where the real 'land grab' is happening right now, are products that are kind of off the radar, and ignored by other marketers.
Most sellers on Amazon look to sell products that are capable of making them $10k/month or more.
What we've found is working incredibly well is focusing on products that tick over slowly, making 1-2 sales per day.
So based on a $35 sell price, to get to a $1,000,000 per year run rate, we'd need to be selling 40 different products, and have each product selling 2 units/day.
Remember, you do NOT need to develop 40 products, you're selling products that already exist and that have other peoples brands on them.
Furthermore, you don't need to buy large amounts of inventory for the 40 different products either. You can get started with tiny inventory orders of even just a handful of units, send them in to Amazon, and let Amazon do the rest.
Where Can You Find The Products?
Good question.
The answer is through using distributors/wholesalers, who you can easily find by doing a Google search, or by browsing through trade association websites.
Distributors are great and buying bulk products at low prices from manufacturers, but they SUCK at selling these products to the mainstream market.
This is why distributors are screaming out to work with marketers, people like us.
One distributor we're working with has a catalog of over 40,000 products… that's 40,000 DIFFERENT products. We can cherry pick the ones we want to sell, and sell them.
Most suppliers have much smaller catalogs of between 500 – 4,000 products. To find 40 products that meet the criteria, you'd likely need to work with about 7-8 different wholesalers.
The BEST Part Of All This…
If you remotely like what you've heard so far, it gets EVEN better.
We aim to turn inventory around (i.e. sell out) ever 15 days. That means we have two 'stock cycles' per month.
And each time we sell out, we expect to get about 30% profit margin on the goods sold. This means that over the course of a year, you can cycle through your inventory 24 times, and increase your money 30% each time.
It's like compounding interest… earning growth become exponential.
You cash in on a 'snowball effect' that has no end…
Here's an example…
You invest $1,000 on day one.
15 days later you've sold all your inventory and you've got $1,300 back, for a profit of $300.
You reinvest that $1,300 and in 15 days time, you're now holding $1,690.
You reinvest that, and in 15 days time you've now got $2,197.
You reinvest that, and 15 days later you've got $2,856.
Reinvest that and you're at $3,712, then again and you're at $4,826, again and you're at $6,274, one more time and you're at $8,157…. I think you get the idea.
NOTE: You could start with much less than $1,000, this is just an example.
Here's a sketch I did, showing how this can quickly snowball, even if you start with just $100: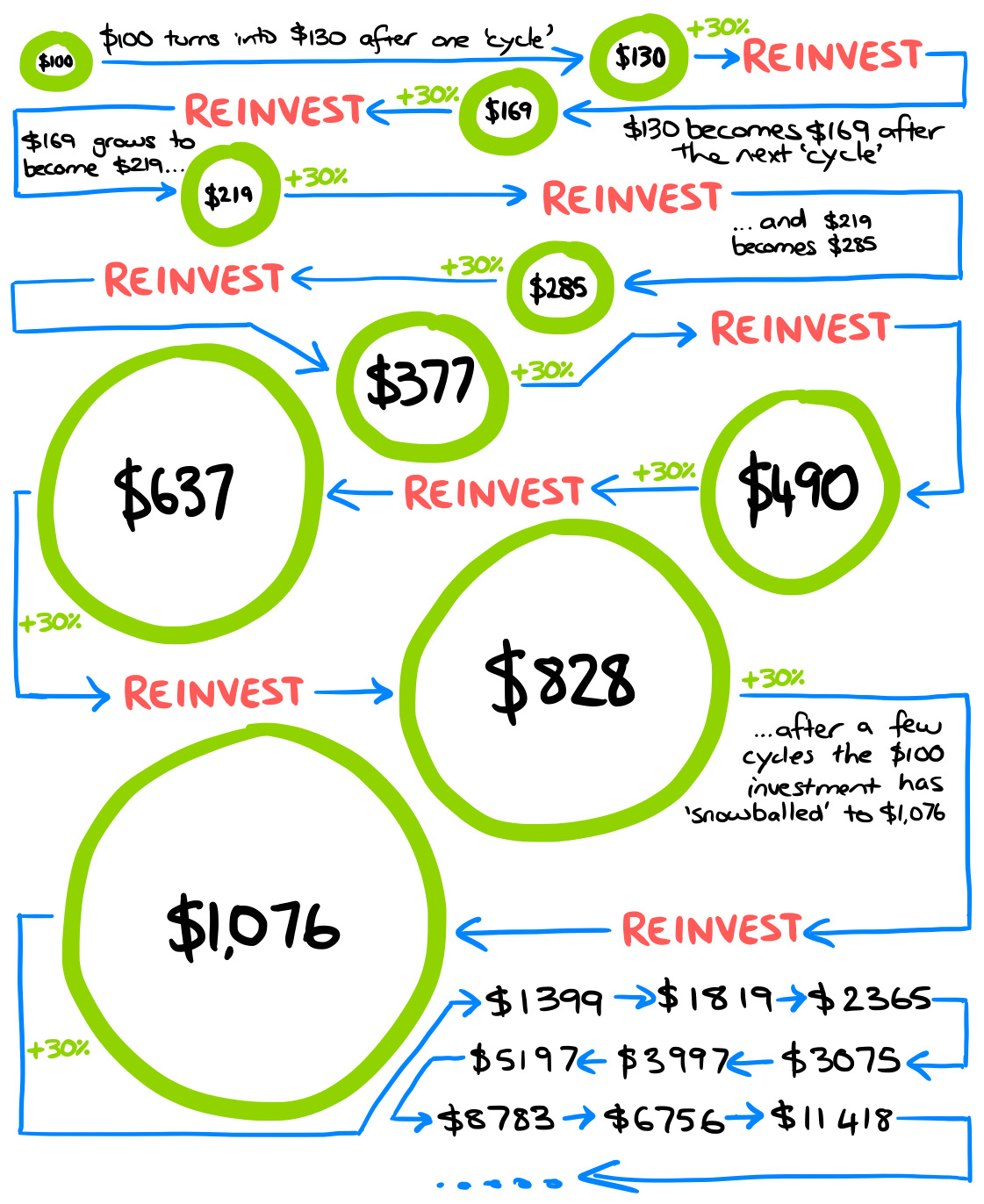 Now, clearly, just like in any business model, it's NOT always smooth sailing, and the reality is that you won't always sell out of all of your inventory every 15 days.
Perhaps during your research phase, you assumed a product would get 2 sales/day, and in reality it gets 1/day, it'll take you twice as long to sell it, so your cycle for that product would be 30 days (which is still amazing by anyone's standards!).
Or perhaps the market price will change, and instead of selling it for $35, you'll be selling for $28… this isn't the end of the world, because you've got built in margin as a protection, but it means you won't hit the 30% benchmark margin.
Of course, the opposite of these 'worst case scenarios' can also happen…
Perhaps you'll sell out in 10 days instead of 15… and your stock cycle becomes EVEN faster!
Or maybe you'll sell at a 40% margin instead of 30%, and your profits increase significantly…
These positives tend to balance out the risks and however you slice and dice it, we end up with a very attractive plan.
How Much Can You Scale…
We know people who are working this exact model and doing upwards of $25,000,000 PER MONTH in sales… even with a 20% margin, you're talking $5,000,000 PROFIT per month (and these are small businesses run by just a handful of people).
In fact, some searching through Amazon sellers, and you'll bump in to these kinds of people, you'll see they have hundreds (sometimes thousands) of products in their Amazon accounts…
Scaling potential is unlimited, and Amazon encourages it (because the more money you make, the more they make).
You're not hand-braked by the need for huge capital investment, or by the time it takes to develop products, or by complicated logistics, shipping times, customer support, etc.
All that stuff that has traditionally been a business hand-brake has been eliminated with this new model.
We've Already 'Tooled Up'
We've been tinkering away at this for 14 months, and already have two full time employees who dedicate themselves to this (and we've actually already built a lucrative business using this model, what we're talking about here is EXPANSION… netting an ADDITIONAL $1MM!).
One deals with the wholesalers, the other identifies the products we want to sell (after the wholesaler has given us their product list, this person analyzes it and finds the winners).
We've also got a plan in place to bring on more outsourced labor as is needed, this won't be a roadblock.
I'm sure you've got questions…
This blog post was only designed to be an 'intro' to what our big initiative is in 2018.
Leave your questions below, and we'll do our best to answer them all ☺
Join Us LIVE On Friday 5th…
In addition to answering your questions below, we're running an informational workshop on FRIDAY (this week) to dive into this business model in more detail. We're not selling anything at all on the webinar, it's just to provide you with more information, and answer your questions live, register for that using the link below: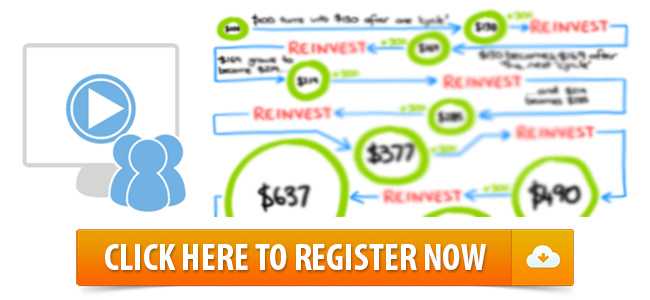 Thanks for reading, and again, all the best for 2018!
Aidan