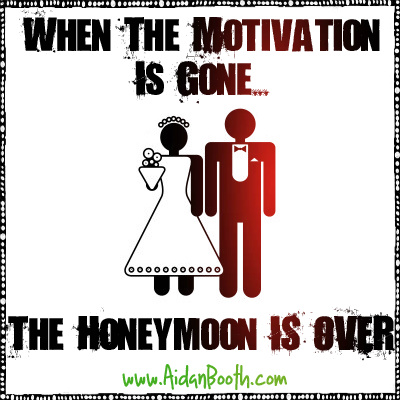 Virtually every project you'll start online will have what I call a "Honeymoon Period".
It's the time (normally 2-3 months) when you're extremely excited about a new project. Normally you'll be extremely focused and driven in the Honeymoon Period and you'll take big strides towards achieving your goal.
But time and time again, projects die. Motivation fades.
This can happen for lots of reasons…
Some people give up when they don't get the instant gratification and "breakthrough" results they're looking for.
Other times life just gets in the way.
Regardless of what kills your motivation, the result is always the same. You end up moving further away from your goal, and in many cases back to square one.
It used to happen to me…a lot. And I know it's happens to countless other marketers as well.
The biggest shame though, is that quite often people lose drive and motivation right before they're about to start seeing results.
Let me give you an example…
Let's assume you've started a new website packed with information about gardening, and you're monetizing it with affiliate marketing.
Your goal initially is to get enough traffic to be able to drive 1 sale each day, and you're counting on getting top rankings in Google to do it.
So you get started. You dive into SEO and you're strictly following a link building plan.
You start building links, and all of a sudden you've got what's called "Positive Link Growth"…it'll look something like this:
Google likes seeing positive link growth, and little by little starts rewarding you with rankings…

First your site gets indexed in the Google search engine, then you start getting rankings for a couple of obscure keywords.
You keep battling away, building links.
You're now 10 weeks into your project and still haven't made a sale.
You start doubting yourself and questioning whether you've made a mistake…
Perhaps the niche was wrong?
Or perhaps your link building was too aggressive and Google has penalized your site…?
You decide to focus your attention elsewhere for a while, perhaps your site just needs some time to "age" and you plan on returning to it at a later date…
In the meantime, perhaps you'll explore some other opportunity that's been bugging you for a while…in any case, you stop building links for a couple of months.
All of a sudden, your link growth changes…you've now got a negative pattern like this (it's called "Negative Link Growth"):
Google realizes you're no longer working on your site, so you start to lose the rankings you initially had…after all, with so many websites to choose from, why would Google want a stagnant site at the top of it's rankings?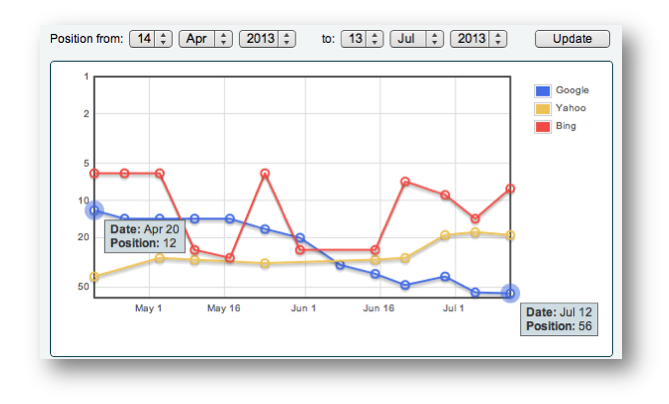 Things are going backwards and success looks further away than ever before.
You discard your project and continue hunting for the one thing that'll give you a breakthrough…perhaps you're already in a new Honeymoon Period with something new…
++++
Regardless of what kind of project you're pursuing online, you WILL experience ups and downs and you WILL go through the Honeymoon Period.
In order to succeed, you need to stay focused.
More often than not, LESS is MORE.
Work on fewer sites, but make them top notch.
Work on fewer Kindle eBooks, but make each one the best in its category.
Create fewer eCommerce stores, but give them the attention they deserve.
More About Link Growth
In the past, Google didn't put much importance on Link Growth (also known as Link Velocity) when ranking websites. In the last 6 months however, it's become one of the most important SEO factors.
When looking at my own websites performances, I've seen rankings slowly decline on websites that have negative link growth patterns.
Negative link growth is usually the result of links disappearing. Sometimes the pages they're on might get taken down (for example a Squidoo lens), or perhaps the domains they're on might simply expire.
Websites with stagnant link profiles (when a website isn't getting any new links, but also isn't losing existing links) can also slowly lose their rankings.
MajesticSEO.com and AHRefs.com both allow you to quickly and easily check your link growth. The video below shows you how you can do this:
It's very important that you keep some good links trickling into your sites.
It's not hard to do, it only takes a couple of minutes per day, and it'll make your website perform over a long period of time. Not only that, but you'll also end up being in the fortunate position of having rankings for 1000's of keywords.
In two weeks time (on my "1st of the month" update on AidanBooth.com) I'll share the EXACT strategy I use to ensure my websites perform well over a long period of time and rank for 1000's of keywords.
I've never shared this strategy before, so I look forward to getting it to you!
Thanks for visiting,
Aidan