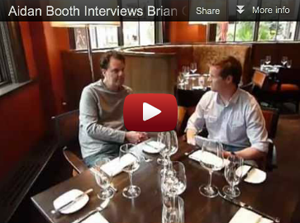 Welcome to my end-of-August Internet Marketing Update!
On the 1st of every month I add a new post to AidanBooth.com – sometimes about changes to the internet marketing landscape, and other times just to share useful information and ideas.
Today I'm taking a look at what makes internet marketers successful online, and specifically what you can do to give yourself the best possible chance to succeed online in the long-term.
As part of today's content, I interviewed friend, and fellow internet marketer, Brian G. Johnson, asking him about how he's had success online for such a long period of time and the things that have been important to him.
Here's the interview video (the video quality isn't great unfortunately!):
Brian gives some great tips in the video.
Something that definitely resonates with me is the need to identify a mentor, someone who's already achieved what you want to achieve, and to then emulate exactly what they've done.
There's a lot of junk on the internet these days so it's important that you listen to people who've actually been there and done it, and ignore the "cowboys".
4 Common Reasons People FAIL…
Before I give you 5 big "takeaways" from today's post, here are  some of the reason I see people FAILING online over and over again:
People don't persevere long enough to see results. An example, giving up on a project because you don't have top rankings in Google after just 2 months of link building.
People don't stick to the blueprints. An example of this is when people modify the method they're using BEFORE they've had success. Modify the blueprint and make it your own AFTER you've already seen some success.
Procrastination. Sitting around won't get you to your goals…you'll need to actually do the work!
Jumping from one idea to the next. There are lots of different ways to have success online, but you need to find one method and stick to it. Avoid the hype and stay focused.
Are you guilty of any of these?
What Can You Take Away From All This?
To make things easier for you, I've taken what Brian has said in the video, and combined it with the most important factors in my success.
Here are 5 fundamental rules to follow to boost your online success:
Find a mentor you trust who's ALREADY achieved what you want to achieve and follow him/her. Ignore the rest.
REPLICATE a system that's proven to work and don't change any part of the system, copy it perfectly.
Understand that online success won't happen overnight. You'll need to be PERSISTENT in your effort.
Set realistic GOALS and back them up with firm DEADLINES.
BELIEVE in yourself and believe in the system.
Have you already had a taste of success online?
If so, what was the key to that success?
Leave a comment below to share your experience with others…