Welcome to my "1st of the month" update for October (coming to you one day early!!!).
If you've been following the monthly updates here for some time now, you may have noticed that there wasn't one on the 1st of September (last month)…
SORRY!
That was the first time I'd EVER missed a monthly update (since April 2012 when I started making them), and hopefully it's the last one I'll miss!
Things got EXTREMELY hectic for me at the end of August, in fact…
Three 'Unusual' Things Happened…
I merged my business with Steve Clayton and Tim Godfrey (two guys I've followed ever since I started out online)
I had to travel to the USA unexpectedly for 10 days
I also had the launch of my newest training program, "The Trinity Code", which launched on September 4th…
Bottom line, a few things came up and I wasn't prepared enough to get a good quality update out.
Lesson: I should have managed my time better and had a backup plan in place!
For this months update, I asked people who follow my Facebook page to vote on what they wanted to hear about (if you're not getting my Facebook updates, go to this page and click the "LIKE" button).
Here are the results (as published on Facebook.com/AidanBoothOnline):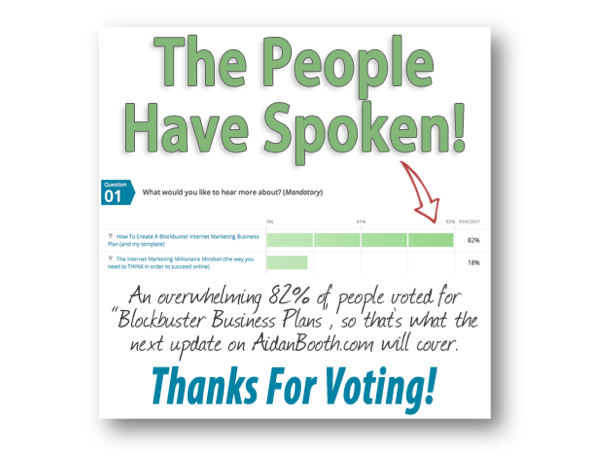 It's a little hard to see on the image above, but 82% of people voted for a blog post about how to create a solid business plan!
So this month, we'll be looking at business plans, and how you can more effectively plan your business to get BETTER results (and earn more money!).
Lets get started!
——— ——— ———
Methodical Planning = Better Results
Without doubt, the moment I started methodically planning my business and setting monthly task orientated objectives, my results improved.
Creating a simple business plan (consisting of a Project Overview and Financial Forecast) is EASY. It'll take you less than an hour to do, but will pay itself of 100x over!
The video below shares an example plan, and explains how you can gradually grow your business to a $100k/year level with just 6 months of dedication (even if you only hit half of the projected income, you'd probably still be pretty happy!).
I also show you how to take costs into account, and why these are an essential part of the planning process (also why they're nothing to worry about!).
Check out the video, and then leave a comment below (all comments will be approved!):
If you have any issues watching this video, you can also see it on my YouTube channel here: http://www.youtube.com/watch?v=ur3SolM3XJI
Downloads:
Business Planning Spreadsheet
If you've found this post useful, or have a question, let me know using the comment box below!