Hi, and welcome to the 24th monthly update to AidanBooth.com!
If this is your first time here, WELCOME!
Since the 1st of April 2012, I've been adding a new blog post to AidanBooth.com on the 1st of every month, the idea is to share internet marketing insights along with interesting and useful experiences I've had online over the past 8-9 years.
I don't "pitch" anything on AidanBooth.com, it's all about the content, so read on, and let me know what you think by leaving a comment at the end.
LITTLE REQUEST: Make sure you let me know what you think about my idea for the NEXT blog post (details at the bottom of this page)…now's your chance to have your say!
Disclaimer: There are no 'April Fools' pranks in this post 🙂
——————– ——————– ——————–

Before we get into the today's case study, I thought you might be interested to hear an update from my personal life…
Today, April 1st, my wife and I are packing up our bags and moving to Paris!
In fact, we leave today at about 5pm! First stop is Milan, we'll have a few days there, then continue on to Paris.
We've lived together in Buenos Aires (my wife is from Buenos Aires) for 7 years, and we've been here without moving away for 2 years now. We're getting itchy feet…so as of today, Paris will be our new home.
The idea is to live in Paris for 5-6 months, then head south (when winter starts) to somewhere else for a few months…maybe to Barcelona or somewhere else in Spain, or perhaps to Italy.
This is what internet marketing ALL about for me.
As it says in my header image on this website:

Lifestyle, financial freedom and flexibility.
That's what matters.
Being able to CHOOSE what you do, and when you do it. Making up your OWN rules and doing whatever it is that you enjoy.
Life's too short for anything else.
And thanks to internet marketing, lifestyle goals, financial goals and flexibility can become a reality VERY quickly when you follow the right system.
If you're chasing your online dream and aren't there yet, KEEP chasing it. You WILL get there as long as you never give up.
It took me 2 years of trial and error, frustration and failure, before I finally started earning decent money online, and from that point on, the snowball effect took over and things started getting MUCH easier.

Today's post is about outsourcing, and specifically, a case study about how I outsourced this:

Before we dive into the juicy details, I'd like to THANK everyone who follows my Facebook page…and who "voted" for this case study to be written (and if you don't follow my Facebook page, but DO open my emails, I'd like to thank you too!).
You guys ROCK, and I truly appreciate your support!
Here's what I posted on Facebook: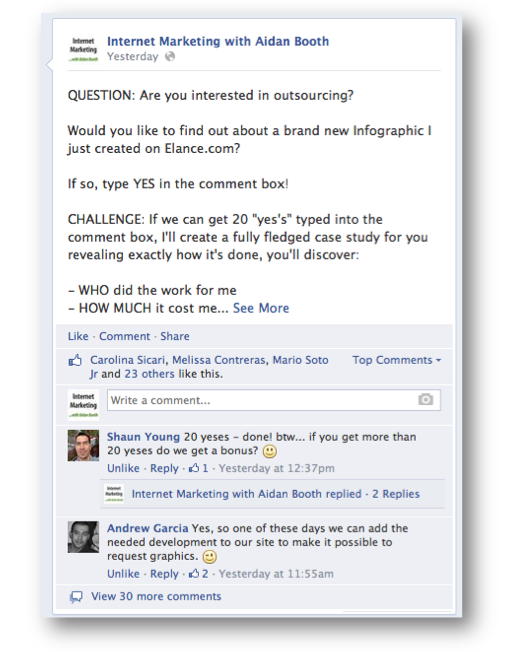 If you're not connected with me on Facebook, go to my Facebook page and click the LIKE button right now (this link opens in a new window):
http://www.facebook.com/aidanboothonline
I've been sharing some interesting Kindle results on my Facebook page, and also openly sharing my Kindle income on a month-by-month basis… if for nothing else, I think that's a good reason to connect with me on Facebook (I also run occasional prize draws and giveaways for my Facebook followers) 🙂
Here's my latest Facebook update which shares more about what we're doing with Kindle, and our latest Sales Update: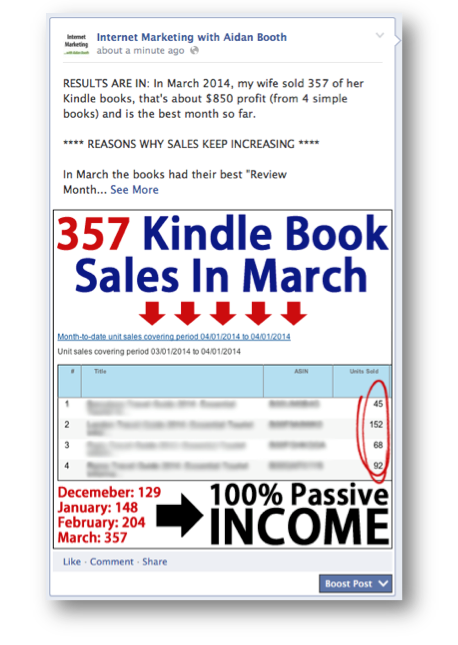 Now, lets get into the good stuff…
You're about to learn:
How and where I outsourced the job (step-by-step screenshots from start to finish)
The job description I used (including the KEY things you absolutely MUST include)
How much I paid (and why I ended up paying more than I agreed on)
Who did the work for me (so you can use the same person if you want to)
How long it took from start to finish (and why it should NEVER take this long)
The lessons learned (I learn something EVERY time I outsource a job like this!)
And MUCH more…
Let's begin!

For a while now I've had the idea to create an Info-Graphic that demonstrates the simplicity, and shear power of the Affiliate marketing system I've been using for the last 7 years…
The tactics I've used in the system have changed quite a bit over the years, but the core components remain the same… and it's those components that I want to get across in this new Info-Graphic.

I know how to use the bare basics of Photoshop.
I can crop images, add text, rearrange layers, and resize. But that's about it…that's where "Aidan's design magic" ends.
I'm actually really bad at design, so when I need something done, I just outsource it.
I save time, and I earn more money, since I can spend my time doing stuff that adds to my bottom line INSTEAD of getting bogged down with a simple "outsourcable job".

Since I had a reasonably good idea of what I wanted to portray in my Info-Graphic, I sat down and sketched it out on a piece of paper.
Here's what I ended up with:
 As you can see… it's a pretty crude sketch, and I'm definitely not much of an artist!
But it gets the point across.
It shows the three parts of the system "in a nutshell".
1. Traffic (100 visitors/day)
2. Conversion Machine (your website)
3. Profits (the moolah)
To make this whole outsourcing process as simple as possible, I took a photo of the sketch (using my phone), and decided I'd use that to explain my job when I posted it on Elance.
Before I posted the Elance job description, I sat down and tried to clarify more exactly what I needed the design to include. This time, I added some text to the sketch using Photoshop (you could just as easily use Paint.net or any other basic image editor). Here's what I ended up with: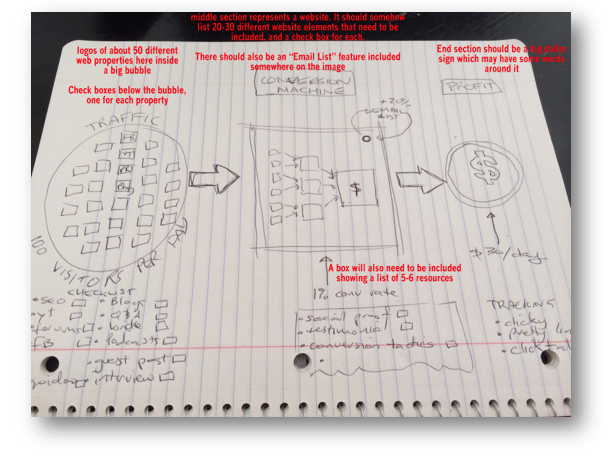 One thing I've learned over the years about outsourcing, is that you need to make whatever you need done as CRYTSAL CLEAR as possible.
Make the description so clear that a child could understand it.
The more specific you are about what you need, the better the outcome will be.
Not only this, but you'll save time and money too.
Being specific means clarifying EVERYTHING.
Use examples where possible.
Explain what you like, and what you don't like.
Get your idea across and make sure you've detailed all the specifics as much as possible.

You don't need to use Elance, but it's been my "go-to" outsourcing website for years now.
The other good option is Freelancer.com (previously called Vworker.com).
I've used Elance.com and Freelancer.com for LOADS of jobs over the years, mainly for writing jobs, design jobs and coding jobs…
I use these sites for the stuff that I either:
1. Can't do (because I don't know how)
or,
2. Shouldn't do (because it's not a good use of my time)
This concept of what you should and shouldn't outsource is worth highlighting…so let me elaborate for a second…

This concept is simple, and as soon as I understood it, my business took off literally overnight.
The key here is to understand one thing:
How much is your time worth?
More specifically:
What value do you put on one hour of your time?
Is it $5? $10? $100? $1,000?
The answer will depend on how much cash you have available, or how much you earn.
When I started out, I did everything myself because I was broke… I literally couldn't afford to pay anyone to do anything for me, so I wrote all my own content, made my own websites, designed my own logos…
I sucked…
Here's an example of how much I sucked: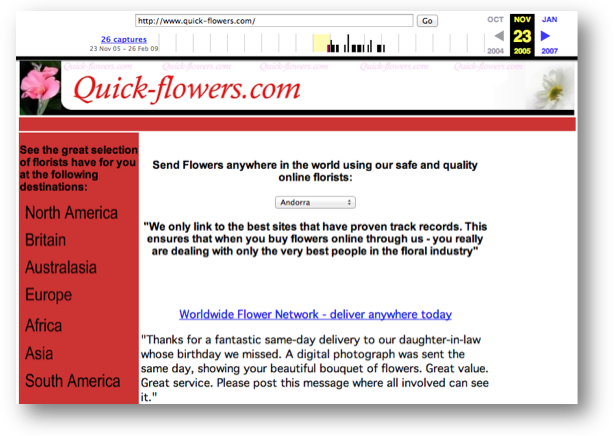 That image above (from 23rd November 2005) is of my first ever affiliate site… I had no idea what I was doing, but I did it anyway, and I sucked.
But it was a case of sink or swim, so I battled hard and learned quickly.
As time went on, I got a better job and could finally start outsourcing some parts of my business.
First articles, then link building (back in the "good ol' days" when link building worked!), then graphics, and so on.
The key to all this though, is to outsource as much as you can, when it can be done for less than the value of your time.
For example, let's say you've worked out that your time is worth $10/hour.
If an image will take you 10 hours to create yourself, or you can outsource it for $50, then you should outsource it (because you can get the job done for $5/hour).
If on the other hand, the same image will cost you $200 to outsource, or you could do it yourself in 10 hours, then you should do it yourself (because the cost will be $20/hour otherwise…and your "price" is lower than that).
That's kind of how I look at the whole outsourcing thing, and it's that mindset that has grown the business of my partners and I (Tim and Steve) to the point where we hire a team of 22 people in Pakistan (coders, designers, support staff etc), and 2 full time employees based in the USA (1x eCom manager and 1x eCom support staff).
So my advice to you is this: Start by outsourcing the mundane stuff that you hate doing, and the stuff that can be done for less than what it'd "cost" you to do it yourself. Then scale up and outsource more and more as you make more money.
I hope that makes sense. If you get this ONE concept, it'll help you grow your business VERY quickly AND live a better lifestyle!
Now, back to Elance.com…

Login to your Elance.com account (or create one if you don't already have one) and click on the "Post a Job" tab as shown below: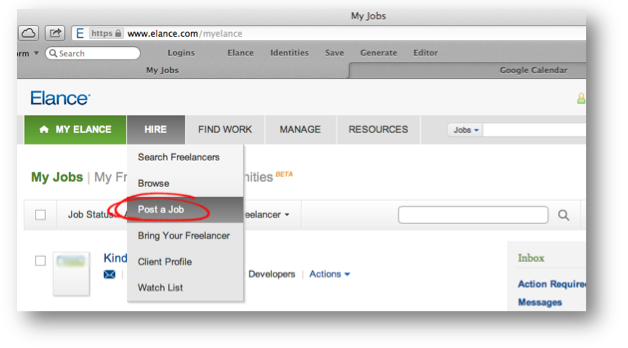 Once you've done that, you need to add your job description…
Here's what I wrote for this job:
A few things worth mentioning here:
1. The Title
"Info-Graphic Design Needed (lots of future work available)"
Ideally you should try to build up a little network of workers who you can use in the future, and by adding that you've got future work available (whether it's true or not) will generate more interest in your job.
2. Specify Your Budget
In the job description I've specified that the maximum I'm willing to pay for this is $80. It's ALWAYS a good idea to add this (unless you're unsure of what the job is worth).
If you're not sure of what the job is worth, then you can post the job description without a "maximum bid" being specified to see the bids that you get, then cancel it, and repost it again with a "max bid" specification based on the types of bids you got for the first job.
3. Ask For Examples
I highly recommend you ask for examples of similar past work… these are critical in choosing your worker, so make sure you get some.
4. Specify Delivery Format
Make sure you also specify how you want the job delivered…in my case, I said .psd, .png and .jpg. As you'll find out shortly… I didn't follow this up with the person I chose, and as a result they delivered something different (my bad for not following it up)!
5. Attach An Example
I attached the sketch I showed you earlier…this was a critical part of the job description. If you're outsourcing writing, you can attached an example of the style you need, and if you're outsourcing a piece of software, you can also attach a rough sketch ("mock up") of the way you think it'll look.
Doing this is a BIG time saver and will ensure you get better bids on your job (as the workers will understand more about exactly what you need done).
The next step is to add a few other job-setup details…

Before you can submit your job, you'll need to select a few more options as shown below: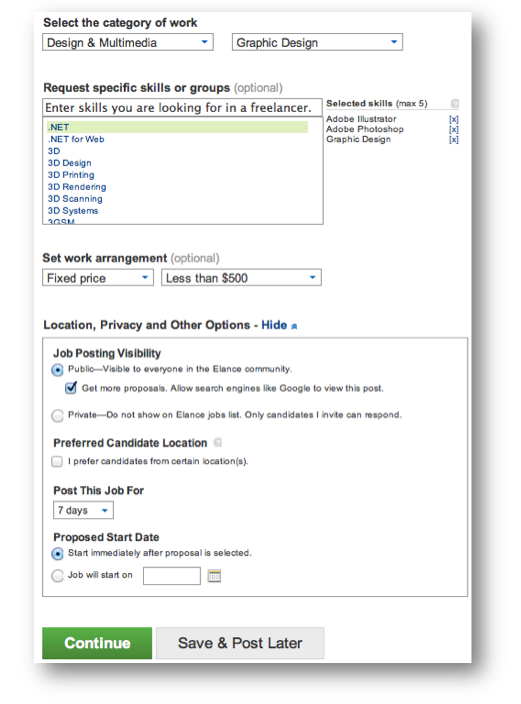 As you can see, I chose "Design & Multimedia" as the main category, and "Graphic Design" as the secondary category.
I also chose the pricing category for this job ("Less than $500") and set the visibility and timeframe options (to "Public" and "7 Days").
Once you've done all this, click the green "Continue" button to proceed.
After clicking Continue, you'll see a screen like this one: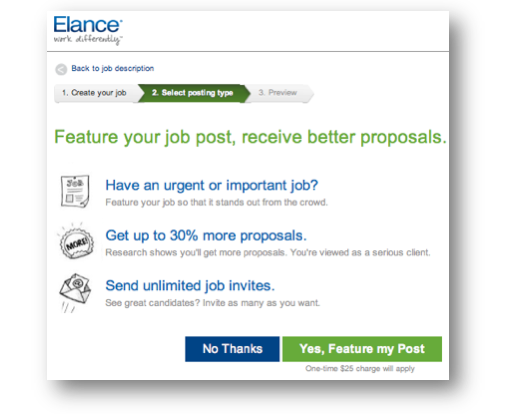 You can "Feature" your job for $25, or hit "No Thanks" to continue to post the job free of charge. I've never Featured a job… it's never been necessary for me. Just click "No Thanks" to continue to the "Preview" page.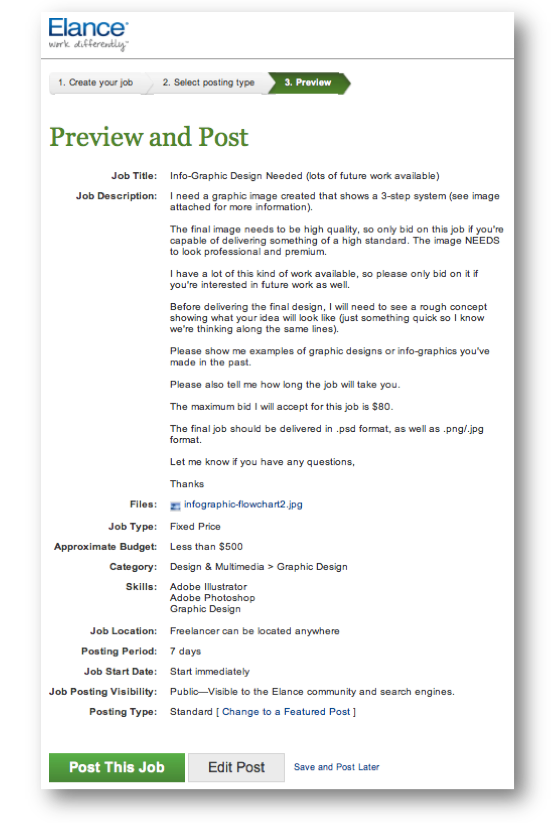 Now is your last chance to preview your job description before it goes live. But don't worry… after it goes live, you can still change it and you're not locked into anything until you actually choose a worker.
When you click the "Post This Job" button, you'll be taken to a page that looks like this: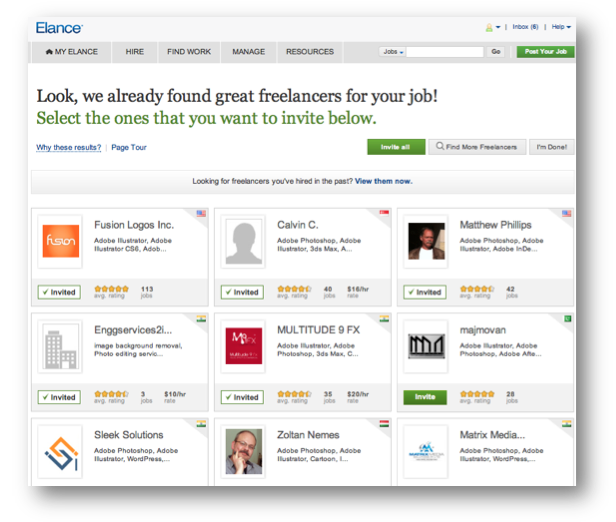 Click the "Invite All" button to invite all these people to bid on your project. It costs you nothing and normally gets you a few extra quality bids.
As soon as your job is live, you'll get an email confirming that it's live, it'll look something like this: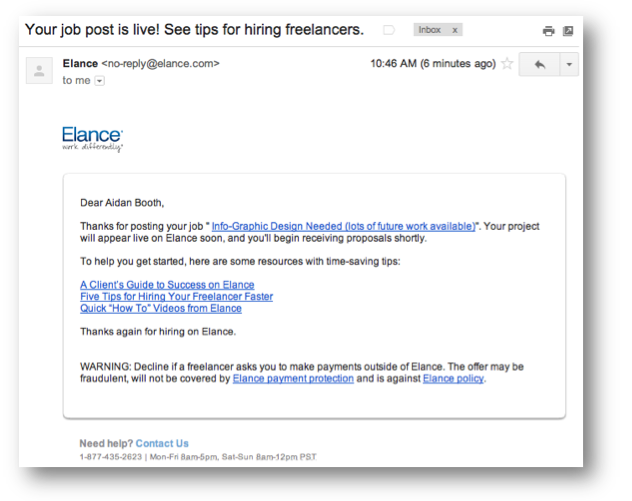 As you can see above, I received this email at 10:46am…and in less than 20 minutes (18 minutes to be exact), I'd received my first bid along with this bid notification email: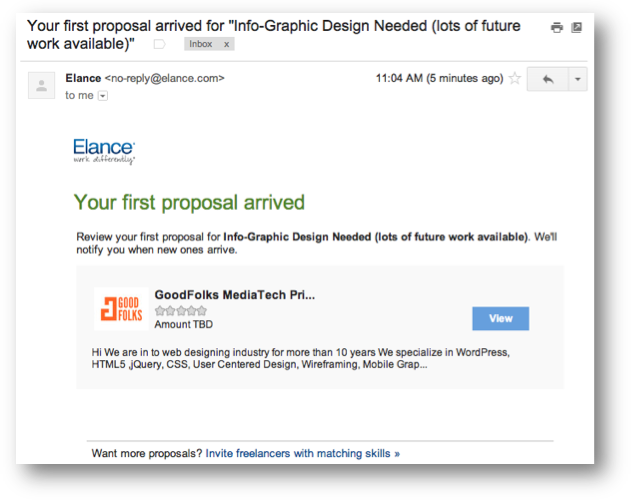 As you can see, when you get a good job description set up, Elance can find you workers very quickly (quite often within just a few minutes!).
For this job, I received quite a few bids within the first 5-6 hours, so I started filtering them and narrowing down the best people for the job.
My filtering process is pretty simple, and when I stick to my guidelines I get good results.
Here's the process:
1. Discard people who have done less than 10 jobs.
2. Discard people who have an average rating of 4 or less.
3. Discard people who have earned less than $1000.
What you're trying to identify are people who have experience doing the job you're asking for, and people who have a good reason for finishing the job "in full and on time".
This is where the worker rating is so useful… with Elance, the workers "live and die by the sword", and in this case, the sword is their average user rating.
If they get a bad review, it HURTS them a lot… One bad review is probably about as powerful as 20 good reviews, so most workers will do anything to avoid getting bad feedback.
Here are a few examples of different bids, some good, others terrible…and what I thought about them: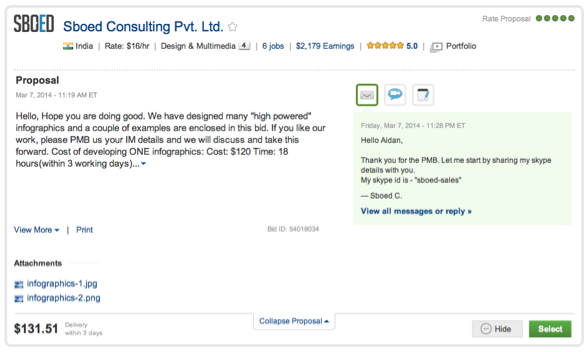 I discarded this bid immediately, as it was for $131.51… this person obviously didn't even read my project description.
This person didn't even give me a bid amount… not only this, but they also have ZERO jobs, ZERO earnings and ZERO reviews…I'd be crazy to select this person, so I clicked the "HIDE" button to hide this proposal from my view.
Unfortunately for this person, regardless of how good they are, it's unlikely that I'd ever choose them simply because they've got very little job experience on Elance (2 jobs, $55 in earnings).
They could be design experts willing to work for a bargain price, but from my point of view, it's an unnecessary risk to work with them so I "hid" this bid from my proposal list (you've got to be quite "cut throat" at this early stage, otherwise you'll waste quite a bit of time).
Even though my maximum bid was for $80, if I find someone that seems to be a really good match for the job, I'm willing to spend more. And in most cases, if I can work with someone from the USA, UK, Ireland, Australia or New Zealand, I'll also be happy to pay more.
So if the bid above was from someone from the USA who had a really good reputation and a good job history, I wouldn't have discarded it… but since this person has so little experience, I clicked the "Hide" button right away.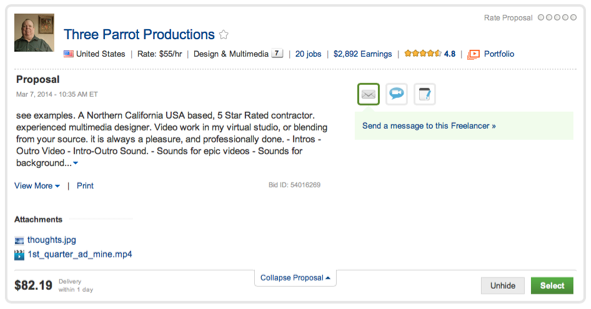 This guy sounded interesting… US based, a good number of jobs, a good rating, and reasonable earnings…
Luckily I asked for a sample design, and luckily I checked it…here's what he sent me: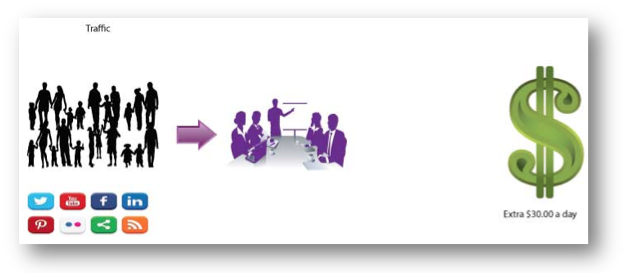 This is crap. And it's not really even similar to what I asked for in my sketch…so this guy just wasted his time and I hid his bid.
I ended up with 22 bids, and about 5 of them were good candidates.
Tina has a great job history, good earnings via Elance, and a solid rating.
She also provided me with good examples of work she's done in the past (like this top quality info-graphic) AND her bid was just $55 (I ended up paying $95 because I insisted on quite a few additional changes, as you'll see if you check in the message log).
Before awarding the job, I contacted Tina via the Elance message system to double check a few things, and to "test" how quickly she'd reply to me…here's what I said: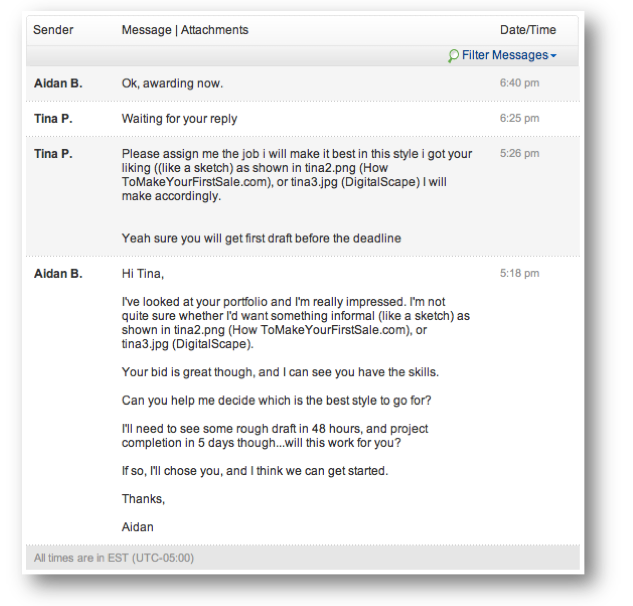 I mentioned a couple of her past designs that I liked, and re-confirmed that she'd get me a draft in under 48 hours and finish the job in 5 days.
Tina replied 8 minutes later, and I then awarded her the job.

After I sent Tina a more detailed description of the elements (click here to see the full message log) that I wanted as part of my design, she sent me the first concept…here it is: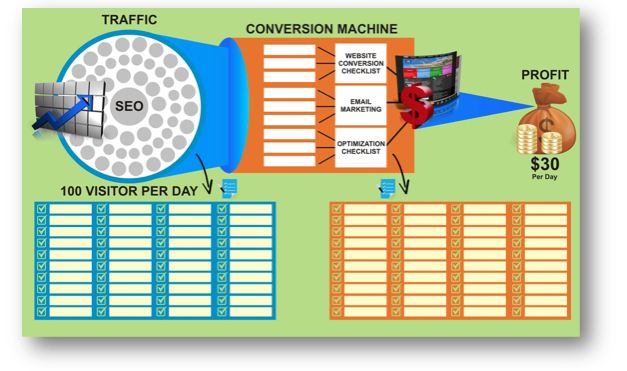 It was a good start, but still a long way from what I wanted. I explained a few of the changes I wanted, and then she sent me this:
Better… but still a long way to go.

After 5 or 6 more messages back and forth, we eventually ended up with this:
If you're interested to see exactly how I communicated all the changes to Tina, then check out the full message log here: CLICK HERE TO SEE THE COMPLETE MESSAGE LOG
To be honest, I had higher expectation for this.
I think it does a good job of getting the point across, but I'd hoped for something a little better. The job dragged on for quite a while (about 2 weeks) too… I'd expected that it would take just a few days to do this, but all the back and forth with messages really stretched the project out.

This was the first time I'd ever outsourced an Info-Graphic, and I learned quite a lot from it.
Here's a quick summary of the most important lessons and mistakes:
1. I expected a creative designer… but I ended up providing all the ideas.
This isn't really Tina's fault…she offered to do the job for $55, so I think I got what I paid for. Even so, I expected more ideas and initiative from Tina…what ended up happening is that I provided all the ideas, and she just followed instructions.
Here's an example of one idea that I gave, that I think a more creative (or better paid) designer would have offered me: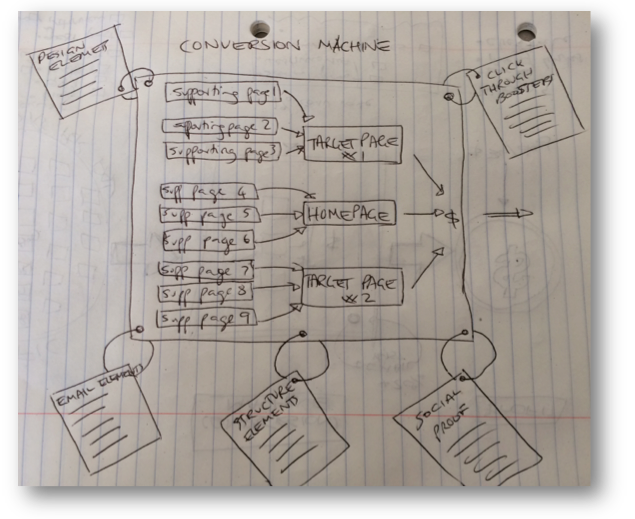 I expected the designer to come up with ideas like the "hanging notes" I drew on the sketch above.
If I'd hired a designer from the USA, UK, or some other Western country, I think I would have had a lot more creativity, more ideas, and a better understanding of what I wanted.
2. I wasn't properly prepared for the job.
I was in a hurry to get the project on Elance, so I didn't really think it through enough. I ended up paying $40 extra ($95 in total) to complete the job in a way that I was satisfied with. I provided a lot of extra details via the message system that I should have had prepared from the start, for example: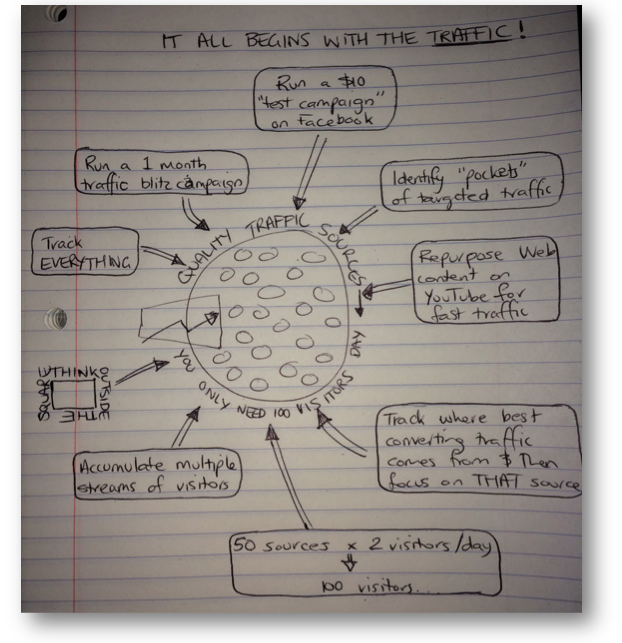 I should have had this kind of thing thought out and ready at the start.
3. I didn't re-emphasize all the requirements in the first message to Tina
After awarding any job to an outsourcer, it's ALWAYS a good idea to re-emphasize the most important requirements in the first message you send the worker, and even better, do it via a private message BEFORE you award the job.
One example of this is how Tina delivered the files. In the job description I said that I wanted .psd files (Photoshop) so that I could edit things a little after the job was delivered.
Tina ended up making the image using Adobe Illustrator though, so when I asked for the .psd file, she couldn't give it to me… here's the message I sent her:

Since I actually specified that I needed a .psd file in the job description, I could have turned this into a big issue and insisted on getting the .psd file… but it would have only dragged things out longer and I may have never received the file.
In this case I just let it slide and carried on. But the point is, I could have avoided this if I'd re-confirmed and re-emphasized the key requirements in our initial messages.

I learned this the hard way online…but you really do get what you pay for.
Cheap internet marketing courses usually aren't all that good.
Most cheap writers are terrible.
Cheap designers aren't as good as expensive ones.
It makes sense, but it can be a costly and long-winded lesson to learn. If you want something that's really good, you should be willing to pay for it.
I could have posted this job on 99Designs.com and paid several hundred for it, and I know for a fact that I would have got something quite a bit better… but having seen examples of other Info-Graphics Tina had made in the past (like this one), I really hoped for better.
Let's not kid anyone, as a stand-alone Info-Graphic, this doesn't really cut the mustard.
It doesn't explain itself well enough…
To get over this, and to be able to use these images, I sliced and diced it a little, and turned it into a PDF document which I call my "Cheat-Sheet".
Check it out here: Click HERE to see the Cheat Sheet
This short 5-pager takes the info-graphic and turns it into more of a process, how I'd originally hoped it'd be (and it's a good little guide for newbies to follow).
So that's the story of how I outsourced the info-graphic, and the lessons I learned!
If you found this case-study useful, or if you have a question, or even if you just want to say hi, leave me a comment below! I read all comments, and they all get published.

I'm excited about this…
In the next update on AidanBooth.com, I'll be sharing what I think (and HOPE) will be a REALLY popular post…
The topic:

What do you think?
Is it a good idea for a blog post, or do you want me to talk about something else?
NOW is your chance to have your say, so leave me a comment below with what YOU think about the idea…or if you've got a better idea, share it with me below!!
Thanks for reading!
Until next time folks 🙂
[loveclaw_buttons]