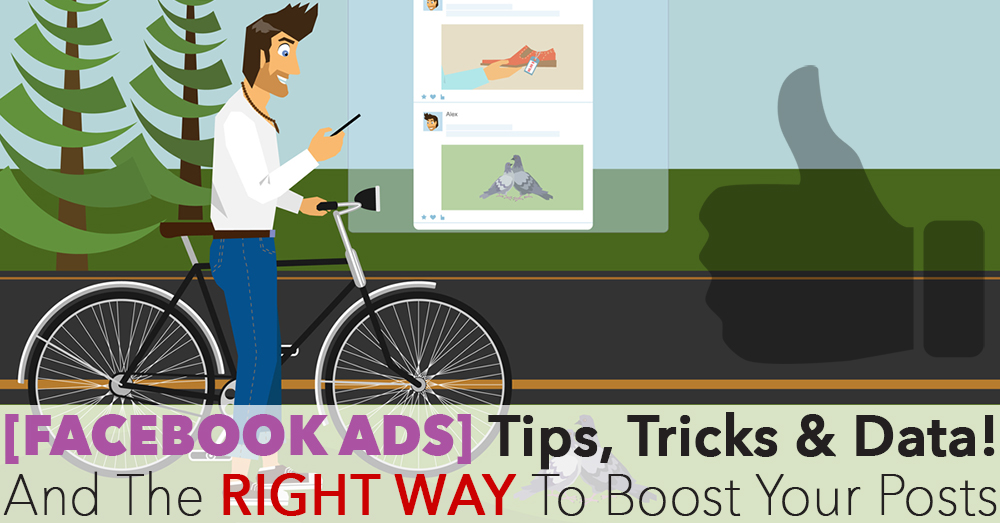 Hi, and WELCOME to the '1st of the month' update to AidanBooth.com!
Since April 2012 I've been adding a new blog post to this website on the 1st of each month, this month is no different.
Facebook: Traffic Game-Changer
Today's post is about Facebook… it's divided into two parts:
The Blog Post – This is a general tour of what you can and can't do and see with Facebook
The 'Better Boosts' Tutorial Video – An 'over the shoulder' video showing you the RIGHT way to boost your posts
As always, it's all free content!
Click the button above, add your details, and I'll immediately send you a demo video and PDF detailing the most effective way to boost Facebook posts (it's NOT using the 'Boost Post' button!)
Personal Stuff In July
July was another busy month for me on a personal level!
We started in Argentina (Buenos Aires, where I live), traveled to see family in New Zealand, spent a week on a remote island in Fiji, back to New Zealand, and then finally back to Buenos Aires a few days ago.
This is the perfect example of what I LOVE about having an online business. I'm geographically free to work it anywhere that has an internet connection!
Here are a few photos of highlights from my trip (two pics from Fiji, and one of my wife and I with our nephews!)…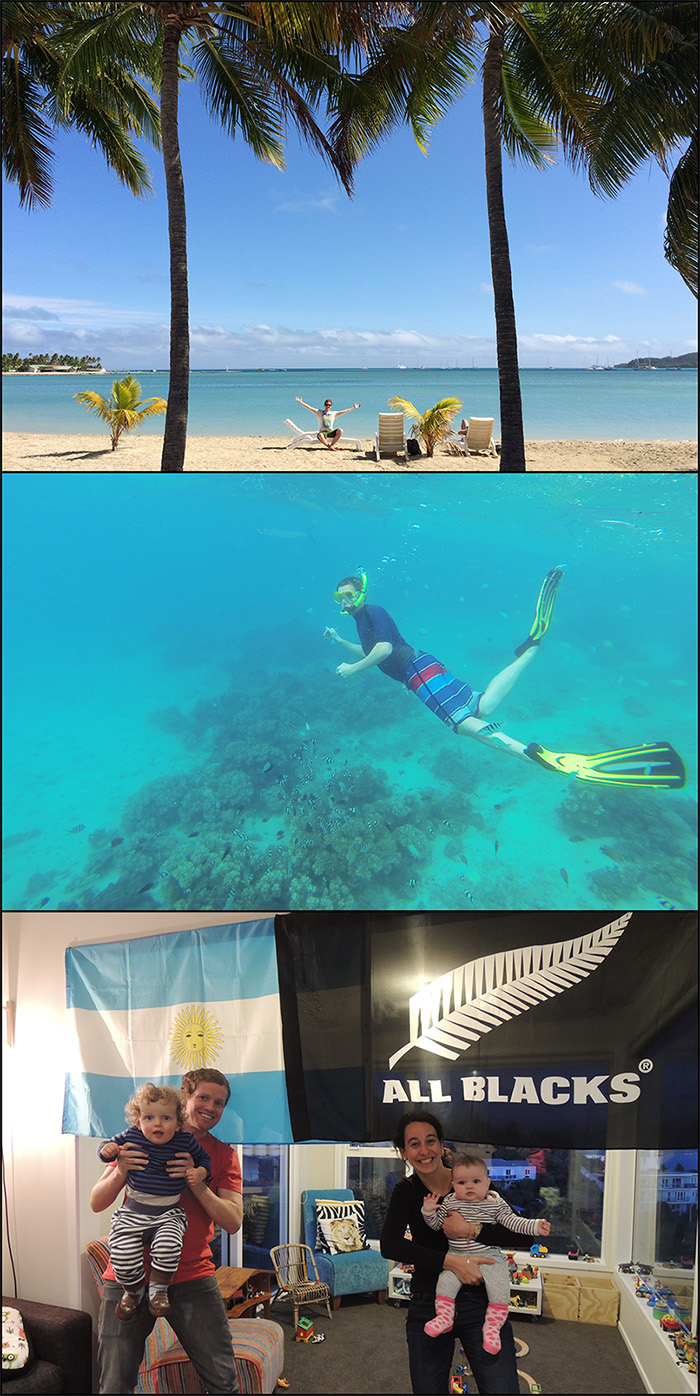 Sometimes it's easy to lose perspective of just how lucky I am to be able to live this kind of lifestyle…
Anyway, enough about me, let's get down to business!
Facebook Ads & Insights
You may already know that Facebook has incredible traffic potential, but there's more under the hood that you may not know about… valuable data that can be game-changing to your business, and data that can save you a lot of money.
In this post we'll explore what that data is, and where it's hiding.
I've also created a bit-sized demo video showing you the most effective way to boost Facebook posts… this is the 'secret' method that we've been using for a while now, and it's a zillion times more effective than just clicking the 'Boost' button… more on how to get this video below.
What's Possible With Facebook?
If you've never advertised with Facebook before, use this post as a tour of what's possible.
If you have used Facebook's advertising platform, then use this as and overview and reminder of the type of data that you've got available to you and how you can best leverage it, and make sure you download the 'Better Boosts' demo video.
When you login to your Ad Account, you'll first be shown a big list of all your campaigns, it'll look something like this:

Here's the ad that I was running for the 'CDLTraining1' campaign: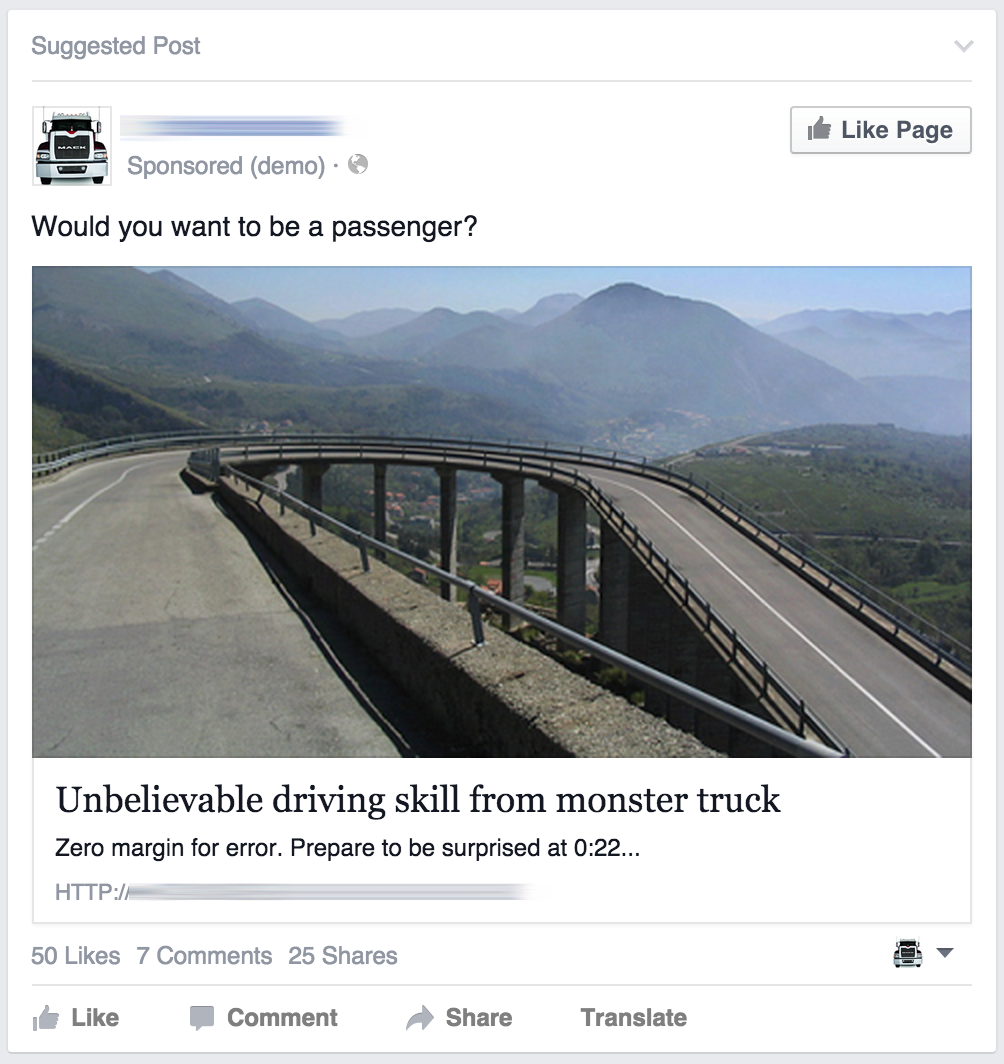 The ad above was sending visitors to my 'CDL Training' website: http://www.cdltraininghub.com
To get to the juicy data, you need to drill down deeper into a specific campaign, you can do this by clicking on any of the campaign titles. In this example, we'll drill down into my 'CDLTraining1' campaign.
Facebook Campaign Data
Each campaign has a dashboard that looks a bit like this (this is a new Facebook ad account design which has been rolled out slowly over the past month or so):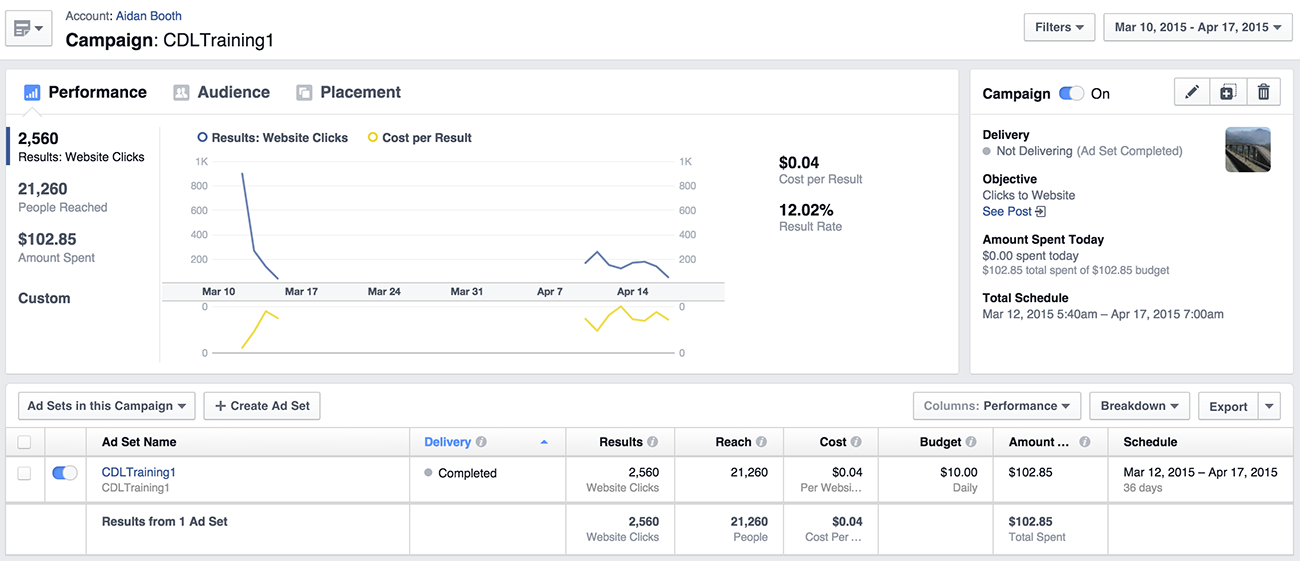 The Campaign-level dashboard shows you how your campaign is performing at a high level.
There are a range of performance metrics available, in most cases the main ones will be:
Number of Results (could be website clicks, engagements, likes, video views, etc)
People Reached
Amount Spent
The high level performance metrics are shown by default when you are at the campaign level of the dashboard, here's a closer look at the Performance tab for the CDLTraining1 campaign I was running: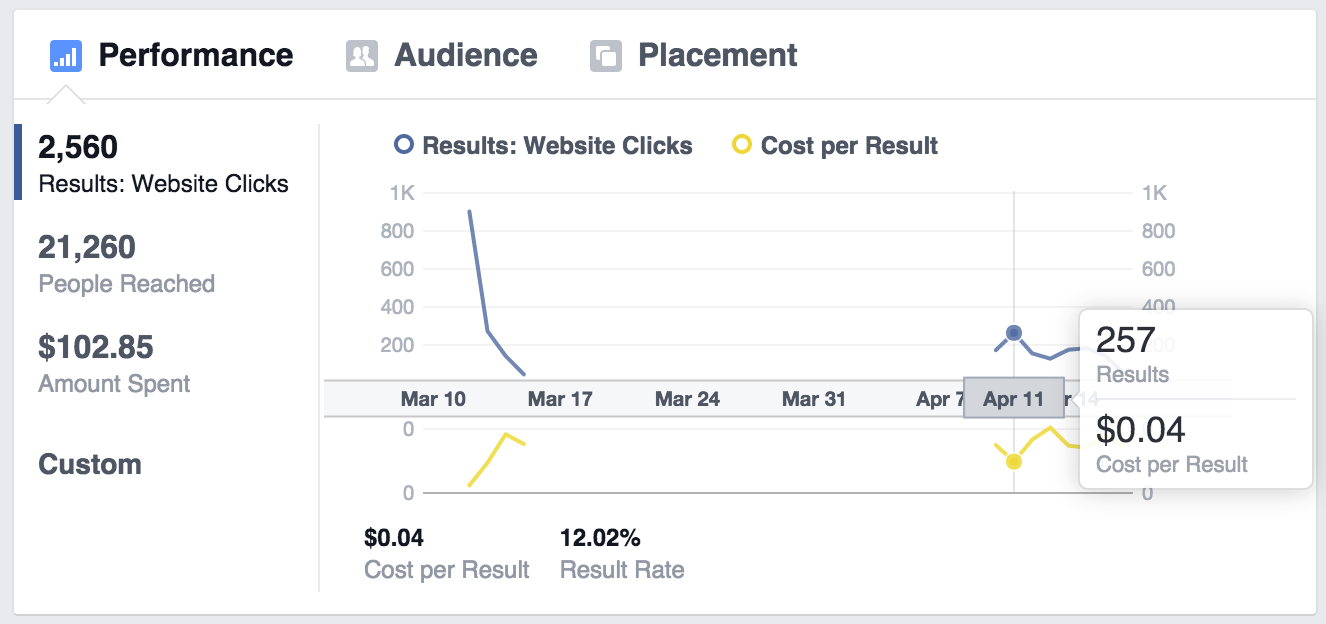 As you can see from the image above, this particular ad brought 2560 people to my website, at a cost of $0.04 per visitor.
By clicking on the 'Audience' tab of the campaign dashboard, you'll drill down further into more audience specific data: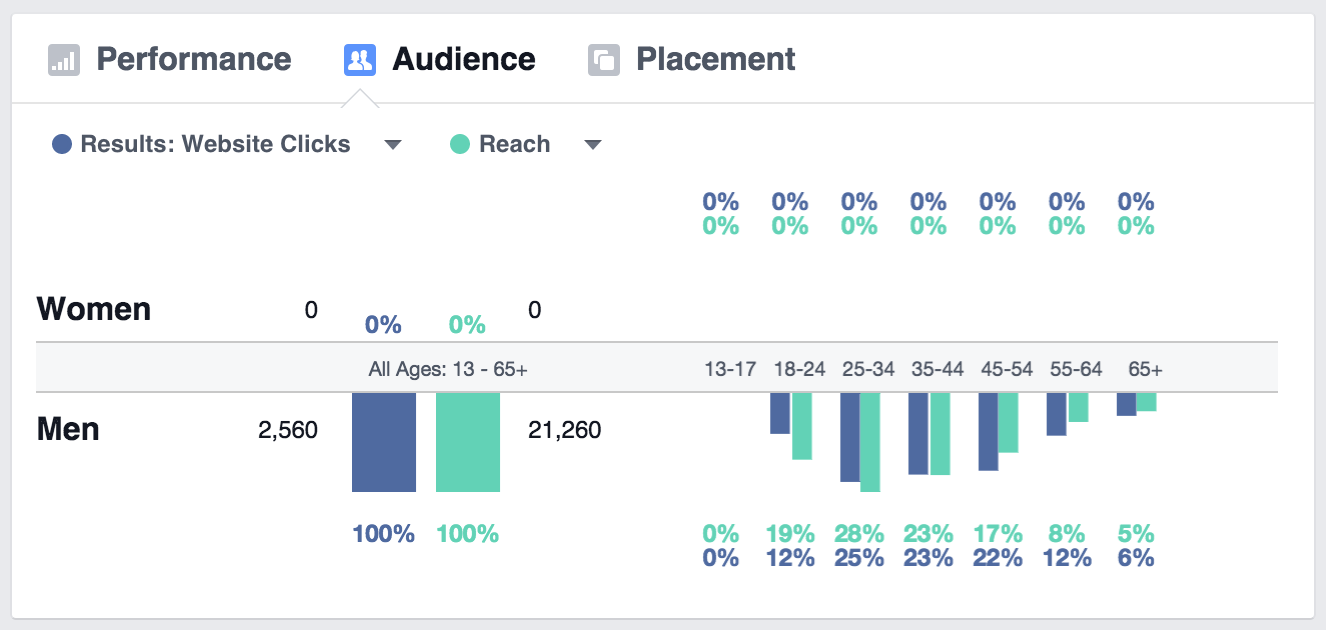 Above we can see the percentage of men vs women, and a breakdown of ages and how each age bracket performed in terms of reach and clicks. This particular ad was only shown to men, which is why there are no results for women.
By clicking the 'Placement' tab, you'll get data about each ad location: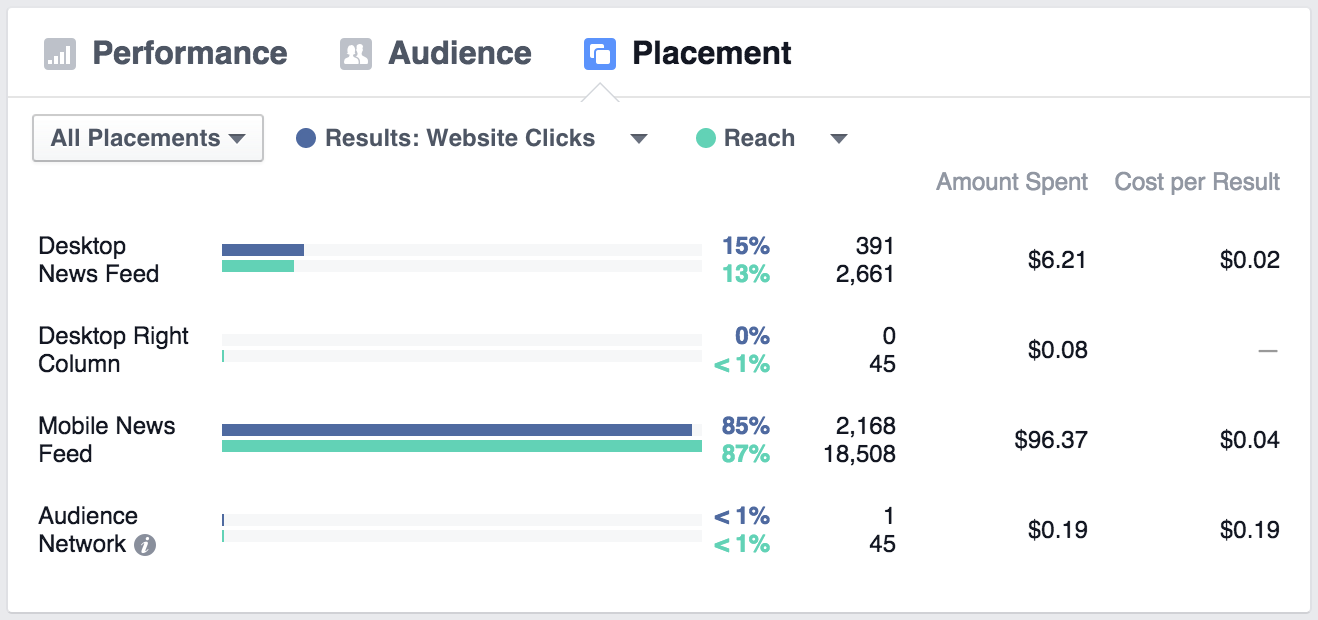 This is all great "high level" data about an audience, but you can go EVEN deeper by using the 'Breakdown' option.
Finding Hidden Data
Here's an example of how you can focus in on more specific data sets: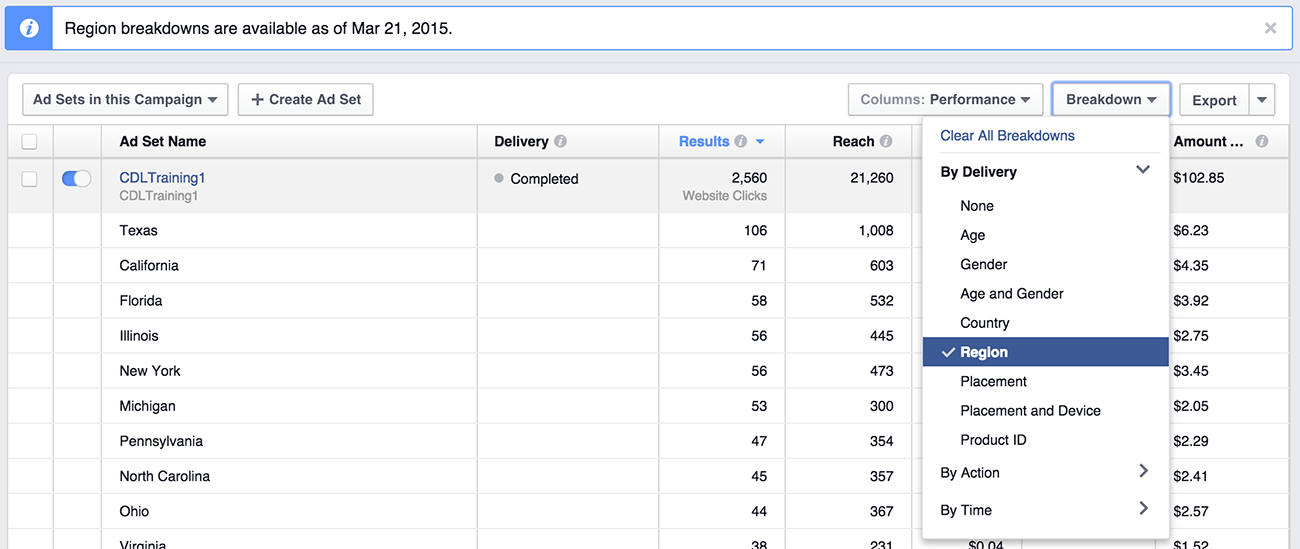 In the image above I've selected to breakdown the data by region, here's what we are then shown:

For this particular ad, I was only targeting people in the USA, but didn't put any preference to specific states. As you can see above, after running the ad for just a short time, we can already see ad results on a per state level, GREAT information which you could use to create more laser targeted ads later if you wanted to.
The other interesting thing is that ads are cheaper in some places than others. For example, I was paying $0.07 per website click for people in Florida, but only $0.03 in Oregon, $0.04 in Michigan, Virginia, Tennessee and Oklahoma.
Knowing that some states are cheaper than others can dramatically impact advertising costs, and in turn your ROI. For example, if you KNOW that ads in Oregon cost less than half of what they cost in Florida, then you may specifically JUST want to target people in Oregon (and possibly the states that have ads that cost $0.04 as well).
Ad Placement Performance
Here's another example of how you can uncover money-saving data about ad placement.
As you can see below, I've selected 'Placement' from the dropdown menu: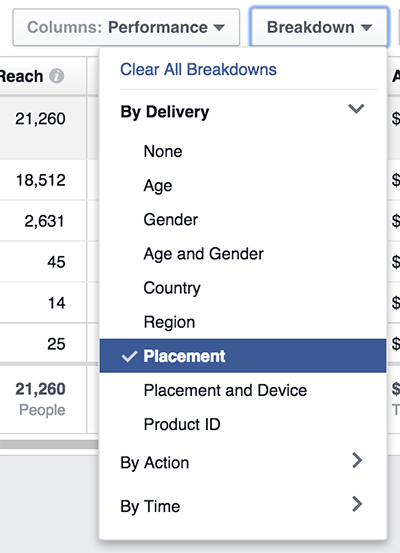 And here are the results:

While 'News Feed on Mobile Devices' is giving the vast majority of the traffic, at a cost of $0.04, it's ALSO twice as expensive as 'News Feed on Desktop Computers'!
If I was on a limited budget, I could select to only show my ads in the 'News Feed on Desktop Computers' location and I'd halve my costs again (doing this would obviously also eliminate a lot of traffic, but that would be fine for most people with small budgets in big niches).
Video Boosts (With WEIRD Results)
Here's another example of a post that I boosted on my internet marketing Facebook page: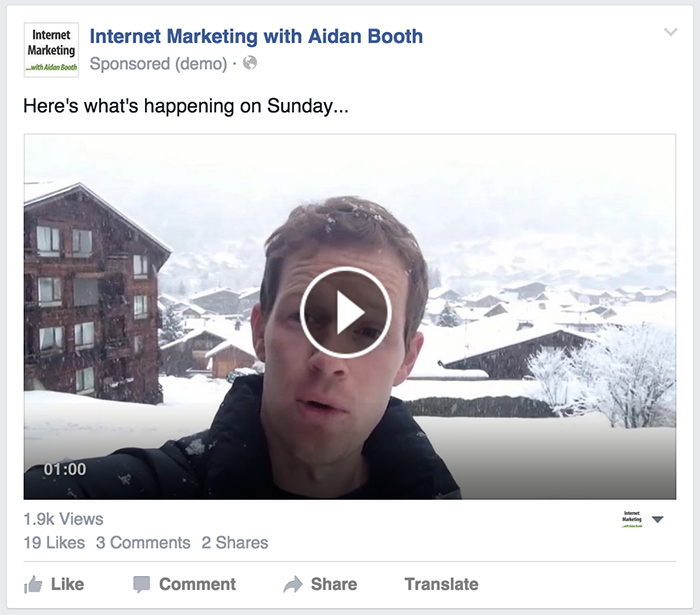 And here are the statistics for this boosted post: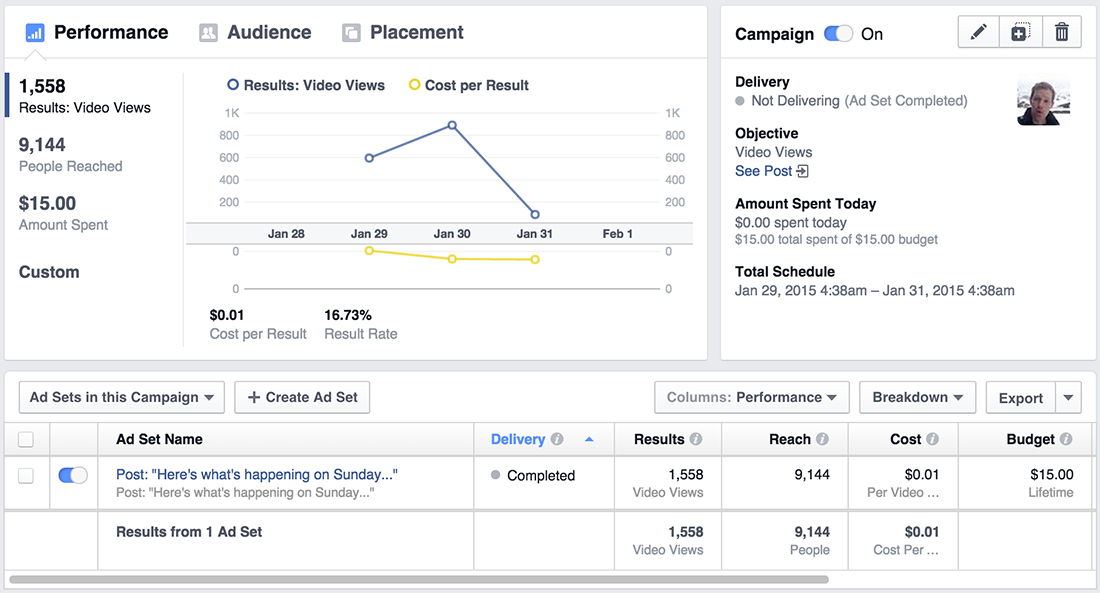 As you can see, this video was displayed to 9,144 people (this is the 'Reach' metric), and was watched by 1,558 people. The average 'cost per view' was $0.01.
WeiRd… 63% Of Views From SPAIN!
What's surprising is where these people come from, and how the cost varied from country to country, check this out: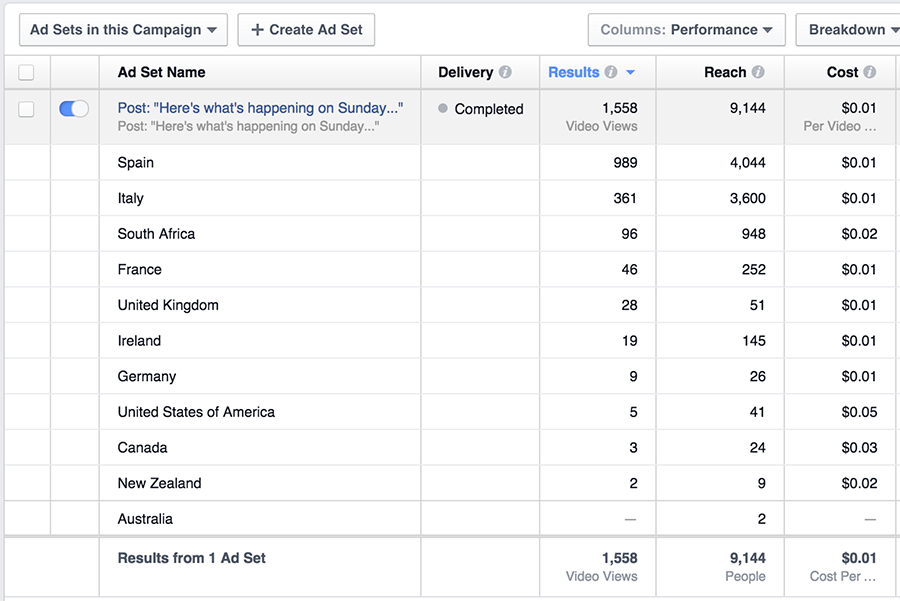 The video was filmed in the French Alps, only a few miles from Italy, and also very close to Spain (I was living in the French Alps in January).
The video views from France, Italy, and Spain account for 1,396, or 89% of the total views. Coincidence? No…!
Dynamically Displayed Ads
Facebook serves up content to people dynamically based on where they are. So, if you live in London, you'll see lots of posts and ads from people who live in/around London.
If you go on holiday to New Zealand, you'll start seeing posts and ads from people and companies in New Zealand.
Since I'd been living in Barcelona, Spain, for three months prior to shifting to the French Alps, I think Facebook's algorithm may have shown the video ad to more people in Spain than anywhere else… kind of like they over-compensated for the country they assumed I lived in…
The good thing about Facebook though is that you can easily target specific countries (or even more specific town/regions etc) when you're setting up ads and post boosts. In the example above, I didn't set a specific location, and the ad was shown randomly to people that Facebook thought would want to see it.
Why You MUST Specify Ad Locations
I've done quite a bit of 'Facebook Post Boost' testing over the past year. Here's one of the posts which I boosted on February 1st: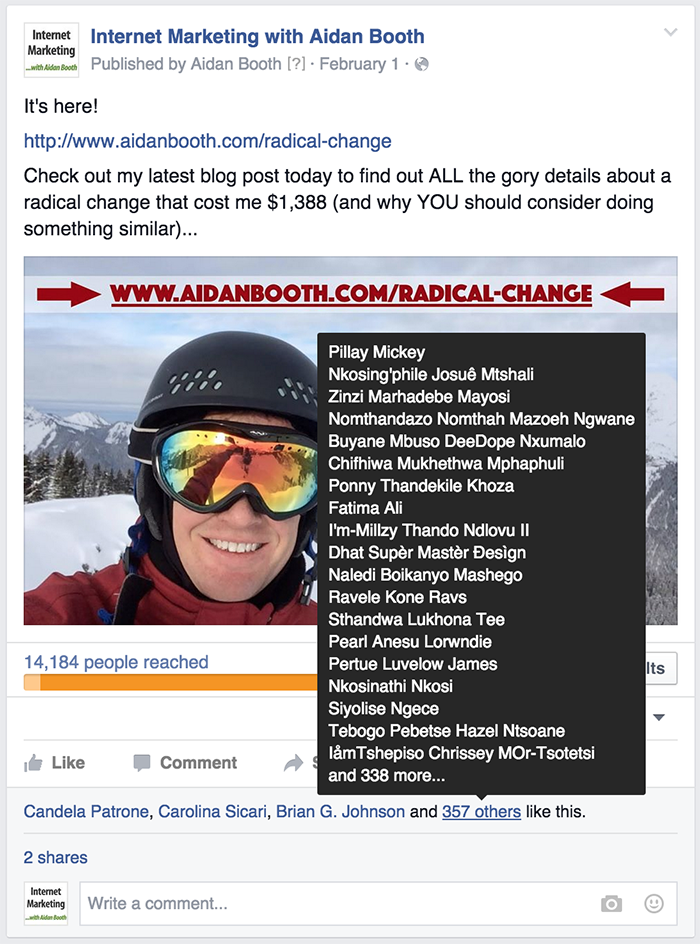 As you can see, 360 Likes, and 2 shares.
The names shown on the image above give you a clue at where these likes are coming from, but the image below removes any doubt: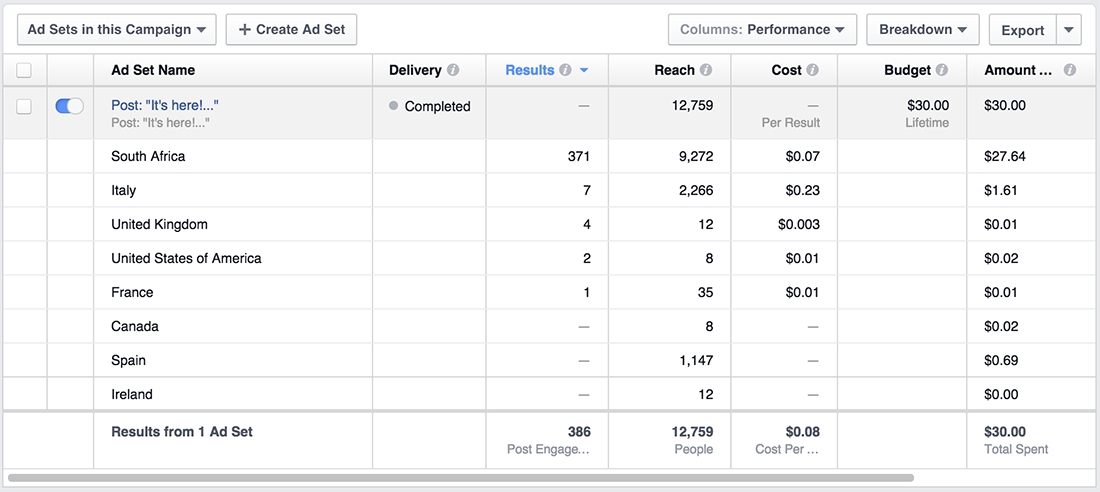 371 engagements (this is mainly just Likes) from South Africa which cost a total of $27.64!
Another example of why it's so important to specifically target countries when running paid ad campaigns on Facebook… if you don't, your results could come from anywhere…
NOTE: I have nothing against my post Likes coming from South Africa, but it's not where most of my Facebook audience are located, so it's kind of surprising that Facebook would show my ads so prevalently to people in South Africa.
Here's Some BETTER Targeting…
Here's another example of a post I boosted, but where I DID specify the countries I wanted to target: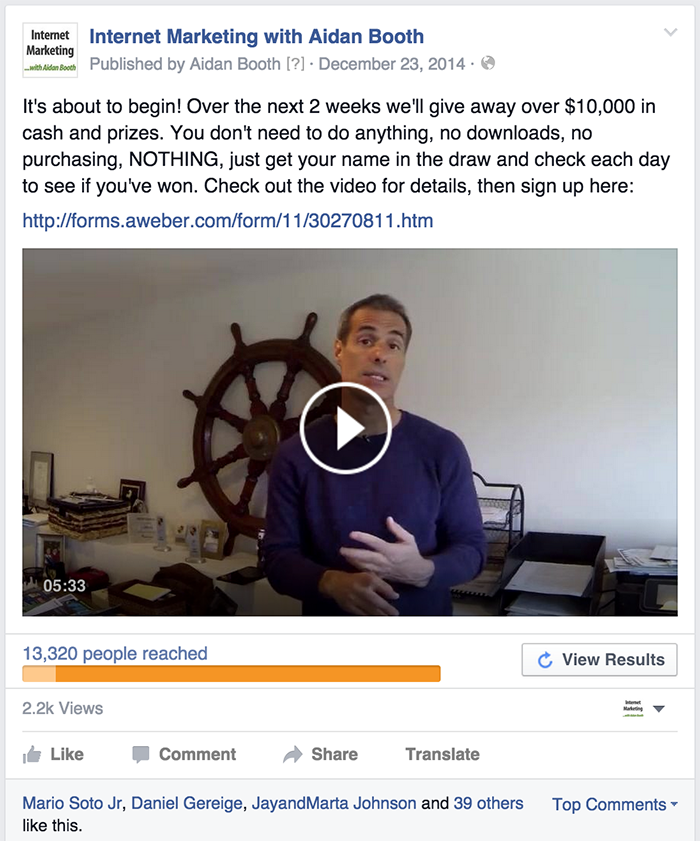 Here's who I targeted: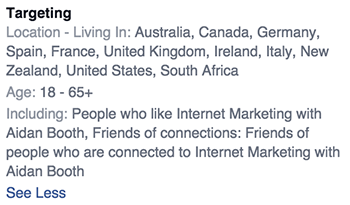 Here's the audience breakdown: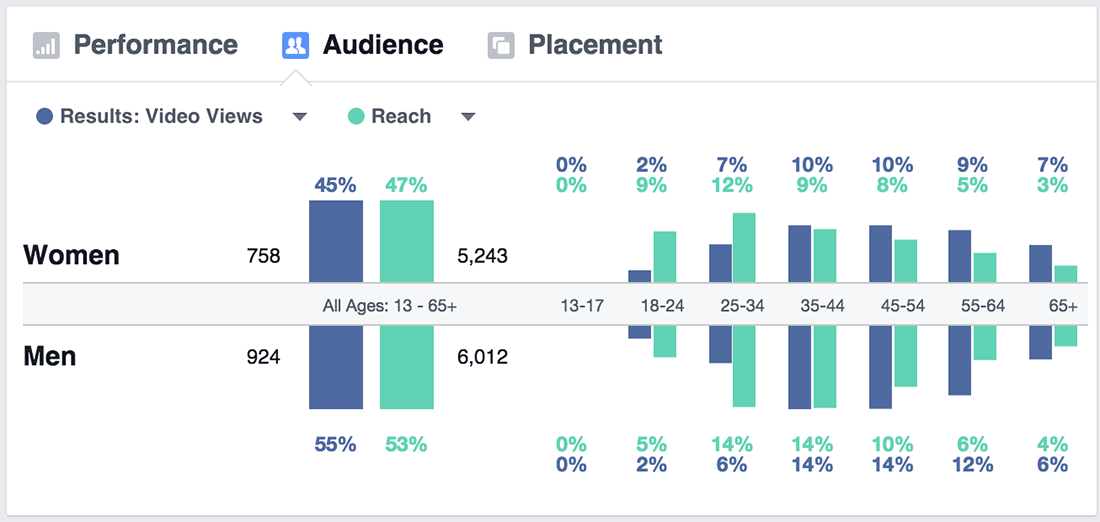 And here is the country breakdown: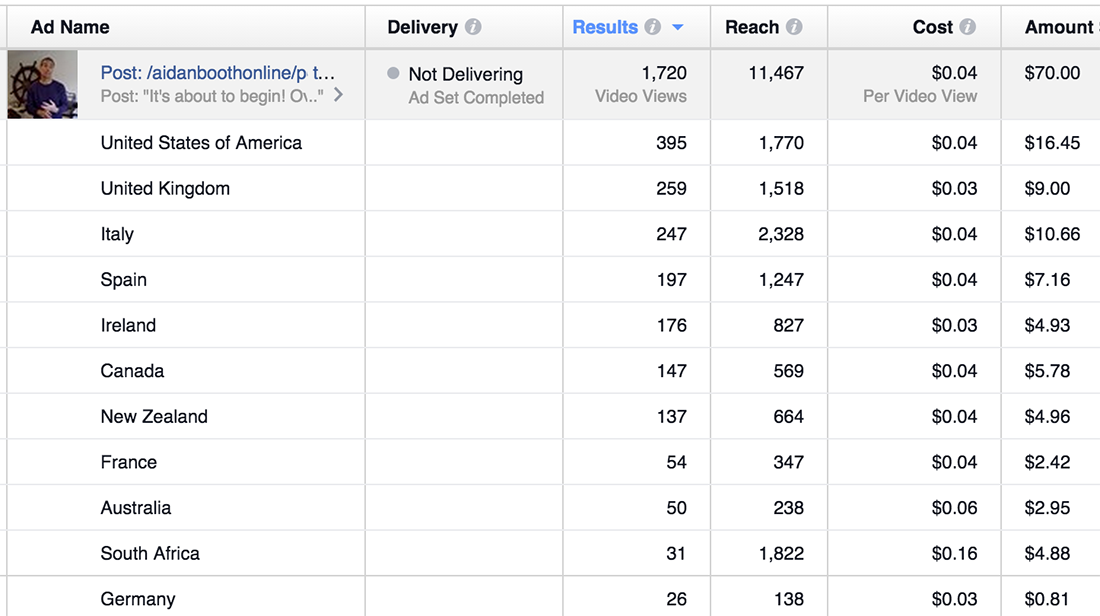 As you can see, both the male/female distribution, and the countries of viewers are much more what I would expect (and hope for) when running a campaign like this.
So that's a bit of a random dive into the advertising stats that Facebook gives you access to.
Click the button above, add your details, and I'll immediately send you a demo video and PDF detailing the most effective way to boost Facebook posts (it's NOT using the 'Boost Post' button!)
Facebook Insights
Let's now take a look at Facebook page Insights…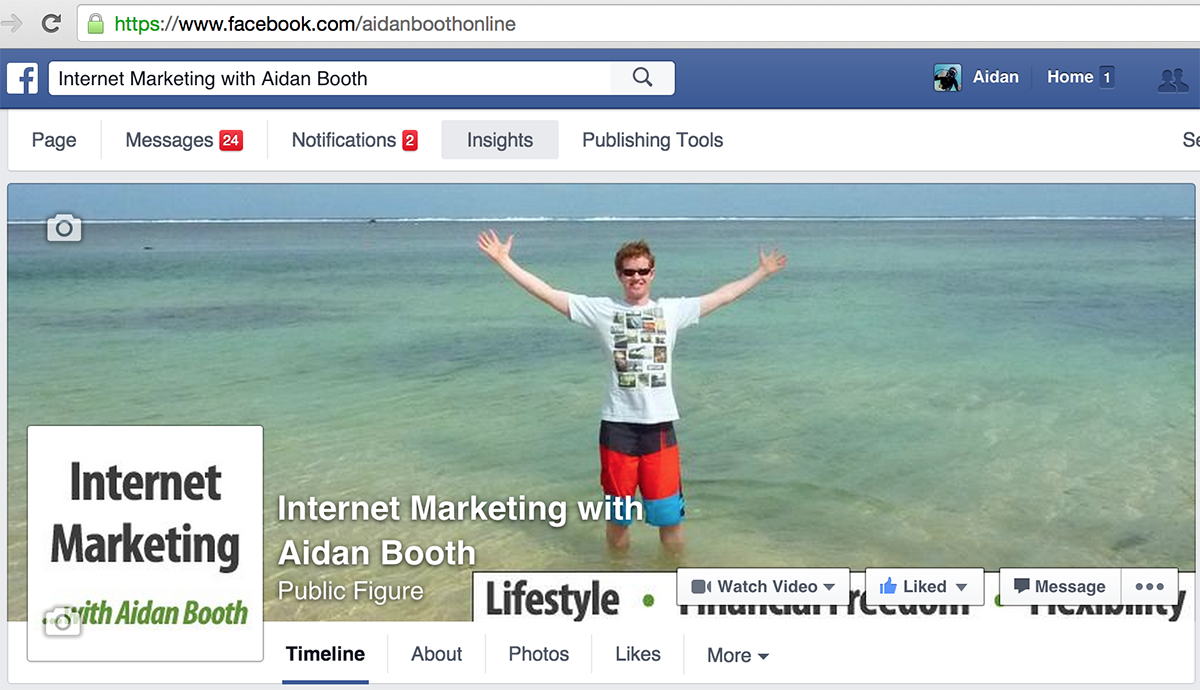 Only Facebook pages with over 30 Likes have access to Insights, so if you don't see them on your page, that may be the reason why.
When you click on the Insights tab, you'll be shown a dashboard highlighting your page growth, engagement, stats from your most recent posts, and information about any pages you're following.
The Insights Overview
Here's what the 'Overview' section looks like: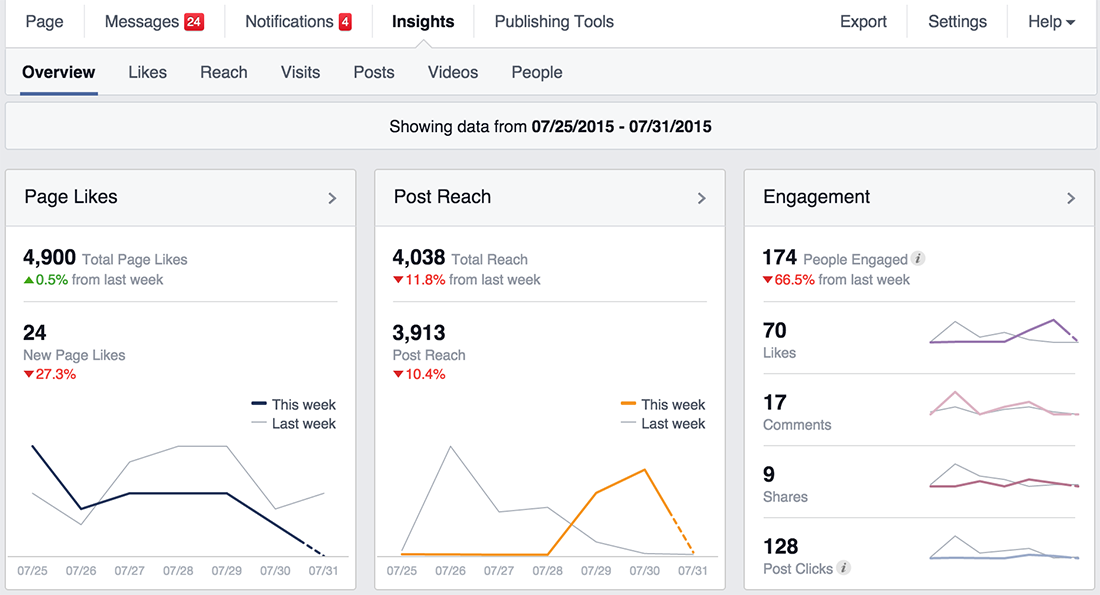 And here's what the summary of your recent posts looks like: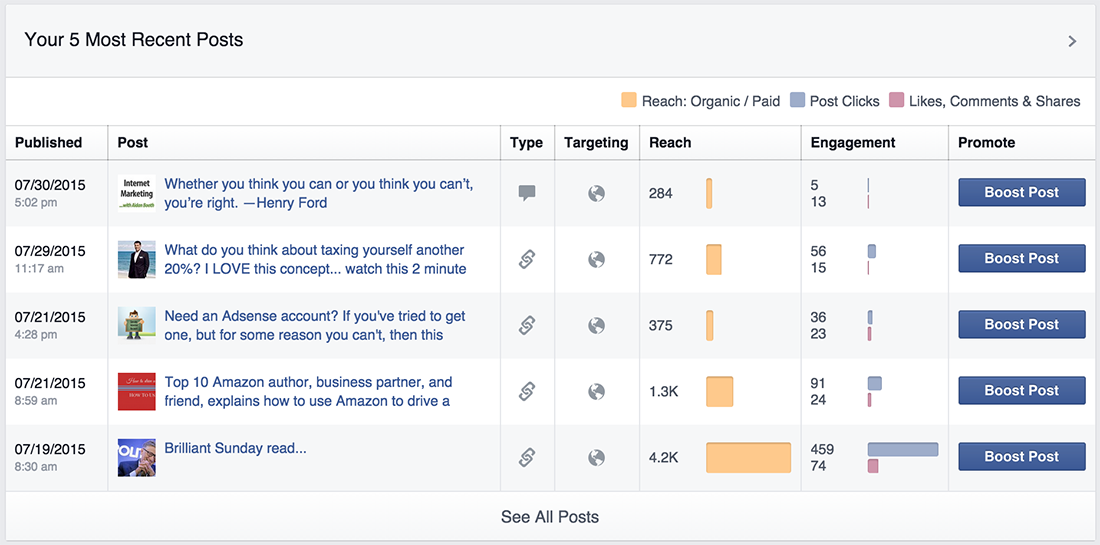 And here's what the "Pages to Watch" section looks like: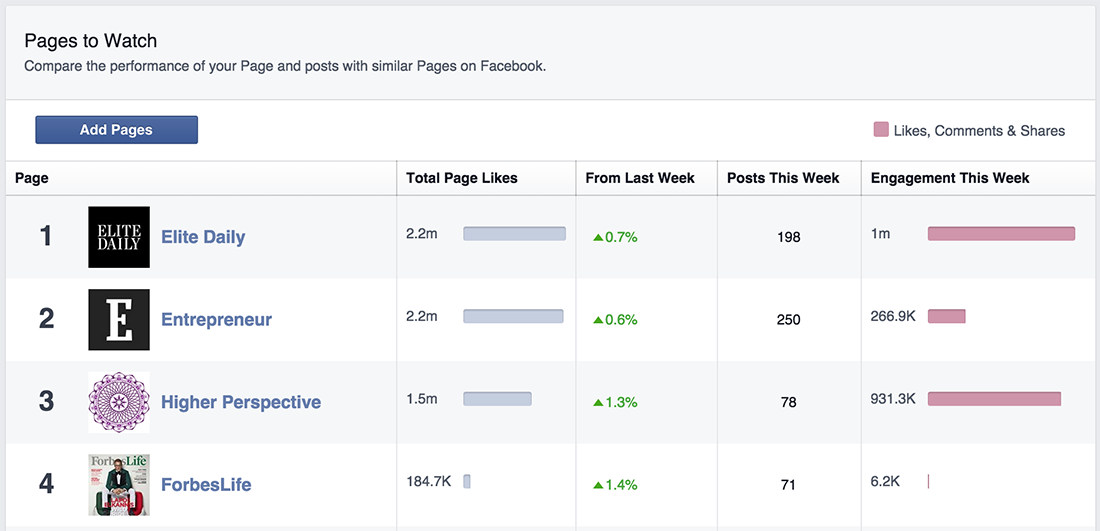 Find The BEST Content In Seconds…
One cool thing about the 'Pages to Watch' section, is that it lets you see the most popular posts from the pages you're following from the last week: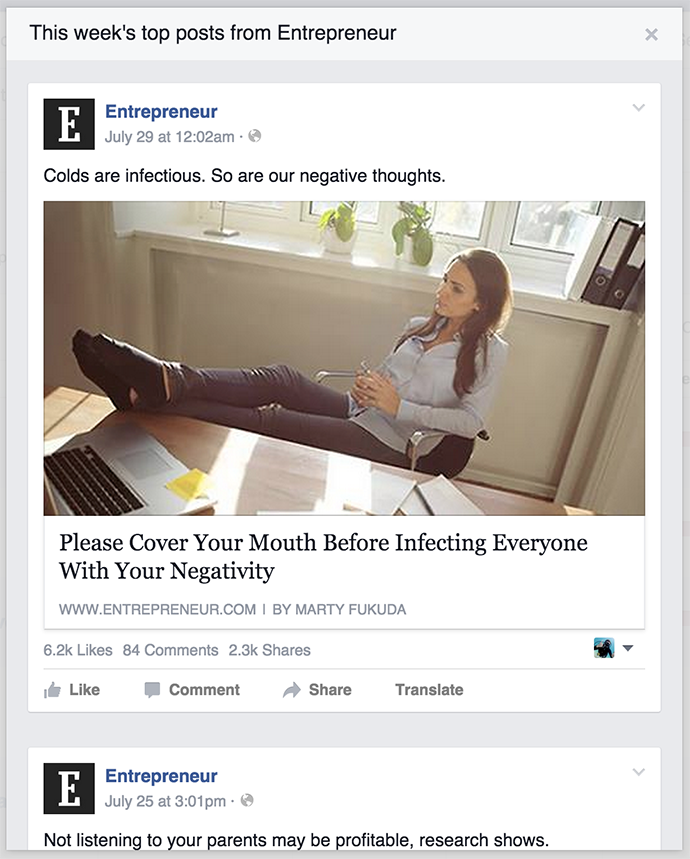 This little tool is super valuable if you run a Facebook page and are looking for good content to share, as you can cherry-pick the best from other related pages.
The 'Likes' Section
The 'Likes' section of the Insights dashboard shows how your page Likes have grown over time, and some other cool data as well, here's what the top section of that page looks like: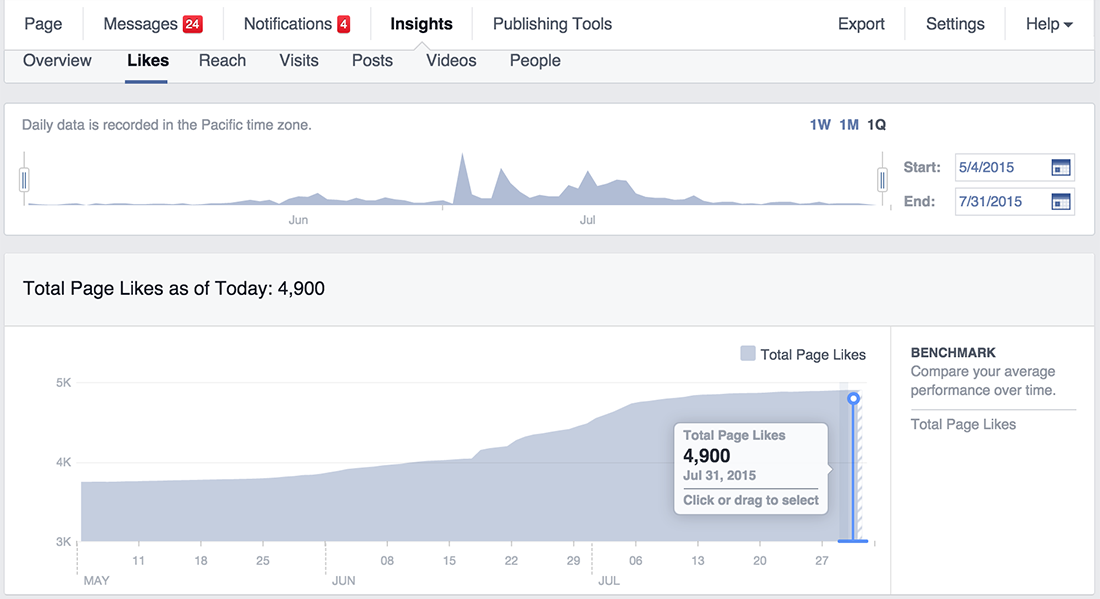 Organic & Paid 'Reach' Statistics
On the 'Reach' tab, you can see how Organic and Paid reach has varied over time: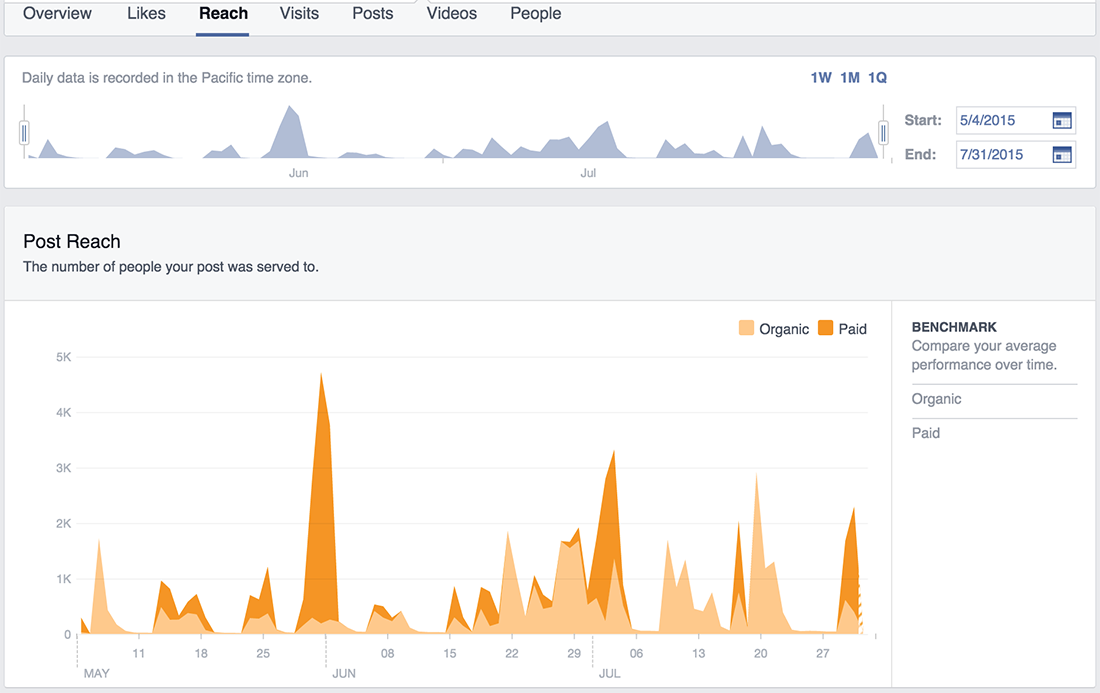 You can also see other useful data such as when Likes, Comments and Shares have occurred, and how these have impacted your following: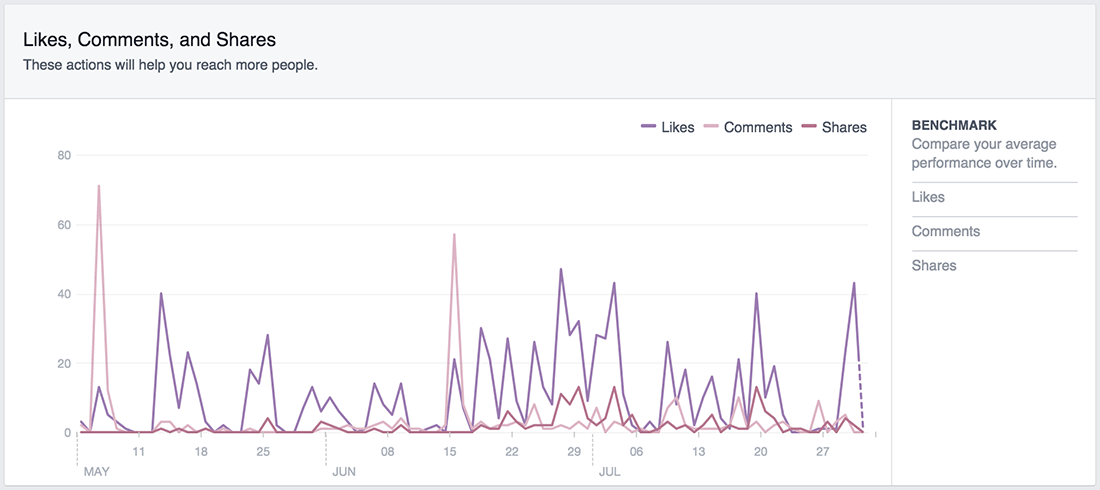 Visitor Browsing Data…
The 'Visits' tab details your Facebook page traffic, where it comes from, and which sections of your Facebook page have been visited: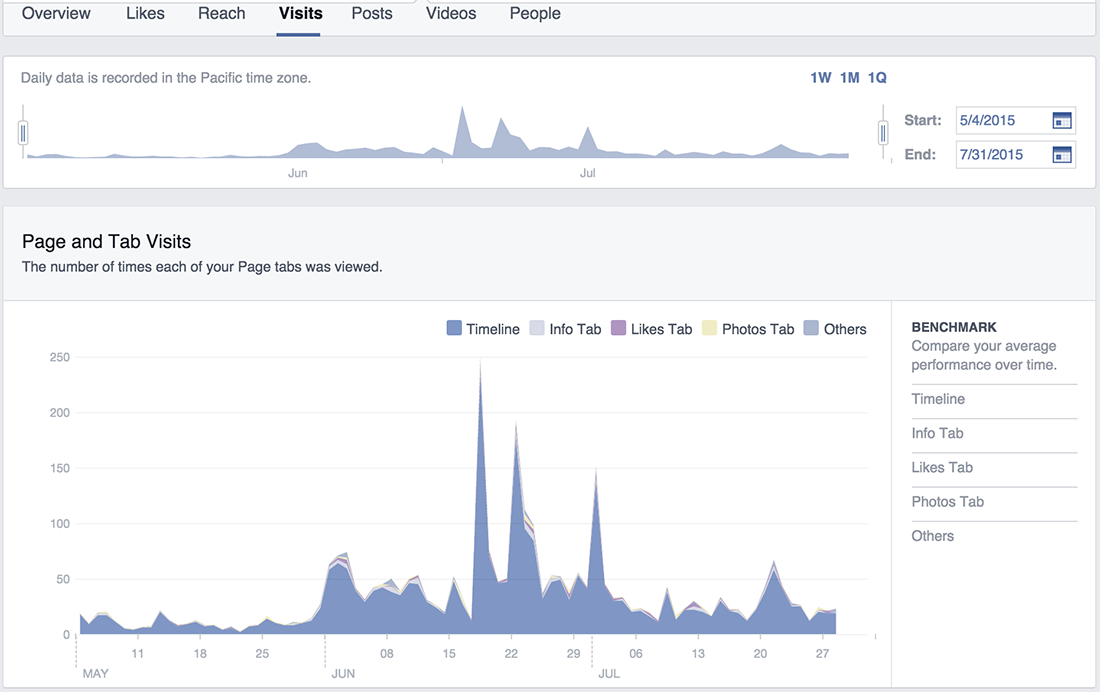 What Time/Day Do People Use Facebook?
The 'Posts' section details information about when your fans are online: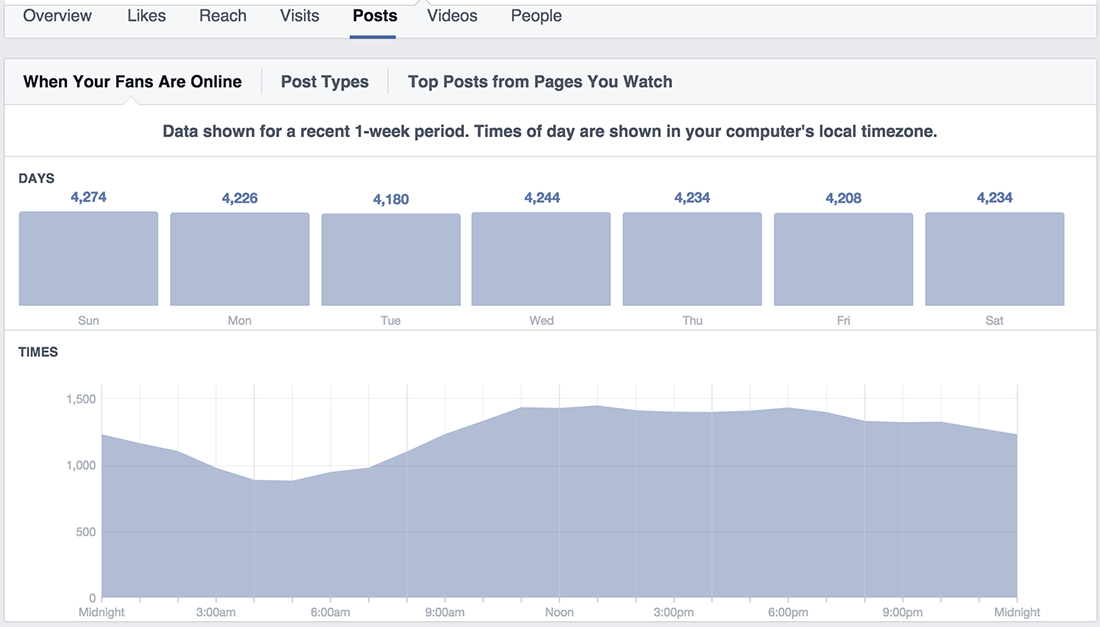 As you can see from the image above, 4am and 5am are the low points in terms of when people who like my Facebook page are on Facebook. The peak is at 1pm. This is important information, because if you want to get the most engagement possible from your posts, then you should be posting at times when most people are online and using Facebook.
Put Your Posts Under The Microscope
Further down the 'Posts' tab, you can see information about posts you've published over the past few months:

As shown in the image above, there are a few filters which allow you to slice and dice the data to identify your best posts (which you may then want to running ad campaigns for).
Do You Use Videos?
The 'Videos' section shows viewing data from videos you've published on your page: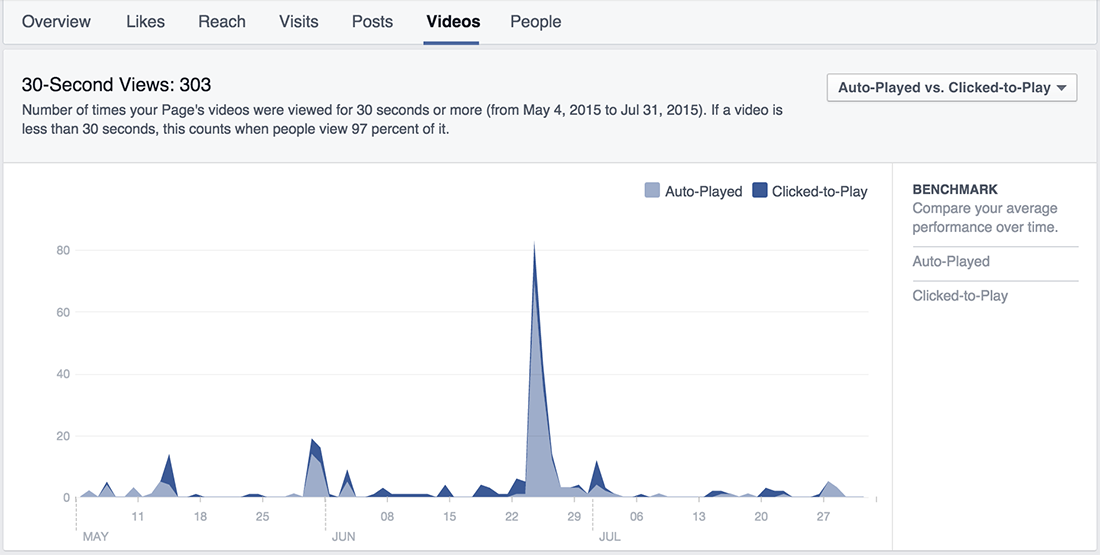 I personally don't publish many videos on my Facebook page, so don't have much data here, but if you use videos then this page will give you useful data about how many people have watched your videos, how long they watched them for, how the videos were played (auto-played vs. clicked to play) and much more.
Location, Gender, Age & Engagement
The final section inside the Insights panel is one of the most interesting, because it's about your fan base! Where they're from, what age they are, which group are most reached, and which are most engaged: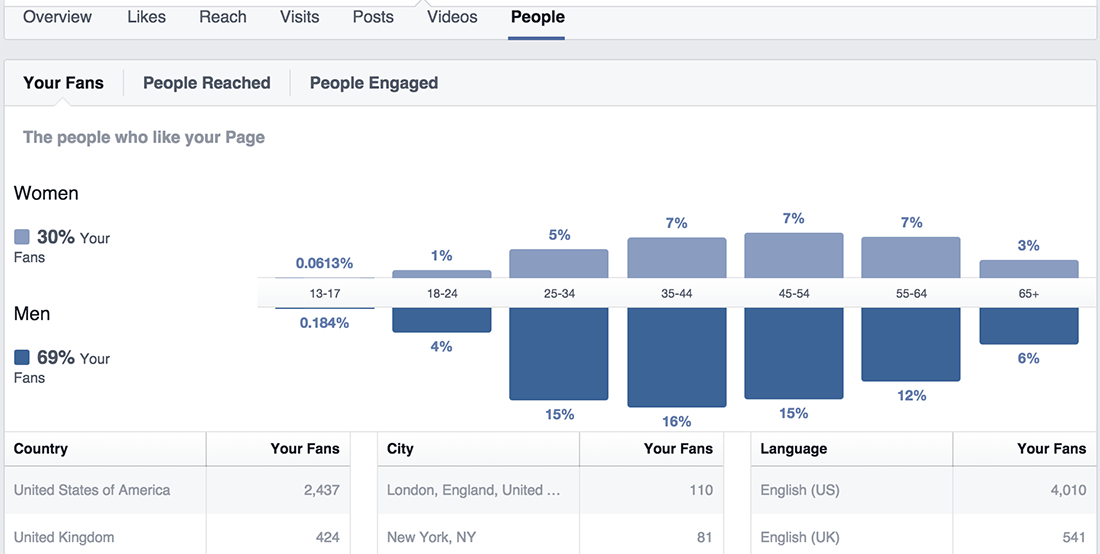 As you can see on the image above, the biggest group of my 'Likers' are based in the USA, but the biggest single city is London.
That completes the overview.
NOW, make sure you check out the 3-minute 'better boosts' video! Click the image below to get free access: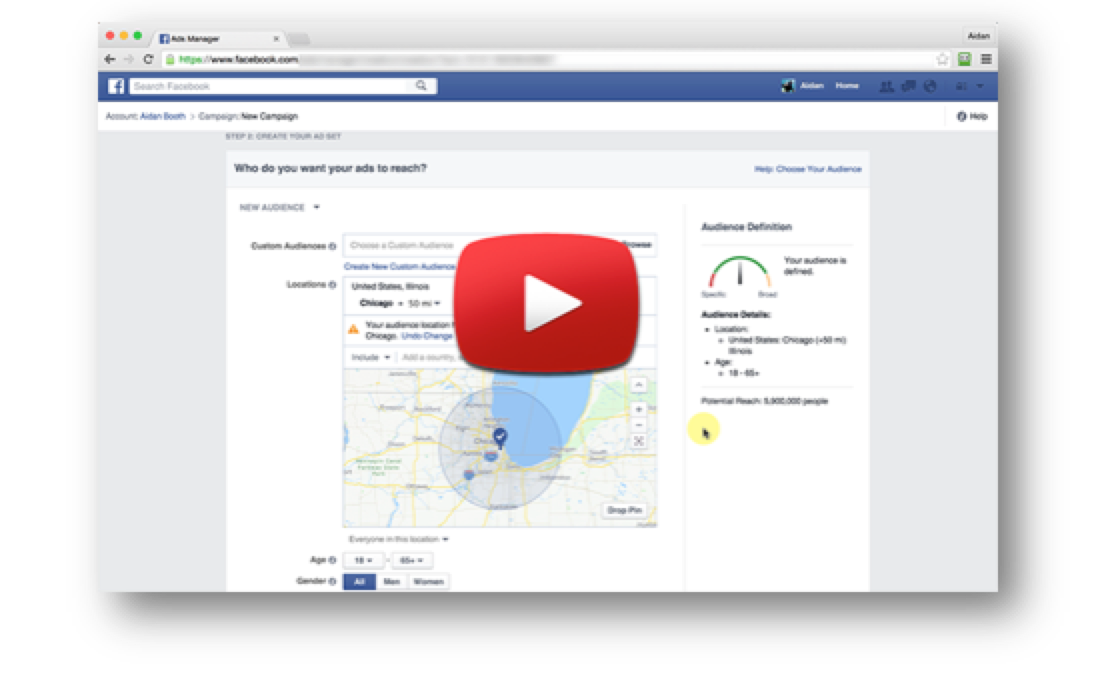 In the video above, I show in step by step detail EXACTLY how to set up an optimized boost post advertising campaign.
Click the button above, add your details, and I'll immediately send you a demo video and PDF detailing the most effective way to boost Facebook posts (it's NOT using the 'Boost Post' button!)
Something To Think About…
Before you go, consider how you can best use all this data. Here are a few ideas:
Understand your demographic and build a couple of avatars to visualize who they really are
Learn which posts resonate most with your followers, and focus on publishing at least one of those types of posts each week (more often if you're using the 100k Factory system)
Determine which audience base is the most expensive and which cheapest to advertise to (Florida vs Oregon in the CDL Training example)
Find out which times and days work best for publishing new content, then schedule content to be published at those times.
Monitor the best content from similar pages, and use it to make a big list of ideas for future posts
Set engagement benchmarks on a monthly or weekly basis, and see if you can hit them
Identify which ad positions (News Feed Desktop, Mobile, Right Sidebar etc) are most effective, and use them more frequently
Find the most effective ads, and scale them up (if you can get traffic for under $0.10 per visitor, then you should be able to make money quite easily from that!)
What Do You Think?
Got a question? Got feedback?
I'd LOVE to hear from you!
Leave a comment below. All comments get published, and I read them all!
Thanks for reading,
Until next time!
Aidan
P.S. If we're not already connected on Facebook, head over to my page and click the 'Like' button. 🙂