Hi, and welcome to the 19th monthly update to AidanBooth.com!
This month is all about Hummingbirds, Penguins and Pandas…in particular, the new Google search engine algorithm.
As always, nothing is promoted on AidanBooth.com, this is an "information only" zone. I encourage your feedback, so leave a comment at the bottom of the article and share it with others who may be interested!
Let's Connect! If we're not already connected on Facebook, head over to http://facebook.com/aidanboothonline and click the LIKE button! You'll get instant updates from me throughout the month! 
Let's dive in…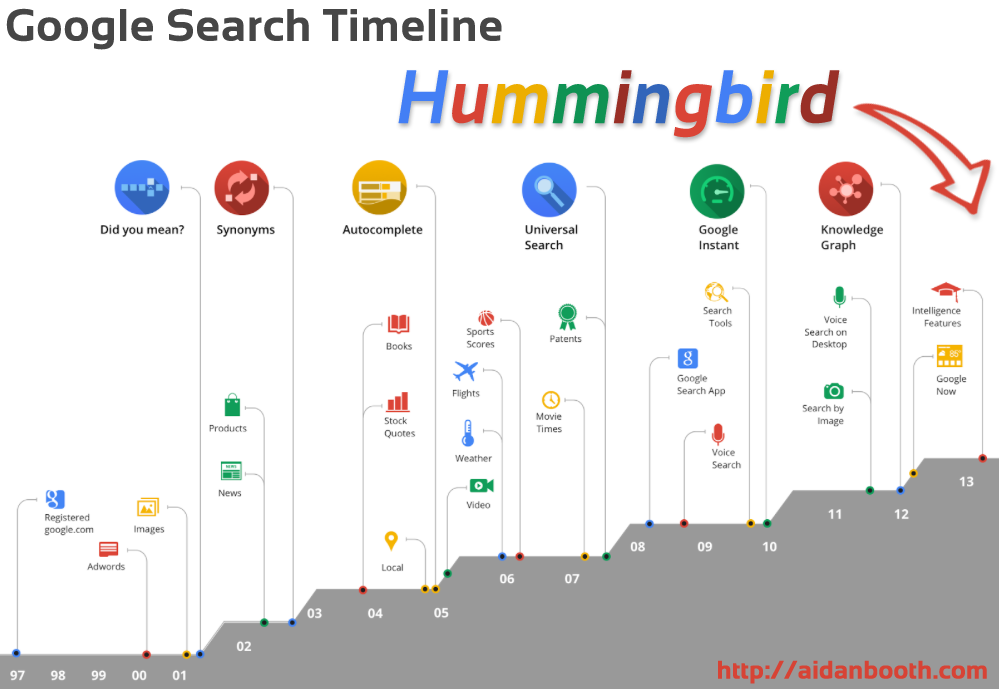 On Thursday 26th of September, Google announced the release of it's brand new search algorithm called "Hummingbird" (according to Google, they used the codename "Hummingbird" because this algorithm update is "Precise and Fast").
Hummingbird is quite a big deal at Google HQ, as it's the first time they've completely rewritten their search engine in 12 years.
Is the previous algorithm completely gone?
No…in fact, much of Hummingbird is exactly the same as the previous search engine, it's just that it's been polished to provide faster and more accurate results.
Hummingbird is based on "Semantic Search", it focuses on what users mean (user intent), not necessarily the exact words they write when searching.
Hummingbird is paying more attention to each and every word in a query, ensuring that the whole query — the whole sentence or conversation or meaning — is taken into account, rather than particular words. The goal is that pages matching the meaning do better, rather than pages matching just a few words.
What happened to Panda, Penguin etc?
Danny Sullivan from Search Engine Land sums this up nicely:
"Panda, Penguin and other updates were changes to parts of the old algorithm, but not an entire replacement of the whole. Think of it again like an engine. Those things were as if the engine received a new oil filter or had an improved pump put in. Hummingbird is a brand new engine, though it continues to use some of the same parts of the old, like Penguin and Panda."
We'll continue to see Penguin and Panda updates in the months to come.
Is SEO Dead?
No…far from it!
There's still a huge amount you can do to manipulate search results and make your pages rank at the top of Google.
If you're focused on SEO, what I recommend is that you do is work on building links that drive you traffic, this benefits you in two ways:
You become less reliant on Google's rankings, since you're driving traffic from non-Google sources
Your rankings improve, since traffic generating links are normally considered "better links" by Google
Some of my favorite sources of "Non-Google" traffic include:
Forums (even if you hate forums, they can be great sources of traffic!)
YouTube (links in other peoples video descriptions are NOT hard to get…)
Facebook (paid traffic on Facebook can often be VERY lucrative…that's a big topic though and will be discussed soon!)
Blogs (like forums, the right blogs can be excellent sources of traffic)
Driving traffic from these types of sources always includes leaving a link, and it normally improves your rankings as a by-product (a side effect).
You need to get creative sometimes in the way you approach this new type of link building, as you won't always be able to just leave a link.
A little innovative thinking can go a long way…for example, strategically building your own "sphere of influence" on forums by infiltrating a forum with a small group of commenters…this is a tactic that's been used to get incredible results by one forward-thinking Trinity Code member (Alex), it's something we'll discuss in depth another day!
The Critical Concept…
The future of top rankings in Google will be built around getting links that drive you traffic…THAT is what you should be focused on.
Side-Note: My entire SEO plan is now focused on one thing only…getting links that drive traffic. The same is true for SEO Blueprint (http://seoblueprint.org) who started moving towards "Traffic Focused" SEO months ago.
My results? What have I noticed?
To be honest, I haven't noticed many alarming changes in my rankings…but this could also be due to the fact that I've been very conservative with my link building for over a year now.
As I mentioned above, I've been focusing on traffic driving links and also on building fewer links, but making sure they're more relevant and higher quality. I've also been building my links in two tiers, ensuring that only high quality "Power Links" are coming directly to my most important webpages.
If you've been following my content for some time now, you'll probably be familiar with the "two tiered" link building structure that I use: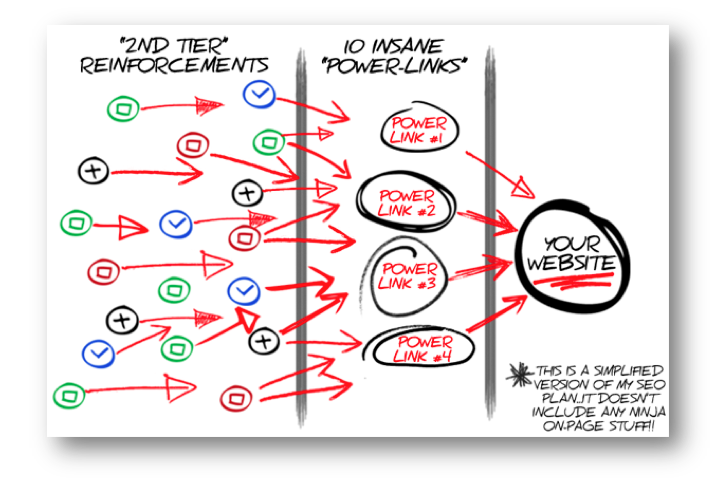 NOTE: "10 Insane Power Links" has essentially been replaced with "10 Traffic Driving Links" (which are normally extremely powerful anyway!).
One pattern I've noticed in a few cases, was a drop in rankings (which coincided with the release of Hummingbird) and then a recovery a few weeks later.
Here's an example: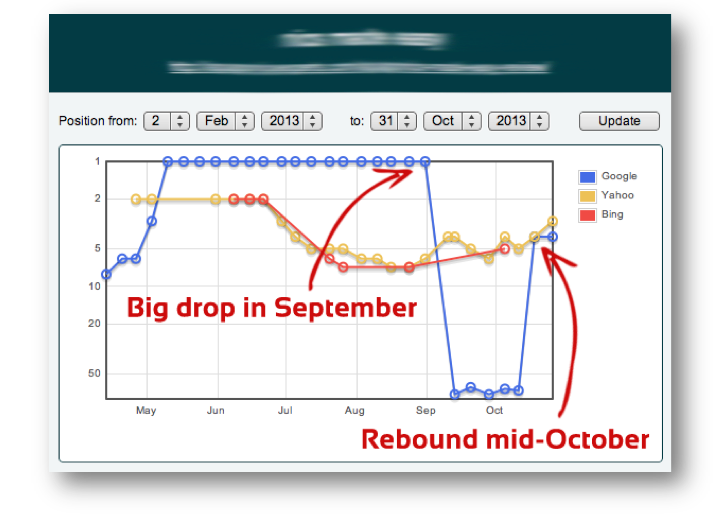 The interesting thing here is that for this particular website, I haven't done ANY link building for months…so the drop and recovery must be down to Google tweaking their algorithm, and then perhaps re-tweaking it in October.
I saw rankings on other sites recover in October as well…for example, the image below shows a website that lost it's rankings in June, and recovered all by itself in October (again, no link building was done for this site before it recovered).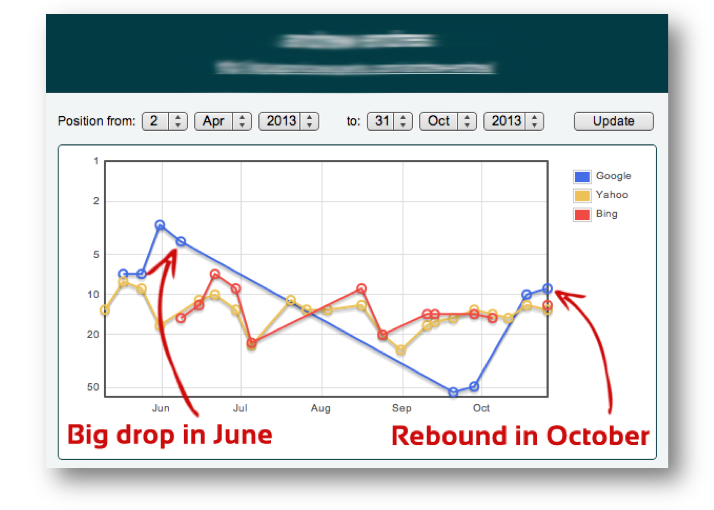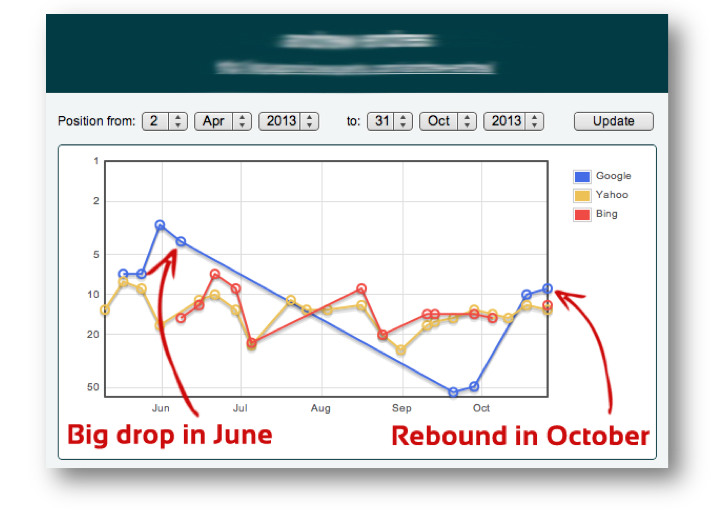 Recommendations
When it comes to getting and maintaining top rankings in Google, there are only a couple of things that you can control:
The content that gets added to your sites
The links you build (and when you build them)
You can't control anything else, so it's best to focus on these two things and make sure you do them well.
Fresh content never hurts a website…in fact, it only shows Google that your site is still active and improving which is a good thing.
And with regards to link building, when you focus on high quality links from related sites, as long as the link building looks natural to Google, then you can't go wrong.
The key is that whatever you're doing to get top rankings, it needs to look natural.
Link Building Reminders:
Remember to get plenty of anchor text variation (I'm now using the URL about 50% of the time)
Focus on consistent link growth over a period of time (don't build links for one month then stop…it needs to be consistent if you want long term rankings)
Prioritizing building links in places that'll drive you traffic (and if you have access to Crowd Force, USE IT!!!)
Don't build all your links to your target page…spread them out across your entire website
Show Google you run a trustworthy website by getting some decent social proof through a few good Web 2.0 authority links (Google+, Facebook Page etc)
SEO TIP: The Google+ Advantage…
One of the most powerful things you can do to boost your websites rankings, is to start leveraging Google+ profiles.
We've studied hundreds of rankings for hundreds of different keywords, and one thing that the top ranked sites almost always have in common is Google+.
Google is CLEARLY rewarding websites that are associated with trusted Google+ profiles…and it makes sense. After all, Google+ is Google's in-house social proof platform.
If you want to get an almost immediate edge over your competition, start using Google+. Make sure your website is associated with your Google+ profile, use Google Authorship, and start growing your circles.
Are we connected on Facebook?
If we're not yet connected on Facebook, let's connect NOW!!
Head over to http://facebook.com/aidanboothonline and click the LIKE button and you'll get access to tips, tricks and announcements as they happen (not just once a month)! 
If you have a question or want to leave a comment, use the box below (all comments are approved and I read every single one!).