Welcome to my "1st of the month" internet marketing update for May!
On the 1st of every month, I write a blog post about some specific facet of internet marketing…the goal is to give you useful information that you can apply to your business.
Nothing is ever sold on AidanBooth.com…this is a "promotion free" zone. If there's a product or service that I personally USE however, I won't hesitate to recommend it, and at times I may earn a small commission for doing so (but the focus is NEVER to earn money here on AidanBooth.com, it's about providing value and helping you build your online business).
April was a MASSIVE month for me…both personally and from a business perspective too.
From a personal perspective, I got married (I met my wife 10 years ago on a Snowboarding trip to Squaw Valley, California)!
Here are a couple of wedding photos: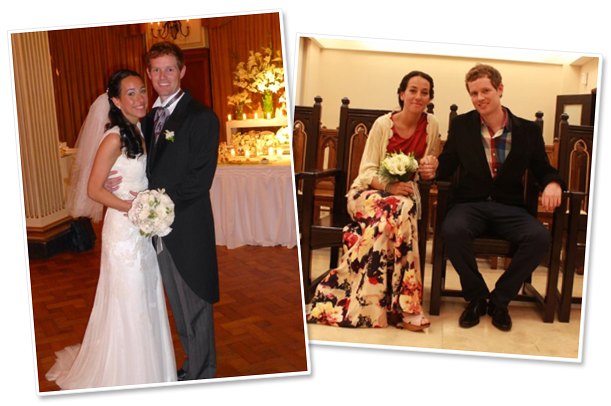 From a business perspective, I recovered some important rankings that'd taken a dive in Google…here are a couple of examples: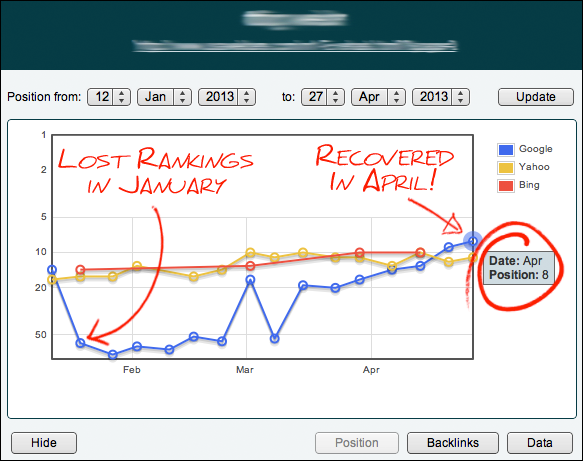 These simple screenshots might not seem like much, but these particular keywords bring me massive amounts of traffic to one of my eCommerce websites, and recovering my top 10 rankings is worth THOUSANDS every single month (as you can imagine, I'm happy my hard work has paid off!)…next step, top 5 rankings!
How Did I Recover My Rankings?
First I analyzed my backlinks and I realized two things:
I'd overused my anchor text a little
Compared to my competitors, I lacked high quality links.
I therefore made a plan to obtain some high quality links, and I used my website name (example: MyWebsite.com) and my URL (example: http://mywebsite.com) as the anchor text on ALL of those links (I've created about 20 high quality links as part of my "recovery plan").
I also freshened up my website with some useful new content.
Essentially I focused on two things:
Building new Power-Links (high quality links)
Adding new high-quality content to the website
Thats a quick update about some progress in my business, now let's move on to this months focus…
Facebook Followers Have Spoken…
When it came to deciding what to write about this month here on AidanBooth.com, I asked my Facebook followers (via my Facebook page: http://facebook.com/aidanboothonline) what they wanted me to cover…here's a snapshot of the results:
NOTE: By clicking the LIKE button on my Facebook page, you can participate in this kind of thing in the future – you can do it here: http://facebook.com/aidanboothonline
The winning topic was "Social Media", and in particular, how to integrate it into your marketing plan – thanks a lot to everyone who participated!
So today I'll dive into the mine-field of social media…
I'll also share a couple of the best tools and services I use to help me manage the social media needs of my websites.
Let's get started!
First up:
What is Social Media?
Social Media, from my point of view, is simply a way of sharing information on popular user-orientated platforms.
And from an internet marketing standpoint, the likes of Facebook, YouTube, Twitter, Pinterest, Google+, StumbleUpon and LinkedIn lead the way.
These social platforms make it easy to publish and share information about almost anything you want.
Social Media websites are BOOMING right now…
Check out this info-graphic (click on it to expand it):
Note: I'll share where you can get professional info-graphics (just like this one) made at the bottom of this post.
How Can Social Media HELP Your Business?
Put simply, Social Media can drive lots of targeted visitors to your websites. It also allows a unique form or interaction (and relationship building) with your audience.
And with BILLIONS of people leveraging Social Media sites such as Facebook, YouTube, Twitter and Pinterest every single day, this is a trend you NEED to take notice of because it can put more money in your pocket and it's here to stay.
Not only that, Social Media "shares" and "likes" are a great form of "social proof" too…if your webpage, YouTube video or Facebook post has lots of Likes/Tweets/G+'s etc, there's a MUCH bigger chance that people will actually stick around on your page to read and digest the content.
Survey Monkey shared some compelling results from a recent survey they conducted.
From 629 participants, 374 were asked how likely they were to read an article on Facebook that already had 451 Likes. The remaining 255 participants were asked how likely they were to read an article with only 11 Likes.
Check out the results: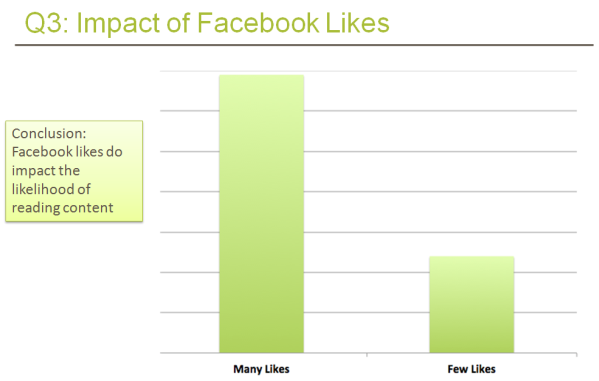 The results show that Facebook articles with lots of Likes are almost THREE TIMES more likely to be read than articles with few Likes.
The same trend was found for Twitter, with respondents more likely to read content that had been retweeted a greater number of times.
Of the 629 participants, 374 were asked how likely they were to read an article that had been retweeted only six times. The remaining participants were asked how likely they were to read an article that had been retweeted 697 times.
As you can see in the graph below, articles with lots of Tweets are FAR more likely to be read.
The impact of Google+ was no different.
From the group of 629 participants, 374 were asked how likely they were to view an image that had been shared on Google+ 312 times.
The remaining 255 respondents were asked how likely they were to view an image that had been shared only two times. As with the other social media sites, respondents were more likely to view an image that had been shared 312 times versus an image that had only been shared twice.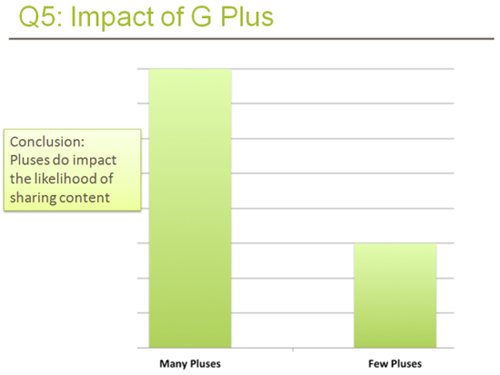 So as you can see, Social Signals are powerful forms of social proof!
The exact same trend applies to webpages. I notice that webpages with lots of social proof have lower bounce rate than pages with no social proof.
If you've got social proof, make sure you display it in a prominent place!
That leads me on to the next question:
What About Facebook "Likes" And "Shares"? How Should They Be Used?
This is a question I get asked ALL the time. Before I answer it, let me quickly cover the main benefits you can get from Likes and Shares:
Facebook Likes
Social proof – as shown in the graphs above, the more Likes a page has, the more likely it'll be read (people assume pages with lots of Likes are better quality and more important).
Show people your website is active – similar to showing social proof, they also help make your website appear active.
Facebook Shares
Potential to go viral – a "share" appears on peoples Facebook walls meaning friends of the person who shared an article will see the share, and potentially re-share it if they like it.
One share can result in more visitors – since shares appear on peoples Facebook walls, their friends will see the share and often visit the website.
Both Likes and Shares can be beneficial, but for different reasons.
Likes are a form of social proof and can get people interested enough to read your article, but Likes won't normally drive traffic to your site.
Shares are a good source of exposure and can lead to more visitors to your website (links from Shares also appear on peoples Facebook walls).
What I like to do is get a base of Likes on each of the pages on my website (at least on the most important ones) so that I can benefit from the Social Proof element of the Likes – it helps my Engagement metrics (bounce rate, time on site and pages per visit).
Once a webpage has a good number of Likes, I shift my focus to getting Shares, as these are what will benefit you more from a traffic point of view.
I'll talk about ways to get Likes and Social Shares in just a second, first I want to talk quickly about Facebook Pages…
Do You NEED A Facebook Page?
The short answer is YES.
A Facebook page can be a great asset to your website. Not only are they great places to get links (which helps boost rankings), but Facebook pages can be great sources of traffic too.
And what's even MORE exciting is Facebook Search…
This was only launched a few weeks ago but has MASSIVE potential, if you don't have a Facebook Page, you stand to miss out on easy "Facebook Rankings".
I recommend that you create a Facebook Page to run alongside every single website you build. This may seem like a lot of hard work, but it's not really.
A few Facebook page updates is all you really need (as a minimum) each month, and if you want to, you can outsource it entirely.
I personally outsource the maintenance of almost ALL my Facebook pages. It's not overly expensive, and saves me a MASSIVE amount of time.
The company I use is called the "Social Media Company", you can check them out here: Click Here To Learn More
Here are a couple of examples of Facebook Pages which are managed by the company I use:
As you can see, the pages look great, have a good following, and are updated regularly (I think it's great value for money and it's one less thing I need to worry about).
What About Google+?
Google+ is essentially Google's challenge to Facebook.
When you add a "Plus" button to your website, you allow people who use Google+ to click the Plus button and show their "circles" (their friends/connections) that they like your page. The Google+ button also allows you to show social proof, so it has many of the same benefits as the Like button.
In my opinion, the most powerful aspect of having a Google+ account is that you can leverage Authorship and have a photo of a face next to your search listings, just like this: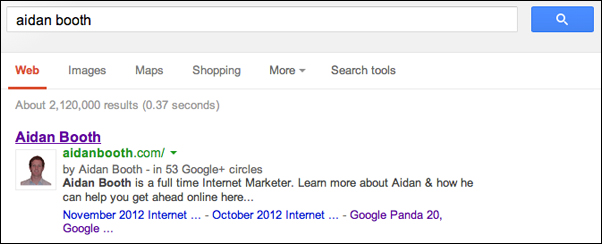 You can also link to your website from your Google+ account, so it's also another powerful source of a backlink (the link is a NoFollow link, but it's still a great one to get).
Here's what I recommend you do:
Create a Google+ profile and set up Authorship so your photo appears in the SERP's (search engine results pages) next to your website.
Add the Google+ button to your website so that people who have Google+ accounts can share your site (and you can cash in from more social proof)
That's it…right now, that's all I'm doing with Google+.
The next question I get ALL the time is about using Fiverr.com to buy social signals.
Is Fiverr.com A Good Place To Outsource Social Signals?
It can be…but if you do it wrong, it can hurt you.
Here's how I recommend you use Fiverr.com:
You can buy Likes, Google +1's, Pinterest Pins and so on, but do it in moderation, never more than 20 at a time, and only do it to build a base of social proof.
As a general rule, never buy more than 20 or 30 Likes at a time. These are not real Likes, they're "fake", and if the number of Likes you have doesn't make sense to Google (based on your traffic levels), they can actually HURT your website.
If you are going to buy Likes (and other social shares), buy from people who have good feedback from past jobs.
Right now you can "fake" social shares, but you need to be very careful. If you do too much of it, or get carried away and buy too many Likes, it's a sure sign to Google that you're trying to manipulate the rankings and your website could suffer as a result.
Bottom line: Be careful…if you're buying Likes, do it in a conservative way…everything in moderation.
What Does Your Website Need?
So what exactly does your website need in order to benefit from Social Media?
Here's what I recommend:
Social Signal Buttons (so that people can Like and Share your content!)
My favorites are Slick Social Shares, Add This, and Flare (these are all plugins for WordPress). All three work well.
As a bare minimum, make sure you're displaying the Like button, the Google+ button, and the Tweet button.
Facebook Share Button
This are NOT the same as the buttons you can install using the plugins mentioned above. You need to have a "Share" button displayed on your site in order to make it easy for people to share your content.
I've started using a paid plugin called "LoveClaw" and am seeing great results (a big boost in the number of shares).
The screenshot below shows the number of shares on a non-IM website (a website that has nothing to do with internet marketing), these social shares are 100% due to adding LoveClaw to the site: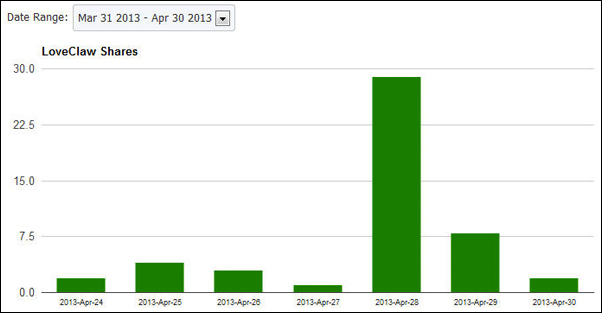 So far over 50 people have shared the site, more shares will come in naturally each day.
Facebook Page
I recommend you run a Facebook Page alongside your website. There are lots of benefits to doing this and once your Facebook Page grows, you'll even be able to make money from it.
Google Authorship
Make sure you're leveraging Google Authorship – it boosts CTR (click through rate) from the Google search results.
Summary Of Tools/Services That Help
You may have received a promotional email from me about "LoveClaw" a few weeks ago. Brian G. Johnson and I teamed up to offer a bonus for LoveClaw. We also held a special LoveClaw training webinar with the creator of the tool, Chris Munch. You can find out about our special bonus offer and see the training replay here: http://marketingeasystreet.com/love-claw.php
Note: Just so you know, LoveClaw doubles in price in about 1 week (around the 9th-10th May), if you're going to get it, you're best of to do so now while it's a one-time price (and get our bonus training).
To Sum It All Up In 5 Simple Steps…
First and foremost, start off with good content on your website. This is fundamental, and without it, you shouldn't expect to get social shares naturally.
Next, add social buttons, and if you can afford it, add the LoveClaw share buttons to your site as well (this really makes a big difference).
Get a few Likes on your homepage so that you're able to leverage "social proof", you can use Fiverr.com for these, just remember not to buy too many and to make sure you buy from a seller with a good reputation.
Next, build your Facebook page, or outsource the entire thing to Social Media Company (click here for details).
As you add new content to your website, share it in the social channels as well (via your Facebook Page and your Google+ page etc).
Spending some time on Social Media is WELL WORTH IT and the long term benefits could be massive, especially with the introduction of Facebook's search functionality.
Hopefully this article has helped clear up the confusion and mystery the surrounds social media…it's really not that difficult.
Let me know what you think by clicking one of the icons below!
And remember, you can also leave a comment, I read them all and they ALL get approved!