Welcome to my "1st of the month" internet marketing update for March 2013.
On the 1st of every month, I share useful information about internet marketing, things that can help you grow your business.
Sometimes I share information about experiments I'm running, sometimes about important Google updates, and sometimes just cool things you can do to improve your business.
I never promote anything on AidanBooth.com…this is 100% content with no strings attached, if you like what you see, please leave a comment at the bottom of the page  😀
Up first today:
$160.06 From Commission Junction…
If you saw my February 1st update, you'll have seen how I've created a new hands-off income stream. I showed you how I've been leveraging Squidoo to earn thousands in passive income each month, and in the video, I showed you my Clickbank income.
What I didn't share was that I've been experimenting with products on Commission Junction as well!
In the last few weeks one of my little "experiments" has pulled in $160.06…nothing to get too excited about, but that's almost $2k/year and it really is 100% hands-off…it's also improving in the rankings and I expect it to DOUBLE it's income next month…
Here are a few screenshots from within my CJ.com account: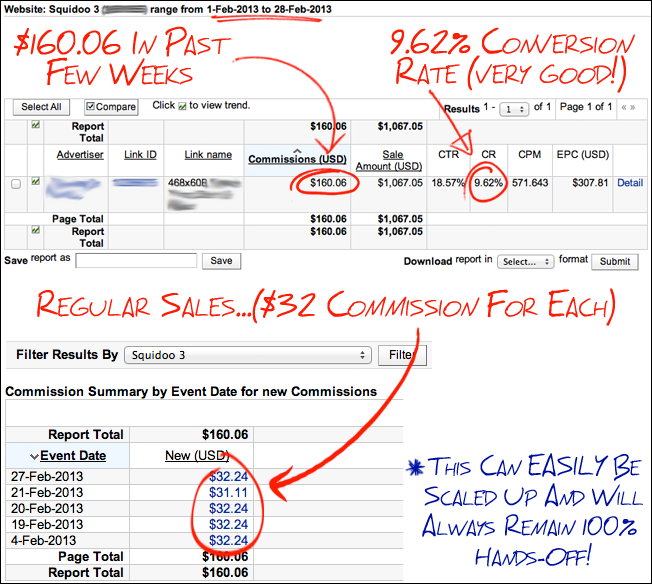 As you can see above, the income from that particular Squidoo lens is becoming more and more regular (over $120 in the last 10 days) and the conversion rates are incredibly good (9.62%) – the Squidoo lens for the above income stream makes 1 sale every 11 visitors that click on the affiliate links (so you really don't need to drive much traffic at all)!
The main thing I want to share with you today however is this:
How To Run A Six-Figure Online Business
I've prepared a video for you detailing EXACTLY how I run my online business.
I'm also giving you the 3 EXACT spreadsheets I use to manage website information, record income and expenses, and track website performance – these are the "foundations" of my business and will save you time and help keep everything well organized.
This video reveals my 3 part system, check it out now (click the "expand" icon in the bottom right corner of the video to make it bigger):
Please allow 15-20 seconds for the video to load.
Management Spreadsheets: Right Click Here & Select "Save As" To Download
If you have trouble watching it, you can also see it on YouTube.com at: http://youtu.be/Kk3C99t0Qrc
To earn well from your websites, you need to treat them seriously, the above method is a GREAT way to get started and it only takes a few minutes each month to keep up to date.
Finally I want to finish up with a really common question that I get all the time…
"What's The Fastest Way To Get To Earning $500/Month?"
Since I released Page One Evolution to the public a couple of weeks ago, I've received even MORE emails than normal about this very issue…
Note: Not everyone is aiming for $500/month…some people want $10/day, others $1000/month, others $200/week, and others want more…but it all boils down to the same thing, and I personally think $500 per website per month is a good number to aim for initially (and scale upwards from there).
So here's some food-for-thought:
$500/month isn't a lot of money, it's an extremely realistic goal and you should be able to get to that kind of income level within 12-15 weeks, even if you're starting from scratch.
Affiliate marketing and Adsense are more hands-off than eCommerce…so if you're looking for something to be 100% hands-off, then these are good options to focus on (with eCommerce, you need to deal with orders and suppliers).
Affiliate websites get faster results than Adsense websites, and they're more lucrative too (an Affiliate site only needs about 50-70 visitors/day to hit $500/month, and Adsense site would need 250+)
In the next week or so I'll be exploring a few interesting ideas I've had about how I can help you more with this, because $500/month really shouldn't be a difficult target to hit.
Hopefully this puts things in perspective a little…
If you've found this post useful, let me know in the comment box below. If you've got a question, ask it in the comment box below. Or if you just want to say hi, send me a message in the comment box below. I read all messages and they all get approved.
Thanks for reading,
Aidan