Hi, and welcome to the 25th monthly update to AidanBooth.com!
If this is your first time here, then WELCOME!
Since April 1st 2012, I've added a new blog post to AidanBooth.com every single month without fail.
The idea is to share useful information with you, share what's working, and give you some real applicable and valuable content.
Nothing is sold here, there are no pitches… and I only recommend things when I'm personally using them.
Do NOT Miss This: Towards the bottom of the page you'll find an email form. If you sign up to it (completely optional), I'll send you a report about how Melissa earned $1589 in 57 days, AND a custom-built plugin she used to make it possible…also, PLEASE leave me feedback, I'd love to hear your thoughts!
——————– ——————– ——————–
Let's begin…
Today I promised I'd write about what I'd do if I had to start from scratch…
And I will, in just a second…
But first, watch this short video that REVEALS my wife's Kindle profits in April (4 mins long):
I'll talk more about the results shown in that video as we work down the page… congratulations to April Alexander, you've won $100 cash 🙂
One last thing before I get into the "meat" of this post… I'd like to give you a couple of updates (good and bad) about things that've happened in the past month…

I bought the domain "AskAidan.com". It cost more than I'd hoped (you can check out my Facebook page to find out the exact amount…), but I think it's going to be a GREAT addition to what I'm doing here on AidanBooth.com. Expect to hear more about that soon (it's a good idea to "LIKE" my Facebook page so you ensure you get updates about these things).
We've settled in Paris and are LOVING it here… I've shared photos on my Facebook page (our apartment is AMAZING, we're on the top floor of a traditional French building…we've got a view of the Eiffel tower and see stunning sunsets almost every night).
Tim, Steve and I FINISHED development on a couple of key software tools. One for identifying Amazon product opportunities (for White Label products), and one custom-built Kindle formatting tool (more on this later, you'll love this one).

One of my wife's Kindle books was plagiarized… copied entirely, and given away for free on DocMe.ru… This was a real kick in the teeth, because Amazon was all over us, and actually REMOVED the book from the KDP select program for a few days (because it was no longer 'exclusive' to Amazon). The good news is that we eventually managed to get the plagiarized content remove from the site…
These things happen…
In my experience, online marketing is often a case of "
two steps forward, one step backwards
". Things very rarely unfold exactly as planned, and this was a classic case of that.
We're stronger for the experience.
Moving on… let's talk about:

I think (*hope*) you'll enjoy this…
To make this more realistic, I'm going to add in a few hurdles…
Lets assume that I've got $200 of capital available to invest
That I have a full time job, which leaves me with a maximum of 12 hours/week to spend on my internet business
This HAS to work… failure is not an option (rent needs to be paid, I'm in a situation of desperation)
I NEED to see money coming in within 30 days (or my motivation will die and I'll give up).
Note: This plan is specifically for people who don't have a lot to invest, but want to build a $5,000/month business (and then scale that). If you had $5,000 or more to invest, I'd recommend doing something a little different.
The cool thing about writing this post, is that I've kind of been through this thought process already.
When I merged my business with Tim and Steve late last year, my wife's role changed somewhat.
Carolina (my wife) used to run all our eCommerce stores and do all the accounting and planning, but when we merged with Tim and Steve, they already had a team in place to take care of eCommerce, and also a full time accountant…
So we decided it'd be best to focus Carolina's energy on building a new income stream, from scratch…and so because of this, I've already thought long and hard about what I'd do if I had to start over from scratch, because in a way, that's exactly what we've doing.

For this example, we'll assume that there's NO room for failure… the plan has GOT to work, or we're out on the street.
It's amazing how well you can work, and how clear things become when you're in a "survival" situation…and that's the best way to be when starting an online business.
So with that in mind, I'd start doing something that's
built around authority
.
A serious project.
Something valuable.
Something that can grow into a big business.
If there's one thing I've learned over the last 9 years, it's that TRUE AUTHORITY NEVER FAILS online.

The other thing that I've learned over and over again online, is that the money is in the list.
Regardless of the niche, a list of email subscribers is absolutely critical, and an easy way to dramatically boost income.
So, an easy way to build a list is something that MUST be included in any "start over" plan.

The other thing I've learned in the last 9 years, is that things will inevitably change.
Google slaps websites into oblivion.
Facebook changes their advertising rules.
Affiliate programs shut down.
Pay per click becomes less profitable.
The FTC ban Amazon affiliates in certain states.
And worst of all, everything I've listed above happens WITHOUT prior notification, and even if they kill your business, you can forget about an apology.
It's dog eat dog.
No-one gives a damn about your business, except YOU (Google and Facebook certainly don't).
Working in such a dynamic industry means things will change, and the ONLY way you can protect yourself is by creating something that's good quality, and something that's DIVERSIFIED.
Don't put all your eggs in one basket.
Focus on just 1-2 niches…
This took me quite a while to learn… and I STILL battle with it every day.
I want to do everything. I want more. I want a piece of every pie…
It's not greed.
It's the entrepreneurial spirit.
And it weigh down pretty much ever entrepreneur that I know.
It's hard to say "no" to a good idea…but you NEED to.
If you've known me for a while, you'll know that at one point I had over 1000 Halloween websites, over 500 Christmas websites, and over 30 Authority sites… it's TOO much and it's not sustainable to manage all that as a 'one-man-band' (or a small team for that matter).
What if I'd put all the time, effort and money that I invested in those 1500+ websites, into 5-6 industry LEADING websites?
It would have been a smarter decision in the long term.
So the other thing I'd consider if I was about to start over, would be to identify just a couple of niches that have lots of room for growth, and I'd get into them.
I'd become a laser-focused authority in just 1-2 niches.

The other thing that I'd need, and this is for motivational purposes more than anything else, is to get some money coming in as quickly as possible.
"Get rich quick" is a cliche… but seeing some rapid results is pretty important.
Instant gratification.
So that's got to be one of the focuses as well.

We've worked out the following:
Need to focus on a serious project, something that is valuable to people
Need to start building an email list
Need to diversify in order to protect ourselves
Need to stay focused on fewer projects
And on top of all this…
We've got a maximum of $200 to invest
We've got a maximum of 12 hours per week to spend on this
Failure is NOT an option
Need to see some income QUICKLY…within the next 30 days
Quite a tall order!
And that's why it took me quite a while to formulate all this in my mind when I was working with my wife on our very own "start over" plan.
But here's the good news…
In fact, my wife has PROVEN the case, as she's built a $2,000/month income in 4 short months.
If you've been following my Facebook page, then you'll already know about her Kindle income (which is only one part of it)…

Let's now fast-forward a few months and look at what the ultimate "end-goal" is for the Start Over plan. It'd look something like this: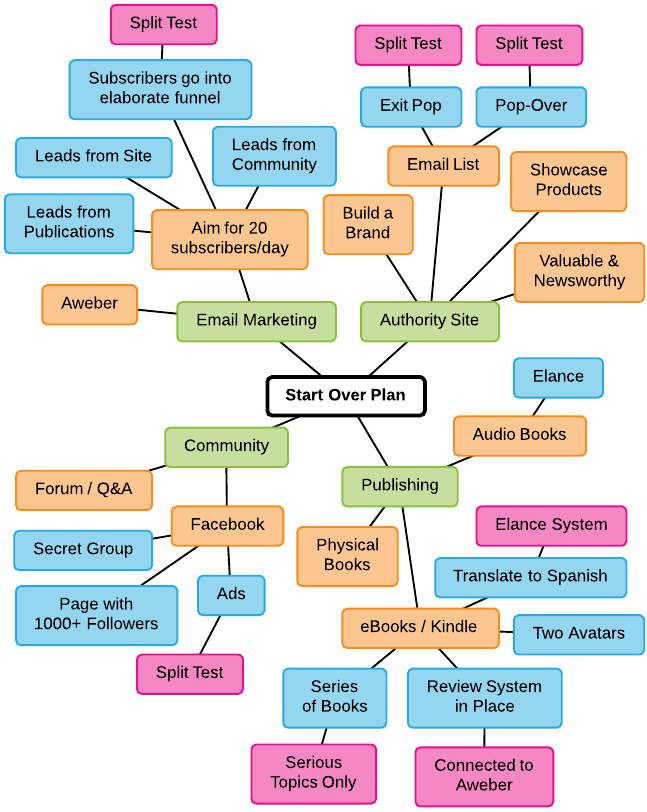 Don't be overwhelmed by this
, it won't happen overnight…the diagram above is a long-term look at how you'd build out the system.
Month 1 is MUCH simpler, in fact it's stuff you'd be able to do in about 20-24 hours at the most (so with 5-6 hours per week, you'd be fine).
Here's a look at what I'd do in month one…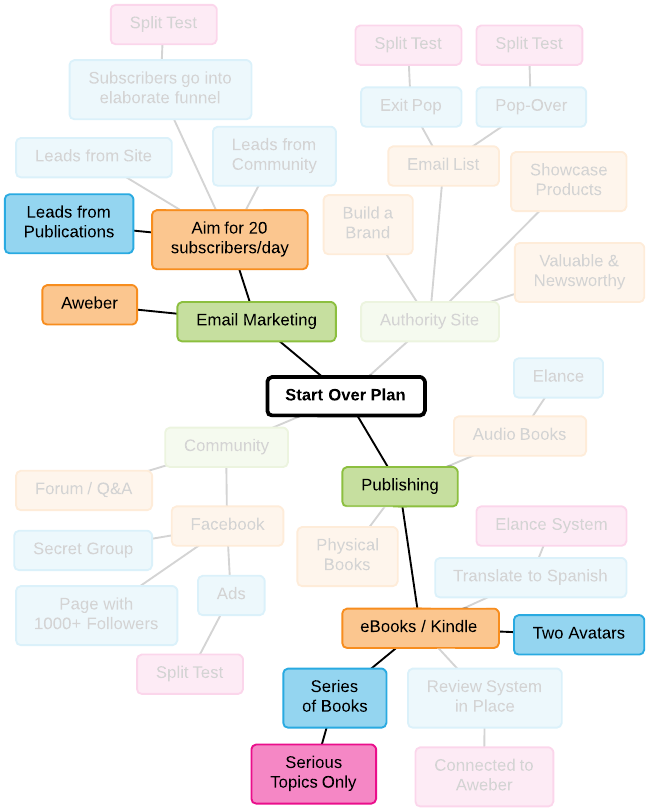 I call Month 1 "Getting a Foothold", because it's when you first start to get some traction in a niche…
You
position yourself against the marketplace
in such a way that you're guaranteed to gain traction.
If everyone else is "Zigging", then you "Zag".
It's a basic concept, but NO-ONE does it…and it's extremely powerful and almost guarantees getting noticed.
In Month 1 you need to
plan out a series of publications
(I use the word 'publication', because it isn't necessarily limited to a Kindle book, more on this later), but you
only actually launch one
(two at the most).
You also set up the foundations of the email marketing leg of your business…this is actually extremely easy, can be done 100% free, and normally takes about 1 hour to do (2 hours maximum). Once it's set up, you'll automatically start getting valuable subscribers (who you'll be able to sell to later).
A conservative estimate for earnings in Month 1 is $150 – $400, and you're looking at about 6-7 hours per week in total.
Let's move on to Month 2…

Here's how things would evolve in Month 2: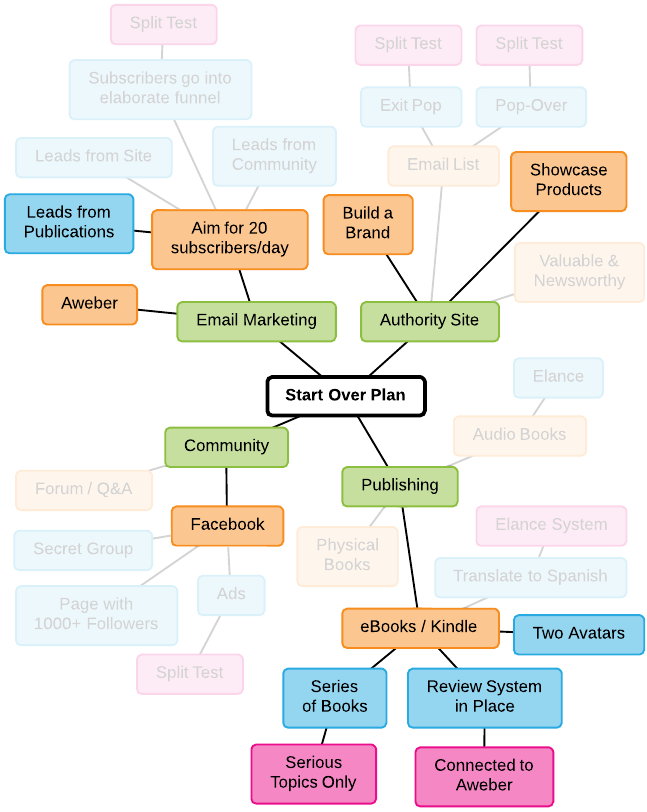 Month 2 is about strengthening the base, and you do that in a number of ways, all of which add more income to your system.
Strengthening – Part 1: Review System
The first way to strengthen the base is to get a review system in place. This is easy to set up, and it hooks in perfectly with Aweber (or any other email marketing platform).
The "Review System" will be your "go-to source" for reviews. It's also how you'll start to grow a relation ship with your audience… and the BEST thing of all is that your Review System will work on auto-pilot behind the scenes… more on how this works later.
Using a couple of ninja tools, it'll take you about 3-4 hours to set up and automate your review funnel (more on these tools later).
Strengthening – Part 2: Authority Site
The second way you'll strengthen your system is by setting up an Authority Site.
Before you jump to conclusions, this is NOT a big site with lots of pages… it can literally be a 2-3 page "Place-Holder" website.
You'll have either a "Coming Soon" page on your homepage, or a simple slider that showcases your existing products. Whichever option you take, you're beginning to build your brand.
You'll need about 4-5 hours to get the basics of your website set up.
Strengthening – Part 3: Facebook Page
The third way that you'll strengthen your system is by adding a Facebook page.
It's absolutely fine if you're not making updates to your page at this stage, the goal is just to get things in place so that in Month 3, you're ready to start using the page.
Your Facebook page is another way to build your brand, and will become a key part of your system once everything else is up and running.
Setting up a Facebook page is dead easy and it takes about 1 hour, 2 at the very most.
Strengthening – Part 4: New Publication
The fourth way you're going to strengthen your system in Month 2, is by launching a new publication. You would have done the planning for this in Month 1, so most of the hard work will already be done.
A conservative income estimate for Month 2 is $500 – $1,000, and your total system income would now be between $750 – $1,400.
Let's move on to Month 3.

Here's what you'll have at the end of Month 3: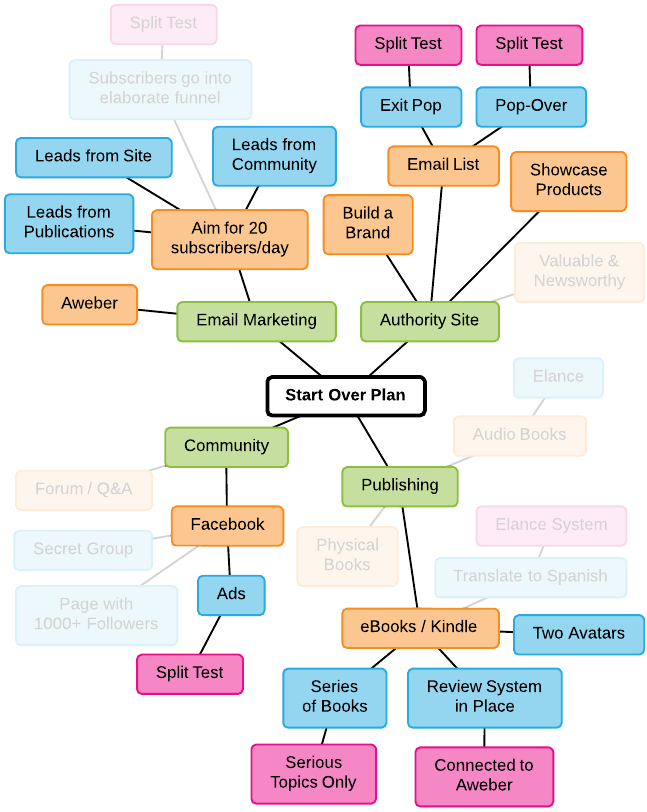 Month 3 is when you start focusing on adding valuable leads into your funnel.
This will happen in a number of ways:
Lead Generation Tactic #1: Facebook
Your growing presence on Facebook, coupled with a $5/day advertising budget, will see about 10 new leads enter your email marketing system each day.
Lead Generation Tactic #2: Authority Site
You Authority Site will be further developed now and it'll be showcasing at least 2-3 publications.
These publications will be driving repeat visitors to your site, and your site will now be adding a minimum of 5 subscribers per day to your funnel.
Lead Generation Tactic #3: Publications
Your publications would have been adding leads to your funnel for over two months now, and you'll be getting new leads at a rate of a minimum of 5 per day.
In total, you'll now have a minimum of 20 leads entering your funnel every single day…that's 600 leads each month, all entering your funnel on complete autopilot.
Now, the leads your getting will have a monthly value of at LEAST $1.50 each (this is based on my experience and what I've seen in a range of niches)… so at a bare minimum, you'll now be able to leverage these 600 leads for $900 of additional income per month.
In total, you should expect to be earning between $1,500 – $3,000 in your third month…this assumes you're building just one system and that you've been working about 10 hours per week on average.
If you're building a second system in parallel with your first system, then you'll be looking at double this income, but also double the workload (very doable for the right person).

From Month 4 to 6, the best thing to do would be to focus on further developing the system by working on things such as:
Strategically adding content to your Authority Site
Releasing more publications (mainly books, but also audio guides etc)
Expanding to 1000+ Facebook Fans (this will happen all by itself)
When it makes sense, translating your products into other languages
Expanding your funnel by using more pre-programed 'follow ups'
And split testing EVERYTHING (visualwebsiteoptimizer.com makes this easy)
And by the time you hit the 6 month mark, you could realistically be sitting on a small goldmine… it's VERY conceivable that you could have a $5,000/month hands-off passive income stream by this point.
And everything I've shown you here is what my wife has done in the past few months…
Here are a series of screenshots from my Facebook Page:

As you can see, sales keep jumping each month…
148 in January
204 in February
357 in March
418 in April
These numbers are ONLY sales in Amazon.com… As explained in the video shown earlier on this page, the total number of sales in April was 596, which is OVER $1300 in profit (and this doesn't include anything else in the system… it's ONLY Kindle sales)
Remember, Kindle is just the tip of the iceberg…that's how my wife got her "foothold" in her marketplace… the real power (and money) is automated on the back-end.

The real secret to my wife's success is actually a combination of two things…
The system above
Melissa Contreras
Melissa is a past student of mine, who has now partnered with me on several projects.
And when it comes to Kindle marketing (and Kindle strategizing in general), Melissa is LIGHTYEARS ahead of pretty much anyone I've ever met…
In fact, without Melissa, I can guarantee my wife's book sales wouldn't have grown so much every single month…
Melissa has been advising us on the right Kindle strategy to use, and the tactics to keep sales growing.
Note: You might remember Melissa from a blog post on AidanBooth.com in March 2013 titled "How to Get 414 Top 20 Rankings", you can check that out here: https://aidanbooth.com/how-to-get-414-top-20-rankings/

As I mentioned above… Melissa is a genius when it comes to Kindle marketing, which is a key component of the system I've explained here today…
She's been through EVERY training course out there, and her knowledge has surpassed that of pretty much every "Kindle Guru" I know…
In fact, not long ago Melissa unleashed a new system (book + website + email marketing), and earned an impressive $1,589 from it in under 57 days…
There's more to this than meets the eye…
If you'd like to get a report from Melissa revealing exactly what she did, the timeline she used, her secret "link" (it's a plugin) between her books and her email lists, enter your name and email address below.
Next week we'll send you a report and information about the plugin Melissa uses – no strings attached.
What do you think?
Leave me feedback below!
I really appreciate getting your feedback, and I read all the comments.
Every single comment gets approved (good or bad), and it's also your chance to ask me questions and get a direct answer from me…
Thanks for visiting, thanks for your ongoing support, and I'll see you next time!
Aidan