Welcome to my end of July 2012 internet marketing update!
On the 1st of every month I write a blog post – sometimes about changes to the internet marketing landscape, and other times just to share useful information and ideas.
Today I'm going to address a common question I've been asked over and over again recently:
"Once you get top rankings in Google, what's required to maintain them?"
Before I answer that question, take a look at how one of my sites dropped from #3 in Google to #9 in the space of just 10 weeks (the green line in the graph below represents my rankings):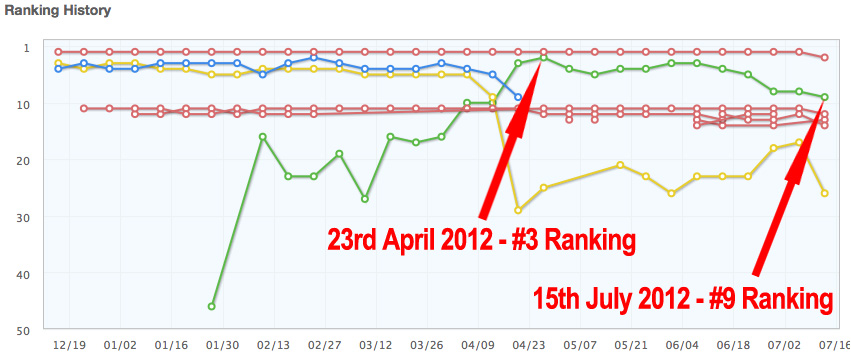 The drop in rankings was a slow and steady progression. It's an excellent example of what can happen as a result of NO new link building.
In most cases, a drop in rankings usually means a drop in traffic (and earnings) as well. And normally a drop from #3 to #9 will result in a significant loss of search engine traffic (and therefore earnings).
It's important to maintain top rankings when you've got them, the good news is that it's not hard to do.
All that's required is a little link building. It doesn't need to be a lot, but a little is usually required.
How much link building is required?
It varies from keyword to keyword and on how tough the competition is.
For competitive keywords, you may need to build hundreds of new links every single month just to maintain your ranking…
Thankfully though, in most cases, that's not required.
Once my websites have top rankings, I typically build just a small handful of links each month.
Here's a hypothetical link building plan I might follow to maintain the ranking of a moderately competitive keyword (like the keywords targeted on my Authority style websites):
1 article submitted to Ezine Article
1 new high PR link
15 social links (a mixture of Facebook Likes, Tweets, +1's etc)
This small number of links will normally be enough to maintain my top rankings.
If I see my rankings start to slide, I'll just raise the amount of link building I do the next month.
That's the basic formula I've used over the last 6 months with my high traffic authority sites. By monitoring my rankings each month I've been able to tweak my link building plan accordingly and keep my traffic high (thanks to top rankings).
Here's a graph that shows how my traffic has been pretty stable on one of my authority sites by using the simple plan above: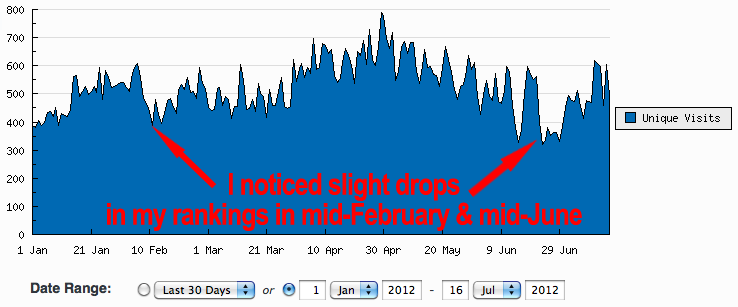 As shown in the graph above (taken from my StatCounter account), the traffic has stayed pretty steady at over 400 unique visitors per day (my rankings have always stayed between #1 and #4).
When I've noticed a drop in rankings (like in mid February and mid June), I've just increased the amount of link building and my rankings have always improved (almost immediately).
"What if you outsource your link building?"
If you currently outsource your link building to the likes of LinkingMadeEasy.com, then you can still slow down your link building when you get to the top of Google.
Perhaps instead of using the $150 plan every month, you could use it every second or third month.
The same rules need to apply though, if your ranking drops, it means you need to do more link building.
But what about adding new content?
The next question I frequently get asked is about the importance of adding fresh content over time. How much should be added and how frequently?
What I'm about to say might surprise you a little…
Most of my well established authority sites NEVER get new content added to them yet they maintain their top rankings…
Fresh content helps…but in my experience, it's not essential like fresh links are.
Don't get me wrong, if you want to add content, it's a great idea and something that may result in more traffic, but it hasn't been a key to maintaining top rankings for me over the past few years.
If you are going to add content regularly, be sure to include a few internal links to different pages on your website. Internal links WILL help your rankings – just don't over-do them or it'll being to look unnatural (and you'll be at risk of getting a Google penalty).
Simple "set and forget" websites…
One of the things I love most about internet marketing is that once you get the system working (a few simple websites is enough to do this), you'll have a constant and steady stream of passive income that'll allow you to do whatever you want.
This months blog post is a little shorter than most as I've been traveling for the last 2 weeks. I've been working my way from Colorado, to Chicago and I'm now going to head to the east coast to spend some time in Boston, Washington DC and New York.
My simple set-and-forget websites give me plenty of freedom and flexibility to do whatever I want.
In my case, I wanted to escape the South American winter (which really isn't all the bad) and come and enjoy a month of American sunshine.
Exciting things happening soon…
I'm currently working on a unique LIVE program that'll be offered to a very small group of people in a couple of weeks time.
I won't get into the details now, but expect an email from me in about 2 weeks time with more information.
A special guest for next months update…
Next months update will be a little different.
I've convinced a special guest to let me grill him LIVE on camera…you'll get to watch that video in the next update on AidanBooth.com on the 1st of September.
Until then,
P.S. As always, I welcome comments, thoughts, debate, and questions below!
P.P.S. If you haven't done so already, go and click the LIKE button on my Facebook Page so you can stay even more up to date: http://www.facebook.com/aidanboothonline