Fast cars, big boats, expensive hotels, private beaches, fancy cocktails, mini-mansions and VIP access are all part of the lavish internet marketing lifestyle…
…at least…that's the stereotype…but it's not how you get started.
In today's "1st of the month" post, I'll show you the reality of internet marketing and what you should be aiming for if you want to make it big online.
Enjoy!
How much money do you need to make online?
What would allow you to live the IM lifestyle?
I'm not asking how much you want, just how much you actually need…to get by, to be able to quit your day job and start working from home…
A few years ago I learned a cool exercise that finally gave me a concrete daily income to aim for…a number which I knew would change my life. I call it my "baseline earnings goal".
This exercise also changed my perspective about a few things, read on to find out more…
Lets get started.
Grab a pen and paper right now (this takes about 2 minutes to complete)
The first step is to make 2 columns, title one of them "Living Expenses" and the other "Lifestyle Expenses" (see the video above to see exactly how I do this).
Next, I want you to write down all your daily recurring LIVING EXPENSES in the left hand column…things like rent, groceries, gas bills, electricity bills, cable TV, internet, phone costs etc.
Get it all down.
Next, write down your LIFESTYLE EXPENSES. For me, lifestyle expenses are things you do because you want to, not because you have to…things like your gym membership, Thursday night out with the lads, a movie night once a month etc.
Now, for each thing on your list, you need to create a DAILY cost.
If your monthly gas bill is $20,divide it by 30 to get the daily value ($0.66).
If your monthly cable TV bill is $43/month, the daily cost will be $1.43.
If you have a weekly cost, divide it by 7. If the cost is yearly, divide it by 365.
NOTE: Watch my example video for more details.
Next you need to add up the individual daily costs and write down your TOTAL.
This total number is what you NEED to survive.
It'll vary a lot depending on what part of the world you live in, if you have children, if you rent a property or if you own one etc.
Here Are My Daily Costs:
Living Costs
Rent ($1000/month): $33/day
Food / Groceries ($100/week): $14.28/day
Cable TV ($30/month): $1/day
Internet ($50/month): $1.67/day
Gas ($25/month): $0.83/day
Electricity ($30/month): $1/day
Taxis / Transport ($100/month): $3.33/day
TOTAL: $55.11/day
Lifestyle Costs
Restaurants / Nights Out ($60/week): $8.57/day
Gym Membership ($70/month): $2.33/day
Holiday to NZ ($1500/year): $4.10/day
TOTAL: $15.00/day
GRAND TOTAL: $70.11 per day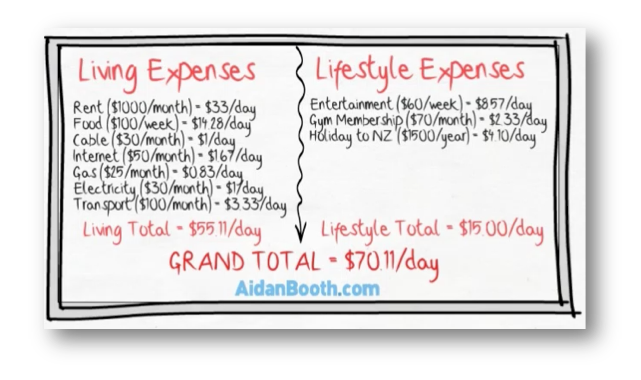 As you can see, my overall living and lifestyle costs are about $70/day.
Reaching $70/day online isn't overly difficult – you need a few good websites and a few rankings – that's it.
Note: Getting to the point where you've got "a few good websites and a few rankings" is SIMPLE, that doesn't mean it's EASY though…these days a little hard work is normally required.
Small Income Streams Will Pay Your Bills
One of the cool things about breaking down expenses to daily costs is that it makes it EASY to see where your money goes.
It also makes the idea of "a website to pay for my food bill" quite a fun challenge.
If you're a member of Authority Hybrid, then you know all about the website that pays my food bill.
The website I've set up as part of Authority Hybrid ELITE is now paying for my yearly holiday to New Zealand (and it's only 2 months old!).
How many money making sites do you need in order to cover your bills?
5?
10?
I bet it's not many.
You Don't Need $200/Day Websites…
The big misconception about internet marketing is that you need to hit a home run…to nail it with 1 or 2 websites that each pull in thousands per month.
"Home Run" websites are a reality, but they're not the "norm"…and anyone that tells you otherwise is probably lying to you.
Once you've got your daily costs covered, which you'll probably be able to do with a handful of websites, THEN you can really start living the IM lifestyle.
So how much do you need to make?
Work it out, then get a plan in place that'll let you hit your goals.
Follow through on your plan, take the occasional failure with a grain of salt and keep moving forward.
Internet Marketing can provide you with more money than you can spend, but it's smart to get the basics covered first.
If you've enjoyed this article, share it with others!
Join Me On Facebook…
Learn more about what it takes to make it online…come and follow me on Facebook.
Just login to your Facebook account, then go to my Facebook page (http://www.facebook.com/aidanboothonline) and click the "Like" button!
Leave a Comment…
If you've enjoyed this post, if you've got a question, or if you just want to say hi, leave a comment below! I read them all and your comment WILL be approved!