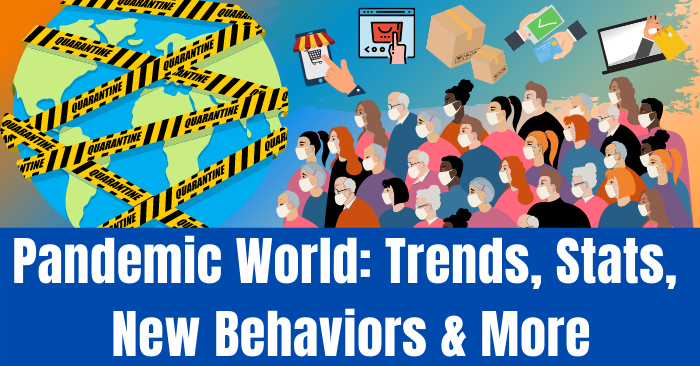 I keep telling myself that I should keep a diary of "what the coronavirus pandemic was like for me", something to look back on in 10, 20, 30 years time… but I haven't gotten around to it (read: didn't make it a priority).
So that's a little what today's blog post is all about.
My goal here is to capture a little of my personal situation, how the pandemic has affected me personally, and also share some mind-blowing stats and industry trends as well.
If you'd like to skip the personal stuff and go direct to the trends, click here, or just keep scrolling.
And as always, I would LOVE for you to leave a comment to share YOUR covid-19 experiences, opinions, or anything else.
27th August, 2020: Before diving in… I know many people have lost loved ones during the pandemic, others have lost their jobs, and many people have faced the toughest months of their lives for all kinds of reasons. I am NOT comparing myself to anyone who has suffered huge loss.. I can't, I'm one of the lucky ones whose life has remained more or less intact. What I originally wanted to do with this post was to share stats, trends and consumer behavior insights, my preamble to all of this is as much for myself as anyone else, it's certainly NOT a hard-luck story, and if you're one of the people who is truly suffering, I hope this gives you a glimmer of encouragement. Stay strong.
———————–
As I write this, the coronavirus lockdown has reached day 161 in Argentina, the longest state-enforced lockdown anywhere in the world. And as the pandemic continues to rage through society (now over 10,000 cases per day in Argentina and hundreds of deaths per day), slowly things are opening up here, and "getting back to normal".
It seems counter-intuitive, to release the shackles just as things are exploding, but people can only be locked down for so long, and politicians can only absorb so much heat before they succumb to what the masses want (regardless of what may be best for the economy, the health care system, etc).
Here's Argentina's Covid-19 case chart: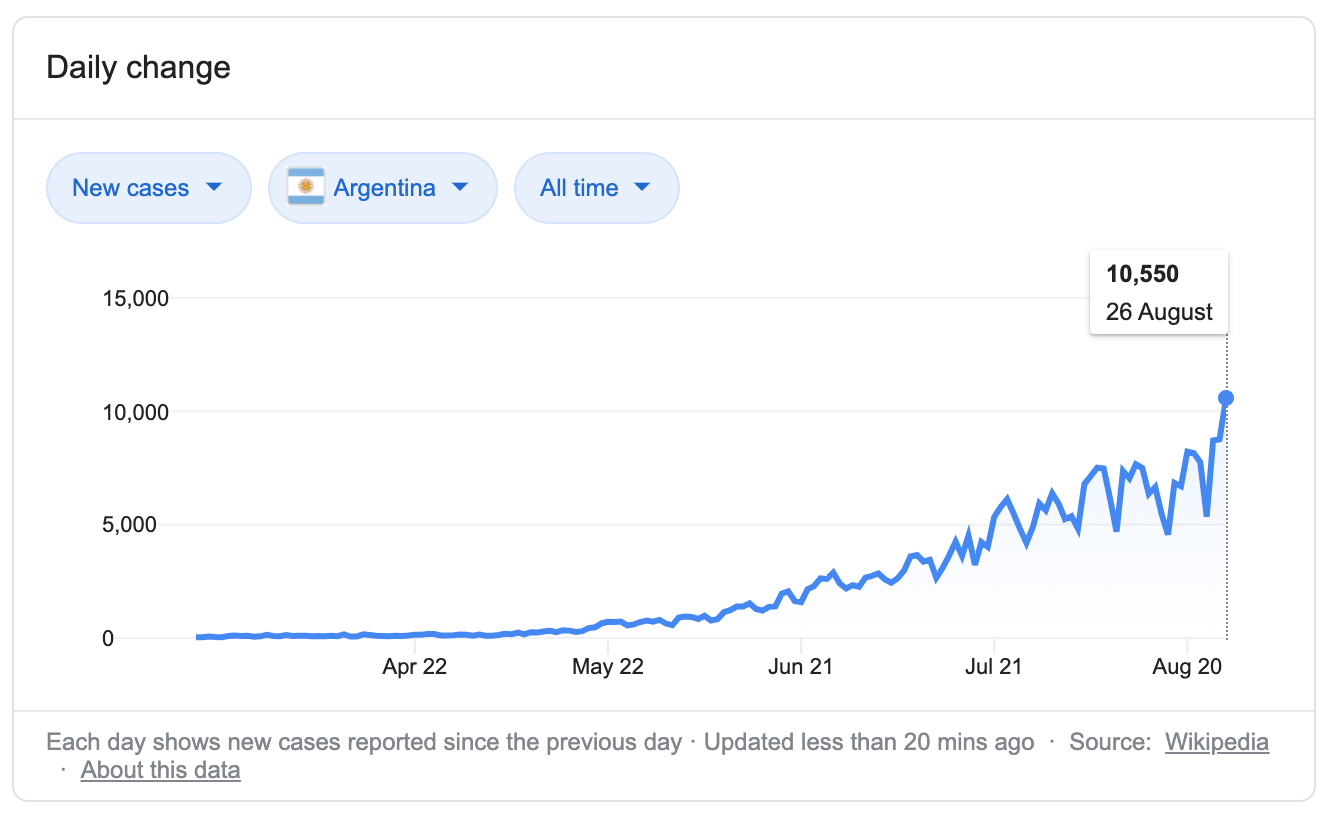 Lockdown in Argentina means I can't get in my car and go for a joy ride (permit required, police checks in place, car confiscation for those caught breaking the rules).
I can't take my kids to the park.
Schools remain closed with no re-open date in mind.
And forget about gyms, social gatherings, or anything like that.
Lockdown in Argentina means self isolation where you can only leave the mothership if you've got a good reason to do so.
The coronavirus pandemic has forced the world to adapt to a new normal. It's touched all of us in one way or another.
Putting business aside, one of the biggest upsides for me is the spontaneous craziness that comes with being around my kids all day, 24/7. Random dress up (we can't actually go swimming, but it's never a bad idea to put goggles on… is it?), playing cops and robbers, creative games born out of the most random things, and watching the day-to-day development…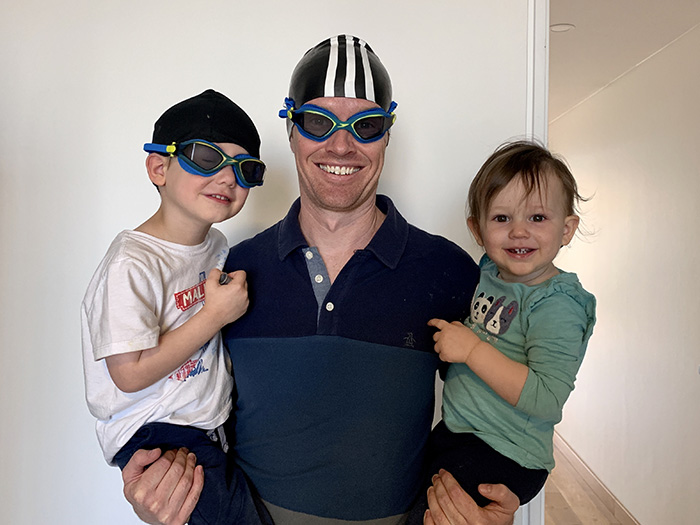 I know that without doubt, I'm one of the lucky ones. With an online business, and one with a large focus in eCommerce and selling physical products online, many parts of my business have actually grown, and my day-to-day work life hasn't changed all that much.
Unlike many businesses that are suffering, Steve and I haven't had to lay anyone off, in fact we've grown our team (this is something that I'm particularly happy about). This isn't about us being smarter than other business owners, it's about us being in the right industries at the right time, which is only partly by design.
How Has The Pandemic Affected My Business?
People often ask me how the Pandemic has affected my business…
The biggest impact on my business was when all Chinese factories shut down in January and February during the China lockdown. We couldn't produce any of our products, which meant we sold out of many of our most profitable items. This kicked-off a flow-on effect, and we next had to deal with logistical challenges. By the time May rolled around, we were getting back to normal, and beginning to surpass many of our monthly averages and set new in-house sales records.
It hasn't all be roses though, one of our brands is in the travel niche, this has been decimated, recording about 50% of sales we saw last year. Thankfully for us, the wins outweigh the losses.
From a business standpoint, by the time the Panedmic was hitting the everyday lives of most people in the western world, the biggest impact had already passed for my business and I was positive about the road ahead.
On a personal level, I've used the pandemic as an opportunity to grow, and embrace the extra time I've had with my family.
Fitness
I've replaced my pre-pandemic fitness regime of swimming twice/week and hitting the gym twice/week with a home based workout plan focusing on two core activities:
High Intensity Interval Training (HIIT)
Yoga
I use the 'Freeletics' app for my HIIT workouts, and aim to get 3 in each week. These are normally about 40 minutes long, and leave me gasping for air ready to collapse. Here's an example of one of my typical workouts (first two images), and some of my stats since lockdown began (third image):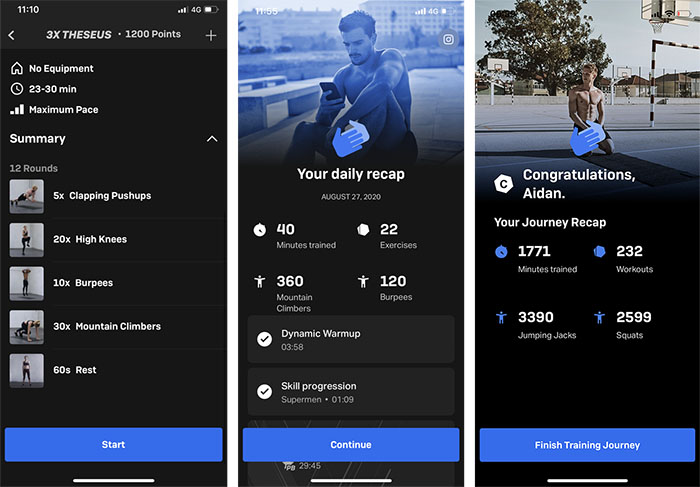 While a knew a bit about HIIT pre-covid19, I knew nothing about Yoga. I was skeptical, but a sore back and sore knees finally convinced me to give it a try, 49 sessions and about 25 hours of practice later, I'm loving it!
For yoga I use the 'Down Dog' app, here are my stats since lockdown began (and my sessions during August):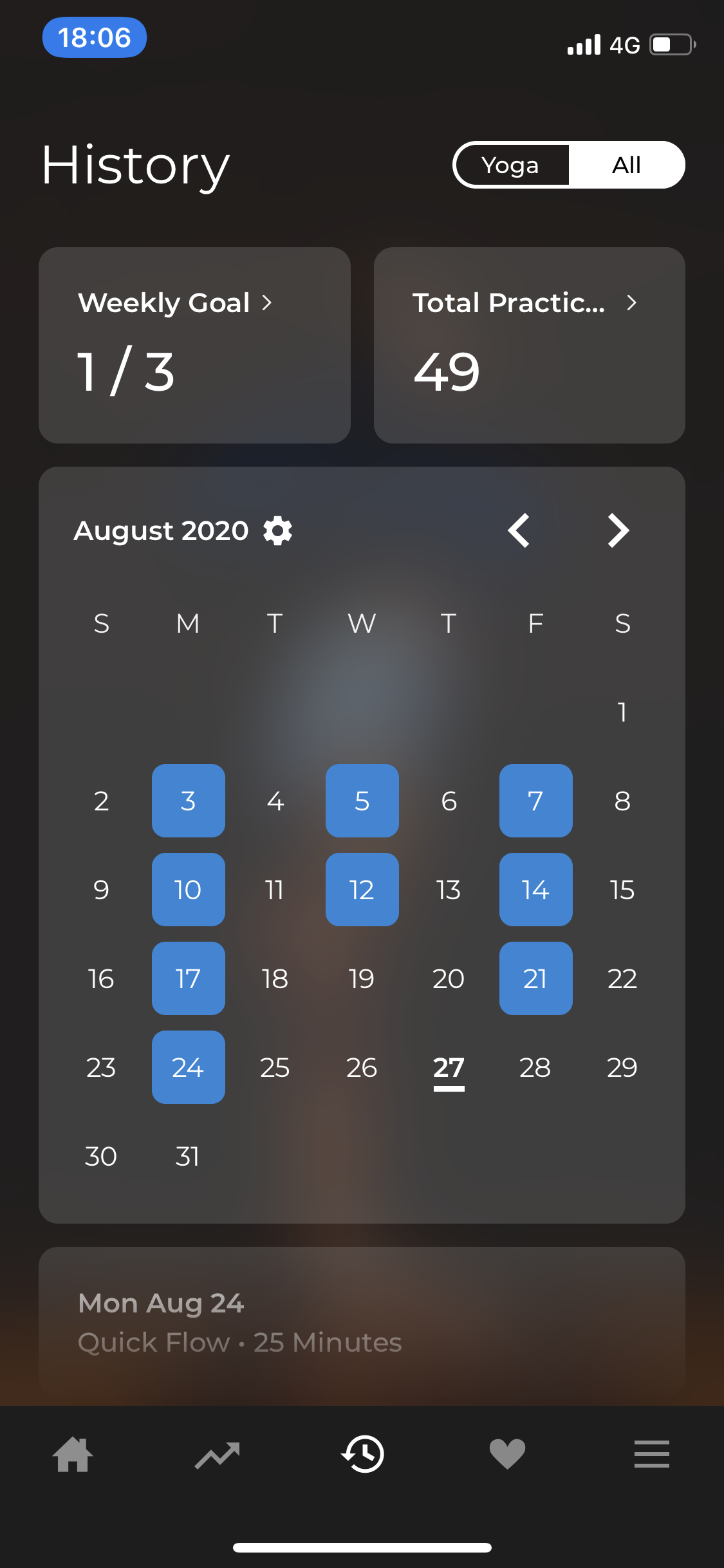 I choose 'core-strength' as a focus of my yoga workouts, and normally have a 30 minute session. Incredibly, I can now do the Crow, the Wheel, and a bunch of other poses I never would have dreamed of previously (I'm SO much more flexible now, it's amazing!).
I typically finish my workout feeling refreshed, but also exhausted (in a different way to the exhaustion from my HIIT workouts).
Beyond Fitness
Beyond fitness, I've also worked on habits around:
I've completely rebuilt my morning routine, which now kicks off with a 10-minute mindfulness/meditation session at 6am (I use the Headspace app).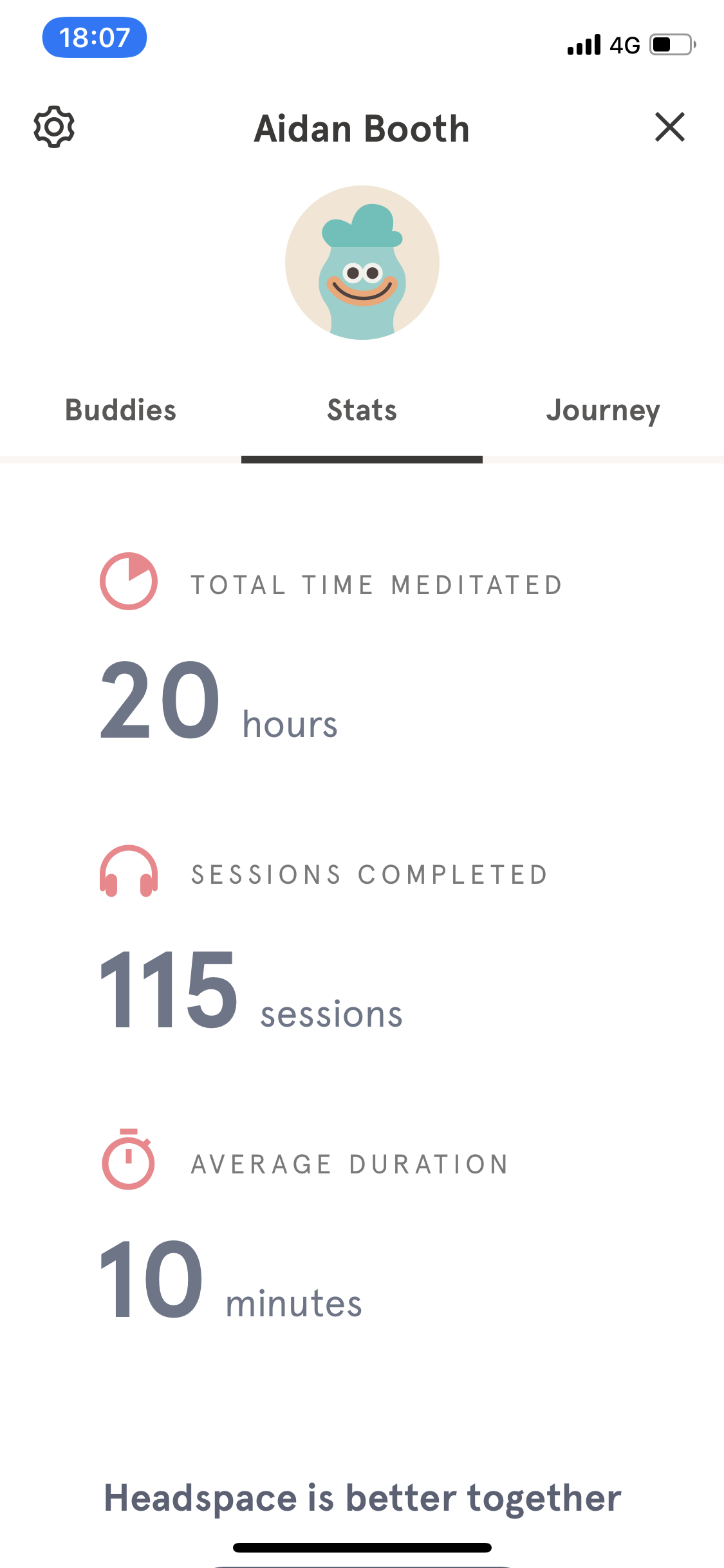 I first tried meditation and mindfulness a couple of years ago. I stuck with it for about a month, but never felt relaxed about it. I always wanted to 'fast forward'… the timing wasn't right.
With so many of the most successful people in the world swearing by including meditation as an integral part of their days, I've been keen to give it a second chance (pretty much ever since I gave up on it the first time around!). So when the pandemic hit, it was a no-brainer for me to add this to my list of initiatives.
Over the past 161 days, I've practiced mindfulness 115 times (I normally practice it Mon-Fri, so 5x per week), and racked up 20+ hours (I use guided 10 minute sessions). I can see why meditation is not for everyone, but personally I've found it has helped to give me more balance in my day, a better ability to focus, and a more grounded approach to how I deal with the chaos of the world around me and everyday life.
The there's Cooking.
We can't eat out, so we've upped our game in the kitchen, and add one new 'restaurant grade' meal to our repertoire every week.
It's fun, and a good excuse to try new wine pairings as well! ?
Celebrating the Small Wins
In terms of keeping my own mind sane, and my family happy, I make a conscious effort to celebrate the small (or big) wins that we see in everyday life.
These are sometimes the most trivial little things, like my daughter sleeping through the night (actually.. not so trivial!), or my son learning to eat avocado, or bigger deals, like me finally getting my Italian passport, taking a HUGE leap in several personal investments (more on these another day!).
The point is, celebrating keeps us happy, and a positive household is good for everyone in the house, and everyone around us. It flows through to my business, my amazing team, my friends, and so on.
If you feel like you need to up your game, check out my 'Prosperity Puzzle' course (you can still get it for FREE here: https://prosperitypuzzle.com/) or try reading books that foster this kind of thinking… there are dozens of them here: https://www.aidanbooth.com/books/
Books that come to mind in terms of improving your state of mind, and your output, include:
The Slight Edge
The Gamechanger Formula
Peak
Think and Grow Rich
The Magic of Thinking Big
Think Bigger
Principles
The Power of Habit
Atomic Habits
The Miracle Morning
etc (there are many many more of these, and links to all of them, on my book review page)
Let's now pivot a little bit now to the trends we're seeing as a result of the Pandemic. How is consumer behavior changing, which industries are thriving, which are dying, and much more…
Below are some fun facts about how online activities and trends have been different during these crazy, crazy times…
eCommerce Sales Are Up 25%
By the end of the second quarter, the eCommerce industry in the USA has shown a growth of 25% and 28% globally, benefiting from the shift in consumer shopping habits when the pandemic hit.
This growth also meant a 44.4% increase in eCommerce sales, growing from $138.96B in 2019 to $200.72B by June 2020.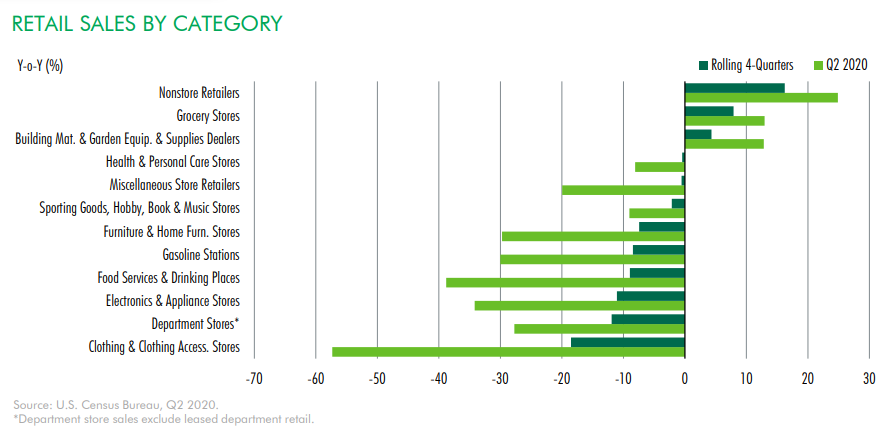 Recent data also shows online grocery stores and building supplies industries taking most of this growth with 13% by the end of June. In April, online grocery sales rose to $5.30B  from $4.0B just in March.
Consumer Interest in Indoor Activities
With so many people stuck at home, interests are also now confined to what people can do inside their homes. People are trying to cope with boredom by making the most out of their time at home with indoor activities. Being at home has increased interest (and sales!) for the following products:
Home Appliances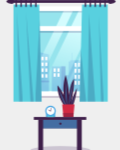 People are using their home appliances now more than ever, and with that comes the need to upgrade, especially for those who have long put off upgrading their appliances.
At the start of the lockdowns in March, sales for home appliances rose 8% more than the same period last year. These appliances included refrigerators, toasters, dishwashers, as more and more people rely on home cooking for their every day meals.
Kitchen & Baking Equipment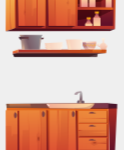 Recipes have been trending online during the lockdown as well, from sourdough starters to homemade pastries and healthier meals. Sales of new kitchen equipment such as ovens and mixers are up.
With 64.5% of people avoiding restaurants, coffee shops, and bars, their shift in attention to cooking at home has increased demand for small kitchen appliances. Data shows that 54% of consumers are trying out new recipes, with a 58% increase in searches for cooking websites and influencers in the cooking niche.
Hobbies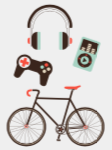 The fast-paced life pre-pandemic has been paused, and people suddenly have so much time on their hands that they're going back to their hobbies, specifically stationary and journaling.
This also increased market presence of homemade and handcrafted goods, with Etsy reporting a 146% spike for the past months.
Indoor Exercise Gear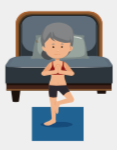 With gyms and workout studios closed down, people are turning to building their own home gyms and buying yoga mats, dumbbells, and other home exercise equipment.
In Europe, sales of exercise equipment and fitness products went up 533%, and athletics products up by 466%. This also includes fitness clothing gear. In Japan, activewear has seen a 45% spike in sales.
Toys and games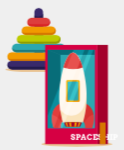 Parents working from home have turned to purchasing toys for their kids to give them some sort of entertainment. Page views for toys and games have increased to 128%, with orders up by 79%, and is down 54% month-on-month, but up 93% week-on-week.
This category also includes demand for console gaming equipment and console games. Gaming activity online grew by 75% since the quarantine went into effect.
Pet supplies
Furparents have also spent more on their pets during lockdown, ensuring they too have enough food and supplies. Demand for pet supplies have gone up by 23%.
Home Improvement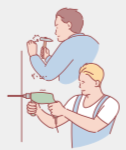 The longer people are at home, the more they notice parts of their homes that need repair (and the more time they have on their hands to do the work required). Building materials as well as DIY equipment have also seen a rise in demand.
A survey of 600 homeowners showed that 57% of them had home improvements done during the quarantine.
Skills & Education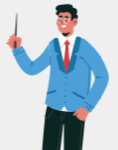 Online courses have also become a hit during the lockdown. People are now investing their free time into learning new skills and brushing up on their education by investing time into short online courses or even by simply watching tutorial videos.
For example, enrollment in open online course schools like Udemy were up 400% between February and March, while Coursers, another course platform, has enrollment up by 640%.
Home Office Equipment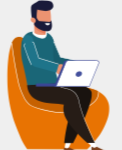 Most companies have now put a work-from-home system in effect, but not everyone is readily equipped for this.
This has continued to drive demand up for computer hardware such as laptops, monitors, keyboards, webcams, work desks, and office chairs. This also drove demand for software, which has seen an inquiry increase of 102% from last year.
Sleepwear & Loungewear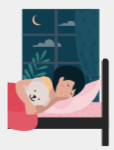 Consumers are used to shopping for clothes to use out of the house, even though the general demand for apparel is down, demand for sleepwear and loungewear has increased.
This includes pajama sets, leggings, and sweatpants, with sales shooting up to 184% in Australia and 126% in Brazil.
Declining Interest
There are certain parts of the eCommerce market that have lost a fair share of sales during quarantine, the most obvious being travel necessities, such as luggage and bags, outdoor sports equipment and other outdoor products, and even clothing and jewelry in general.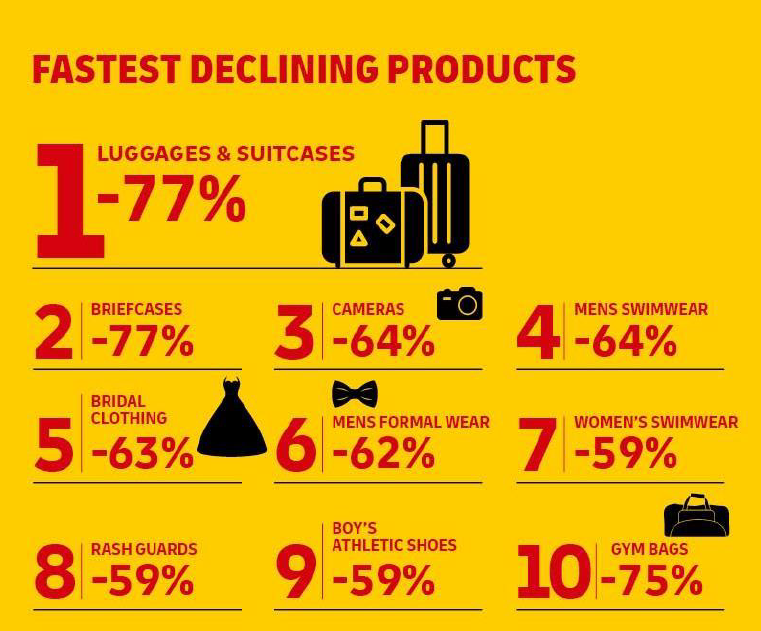 eCommerce Holiday Sales During COVID
Regardless of the pandemic, the buying behavior of consumers during holidays is proving to be the same, the only thing changing is the WAY of shopping. During Easter this year, Easter products were still in demand and people celebrated, but in many cases they celebrated from within their homes.
This is good news for online sellers is that holidays STILL boost sales, and with Thanksgiving (Black Friday and Cyber Monday) and Christmas just around the corner, online sellers should be EXCITED about the months ahead!
Diverse Stores
Stores with a diverse offerings (like the stores we build as part of our Kibo Code training), especially with products that have seen an increase in demand during the pandemic, continue to drive in sales. In my opinion, these kinds of multi-product stores are still the best way to get ahead online right now, because they give you the flexibility to adapt and change quickly, something that just isn't possible with a niche-specific store.
With the change in product trends, online stores are now also adapting to the change by offering more of these products, i.e., cleaning materials, DIY products, medical supplies, and other self-care and indoor items in order to cater to the consumers at home.
Mobile Shopping
People have also grown more inclined to doing online shopping through their phones, and browsing online stores while doing other things at home.
72% of online consumers now use their mobile devices to make their online purchases. This means online sellers need to make sure that their stores are responsive and in fact FOCUSED on mobile sales as a priority (versus desktop sales).
Chatbots
Consumers are doing their shopping virtually, but they still expect good customer service, and that means reliable and quick communication. While some store owners can manage to answer queries by themselves, chatbots have been very helpful in providing automated customer service to stores that can't.
Chatbots provide instant answers to customer queries any time of day, and this response rate is why 80% of businesses are predicted to be using chatbots by end of the year.
Payment Options
Coronavirus has meant a lot of social distancing and limiting physical contact as much as possible. This includes less cash-on-delivery shopping. Online payment options were on the rise even before the pandemic hit, but they are seeing a higher increase in usage now. E-wallets and online payment gateways, such as Paypal and Apple Pay, give customers a speedy checkout experience.
When the lockdowns were announced in March, 23% more transactions made in eCommerce stores were paid through online payment gateways rather than placing them on a cash-on-delivery order. Contactless payments are estimated to see a 10% increase from payment transactions done during COVID, rising from 58% to 67%.
Ad Spend
Although there is an increase in online shopping, ad spend overall has actually gone down, specifically, mobile ad spend.
Pre-pandemic, mobile ad spend was projected to reach around $105B in 2020; however, with slow business hitting retail stores and other industries, ad spend is now shrinking and is not expected to return to normal levels until 2024.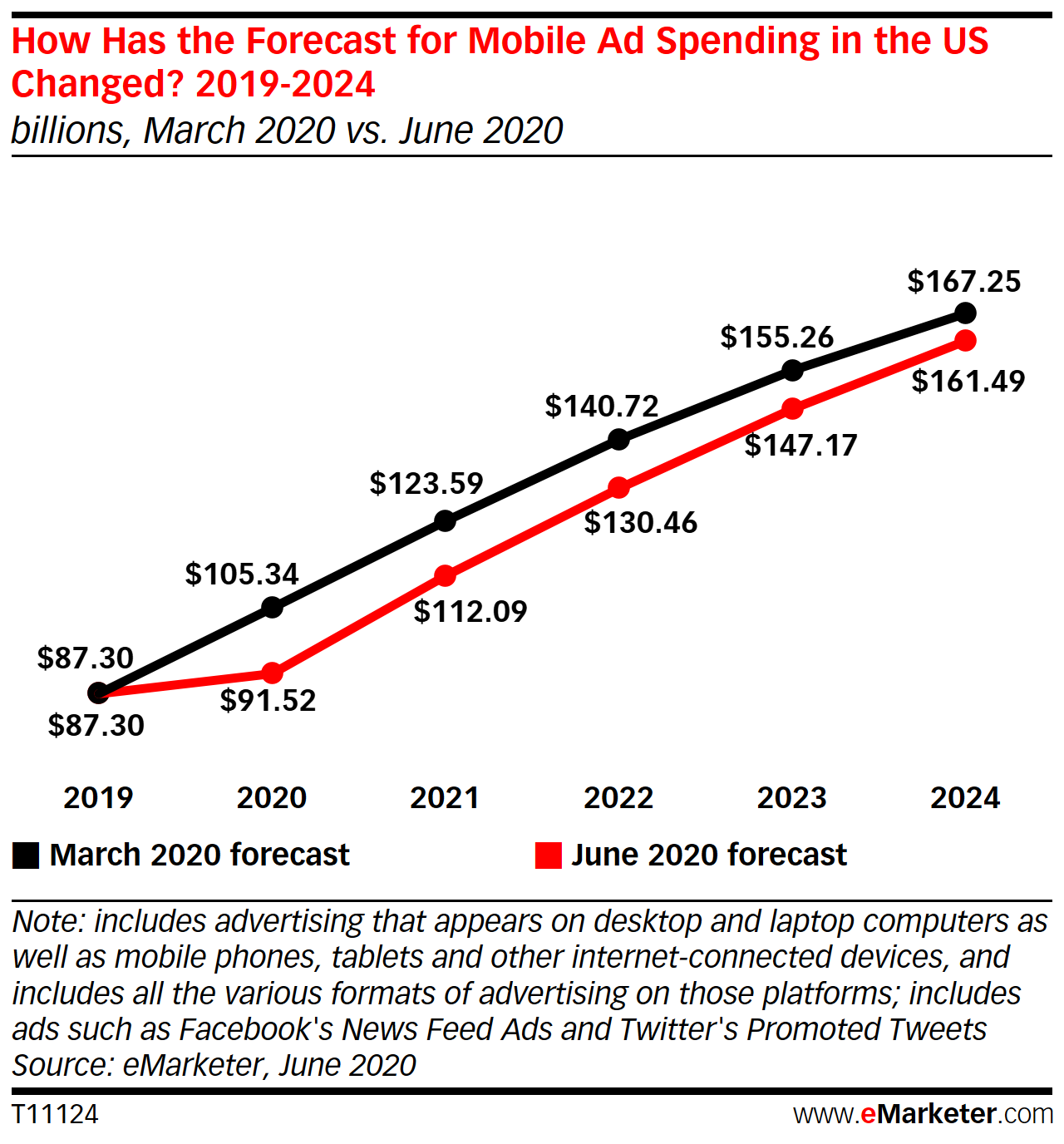 General ad spend has also been paused by 88% of large companies. The silver lining for this news is that advertising costs are also expected to go down (in many cases they are already decreasing), making it a prime time to advertise for online sellers.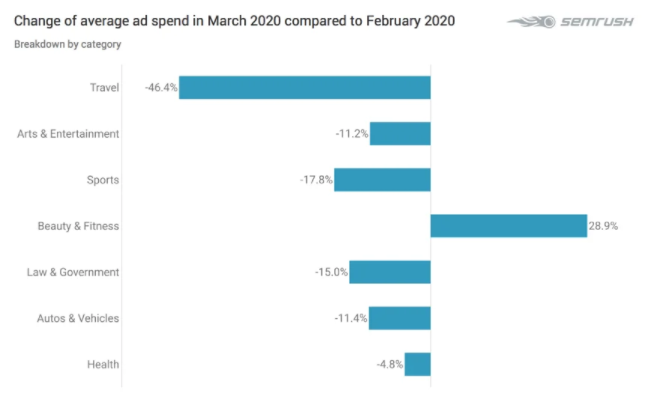 Responding To Ads
Consumers are also more responsive to ads that show up on their screens during the quarantine. Statistics show that consumers now pay more attention to marketing emails and ads that they receive, specifically targeted ads.
Facebook Usage
The more 'spare-time' consumers have, the more they are glued to their phones, more specifically on social media. This builds habits.
63% of social media users from the USA have been spending more of their time scrolling through Facebook, using it to keep in touch with family and friends, as well as a medium for news and updates on the outbreak.
Optimal Posting Times
The lockdown has also changed the optimal time for advertising and posting content on social media. Considering the majority of consumers are now juggling work and home duties on weekdays, the peak time to post on Facebook has become 10:00-11:00 am on Mondays, Wednesdays, and Fridays.
On the other hand, Instagram traffic has been seen to be more active around 11:00 am on Mondays, Tuesdays, and Fridays, as well as 2:00 pm on Tuesdays, making these the most optimal time to post.
Leaving Reviews
Shoppers are now more inclined to leave reviews for their online orders, with review counts up by 76% compared to 38% in May, which may be attributed to receiving late packages. Review submission is up 176% for food and beverage.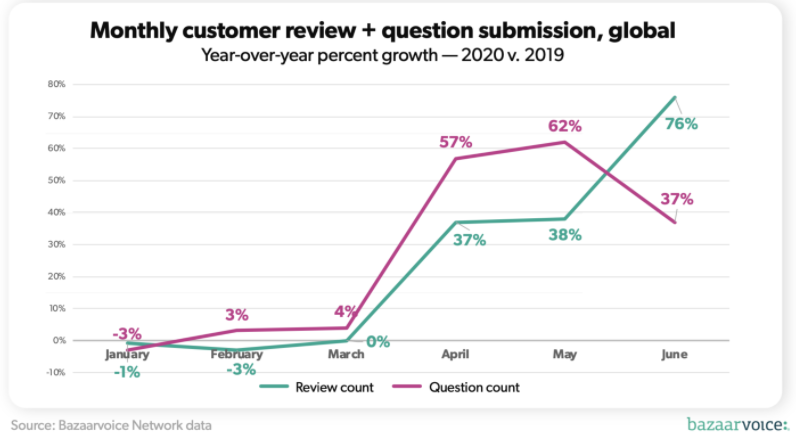 Amazon
With Amazon increasing its grocery offering and allocating more budget to ensuring deliveries are on time (especially for essential items), the online giant marked a revenue of $47.27B in Q2, a 48.8% increase from 2019's $31.76B.
How as the pandemic affected you? Have you been able to take any positives from the chaos, build new habits, or start new businesses? I'd love to hear your thoughts, leave a comment below!
Thanks for reading, and stay safe out there!
Aidan