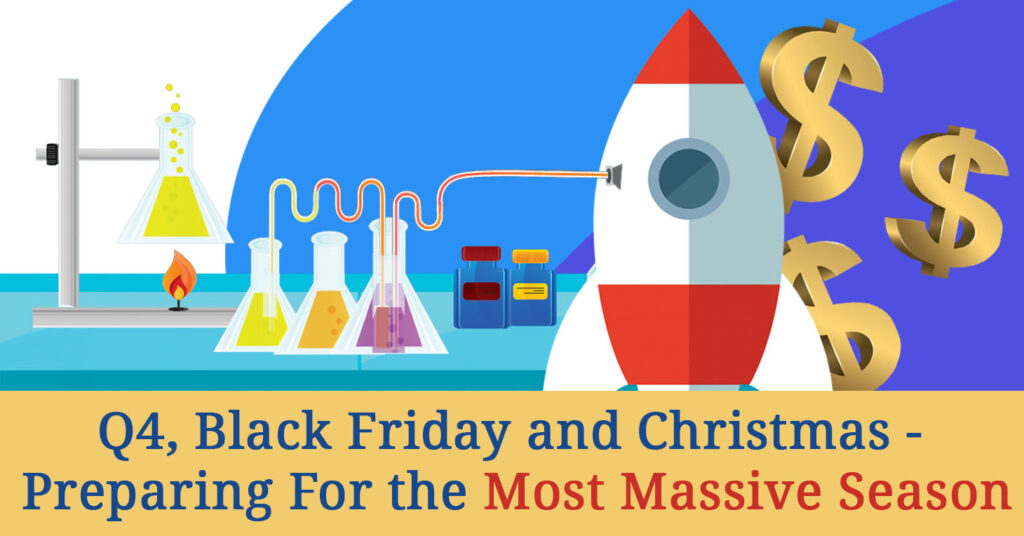 You might still be contemplating closing up your swimming pool, harvesting your garden and planning your next barbecue … but Q4 is upon us right now, with Black Friday and the Christmas season next up!
If you are an Amazon seller, this means extra hustle now, and even though COVID restrictions have eased in most places, delays and inventory restrictions are still hampering potential sales.
Last year, COVID kept everybody home, and retail spending as a whole has dropped about 10% … however, online shopping increased a whopping 18%, according to eMarketer. The 2020 Q4 also showed a record level 32% growth in sales. In fact, ecommerce sales are projected to be at $4.89 billion this year.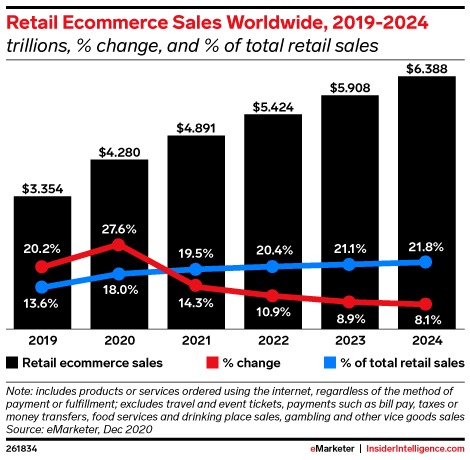 However, even in a "normal" year, there is still the preparation, marketing and other techniques to get your ecom business ready and smoothly selling in Q4, and this is what we'll mainly be discussing.
Before we dive in, make sure you get your free copy of my 7 Bulletproof Business Blueprints below!
ANTICIPATING Q4 IN 2021
Ecom experts feel that due to Covid-19, ecommerce has jumped light speed ahead a couple years in terms of growth and market saturation. With people staying home in the spring and physical stores closed, there has been an influx of millions of customers buying online for the first time.
This year, as we slowly return to normal with vaccinations ramping up and almost nearing the target population  for herd immunity (hopefully), brick and mortar stores are slowly opening up too. This means people are also flocking back to physical stores, not to mention the year-long cabin fever for most!
But this doesn't mean ecommerce sales will be waning! Digital merchants are still expected to be busier than ever this holiday season as most expert forecasts still see ecommerce sales to increase this Q4.
The National Retail Federation even revised its forecast for 2021, stating that "Non-store and online sales, which are included in the total figure, are expected to grow between 18 percent and 23 percent to a range of $1.09 trillion to $1.13 trillion as consumers continue to utilize ecommerce."
As it usually kickstarts holiday shopping, Black Friday sales are highly anticipated in both physical and online stores. However, the convenience online shopping offered last year will more likely be taking over customer buying behavior than the big crowds and long lines of in-store shopping.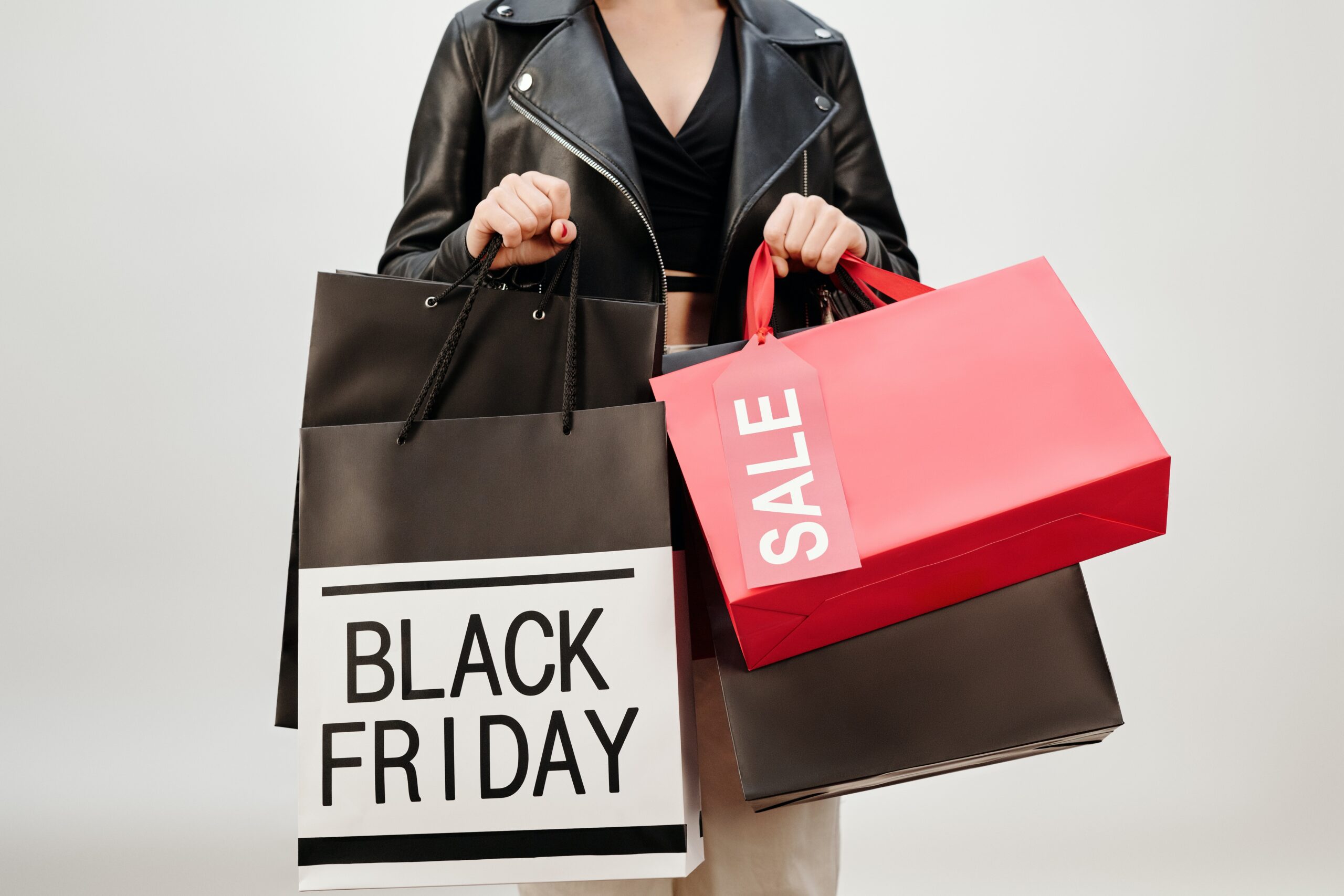 According to Adobe Analytics, this coming Cyber Week will produce an estimated $36 billion in online sales. Black Friday this 2021 is definitely looking to be a continuation of last year's online sale for big-box retailers like Walmart and Target, who have both announced as early as January that their physical stores will be closed on Thanksgiving day to help curb the spread of the virus.
Even Amazon is continuing longer sale periods that started on October, and will continue to do big niche sales like the recent Holiday Beauty Haul, while other stores like Macy's and Sephora are even starting their Black Friday deals early this month.
WHAT IS TRENDING IN Q4?
If you are a wholesaler or dropshipper selling on Amazon, you need to know what will sell best in Q4. Traditionally, it has been this:
Toys and games
Personalized gifts
Jewelry
Kitchen gadgets
Pet supplies and toys
Technology
Check Google Trends to see what was selling in the past. Keeping the current situation in mind, would it sell this year as well? Here's an example … "blankets":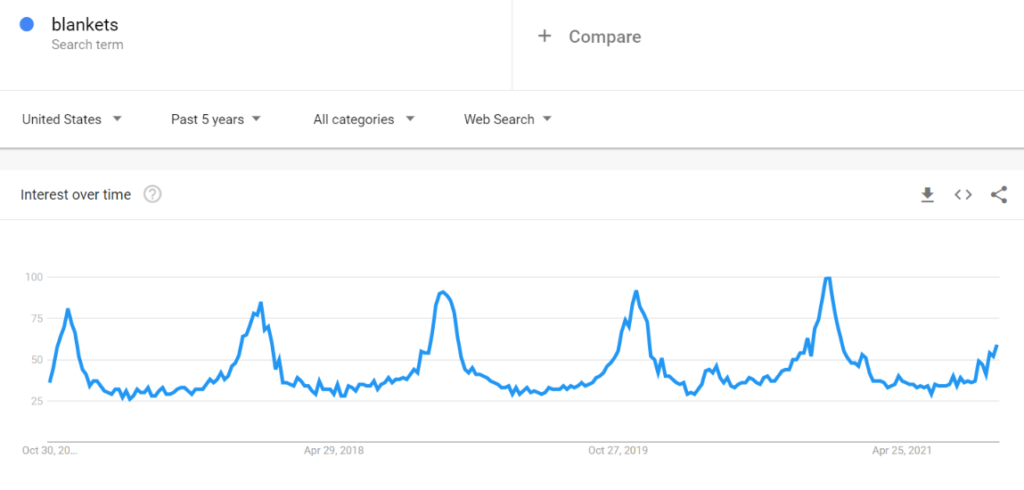 As you can see, blankets always get a spike in Q4. Will it continue this year? Think of this … people are staying home (or coming back home for the holidays), the weather still gets cold in winter, and blankets are a cozy source of security in times of uncertainly. The answer is: Probably even more so this season!
Let's try another one … "winter vacation":
As lockdowns and restrictions get lifted, people are now looking into traveling again! Travel-related products such as outerwear and travel bags will see an increase in demand compared to last year.
Another trend in 2020 that would see a change this year is "home gym":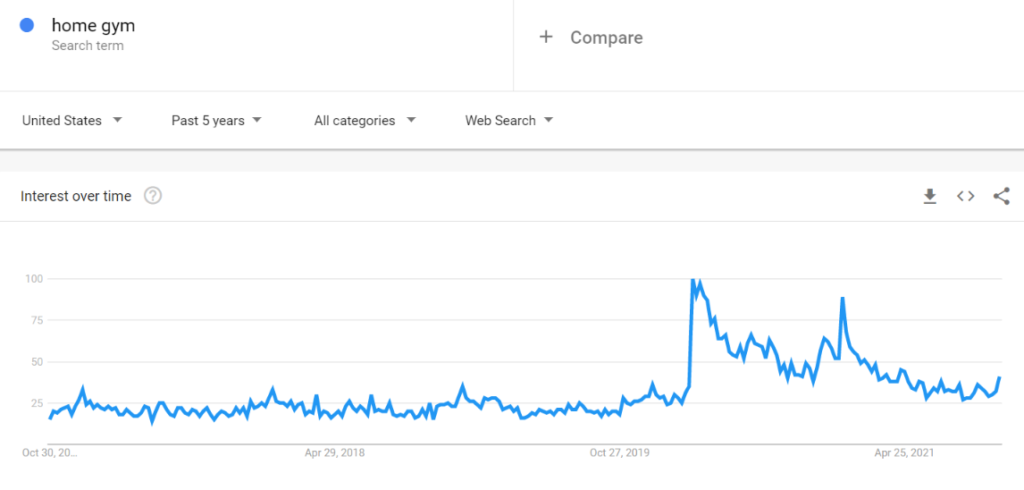 Again, as things slowly go back to normal and gyms are opening up, demand for home workout equipment has waned back to almost pre-pandemic level.
INVENTORY MANAGEMENT
Inventory management is the most important aspect of a successful Q4. You have about a 45-day period where you sell as much as you can without completely running out (don't forget Halloween in October and trailing sales in January!)
Anticipate 4 to 5 times the sales you usually have during the year, so stock up on inventory! Q4 this year could be even higher.
To prepare for this, you MUST have inventory ready to sell.
Amazon FBA
If you are an Amazon seller, we highly suggest sending as much as you can to Amazon.
Remember as well that FBA storage fees always go up in Q4, and this year is no exception. That means selling as much as you can, as fast as you can … but not so much and so fast that you run out of product before the season is over! It's definitely a balancing act.
To best prepare for inventory management, send in as much product as you are allowed into Amazon FBA. Then, consider a hybrid approach of FBA and merchant fulfilled or SFP (Seller-Fulfilled-Prime) to avoid running out of inventory.
Outside FBA
For non-Amazon sellers (or Amazon sellers looking for more inventory space), have inventory at a trusted 3PL (3rd Party Logistics) warehouse.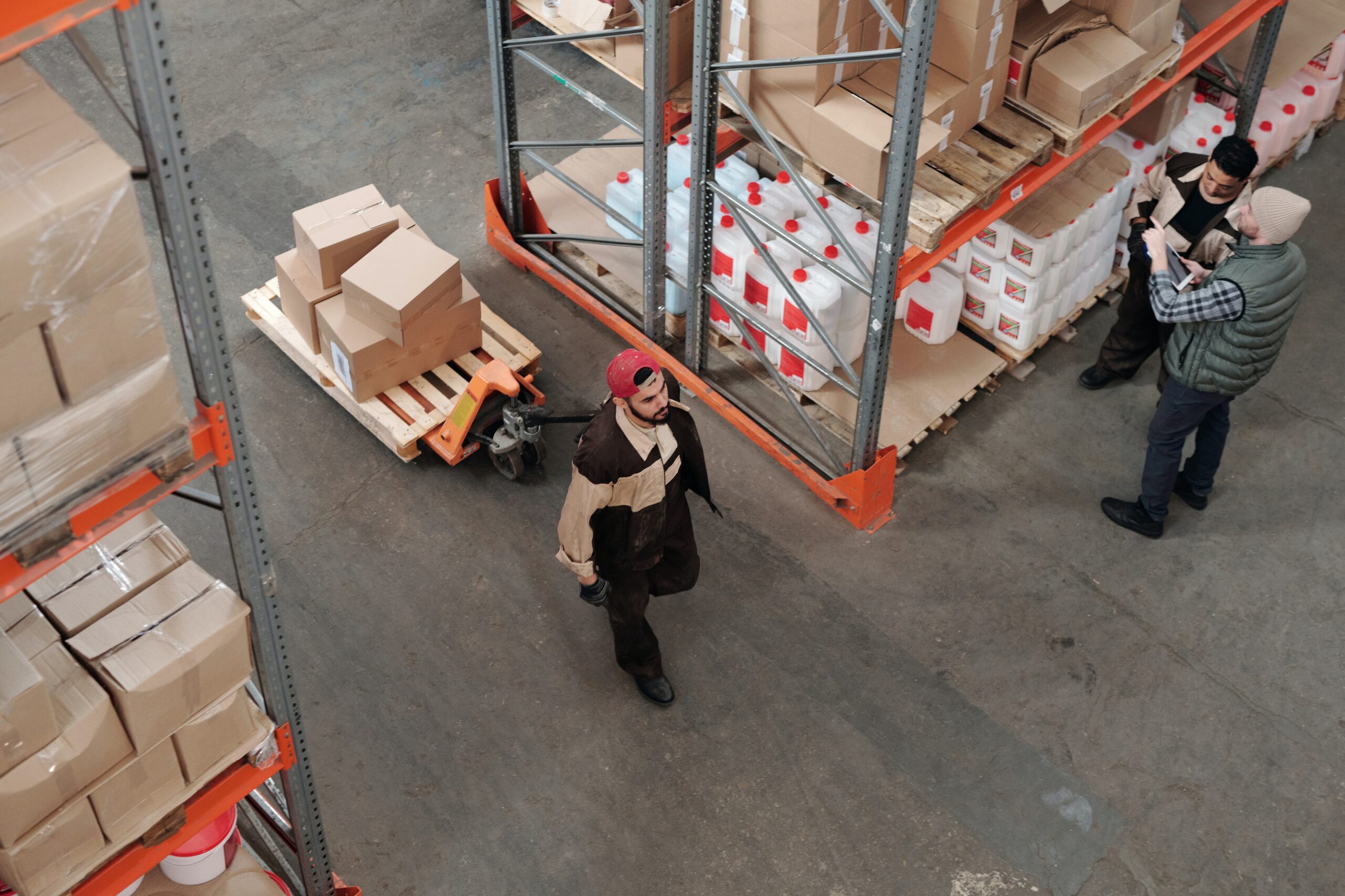 This is a business with a warehouse where they store your product (and can send to Amazon when needed). Many 3PL companies can also be your order fulfilment center, mailing your products directly to the customer.
There are many 3PL warehouses, and more popping up all the time due to the massive growth in ecom, especially independent stores. Here are a couple we suggest:
United States:
ShipBob
WhiteBox
FedEx Fulfillment
Deliverr
Shipwire
Red Stag
Rakuten Super Logistics
Europe:
DHL
3P Logistics
Storeship
EasiLogic
James and James
Huboo
Supplier inventory/Dropshipping
Another option for you to consider but which I don't recommend is to keep your inventory with your supplier, and send product straight to your customer or Amazon when needed. Products in China will take 7-10 days via air or 1-2 months via sea.
However, both options are too late for Q4. Ten days by air is a long time, and keep in mind that it may take another 10 days or more for Amazon to process your shipment … that's a good portion of the entire month.
Personally, I just find this option to be too unreliable. You are at the mercy of your supplier, and even if they have always been reliable, shipping delays could still happen – like the recent port disruptions and other issues. I would be much more comfortable knowing it is stored and ready to ship in the same country where I sell on Amazon.
Use your Home
If you're a U.S.-based seller, you can also simply store your products in your house. This is obviously the cheapest solution, though of course you have to do all the work of shipping and fulfillment.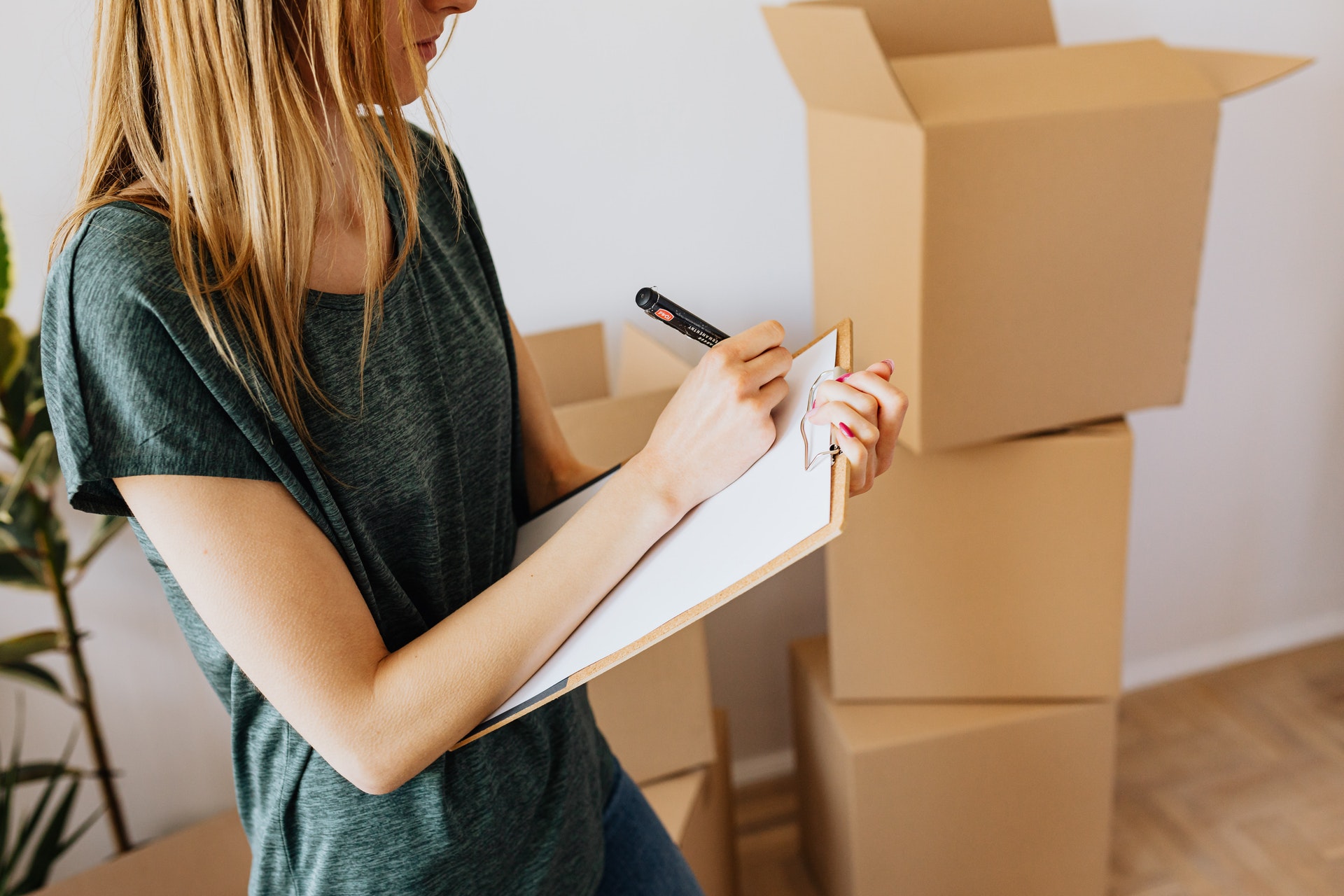 Besides the obvious potential strain on your family navigating around a maze of boxes, tape and dust, you can also rent a storage unit for a few months and keep all your inventory locked up there. Many storage companies offer a month free, so take advantage of this. You can either rent onsite or have a storage company deliver a storage box to your yard or driveway.
Be Your Own Fulfilment Center
Finally, if you are large enough, consider being your own fulfilment company! Rent warehouse space, hire employees, and begin the full-time job of being deep in your own company receiving, kiting, packaging, fulfilling and sending out orders.
ADVERTISING STRATEGIES
You MUST advertise to take full advantage of Q4. Start now, and think of yourself as a farmer planting seeds that will be collected as a bountiful harvest in Q4.
If you have a white label brand or branded website, advertise yourself on Google and Facebook. You don't have to necessarily sell your product at this stage. One strategy before Q4 is to make people aware you your product and your brand and collect their email address.
You can have your customers download a free ebook related to what you are selling, offering coupon codes and discounts, and talking about your products and your business to generate interest. If you have a Facebook page or group, invite them in!
This way, by the time Q4 comes around, when your customer is ready to buy for the holidays, they will first think of YOUR product over your competitor's. Take full advantage of sending them emails, generating discussion on Facebook, offering deals in your Facebook Group, and using retargeting ads to advertise your business to customers who would have already visited you earlier.
Other places to consider advertising your products include Instagram, Pinterest and even Bing. Consider especially Google Shopping Ads, which is aggressively pushing itself as a viable alternative to Amazon: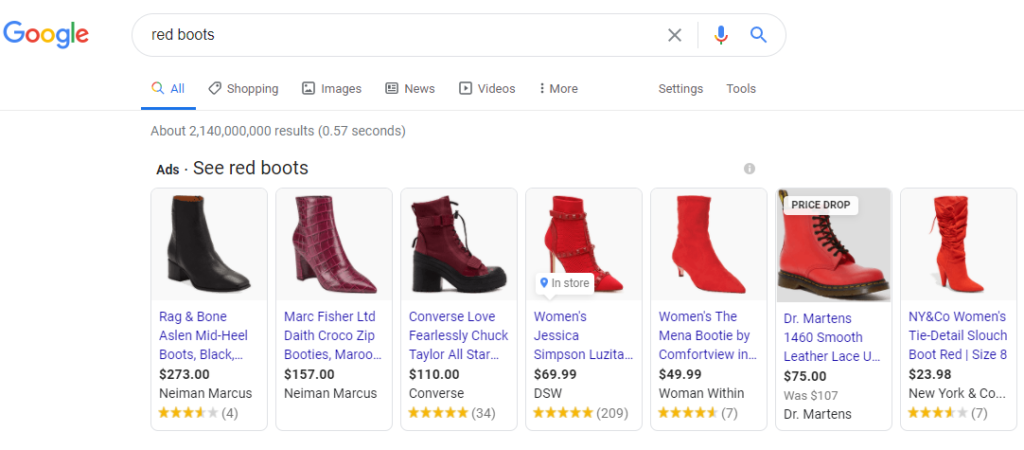 If you apply to sell on Google Shopping, you will need to have your own website (such as Shopify) and a fulfillment center to store, pack and ship your products, if you do not wish to do all this yourself.
Don't forget to check out the free guide below on how you can start a profitable business and join the Q4 ride!
MULTIPLE SALES CHANNELS
Don't just think of Amazon to sell your products! There are several other places to make money:
Walmart – Walmart is aggressively trying to combat Amazon with their own huge ecommerce presence, and to do so, they are inviting 3rd party sellers into their system … that is, our businesses.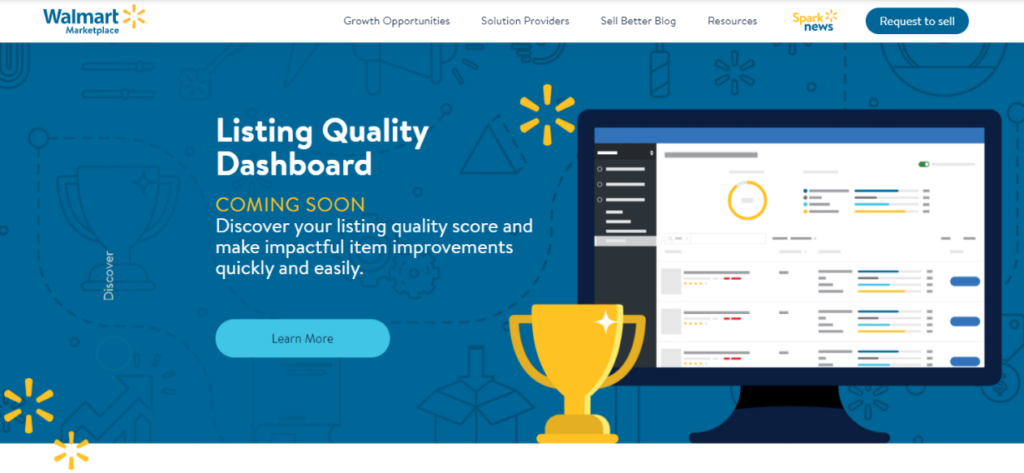 Right now, you must be approved to sell on Walmart, but you might as well get the ball rolling now, as Walmart is not going anywhere, and their online sales in last year's Q4 generated about $140.6 billion.
Along with Walmart, keep your eye on Target, whose digital sales jumped 118% last holiday season.
Ebay – Before Amazon, there was Ebay … and Ebay is still a huge presence for ecommerce sellers. Partner with a 3PL service to fulfill your items for Ebay customers.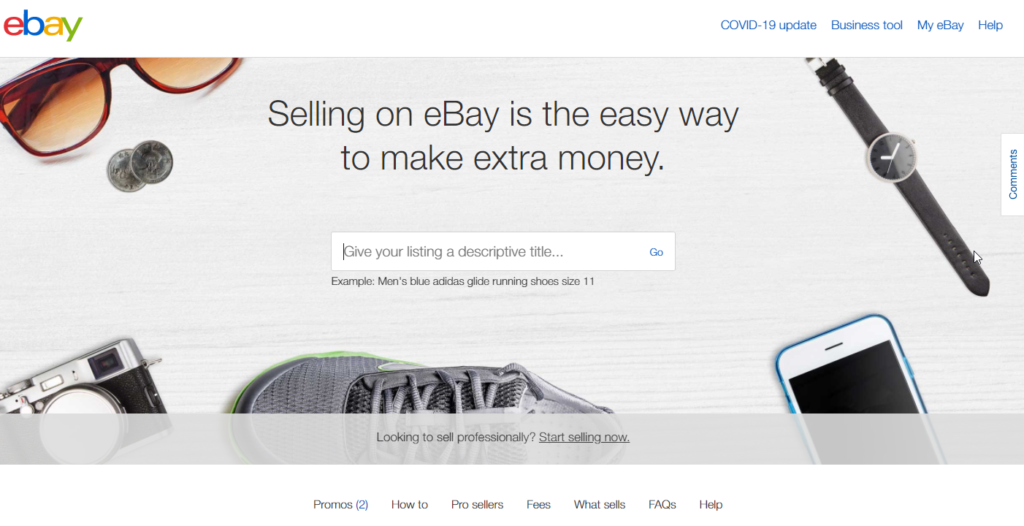 Etsy – Etsy specializes in hand-made products, and officially that's all you can sell. However, Etsy's dirty "not-so-secret" is that anything goes, as a quick search found … I highly doubt a "digital thermometer" can be hand-made at home!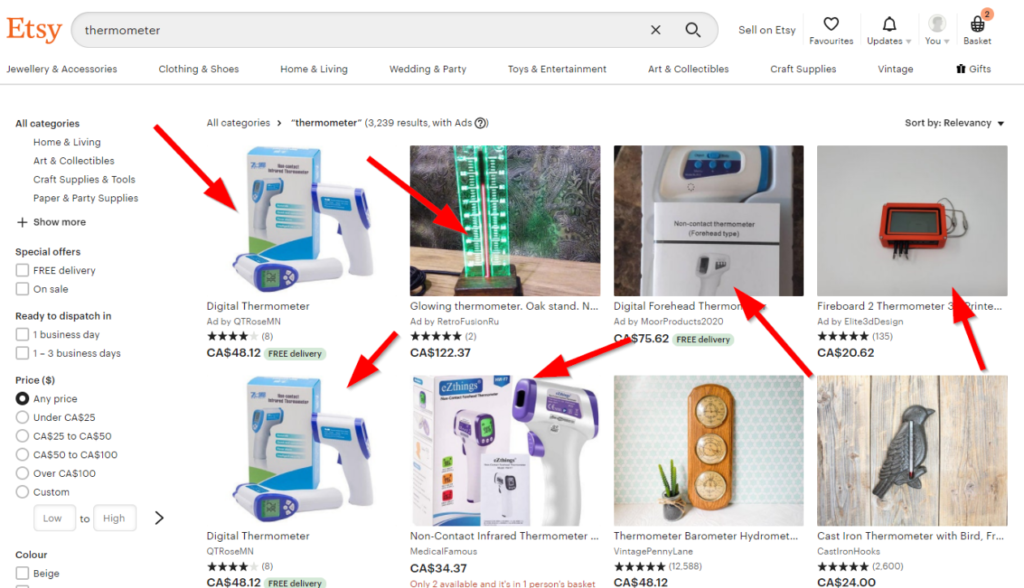 If you are a white label seller with your own branded products, I would encourage you to list and sell them, especially if you are in the crafts, jewelry or home décor niches.
Wayfair – Wayfair generated $3.7 billion in 2020 Q4 and over 31.2 million active customers by end of year . It specializes in home and garden products. You act as the dropshipper. Wayfair buys your product at your wholesale price and makes money by selling at their retail price.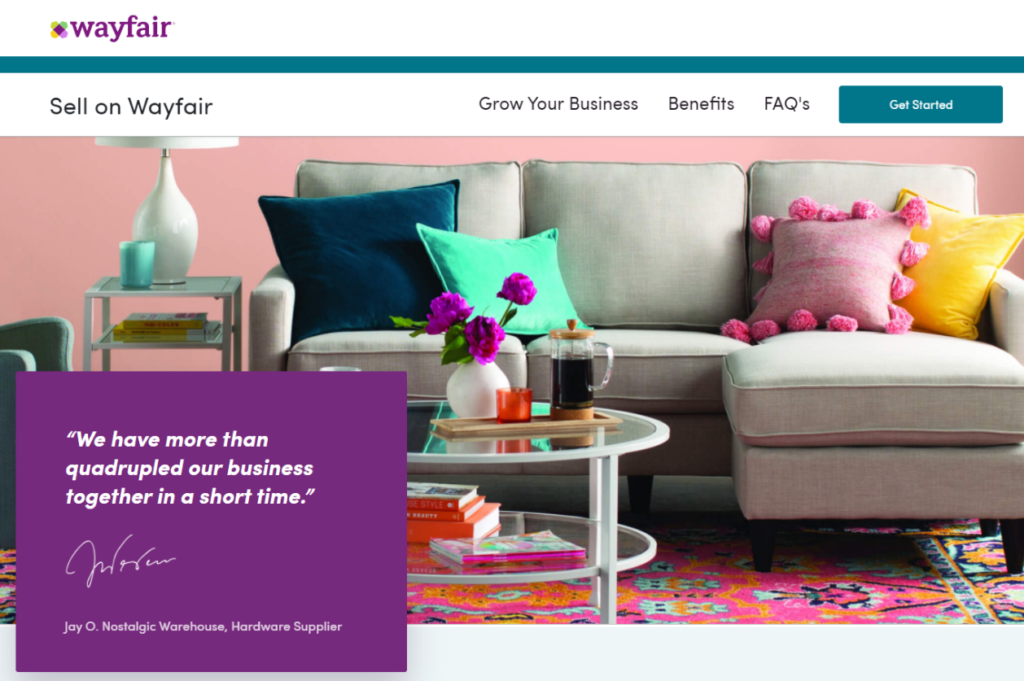 Niche-specific stores – Check for large ecommerce stores based on your niche, and see if you can offer your product to them as wholesale. Wayfair would be considered a niche-specific store. Is there a huge store just for kitchenware? How about organic products?
Your own store – Set up your own ecommerce store using a platform such as Shopify, BigCommerce or WooCommerce, then sell your products. You can fulfill your sales using a preferred 3PL company which will integrate with your sales system. Make sales through advertising on Facebook, Google, email or social media.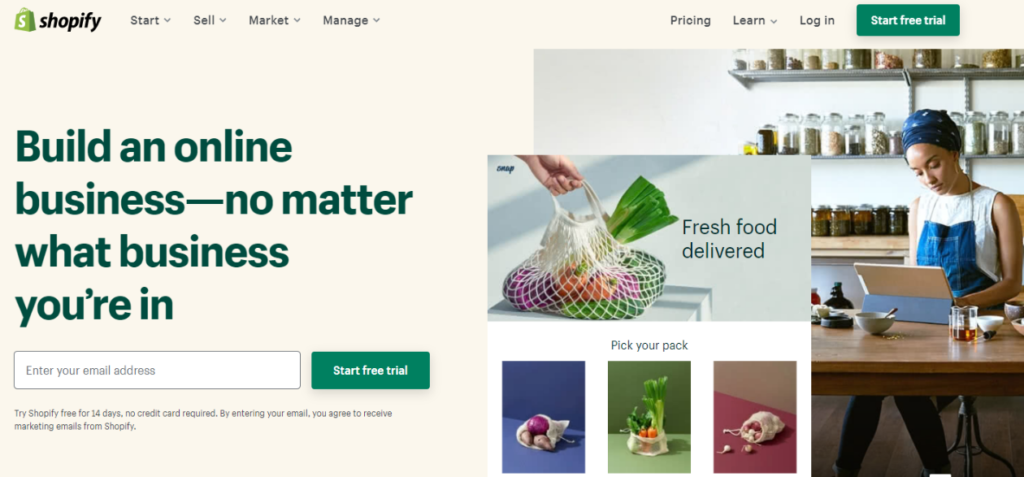 Remember that, as awesome as Amazon is as a sales channel … they own your listing and your traffic. Grow your own customer base by promoting your own website in Q4.
The best way to advertise your business through your product is to make your insert look more informational. Instead of offering a free gift by going to your website, have a "Did You Know?" informational booklet or postcard insert, where you direct your customer to your website where they can learn more about the product they just received.
Then, at your website, you can encourage them to join your mailing list or offer a free gift, coupon or some other incentive. Once they are on your mailing list, they are yours.
Another way is to offer an extended warranty on your product, which they have to register for from your brand website. Create this as a separate "VIP" email list. Subscribers on this list are very high quality, as you know they have actually bought your product and thus are much easier to sell to again.
Ultimately, you need to give value to your customer … deliver a great product and a great experience through Amazon or your other sales channels, and re-engage with your customer by encouraging them to visit your website for additional value or information. No grey-hat bribery is needed.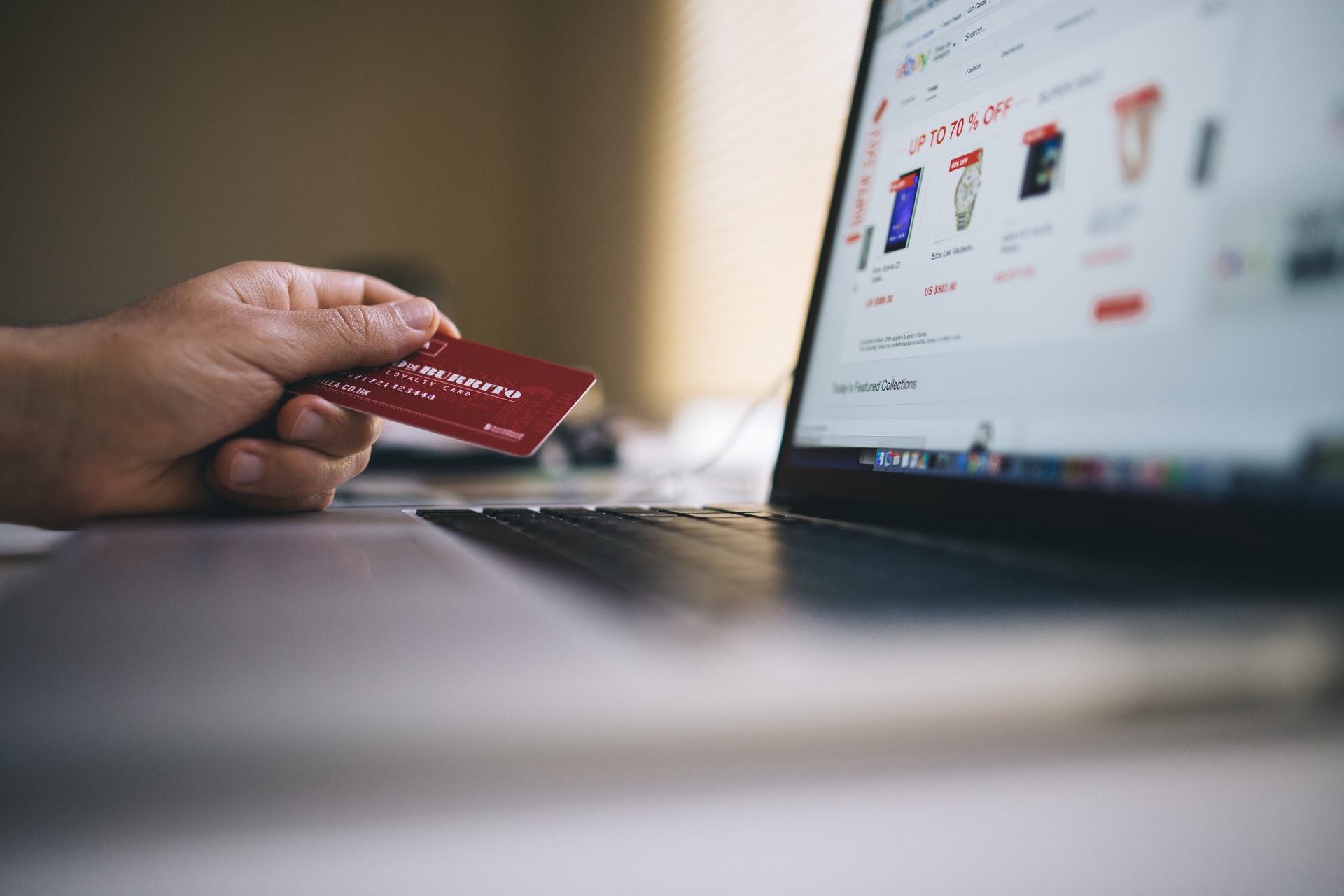 If you have your own store, make sure your website is optimized for the following:
Optimized for mobile – According to Statista, mobile shopping accounts for about 73% of ecommerce sales. Your website should then be enhanced for the small mobile screens, such as fast loading times and screen adjustment.
Optimized checkout flow – Checkout flows could make or break a purchase! The quicker a customer can place their order, the more likely they are to proceed. Make your checkout process simpler, smoother, and more accommodating. Tip: provide a guest checkout option for a faster checkout!
Multiple payment channels – With the pandemic came multiple options for paying online, such as digital wallets and buy now, pay later options.
Free shipping, discounts, and returns – Everyone loves free shipping, and seeing a $10-$30 shipping fee can sometimes be a deal breaker for buyers. As you advertise your products, make sure you also highlight the free shipping offer. Also ensure an easy return process especially for Q4 products that would most likely be used for gifting.
Product bundling and value adds – Think of bundling products to increase exposure and sales in Q4. Bundle hot-selling items with slow-moving items to clean up your inventory. Can you bundle your products more attractively to be given as a gift? Perhaps bundle your products with other products? Take a look at your product offering and see if you can add some bonus gift to it. Just thinking of things like alcohol, certain brands usually always include some sort of holiday gift with their product, such as an attractive tumbler, a bottle opener, or a shot glass. What can you do with your product? Can you add some supplemental gift to it?
OTHER Q4 FACTORS TO KEEP IN MIND FOR 2021
If you are using the dropshipping model, think of household items to sell for Christmas, such as:
Toys
Tools and other home-improvement products
Cooking
Gardening
Home office
Home décor and furniture
If you have a white label business selling your own products, think of bundles that are attractive and useful for the home. If you sell a garlic press, offer a fridge magnet with a garlic recipe.
Finally, if your products that have been negatively affected by the pandemic (such as travel-related products), bundle your products with items customers can use at home, such as a travel mug, shot glass or hand sanitizer clip-on for a backpack.
Just like last year, this Q4 will definitely be unprecedented in terms of sales and unpredictability. Begin planning now, send in your inventory, and think of alternative warehouses and fulfilment. Explore other advertising options, and promote your own brand website as well.
How are you preparing your business for Q4? Share in the comments below!