Hi, and welcome to the 1st of July update to AidanBooth.com!
Since April 2012, I've been adding free content to this website on the first of each month without fail, and this month is no different.
As always, AidanBooth.com is a "promo-free zone"…this site is about sharing useful information to help you succeed online.

If you're a regular visitor, you'll notice that this month's post looks rather empty compared to most…

To make this months content delivery different and more dynamic, I want to spend 90 minutes (or as long as it takes) answering YOUR questions LIVE.
And I'll be doing that TOMORROW NIGHT.
UPDATE: Episode #1 of AskAidan.com was done live on July 2nd, the replay, transcript, and .mp3 audio file can all be found further down this page.
Get all the details and find out how you can participate at AskAidan.com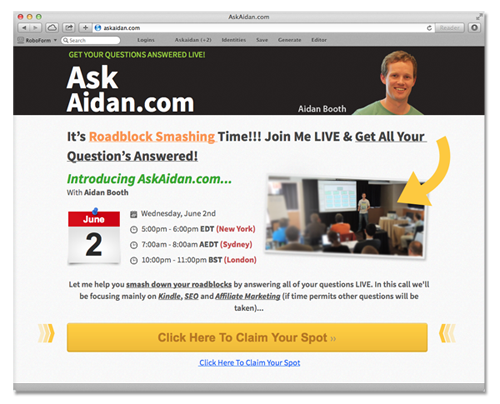 If you're unable to attend live, then make sure you read the next few lines because there's a way you can STILL get your questions answered…
If you already know that 5pm ET tomorrow doesn't work for you, but you DO have a burning question you want answered, then what I want you to do is write your question in the comment box at the bottom of this page. As long as you do that, I can guarantee I'll answer your question, and you can watch the replay to find the answer.
Another thing…
We kick off the call at 5pm ET tomorrow.
If you're UNABLE to attend at 5pm, but are able to a little later, say 6pm, then SIGN-ON at 6pm.
Since this call is going to be based around answering your questions, it's fine if you join a little later (it's not like a normal training workshop where it's essential to be on from the start).
I'll be on the line for at LEAST 60 minutes, most likely a lot longer.

Here's the replay:
Note: To see more videos, check out my YouTube Channel.
Episode #1 of AskAidan.com was also turned into a PDF transcript, download it using the link below:
Right Click Here & Select "Save As" To Download The .PDF Transcript
You can ALSO download the .mp3 audio version:
Right Click Here & Select "Save As" To Download The .mp3 Audio File
That's all for this update to AidanBooth.com. Thanks for visiting, check back next month for more!
Aidan
P.S. – I look forward to hearing what you think about AskAidan.com… if this is a popular idea, we can turn it into a regular event!