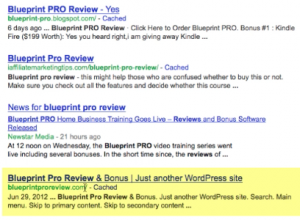 Welcome to my end-of-September Internet Marketing Update!
On the 1st of every month I add a new post to AidanBooth.com – sometimes about changes to Google and the internet marketing landscape in general, and other times just to share useful information and ideas.
The one thing these posts all have in common, is that they're not selling ANYTHING.
UPDATE (October 1st, 9:17am): Google has JUST rolled out a new algorithm change which may impact the effectiveness of what I'm discussing in this post. I'm looking into this and will keep you updated. HOLD FIRE on purchasing domains based purely on this strategy… Right now I recommend you read this post and give me feedback in the comments section. If you've lost rankings in the last 48 hours or so, let me know. THANKS!!
My monthly updates are 100% pure content – no strings attached.
A Surprising SEO Discovery
Today I'm revealing a surprising SEO discovery I made a couple of weeks ago, specifically, how I was able to get a top 4 ranking in Google for a highly competitive keyword without building a single link.
First watch this short video, then read on for more discussion below:
As shown in the video, after installing WordPress on "BlueprintProReview.com", my website rocketed into the top 4 of Google for the keyword "blueprint pro review" in under 48 hours.
I didn't build a single link to the site, I didn't even add content to the site.
The thing that shot that website into the top 4 of Google was the exact match ".com" domain name.
Now, leveraging exact match domain names is nothing new. People have been doing this for years.
The thing that really surprised me was the fact that it still works so well.
There's been a lot of talk in the last 6-12 months about aged domains being the new "Holy Grail" of domain names.
Many well known internet marketers have publicly said that exact match domain names have lost their power…this discovery today however, proves beyond any doubt at all that exact match ".com's" STILL pack some punch.
Are Exact Match .org's And .net's Still Effective?
In my opinion, exact match .org's and exact match .net's probably have lost a lot (at least some) of their power….com's definitely haven't though.
Another theory that's been hotly debated over the past year is whether or not to include your target keyword in your domain name.
Some people say it helps, others say it makes no difference at all.
Does It Help To Have Your Keyword In Your Domain Name?
I've got an opinion about that and again, it's based on my personal experience, NOT theory.
Lets assume you want to get rankings for the keyword "garden furniture". Will a domain like "GardenFurnitureOnline.com" help you move up the Google rankings faster?
In my experience, YES!
Over the past 12 months I've launched a number of high quality authority sites. A few of them have had the following format:
MyKeywordOnline.com
MyKeywordHub.com
MyKeywordAdvice.com
MyKeywordSupport.com
MyKeywordExperts.com
"My Keyword" could be anything…"Outdoor Furniture", "Fishing Tips", "Blue Widgets" etc.
NOTE: Authority Hybrid members – you've seen this strategy in action with my demonstration website!!!
Whenever I include my keyword at the start of my domain name, it almost ALWAYS makes a noticeable difference in the time it takes me to get top rankings in Google…I get rankings FASTER!
When NOT To Use This Tactic…
For me as a marketer, the most important thing when choosing a domain name, is that it's brandable.
It NEEDS to look professional.
As such, I wouldn't buy a domain name like any of the following:
GardenFurnitureX.com – Adding "X" (or any other letter) to the end of a domain name makes it look LOW QUALITY. It results in a lower CTR from Google and won't help you in the long term.
HowToWriteABestSeller.com – This kind of domain name is simply TOO long. Not only is it 21 characters in length, but it's also 6 words…I avoid long domain names.
GardenFurnitures.com – Here's another example of adding a letter to the end of a domain name. In this case, adding an "S". Try saying "Garden Furnitures" aloud…it doesn't make any sense. Don't buy a domain name that doesn't make sense JUST to leverage this tactic – it'll have short term results at best.
Here's How You SHOULD Use This Tactic:
GardenFurnitureShop.com
GardenFurnitureStore.com
GardenFurnitureOnline.com
The above three domain names sound professional and they're all relatively short in length.
These will all result in a higher than average CTR (click through rate) from Google and they all leverage the fact that the target keyword is included in the domain name.
But What About Aged Domain Names?
Aged domain names can be extremely powerful when you get the right one…but not all aged domains are created equal.
I'll never buy an aged domain name simply because it's 10 years old. It needs to fulfill a couple of basic criteria:
1. It needs to be professional (brandable)
As I emphasized above, if a domain name doesn't look professional, I won't buy it.
2. It'll ideally have existing backlinks
While this isn't essential, it's the one thing that gives aged domain names a rapid rise up the rankings.
Aged domain names don't rise rapidly because of their age, they rise rapidly because of their existing links.
If you buy a domain name that already has 100 existing high quality links, then you'll get credit for all those existing links and you'll rise in the rankings.
NOTE: Google does factor in the age of a domain name but it's nowhere near as powerful as the number of links.
Tools such as the OpenSiteExplorer.org and MajesticSEO.com can give you all the information you need to analyze the value of a websites existing links.
Combine these tools with the Wayback Machine and you've got yourself a pretty powerful "Aged Domain Analysis Suite"…But that's discussion for another day.
The 4 Big Take-Aways…
Here are the big take-aways from this blog post:
Exact match ".com" domain names still have huge power and accelerate top Google rankings.
Having your keyword at the beginning of your domain name helps speed up rankings.
NEVER buy a domain name that looks unprofessional or un-brandable.
It's the pre-existing links that give aged domain names their power, NOT their age.
I hope you've enjoyed this post, I've enjoyed sharing this information with you.
UPDATE (October 1st, 9:17am): Google has JUST released an algorithm change targeted at MINIMIZING the power of exact match (and most likely "partial match") domain names…hold fire before you go out and purchase these kinds of domain names based on the content of this post! I'll have an update about this soon…(Murphy's Law that this Google algo change happens right when I write on this topic!!!)
Premium FREE Content On AidanBooth.com
If you're already following me on Facebook, then you'll already know about this…if you're not yet following me, then you're MISSING OUT!
By LIKING my Facebook page (facebook.com/aidanboothonline), you can get access to the PRIVATE section of AidanBooth.com…it's easy to do and it costs you NOTHING. Find out more about this here:
https://aidanbooth.com/free-content-for-facebook-fans/
Don't Forget To Leave A Comment…!
Please leave a comment below, I read them all and will reply! Oh, and click the Like button on this post to give it MORE Google love!
Thanks – until next time!