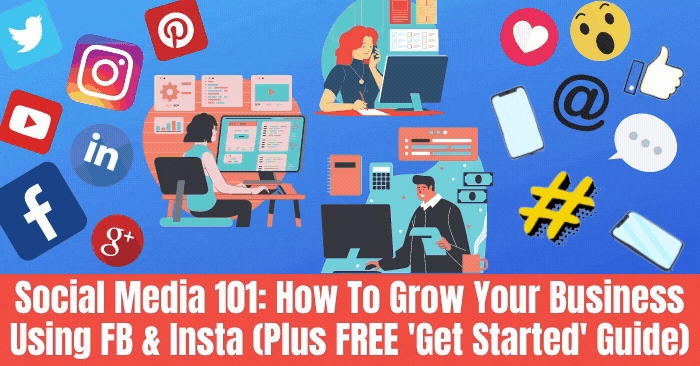 Hi, I'm Aidan Booth, and welcome to my blog!
For 8+ years now, I've been sharing online marketing insights on the first day of each month, tips I've learned from running my own businesses and insights I've picked up from other people.
Today is all about 'Social Media 101', specifically best practices for using Facebook and Instagram for business.
The social media landscape is rapidly changing, and whether you like it or not, it's here to stay.
Sidenote: I recommend you check out 'The Social Dilemma', a docudrama recently released on Netflix, it may change the way you think about Social Media!
There's a lot to cover here, so let's dive in!
Growing Since 2004…
In the early days of social media, it's primary purpose was to be a medium of communication for people all around the globe. It connected friends, family, and even strangers when the technology we know now was still on the rise.
It was in 2004 when MySpace reached a million active users, marking a milestone in the progression of social media. From there began the many other social media sites such as Friendster, LinkedIn, and ultimately those we are most familiar with today, Facebook and Instagram.
This number of active social users grew extremely quickly. In 2019, 72% of adults in the USA were active members of social media sites – from just 5% in 2005!
This growth is attributed to the rise of technology itself. Back in 2004-2005, the internet was not as accessible as it is today, and people could only access these sites via desktops and laptops. Now we have high-speed connections almost everywhere we go and mobile devices we can never seem to put down.
In fact, in 2019, more than 5 billion people worldwide were using smartphones to browse the internet!
This portability has meant people are accessing the internet from wherever they are, and businesses have taken advantage of it to increase their reach and to attract more business.
Social Media Marketing: Why Bother?
Bill Gates once said: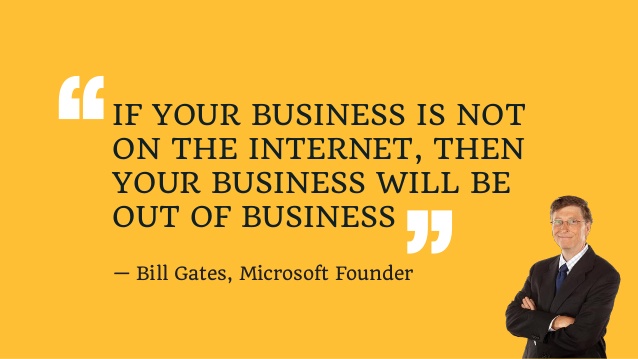 With the user-base of social media sites exploding over the past decade, paid ads have become very lucrative for Facebook and co. An unrivaled database of user information means marketers now have the ability to get ultra-targeted with their advertising.
In fact, in 2018 digital advertising in the USA brought in $107 billion in revenue through social media (and this number is growing)!
So what can marketing on social media sites do for your business?
Grow Brand Awareness
With the massive number of people active on social media, it's become a great place to grow your brand's visibility AND it's accessible to everyone. Building a social media page for your business and creating content that echoes your brand and mission helps in attracting your target consumers.
A solid brand with carefully planned online content drives up engagement, which then drives more organic traffic to your business.
For example, if your business is selling office clothing, your page display picture and first contents should reflect your brand's offering and mission, which in this case should look professional and respectable. If your business is sportswear, then it should look athletic and comfortable.
Your brand and content should convey that you are an authority in your niche.
Gaining Loyalty & Trust
In 2020, a staggering 88% of the buying public research companies they're buying from online pre-purchase.
In other words, if you've got a business, you NEED to have an online presence, and Social Media should be a part of that.
Building A Relationship With Your Audience
Once you have established your brand, engagement becomes key. Going back to the roots of social media, having an online presence makes it easier to build a relationship and connect with your consumers.
Being able to respond to questions and comments and even provide accessible customer support builds audience connection, which then turns into an increase in consumer numbers.
This also includes creating more niche-tailored content, i.e., content that engages and interacts with your audience. Using the example niche above, a sportswear business would have an audience consisting mostly of adults.
Take a look at this example from Lululemon: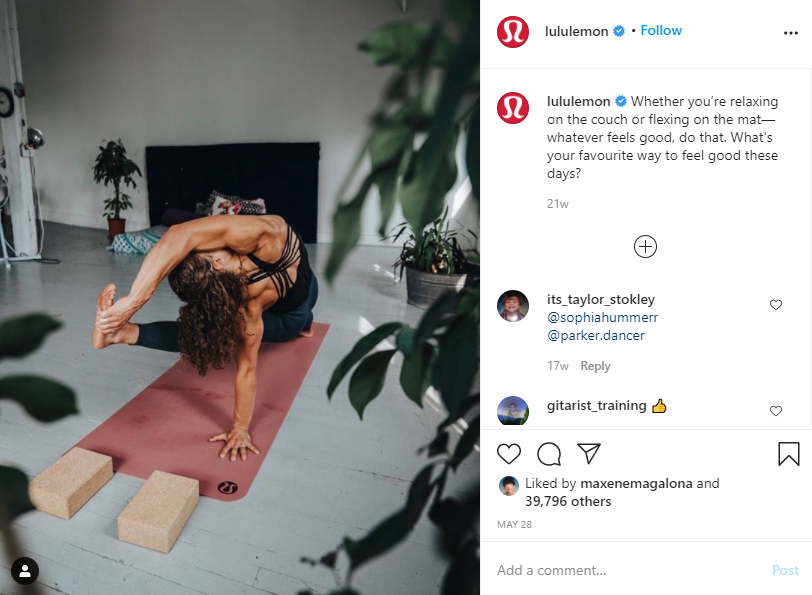 This kind of content asks a question and makes the existing audience think and comment, interacting and engaging with the brand. The more engaged they are, the better the social proof becomes!
Gathering and Leveraging Audience Data
When creating accounts for social media sites, people divulge more information than they think they do – it's not just their name, age, birthday, and the basics. It's also their interests, hobbies, shopping preferences, places they frequent, even their hopes and aspirations.
Social media companies have long since recognized how their platforms are benefiting businesses in various niches, which is why they have dedicated teams and features that are specific to gathering audience data.
Whether you like it or not, unless the practice of data collection becomes more regulated, this will only continue and increase.
Access to this data allows businesses to study "insights", such as demographics and interests of the audience a brand attracts, to further leverage on the data and create the best content for their audience.
Converting More Leads Into Sales
With increased brand awareness comes targeted audiences and leads.
The right targeting and use of audience data ensures that whoever comes into your page is more than likely to be a buying, paying consumer.
Once you have enough existing AND engaged followers, you will then have created enough social proof to further attract more leads, and these new leads could be your next customers!
FACT: 72% of consumers are actually found to be more likely to be a paying customer once they have followed the business on social media.
Look at this example from M.M. La Fleur, a clothing brand in the office attire niche: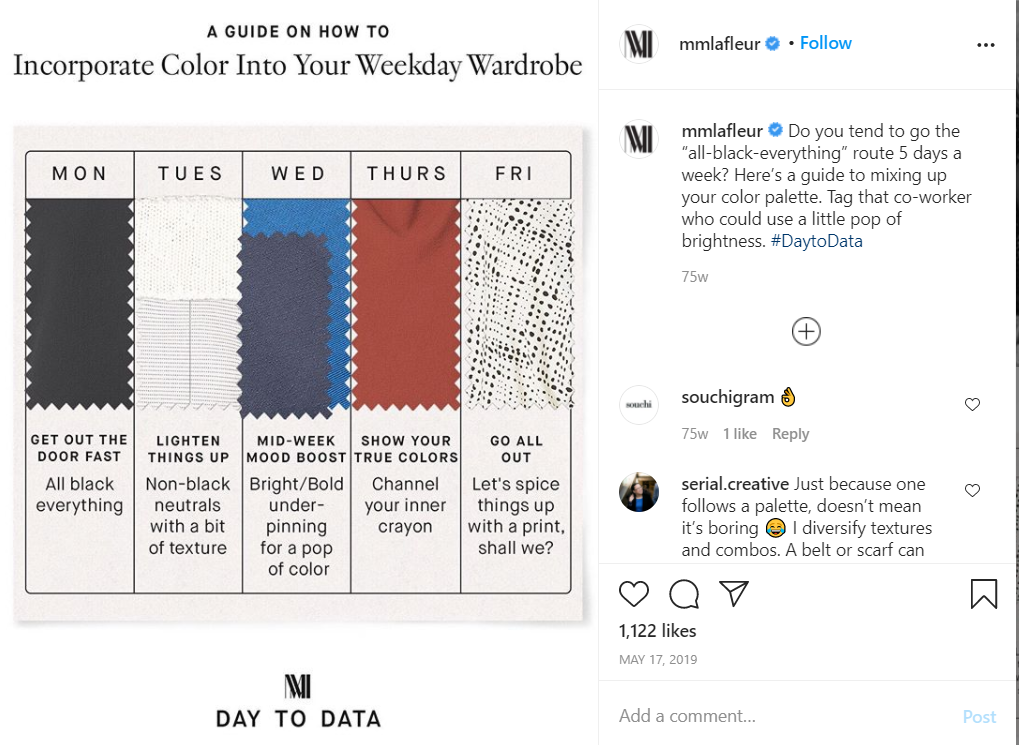 This post perfectly leverages its existing audience by engaging with them while also generating more leads through a call-to-action, which is for them to tag their friends.
These tagged friends will then proceed to be intrigued by the post, and more often than not, they will also fit the brand's customer avatar.
Not only does this increase engagement for the brand, but it also increases their reach.
So, where and how do you start?

Let's now dive into some proven, useful tips on leveraging marketing in two of the most widely used social media platforms: Facebook and Instagram.
Facebook Marketing
When someone says "social media", the first platform that comes to mind is Facebook. No surprise there, as this platform has a whopping 2.7 billion active users per month as of Q2 of 2020, and a record of 1.73 billion users online every single day.
In the US alone, 69% of the adult population are active on Facebook.
The Facebook algorithm has changed a lot over the years, but one thing has remained constant: people prefer business pages they can actually relate to.
Currently, there are over 70 million business pages on the platform – but don't let that scare you away, getting up and running is simple!
When creating a new business page, you'll need to choose a display picture (180×180) and a cover photo (820×312) that represent your brand. Edit your page as necessary, especially the following:
Page Description – this should give your audience a brief background on what you do
Contact Page – include your business phone, email address, and website
Custom Page URL – a user-friendly URL, for example, www.facebook.com/aidanboothonline, as opposed to a randomly generated URL
Call-to-Action Button – depending on your offering, you can either prompt your audience to send a message, book an appointment, or even watch a video!
Here's an example from my own business page: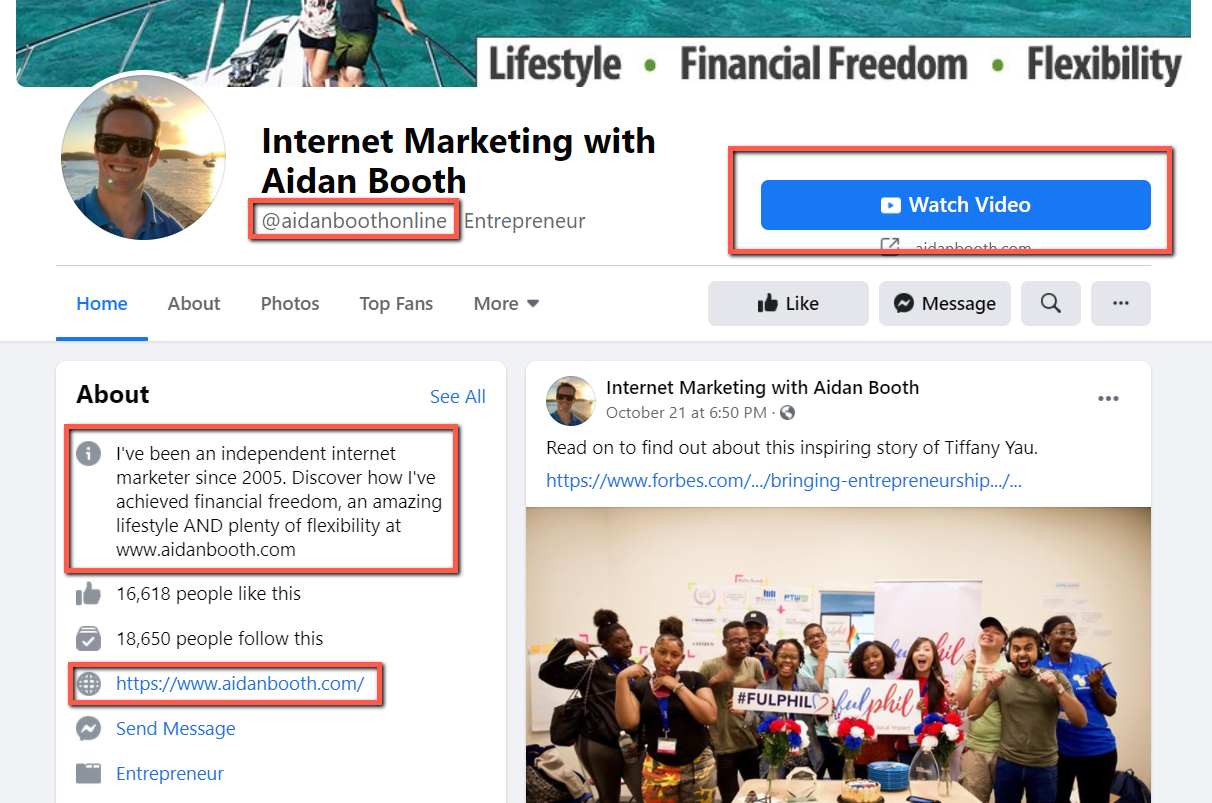 Once your page is created, it's time to grow your reach.
The key to growing page engagement is to be active in posting. However, you shouldn't just post and post and post, there needs to be some strategy behind your publications.
As of today, the current optimal frequency of posts is 2-5 times a week. This ensures that your posts won't get lost in the platform's algorithm, or that they don't cannibalize your own content.
This frequency of posting should also follow these recommended posting times:
9am during workdays as people start logging into work
11:00am to 12:00pm while people take their lunch breaks
1:00pm to 4:00pm on workdays, as people check on their feed during downtime
While most of these recommended times of posting fall on workdays, the latter part of the week is still when users are most active. Social media is most used from Thursday through until Sunday, while the worst day to release content is Tuesday.
But what type of content should you post?
As mentioned, Facebook users engage more with pages and brands they can relate with. Creating a comprehensive customer avatar would be useful in creating content.
What problem are you offering a solution for?
Will your audience find your content personally useful?
Take for example Burger King's Facebook content seen here.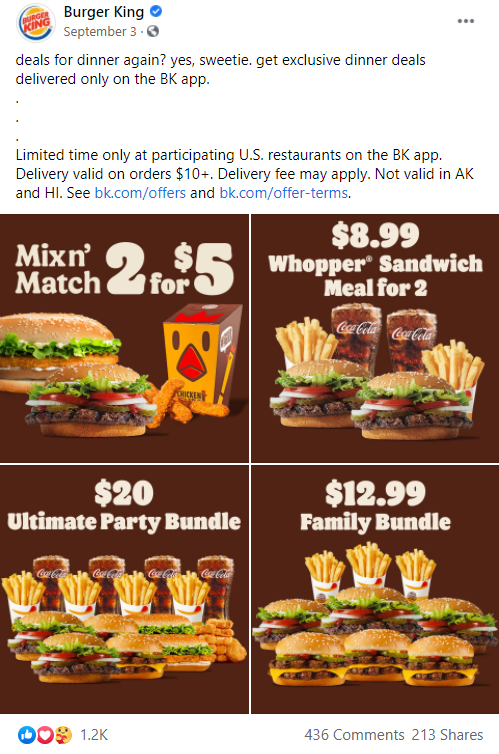 Does it provide a solution to the audience's problem? Absolutely.
Is it useful and beneficial to the user? It's a discounted deal, so definitely yes.
Does it increase engagement and reach for the brand? It is likely that users will tag friends and family for the bundle deals, so yes.
It doesn't stop there! The post also directed traffic to the brand's website and app, and this traffic would more than likely be a buying consumer.
Another way to figure out content is to observe your competitors or other business pages in general. What are they posting that gains them massive engagement?
Your content can be in the form of graphics, images, quotes, and video — the latter being predicted by Facebook execs to dominate the platform by 2021.
You can either go Live or upload your video content.
NOTE: Did you know that 90% of videos that appear in the Facebook News Feed are watched on mute? For this reason, it's important to also include subtitles on your videos.
When tailoring your content, make sure that it can cater to how engagement is measured. In this case, Facebook engagement would be measured through Likes/Reactions, Comments, and Shares. What types of content would generate the most number of these?
Examples of effective content:
Using humor – this shows a more human side of your brand!
Opinion/your say on current events – this tells your audience that your business is a community member too, and that you have a stand on current issues. One prime example of this is expressing support for the Black Lives Matter movement and the Pride movement.
Quotes and dream images – people love drawing inspiration from empowering quotes and the like
Tips – creating content based on tips and suggestions establishes the business's authority in the niche.
Let's now take a closer look at Instagram…
Instagram Marketing
Instagram is the other elephant in the room.
With a billion active users per month, this image-sharing platform is the second most visited social media site next to Facebook. Of this count, 83% said that they discovered and found new brands and businesses to love inside the platform.
Today, there are at least 25 million business profiles registered on Instagram, and 80% of its users have purchased from these businesses at one point.
What was once just a place to share selfies and #food has become a much-coveted platform when it comes to promoting products and increasing brand awareness.
When creating a business profile, make sure you're creative in the following parts of your page:
Username/Handle – have a hard-to-forget username. This is unique to you, and although there is no limit in changing usernames, it is best to be prepared from the get go.
Business name – aside from your username, your page will also be searchable through this
A link – you're only allowed to display one link in your bio. This could be redirected to your business website or facebook page.
Category – select the category/niche for your business
Contact info – indicate the company's contact number
Call-to-action button – direct your audience to your email, your messages, or our website
Bio – a 150-word description of the brand

On Instagram, engagement is king. The platform has a very easy way of engaging with one another: double-tapping to like.
And because it is still predominantly a photo-sharing platform, the main path to an abundance of double taps is a visually compelling feed that promotes your brand as a whole. This could be made up of:
Inspirational and motivational quotes – mostly text-based graphics that require
"Behind the scenes", i.e., an actual, human side of the business
Tips and how-to's – best use of the carousel feature
Product photos
Short, relevant videos
User-generated content – this is content from your audience themselves!
These posts need to be accompanied by equally compelling and thought-provoking captions. When writing captions, keep in mind that only the first two lines actually appear when a photo is viewed, and the audience would have to click on '…More' for the rest.
For organic, normal posts, the usual caption length is 138-150 words, while ads can have 125.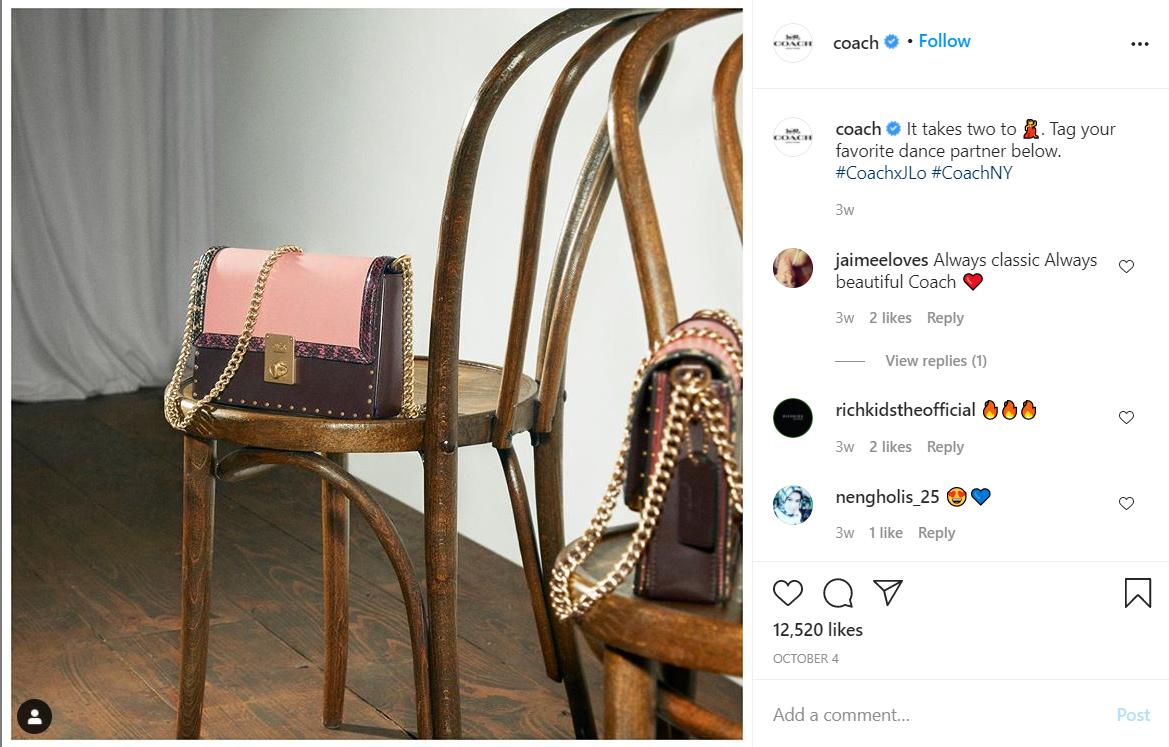 After the captions come the hashtags. In Instagram, although 30 hashtags is the limit per post, the recommended count is 9-11. Statistics show that 11 hashtags used on one post generates 79% of interaction from the audiences.
More than the recommended number of hashtags could appear too spammy.
How do you know which hashtags to include?
Include only those that are relevant to the brand and offering. This could be product hashtags, community hashtags, niche hashtags, daily hashtags, etc.
Making a branded hashtag is also a great way to quickly get to user-generated content you can repost!
Just like in Facebook, there is also an optimal and recommended time to post on Instagram:
The ideal days to post are Mondays, Wednesdays, and Thursdays, with Wednesdays being the best day of the week for getting engagements.
It's best to schedule posts during lunch time at 11am to 1pm, and then again after work hours at 7pm to 9pm. Avoid posting content during work hours as unlike Facebook, Instagram is mainly accessed through its mobile app version and not on a desktop.
Aside from the usual photo feed, Instagram also introduced Stories in late 2016, another platform that quickly took the throne from similar medium Snapchat in a matter of months.
Instagram Stories can also be leveraged to increase engagement with the community you are looking to create. Stories are an easy way to post interactive updates without messing up the much more permanent feed.
To sum up, it's not too late to get your business started on Social Media, and diving in and just using it is the best way to learn, so if you haven't done so already, GET STARTED!
Do you use social media for your business? What other platforms do you find effective? Let me know in the comments!