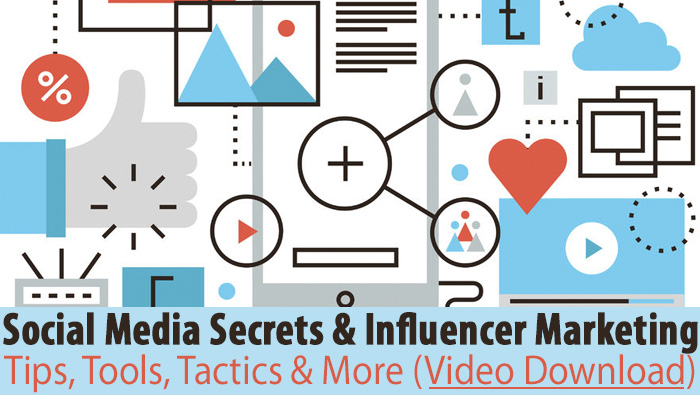 Love it or hate it, Social Media is here to stay.
And using social media to your advantage has never been easier. It reminds me of SEO (search engine optimization) about a decade ago… right now, it's EASY because not that many people know how to effectively use it (if they're using it at all)!
Social Media is so important to us, that we recently hired a dedicated Social Media Manager for our business, someone who plans and manages social media across our companies and brands online.

I asked Angel to put together this months blog post, to provide you with the lay of the land, the current Social Media landscape, and a few pointers to help you get started.
In addition to that, we're also giving you the chance to download the presentation Angel gave to our Blueprint Academy Mastermind group in Chicago in November, click the button below to access that: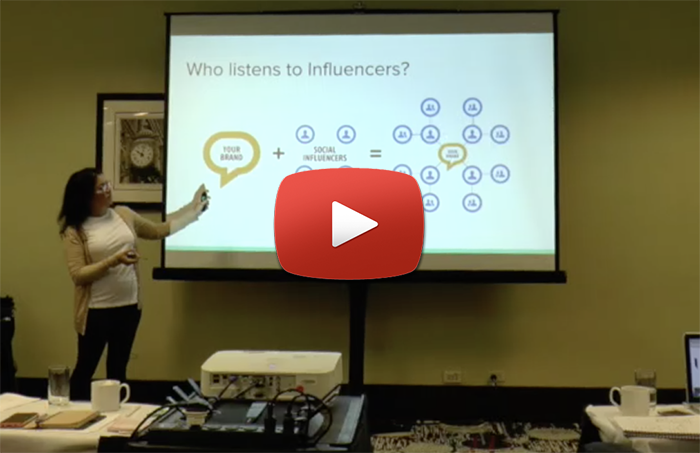 I'll hand it over to Angel now, please leave a comment at the bottom to let us know what you think, or to answer any questions (I'll ask Angel to chime in on the questions where necessary).
+++++++++++++++++++
It makes me feel quite old when I tell my children how, in my younger years, I had to walk to the post office to mail a letter, call people on the phone and actually shop from a catalog that I received in the mail. So many things have changed as each and every one of these things can now be done from a phone or computer whether we are at home or not.  Today's generation has the world at their fingertips, literally in one click.
Let's take a look at the definition of Social Media: websites and applications that allow users to create and share content and participate in social networking.
One of the biggest bonuses of utilizing the different Social Media platforms is that they drive traffic back to your site, showing that you're an expert in your niche.
I bet you have several apps on your phone at the moment, I know I do.
Let's take a look at a few of the must haves.
To manage my personal life: I have my airline and hotel apps, my apps to track my workouts, scheduling and calendar apps and ones that coordinate my families activities. All of these apps combined, help my day run smoother.
In addition to apps that I utilize day to day in my personal life, there are several out there that are work/business related that I use as well.
Let's discuss some basic business applications that help organize your business and make for simpler sharing with colleagues:
Dropbox: Allows for file sharing and storage
Google Drive: File Storage/Sharing for Photos, Files, Videos and more. Also allows others to edit a document if given permission
Canva: Graphic Design Software for Posters, Flyers, Social Media Posts
Zoho Mail: Business Email Hosting (you can use your domain name) with Integrated Calendar and Notes (free for up to 50 People)
LastPass: A encrypted storage application for your passwords. It's available on the web and also has an app for many smartphones
Social Media levels the playing field.
What exactly does that mean?
It means, that whether you are a large nationally known brand, or a small local brand, you're in the same space on social media. This is why your message and content is so important, it's why one tweet or share can go viral and send your sales sky rocketing.  What sets you apart is YOUR MESSAGE, not what you spend, that is HUGE!
So what is your message?
Your message is what makes your brand stand out from your competitor. It has value and is conveyed through specific visual concepts and language that inspires, persuades and motivates someone to buy your product.
Once you figure out your Brand Message, it's time to share across social media.
Here is where most people get stuck. They post sporadically and then get stuck on not knowing what to say to their audience. Here are some tips:
Set a minimum goal of posting twice a week on the Social Media platform of your choice. Be consistent and DO NOT skip posting as this lessens your credibility. (You can schedule these posts, I'll tell you about that later)
Choose the exact days you will post, Monday and Wednesday or Monday and Friday etc…
Know what you're going to post ahead of time (this is where an editorial calendar comes in handy)
So what should you say on Social Media?
Hint: You don't have to constantly post pics of your Brand nor talk about it constantly.
Here are some suggestions…
Talk about:
Things you love
Things that make your life easier
Things that make you laugh
Ask a question
Talk about other people (brands/people)
The information you post must always be authentic, helpful, real and shareable.  Another way of getting high level content that is authentic is by finding an Influencer in your niche to review your product or be a guest blogger on your site.
With all of the above in place, how do you know which platform is best for your brand?
Let's look at the most commonly used Social Media platforms:
Instagram: Mobile/Desktop Photo Sharing Application. Instagram is the "go to" place right now. You can post a photo with information, tag others in your photo, share other peoples photos and even run promoted business ads.
Hint: Instagram is a great place to post quotes, photos, new products, tips
Pinterest: Pinterest is an Application that allows People to design their life by saving their favorite items all in one place, by creating "boards". Pinterest is a database of intentions, literally a huge database of all the things people care about. This is a huge "niche" based community. You can also do promoted Pins, which directly links to your store.
Hint: Pinterest is a great place to post product photos, "how to" guides, videos, quotes and tips
Twitter: Twitter is the place for Breaking News. Sports, Entertainment, Public Events, you name it, someone is definitely talking about it.  People post and interact in what's called a "tweet", the twitter feed moves quickly as its instantaneous, yet there is huge engagement.
Hint: Twitter is a great place to post quotes, industry news, videos, updates
LinkedIn: A business and Employment Oriented Social Networking Site. LinkedIn is a great place to find Influencers/Bloggers/Brand Ambassadors. It's also a good place to share Blog articles as many business professionals that are interested in your niche, will comment and share.
Hint: LinkedIn is a great place to post Newsletters, Announcement, Job Postings and Blog Posts
Google+: 111 Million Active Users. Need I say more? Join, Share, Engage in your Niche.
Hint: Google+ is a great place to post guides, blog posts, videos
Facebook: The premier online social sharing platform. If your business isn't on Facebook, it needs to be!
Hint: Facebook is a great place to post quotes, photos, videos and Ask Questions.
Once you choose any of the above platforms, it's time to schedule your posts:
My favorite content schedulers are:
Hootsuite: The dashboard supports Twitter, LinkedIn, Facebook, Instagram, Youtube, Google+ and more. What I specifically love about Hootsuite it is its integration with Mailchimp
Sprout Social: What's unique about Sprout Social (besides being a Chicago company) is that it focuses on the business layer that really makes the platform work for Brands and not just the consumer. The app allows the user to track anytime their brand is mentioned across social media and reply accordingly
Sendible: Social Media Scheduling, CRM, Analytics and Publishing across several platforms
Co-Schedule: I'm trying out Co-Schedule now and it's quickly becoming a favorite of mine. It offers Social Media Scheduling, WorkFlow Management, Blog Management Calendar and Editorial Calendar all in one place
The above list is just a few of the many scheduling systems out there. What's most important is finding something that works for your exact needs and budget.
I mentioned earlier about partnering with an Influencer to help create content for your brand. Let's talk a little about what an Influencer is and how you can work together.
What is an Influencer?
A social media influencer is someone who builds a relationship with consumers through their blog, website or social media.  Using an influencer as part of your marketing is ideal as you're building a relationship with a person, who in turn builds several relationships for you.
Using an influencer can help you build a relationship with your target audience as they have already developed  trust with their followers who are in turn,  potential buyers.  Whether their audience is large or small, they can reach consumers through their blog and social networks that your brand may not be able to.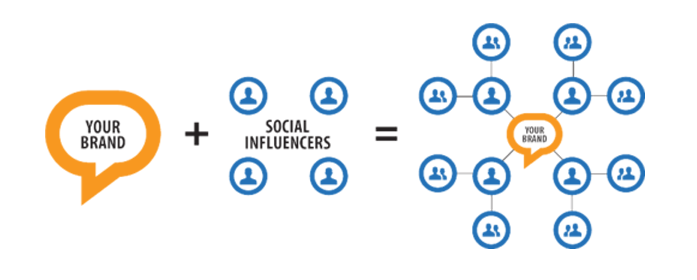 How can an Influencer help your brand?
An influencer can help your brand in many ways. Through any of  the various social media channels they can promote:
Audience Reach
Product Views
Engagement
Increase in Followers
Help Build Your Email List
Sales
How does an Influencer benefit from working with your brand?
An Influencer needs consistent and relative content on their site, THIS is what you provide! You are giving them the opportunity to:
Be An Authority In Their Niche
Guest Blog
Drive Traffic To Their Site
Review Products and Do a Giveaway
Utilize Your Affiliate Marketing Opportunity
Build Their Email List
Earn Compensation (either from you or from paid advertisements)
Four areas where Influencer Marketing can help your brand:
SEO: Influencers help build a diverse and strong backlink profile. The quality of your link profile has a huge impact on your search engine ranking. In addition, they provide unique content that increases reach and engagement
PR: Influencers help create trustworthy content. Users trust influencers almost as much as they trust their friends. They build trust and credibility for your brand
Social Media: Social Media is the primary source of content for most influencers. Social Media channels have a huge audience reach and the shareable content helps your brand to be seen by more users
Affiliate Marketing: Affiliate marketers can become influencers in their own right by focusing on a specific niche. Affiliate and influencers combined provide the biggest audience reach. Often affiliate marketers have their own network of influencers to push a specific product
How do you find an Influencer?
On social media of course! There are several  programs out there that you can pay for to find Influencers in your niche but there is also a simpler and FREE way.
Search for Blogs related to your niche
Look at who Follows you on Social Media and is Engaging with Your Brand, reach out to them directly
Do a #hashtag Search (for example if you want someone to talk about cat products.. search #catblogger #catlover #cats across the different social media platforms and take note of who pops up).. I talk about the importance of a #hashtag later in this post
Find out who is talking about your Competitor, chances are someone else has commented on the post who is also familiar with your niche and would be a great fit for your brand
Once you find an Influencer, it's time to reach out to them.  
Since you don't have any contact information it's fine to send a private message. Let them know that you saw their content and think they might be a good fit to partner with your brand.
When looking for an Influencer, be sure to be mindful of Size -vs- Level Influence. Just because an Influencer has more followers, doesn't mean they're the best fit for your brand.  Let's take a closer look:
Size = Number Of Followers
Level of Influence = Number of People that are actually reached (engagement)
You want to partner with someone that is posting relative content on a regular basis in their niche. An Influencer that is engaging with their followers and posting consistently is important for their credibility and for your brand.  So whether they have 1,000 followers or 10,000, isn't what is important. What matters most is that they create organic content that has a call to action, fills a need and is easy to share. These actionable items are what creates engagement and leads to sales.
Be open when looking for an Influencer as they can be anyone: a mom/dad blogger, a chef, fitness expert or even a teen beauty blogger.  Each person has something unique to offer by getting your brand in front of their audience seamlessly. Having them promote your brand has more credibility than a paid ad, as they are a valued and trusted source.
The content they create for your brand can be re purposed throughout your marketing campaign, which is extremely valuable down the road.  Working with an influencer will positively affect your SEO and teach consumers about your products without them feeling like they're being advertised to. Creating this type of partnership takes time, yet no doubt be beneficial to both your brand and the Influencer.
Brands large and small use Influencers to get their products in front of a crowd they couldn't normally reach. There are many niche influencers out there, it's just a matter of finding who is the right fit for you.
Let's Quickly Discuss #hashtags
You see them everywhere but what are they? A Hashtag Is a label used on Social Media that makes it easier to find certain information, in essence it optimizes content across all social media channels.
Hashtags help you organize and archive content. Did you know that by using a #hashtag on Google+, Instagram, and Twitter… it make a private post viewable for ALL to see? So let's say someone does not follow you on Twitter, yet they search #cat and you've posted a tweet saying "look how beautiful my #cat is" along with a photo, Your post will show up in their search. Kind of cool right?
Using #hashtags opens up a world of possibilities, takes your post from a few people seeing it to literally thousands in an instant.
Here's why marketers should care about hashtags, and why you need to track them.
Your social media marketing efforts should have a purpose:
drive traffic to your website
spread the word about a new product
Increase sales
bring awareness to your brand
Adding hashtags to your social media posts gives you a way to connect specific posts to a certain campaign.
Let's say you're trying to build up some anticipation around a new product you're about to release. Instead of sending out social media posts that just mention the product name, you could create a unique hashtag to track all of the conversations surrounding the release.
So a #hashtag helps tie everything together and are a small yet important part of the big picture.
Social Media + Influencers = Brand Recognition, Organic Audience Growth and Sales
Once you find the perfect Influencer for Your Brand there are several ways you can work together. I will highlight a few of my favorites, yet the possibilities are endless. They key is to get your product into their hands, and let them talk about it!
coupon codes: give them a coupon code "Holiday20%Off" to offer to their followers
email marketing: have them include your brand in their weekly email blast
contests/giveaways: give them a product to giveaway to a lucky winner
guest blog on your website: have them blog for your site
product placement: have them use your product (post in "Best Of" lists)
affiliate marketing: offer them an affiliate marketing link
ambassador programs: have them be an "ambassador" for your brand , where they create content, have your logo on their site, review your products for a period of 3 months or more
Social Media is definitely here to stay.
We have the ability to simplify our lives by utilizing apps in our personal and business lives. There is such a wide variety of options out there to choose from, yet once you find what works for you, your daily processes with be streamlined.
Take the time to really get to know your brand and choose your brand message so you'll have clarity from this point forward. Then, choose the social media platforms that will highlight your brand most effectively.
If you need content, reach out to the Influencers (assign dedicated #hashtags) and use them to connect with consumers in your niche.
Lastly, choose and put to use one of the scheduling applications mentioned and organize all things on your editorial calendar. All of this takes time in the beginning but will make the details of posting on social media much simpler in the long term.
I hope I've given you a little insight on why using the different social media platforms is so important to your brand and some simple steps to get the process started.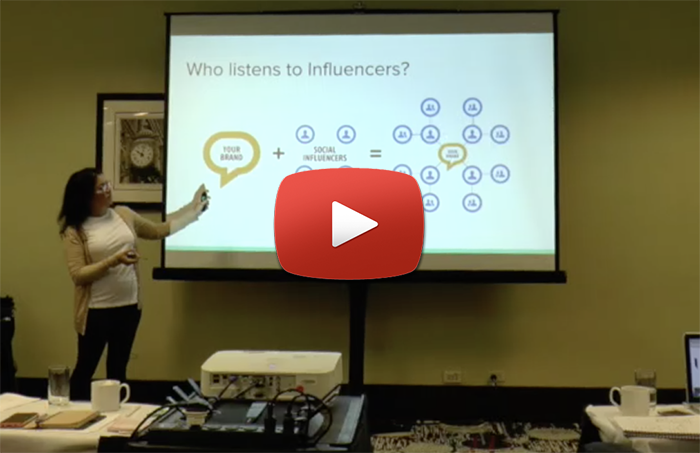 We'd love to hear what you think about all this, and to answer any questions you may have, so leave a comment below!
Thanks,
Aidan (and Angel)