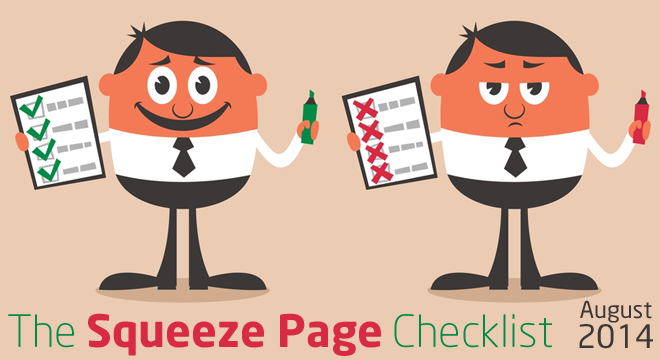 Hi, and welcome to the 1st of August update to AidanBooth.com!
I launched this blog way back in April 2012 and have been adding free content to it on the first of each month ever since (this is the 28th successive month!).
If you've been following the AidanBooth.com updates for some time now, then you'll already know that this website is about sharing good quality and USEABLE information, and making tool and service recommendations when it makes sense, and as you'll soon see, I'm about to recommend one of my FAVORITE tools, and also give you a free alternative J
LEAVE A COMMENT! One little request… if you like what you've read, or have a question or comment, leave it using the comment box at the bottom of this post! I LOVE getting your feedback and answering your questions, so if you've got anything you'd like to say, leave a comment.
Today's update is all about Squeeze Pages, what they are, how to build them, when to use them and my Squeeze Page Checklist.
Let's begin!

'Squeeze Pages' are also often referred to as an 'Optin Page', a 'Lead Page', or a 'Tripwire Page' – these four things are EXACTLY the same.
A Squeeze Page is quite simply a page where you're single objective is to get someone to give you their email address. They normally look something like this: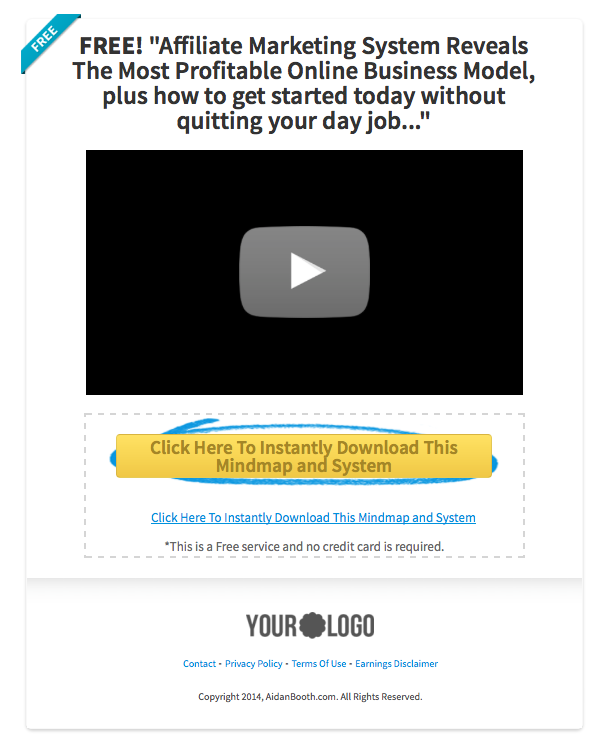 You can use Squeeze Pages anytime you need to collect someone's email address.
Tim, Steve and I use Squeeze Pages in 3 areas of our business:
Kindle
White Label
Marketing Funnels
I'll now explain a little more about how we use Squeeze Pages for each of these three components.

The reason we want to get a Kindle reader to "opt in" to our email list is so that we can ask them for a review, and promote our other products to them.
It works like this:
Someone buys our book on Kindle
On the first page of the book, we announce a "free giveaway" that people can get by going to a special bonus page.
The reader wants the bonus, so they go to the bonus page and add their email address.
Once we've "captured" the new subscriber, we can then ask them to leave a review, or tell them about other similar and related products we sell.
The reason we want to get the email address of someone who has purchased one of our White Label products on Amazon, is the same reason as for Kindle. We want reviews and more sales.
The way it works with White Label products is slightly different though. We use a two-pronged approach:

Here's how the product insert process works:
Someone buys our White Label product on Amazon.
The product is sent to the buyer, and inside the box we include a little "insert" that directs the buyer to a bonus page.
The buyer wants the bonus, so they add their email address.
The product insert is a simple flyer that has our squeeze page URL and some branding on it (normally a logo). The main thing is that it captures peoples attention and gives the buyer a strong reason to visit the Squeeze Page.

With White Label and selling physical products on Amazon, we're also able to access every customers phone number, so we have the ability to call them up as well.
Normally we use these phone calls to solicit reviews, however they can also be used to send people to your squeeze page as well.
Here's how that process works:
Someone buys our White Label product on Amazon.
After they purchase, we give them a call, asking if everything is okay, and ensuring that the product has arrived.
While on the call, we can EITHER ask for a review, or offer them a bonus through our Squeeze Page, or BOTH.
As mentioned above, we normally focus just on product reviews for Amazon, as we'll inevitably get the buyers email address anyway as part of this process, but in some situations for some products it makes sense to get the email address right away.

The third way we use Squeeze Pages as part of our marketing funnels.
Here's how this works:
We buy traffic (normally using media buys or Facebook).
We send that traffic to a squeeze page offering some kind of irresistible offer.
People add their emails to get access to the irresistible offer.
So as you can see, the three processes outlined above all follow the same kind of structure, the only thing that changes is the way we get the traffic.
Now that you know how the general process works, let's talk about exactly how to go about setting up a squeeze page.

We use two different approaches depending on what the Squeeze Page is for:
Static Page
Lead Pages or Funnelizer PRO
If we're paying for traffic, we normally create static pages using Dreamweaver.
The beauty of using a static page, is that you have 100% control and flexibility over what is on the page, how it looks, and they are very easy to customize.
The downside is that you need to have some knowledge of how to set these up and you need to know what you want it to look like in the first place… it's not as easy as using a plugin or pre-made template, so it's only really a good solution for people with experience with Squeeze Page design.
Here's an example of a static Squeeze Page I made a few years ago before launching 'Rank and Pillage' with Brian G. Johnson: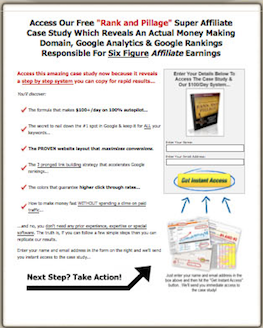 This one converted at 49.8%, but we only got to this conversion rate through split testing. More on this shortly.
So for paid traffic and product launches, we use Static HTML because we can customize more, it does take a little bit longer though and some knowledge is required.
In all other cases, we use Lead Pages.
Lead Pages is much more than a tool to build Squeeze Pages, you can also use it to create webinar registration pages, sales letters, thank you pages, coming soon pages, pop-over buttons and much much more.
In the video demo below I explain the main features of Lead Pages and build a simple Squeeze Page in the spaces of just a few minutes, check it out:
As mentioned in the video, we have a special bonus pack available for people who want to buy Lead Pages, you can check that out here: https://www.aidanbooth.com/lead-pages-bonus
Note: We are using our affiliate link and will make a commission if you choose to invest in Lead Pages.
If you want to make a simple Squeeze Page, but don't want to invest in Lead Pages, then FunnelizerPRO is a good option.
FunnelizerPRO was developed by our in-house programmers so that people could make simple Squeeze Pages for Kindle and White Label projects using a simple visual WordPress editor.
The video below explains more:
CLICK HERE to register for access to FunnelizerPRO
Now that you've seen several different ways to create Squeeze Pages, lets talk about the 6 things you can do to ensure your pages gets results…


It amazes me how often I see Squeeze Pages with boring headlines. You don't need to be a copywriter to know that something with a bit of intrigue and with benefits weaved in, is going to convert better than something boring.
Take this example… what do you think would get more subscribers opting in?
"Enter Your Email Below To Download The Golf Tips Report"
OR
"Enter Your Email Below To Discover The Secret "Back Arch" System That'll Shave 7 Strokes Off Your Handicap AND Allow You To Hit The Ball 50 Yards Further WITHOUT Changing Your Swing…"
Hopefully it's obvious that the second headline is going to perform better… yet, people keep on using boring calls to action (it's the same for any kind of opt-in, not just squeeze pages).
If you're not a copywriter, that's FINE. Just copy what you've seen other people doing, or copy what your competitors are doing, and then test things to find out what works. It'll make a BIG difference to your results.
Tim, Steve and I have performed literally HUNDREDS of split tests for opt-in forms and squeeze pages, and one thing that always improves results are arrows.
Like anything, you should test this for yourself, but if in doubt, have arrows pointing to the place you want your reader to click or where you want them to write add their email address.

Auto Responder companies like Aweber, Mailchimp, Get Respones, iContact etc, all give you the option of asking people for their name and email address on sign up forms.
What most people don't realize is that if you JUST ask for an email address and not a name, your optin rate increases by about 10%.
Once someone becomes a customer, you can get their name then, but when they're first entering your funnel it makes more sense to ONLY ask for the email, and not worry about the name. You'll get better results.

Something I discovered recently was that about 15% of people who were subscribing to my lists were NOT clicking the link in the confirmation email that gets sent out… this means that although they've entered their details, they're NOT an active subscriber.
As a result, I switched off the "confirmed opt-in" option that Aweber sets as a default.
By doing this one thing, I instantly increased my optin form performance by 15%.
Now, admittedly, Aweber and other companies will ALWAYS recommend you have the double-optin function activated, but in my experience it will definitely decrease your optin rate.
One thing you should check is your deliverability, to make sure that even if you have double-optin turned off, your messages are still getting delivered and opened. You can monitor this inside your Auto Responder reporting section. If in doubt however, I recommend turning it OFF.
If you're using Lead Pages, it's EASY to add an exit pop to your squeeze pages, in fact, I showed you just how easy this is in the demo video above.
Consider this…we aim to get a 50% opt-in rate on our Squeeze Pages. That means that 50% of the people who land on our squeeze pages LEAVE without giving us their email.
By using an exit pop, we can save about 10% of those people, by offering them something different when they leave, so where possible, make sure you use an Exit Pop, it'll only help your performance.

The 6th and final point is to Split Test. This is VITALLY important…
Tools like Google Analytics, VWO.com (previously called Visual Website Optimizer) and Clicky make split testing easy.
Check out the image below (click the image to make it bigger):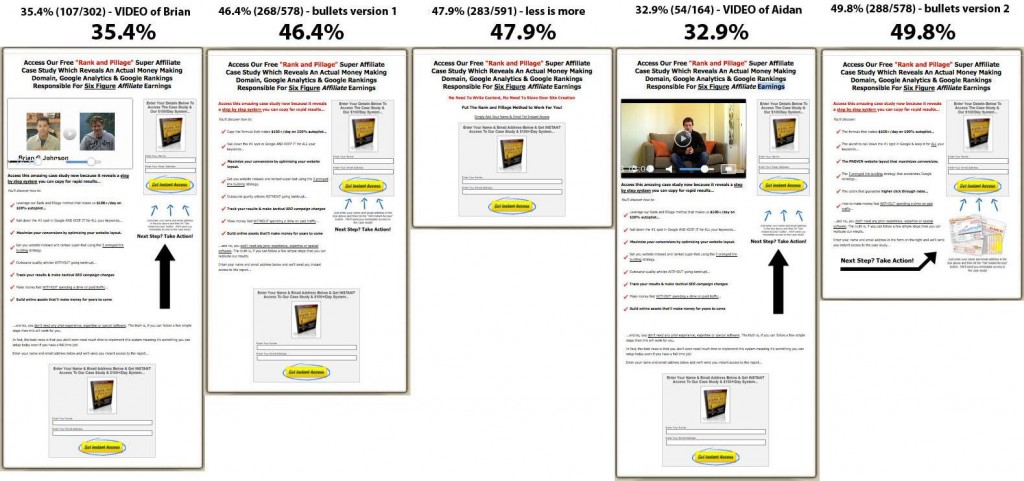 When we launched Rank and Pillage a few years ago, and during the first two days of Pre-Launch we split tested 5 different Squeeze Pages, you can see the performance of each of the different designs above as well.
As you can see, the difference between the highest converting and the lowest converting page is almost 15% (14.4%)… that's a HUGE difference, and exactly why it's so important that you split test your Squeeze Pages.
Or take the following three optin forms for example, these are from a test I'm running right now: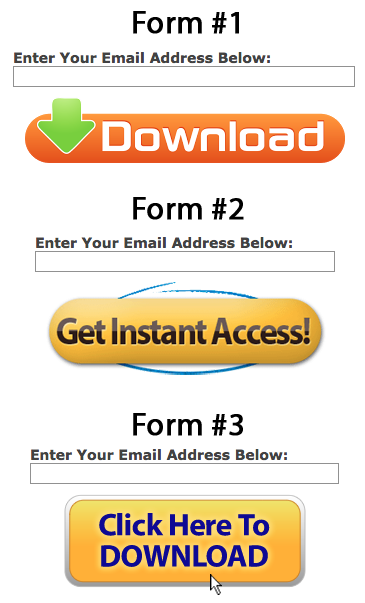 Which of these three forms would you say gets the best results?
Most likely you'd just hazard a guess, but unless you tested it your never know…
Here are the results:
As you can see, the third form converts at 19.6%, almost DOUBLE the other two options… but I NEVER would have known this if I didn't test it!
NOTE: Different forms may work better with different offers… I'm not saying that Form 3 will ALWAYS outperform the others, but in the test I'm running it's the clear winner.
Another thing about Lead Pages, it has built in split test functionality, so that's another reason why I like using it.
So to recap the 6 Point Squeeze Page Checklist now:
Intriguing Attention Grabbing Headline
Arrows
Email Only
Don't Use 'Confirmed Opt-In'
Exit Pop
Split Test
Implement all 6 suggestions, and you'll be off to a solid start.

Do you have any questions or comments? Let me know in the comment box below!
Until next time,
Aidan Booth
P.S. I'm running a competition on my Facebook Page and am giving away 3x $50 prizes in the next 24 hours. All you have to do is guess how many sales our Kindle books made in July. Head over to http://www.facebook.com/aidanboothonline, find the post shown below, and get your guess in today (winners will be announced very soon!):