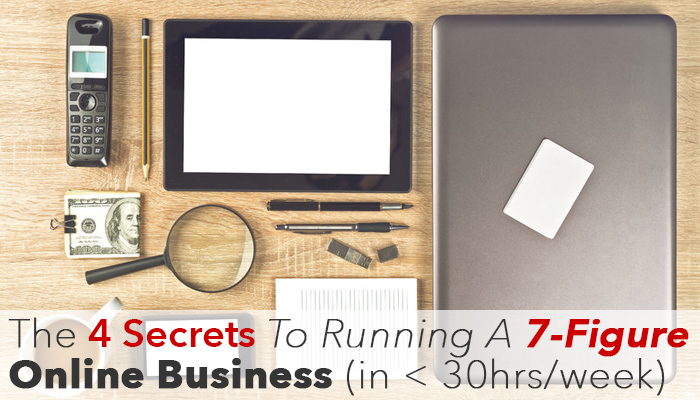 Hey, and welcome to my monthly blog post on AidanBooth.com! These normally happen on the 1st of each month, but due to travel and the launch of 100k Factory, this one is late.
If this is your first time here, click the button below to get the Proven Passive Income Cheatsheet (this will also add you to my mailing list so that you get my monthly updates):

The cheatsheet reveals my 4 PROVEN passive income strategies, and how you can get started with each one.
Also, if we're not already connected on Facebook, head over to my Facebook page and click the LIKE button, this way you'll get ALL my updates:
http://www.facebook.com/aidanboothonline
Now on to today's content…
A question that Steve and I get ALL the time, is:
"how should I run my business"
Sounds simple… in theory it should be, but in practice it's not so straight-forward.
Firstly, your business has many "moving parts". There's not just ONE secret to running it.
We break it down into the following:
1. The 'Business Management' Spreadsheet
Passwords, Websites, Hosting etc
2. The Monthly Financial Report
Exact tracking of incoming and outgoing revenue and costs.
3. Business Structure & Employee Management
The structure, the system, the meetings.
4. Time Management
The calendar, time management, blocking aside time, prioritizing.
Let's tackle this one by one…
The Business Management Spreadsheet
This one little spreadsheet holds ALL the vital information. All your login information, hosting details, domain names etc.
Here's a short video explaining how it works:
Here's a version you can download and use yourself:

Quite self explanatory, yet absolutely KEY.
The Monthly Financial Report
Here's where we track ALL our financials… all our incoming revenue, and all our outgoing revenue. Here's a short video explaining how this works:
Here's a version you can download and use yourself:

The key here is that we track everything based on when money is spent and when it comes into our accounts. So, if we sell an Amazon product in June, but don't receive the money until August, then that cash goes in the August revenue stream (not in June, which is when the sale took place).
If we make an affiliate sale in May, and get paid for it in June, then it's in the June income section.
If we pay for hosting in June, then it's a June expense section.
There are pros and cons to doing it this way.
The Pros are that you can see at a glance what your monthly incoming and outgoings are. You can see the REAL bottom line. Exactly what you spent in June, and exactly what you earned in June.
The Cons are that it doesn't really do a great job of tying the income with when it was actually made. The easiest example here is selling on Amazon… you sell an eBook or a physical product in June, but are not compensated for that for WEEKS. With Kindle, there is a 2 month delay. The sale may happen in June, but may not show up in your account until August…
Over time it always balances out though, and it's an incredibly simple method, so it's what we use.
We categorize by income channel, and also by expense category. This shows us at a glance EXACTLY where the money is coming in from, and where it's going out to. We can see how much has come in from each line of Kindle books, how much we've earned from each brand on Amazon, how much hosting costs us, what we spent on domains and so forth.
Business Structure & Employee Management
The structure I'm about to share is ideal for a 7-8 figure business, but the concept also lends itself to smaller "one-man-band" operations, as I'll explain shortly.
Our business has two offices in Pakistan (approx 25 employees in total), one in China (5 people), as well as 8 key home-based employees and managers in the USA, Canada, UK and Argentina.
How on earth do we manage this?
We have highly-skilled managers in key areas of our business. Our business is divided into a simple structure consisting of:
CEO (oversees all operations)
CTO (oversees development and design)
CFO (oversees all finances)
COO (oversees support, administration, day to day operations)
Producers (content creators)
Traffic and Funnel (traffic and conversion specialists)
All our operations fall under this umbrella. So, for example, our eCommerce Manager runs the day to day operations of our Amazon business, and our Dropship stores, and she falls into the COO section of the business.
Our designers and developers in Pakistan fall under the CTO section.
Our team in China and the support staff in Pakistan are mainly part of the COO team.
The beauty of this structure is that you, as the business owner, can grow your business quickly without getting more and more bogged down in day to day operations. It also means that you can easily add in new people and remove others as is necessary.
But how does this apply to you?
When you start out, it's most likely that you'll be a "one man band" with potentially a few outsourcers helping you out. It's still beneficial to think about the structure and division of tasks though.
Steve calls it "wearing different hats", and turning yourself into the CFO, the COO, the CEO, etc, at different times in your day, week, month and year. If you establish the idea of this structure now, it'll make it MUCH easier when you do begin to hire staff to do these things for you (the challenge will then be letting go of the reigns).
Plan time into your week when you can step into the different roles, you'll find it helps you keep control of your business and help you stay focused on the big picture (it's too easy to fall in to the day to day operations and forget where you're heading).
Time Management
Having the right business structure, and a very organized 'Business Management' spreadsheet help a lot with time management.
There is one other thing we do that has made a gigantic difference in our business…
BLOCKING ASIDE TIME.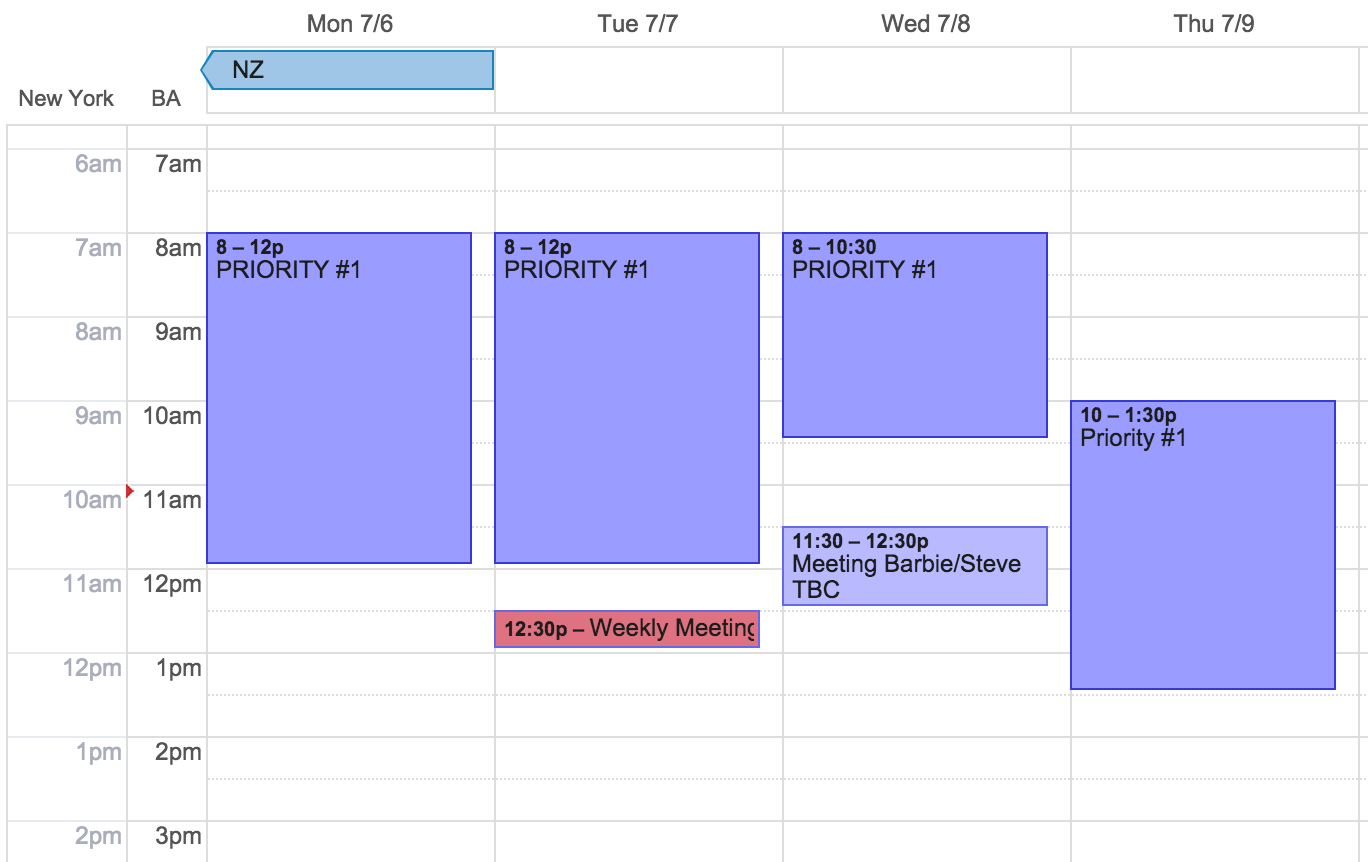 At any one time, Steve and I have one main focus each, and that main focus gets extra time allocated to it.
Every Sunday evening (you can also do it on Friday if you don't want to work on a Sunday), I sit down for 30 minutes and plan the week ahead. In this 30 minutes I ONLY focus on my goals for the week and blocking aside time.
Since I already know what my main focus is, I block aside time for that each day. Not every hour is equal, so I make sure that my "best hours" are spent on the most important tasks.
For me, my best hours, when I'm the most "switched on", are first thing in the morning. The earlier the better. These hours are vital and need to be protected from distractions at all costs.
So on a Sunday evening, I look at my calendar (I use Google Calendar) and I block out hours which will be dedicated to specific tasks.
The other thing we've started using are SOP's. SOP stands for "Standard Operating Procedure", and it's a document that shows someone how to do something.
If someone else can do the job as well as you can, for LESS than your 'hourly value', then you should seriously consider paying someone else to do it for you.
How do you work out the value of your time?
Here's an example:
Your Annual Earnings: $100,000
Your Hours Worked In A Year: 1,960 (assumes 49 weeks, at 40 hours/week)
Your Hourly Value: $51 ($100,000 divided by 1,960)
And… did you know, you can have an English speaking virtual assistant for about $3.75/hour…?!
That's right, $600/month get's you a decent FULL TIME worker in Pakistan or the Philippines (or other developing nations). 160 hours of work done for $600.
Admittedly, you need to train these people, but it's worth thinking about.
When I started outsourcing about 8-9 years ago, that's when my business started to take off. I would HIGHLY recommend considering finding a VA, and handing off some of the jobs you hate, or simply a few hours of basic work so that you can focus more on building your business.
Once you've found a job you want to outsource, create a simple SOP.
Here's an example of one of our simple time saving SOP's:
https://docs.google.com/document/d/1zC8yQbJOocGmAggQ9-5yiWAYUGEMeg7-fr_rKZtZxQA/edit?usp=sharing
Nothing too flash, just simple but very useable instructions.
Not having to set up webinars saves me about 1 hour each month. One hour may not seem like a lot on it's own, but multiply this by 10-20 jobs, and it really starts adding up!
What do you think?
Leave a comment below, and feel free to ask any questions. I read ALL comments and questions and all will be published (the good, the bad, and the ugly).
Up next…
On July 1st, the next post will go live!
I'd like you to help me choose what to discuss, so please select an option below:
Until next time!
Aidan Booth
P.S. More travel on the radar over the next month! I'm returning to New Zealand for a few weeks and will also escape for some downtime with my wife in the Mamanuca Islands in Fiji. I can't wait!!!