Welcome to my "1st of the month" internet marketing update for April!
On the 1st of every month, I write a blog post about some facet of internet marketing…something that can help you grow your online business. Nothing is ever sold on AidanBooth.com, it's always 100% free content.
Today I'm discussing anchor text and link building…I hope you find it useful. THANKS for visiting!
Having trouble with the video? Watch it on YouTube here: http://youtu.be/DW0tU4v3UCs 

NOTE: The information provided below is based on analysis of my own high-ranking websites and also on analysis of countless other successful websites. You can download a PDF version of this post here: Right Click & Select "Save As" To Download
Lets get started by talking about the types of anchor text you should be using…

I'm finding that using my URL and Website Name as the anchor text around 50% of the time is getting great results, in addition to this, a good number of random keywords (such as "click here", "more information" etc) also help make link profiles look natural and you'll get better rankings as a result.
The most important thing however is that you don't overuse your target keywords…using your target keywords too often (more than 15%) will put your website in danger of being penalized by Google and pushed down the rankings.
The next thing you need to look at is where to "point" your links…in other words, which pages should your backlinks link to?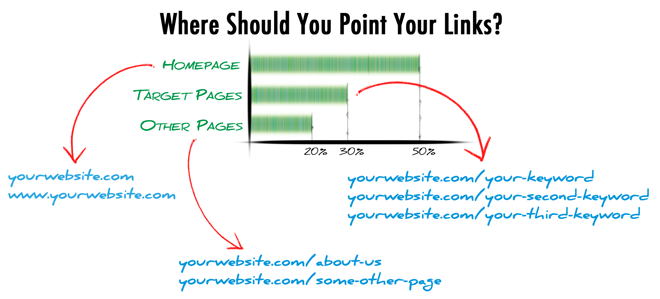 Even if you only have a couple of target pages, you still need to have links pointing to a wide range of different pages on your website. I find having 50% of my links pointing to my homepage works well, it provides a good base and your entire website will benefit from this.
The other 50% of the links should be split up between your target pages and other pages on your site.
Lets take an example…
Assume your website has a homepage and 19 other pages (so 20 pages in total).
Assume that 3 of the pages are "target pages" and the other 16 are "supporting pages" (pages that are not a strong focus from an SEO standpoint).
Assume that you have 100 links coming into your site.
Based on what I've explained above, approximately 50 of the links should point to the homepage, around 30 should be split between your 3 target pages, and the other 20 split amongst the remaining 16 pages.
Now, you shouldn't use this EXACT ratio every time…make sure you keep things random by varying the percentage of links that go to each page on your website (otherwise your link profile will start to look very repetitive to Google).
The next thing to consider is NoFollow and Follow links.
NoFollow links are links that don't pass link juice to your website (although they do improve your rankings…) – you can read more about them here. Follow links are links that DO pass link juice to your website…traditionally these have been the types of links people have focused on as they've been seen as the only kind of links that help you move up the rankings (which is not true nowadays!).
You need both NoFollow and Follow links…lets take a look:

At least 10% of your links should be NoFollow links…ideally even a little more (up to 30%). If you don't have any NoFollow links, it's a sure sign to Google that you're building links unnaturally and you'll struggle with getting top rankings as a result.
For years people have said that NoFollow links don't help you move up the rankings…studies have proven however, that they DO. In fact, I've seen websites that have been indexed and gotten to page 1 of Google with ONLY NoFollow links.
The next thing that you NEED to have is link relevancy. By that, I mean you need to have links coming to your website on pages or websites that are related to yours.
Here are the numbers you should aim for:

As far as relevancy is concerned, there are two types of relevancy:
1. Content Relevancy
A link with content relevancy is one that is surrounded by text which is related to your niche. An example would be link in an article directory such as EzineArticles.com. The EzineArticles.com website as a whole may not be specifically related to your niche, but the page where your links are may be very closely related, and this would give your links "content relevancy".
Content relevant links are easy to get in places like Squidoo.com, HubPages.com, Article Directories, YouTube.com etc.
2. Site Relevancy
Links with "site relevancy" are links on websites which are related to your niche. So if you have a website about "iPhone Cases", a link with site relevancy might come from another website about iPhones, or another website about "cases". Links with site relevancy are the BEST links of all nowadays and are the links that'll give you the biggest boost in rankings.
Building your own Feeder Sites and Niche Specific Mini-Blogs are easy ways to get site relevant links, another easy way to get these links is to make contact with other websites in your niche and ask them to give you a link (offering to pay helps!).

To finish up I want to give you a few more tips about other SEO "Best Practices"…
Link Diversity
Link Diversity is having links coming to your website from a range of different types of websites. That means you need to make sure that you're getting links from Videos, Blogs, Articles, Sidebars, Web 2.0 properties, Press Releases, Facebook Pages, Google+ profiles, etc etc etc…as many DIFFERENT types of websites as possible.
Link diversity is a CRITICAL part of the puzzle and without it you'll struggle to get rankings.
C-Class Variation
You need to make sure that your backlinks are coming from different "C-Class IP Addresses". This is "tech-talk" for ensuring that your links aren't all coming from websites hosted on the same servers. You only really need to watch out for this if you're getting all your links from blog networks or from websites which you own and host on one server.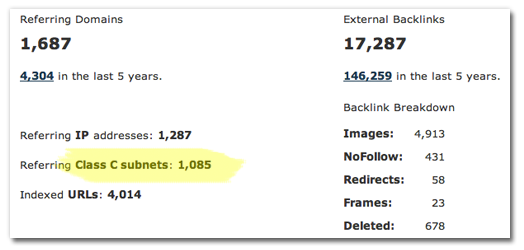 Continued Link Growth
Part of a natural looking link profile is natural looking link growth. It's important that you consistently build links over time…not necessarily hundreds of links per month every single month, but at least a few new links will help keep your link growth natural.
The amount of link growth you need will depend on your niche and the history of your link growth. If your website has always received hundreds of new links per month, then ideally you should try to maintain this…dropping down to just a few new links per month could raise a "red flag" with Google. If on the other hand you've never had an overly aggressive link building plan, then just a few new links per month will look natural.

Final Thoughts
To sum up, your link building needs to look natural.
That means lots of variation…variation in EVERYTHING (anchor text, types of sites, pages the links point to, etc etc etc).
If any part of your link profile looks unnatural, then your website runs the risk of coming under Googles microscope and losing rankings.
Keep in mind that the recommendations I've given here are a general guide. Every niche is a little bit different and in-depth analysis of the top websites in your niche is the only sure-fire way to know exactly what Google expects for your niche.
If you've found this useful, click the Like button!
If you've got a question or comment, leave it below – I read them all, and they all get approved!
[loveclaw_buttons]