It's the 1st of November which means that it's time a new post to go live here on AidanBooth.com!
If this is your first visit, then WELCOME! Thanks for visiting! Sign up to my mailing list to stay updated and be notified about future updates (no strings attached, and I promise I won't spam you!).
TIP: If you want to download this blog post as a PDF (for offline reading), click the button below, and I'll send it to your email address:
This past month has been insane… it seems they just keep getting busier as the year draws to an end!
On a personal note, my wife and I traveled to Bordeaux in France, to Dubrovnik in Croatia (this is where Game of Thrones is filmed… the place is INCREDIBLE), and also Bosnia and Herzegovina.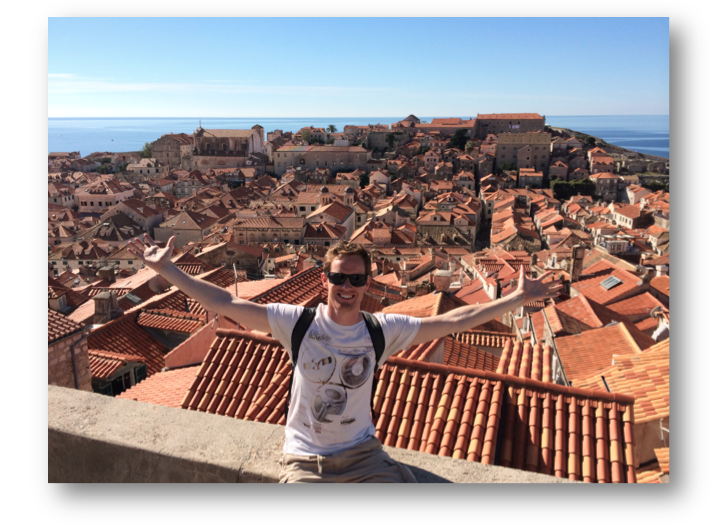 If you've been following this blog for some time now, then you'll know that freedom and flexibility is EXACTY why I got started with internet marketing in the first place, and I'm very grateful that I've been able to build a successful business online.
My wife and I are settled down in Barcelona now, we'll be here until the end of the year, and are then heading to the French Alps for a month in January (time to dust of the snowboard…).
In addition to all the moving around that my wife and I have done, we've also been incredibly busy with our business as well.
We've launched several new physical products on Amazon (sales and reviews are coming along nicely), are about to launch a new book on Kindle (profits are steady), and are working hard to tie up lots of cool little projects in the next couple of months before the end of the year.
Today is all about search engine optimization, and specifically about Google Penguin and Google Panda.
SEO has been a topic that people have been asking me to cover for almost a year now… it's been a long time since I wrote anything related specifically to Google, so I'm quite excited to hear your feedback about today's post.
Let's get down to business…
Panda 4.1 was released on September 23rd 2014.
Panda is Google's algorithm that specifically aims at low-quality web content, so it looks carefully at your webpage and how it stacks up against the competition. If you've got a crappy site, then Panda is designed to stop you from getting good Google rankings.
Google has never shared the specifics of any of its algorithms, but what we do know is the following:
Panda targets "thin" content, which often equates to a general lack of content (websites which only have a few pages)
Panda targets duplicate content, usually when a site has a large volume of it (this is why you need to be smart about the way you syndicate content)
Panda targets machine-generated content (for example, "spun content")
Panda is the infamous algorithm update that wiped out lots of "thin" websites back in February 2011.
To write this post I've spent a lot of time diving deep into our own website statistics looking for patterns. I've also read a LOT of analysis about Google Panda from other people.
One thing to keep in mind as you read this is that these algorithm changes are often extremely hard to make exact conclusions about. Google doesn't say much about how their algorithm works, and there are so many factors at play.
On a positive note, so many SEO experts are actively monitoring things these days, that we do have a fairly good grasp of exactly what has happened.

So who got hit this time around, and who didn't? Glenn Gabe sums it up nicely… Here's who got hit:
Affiliate sites without useful information that were essentially gateways to others sites (people just trying to drop an affiliate link)
Websites that are heavy in ads or affiliate links, and particularly those that have ads or affiliate links at the very top of their pages (so the first thing that websites visitors see is not content, but ads of some kind)
Websites that had broken or blank pages (nothing new here)
Keyword stuffing, doorway pages, deceptive content, security warnings, pop-up ads, forced downloads (classic spam)
"Content farms" like sites that had a lot of how-to type articles that were weak in depth
Another type of website that got hit this time around, are super-broad sites such as Answers.com and HowStuffWorks.com.
These two sites have an extremely broad range of content, but aren't super specialized in anything.
Conversely, niche specific websites that focus on just one topic, and dive DEEP into that topic seem to have remained unscathed…
Thankfully, this is the EXACT type of website that we've been recommending affiliate marketers build for years now (roll back the clock to CDLTrainingHub.com – this is EXACTLY how I structured that site, and exactly why I wanted to build it in that way – to keep the peace with Google).

Our websites were all unaffected by the recent algorithm changes, however what may interest you is how we saw ranking IMPROVEMENTS across the board on May 19th…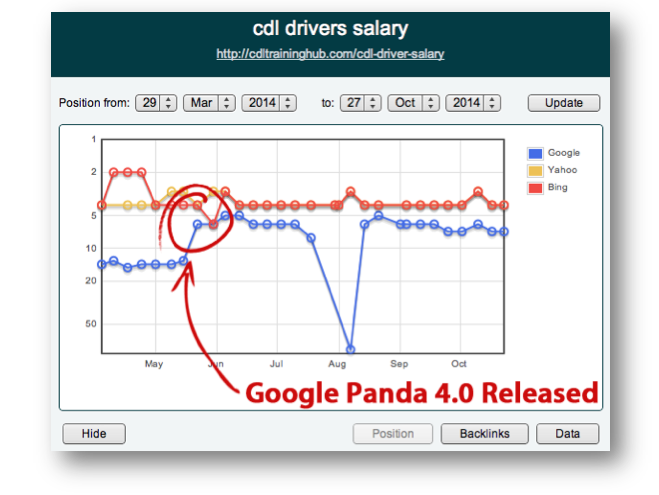 The screenshot above shows how my rankings jumped UP on May 19th for the keyword "cdl driver salary".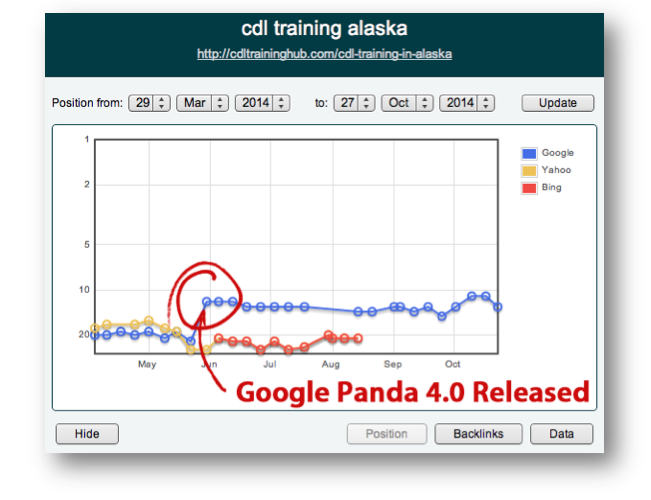 Here you can see a similar pattern, this time for "cdl training alaska", again it happened on May 19th…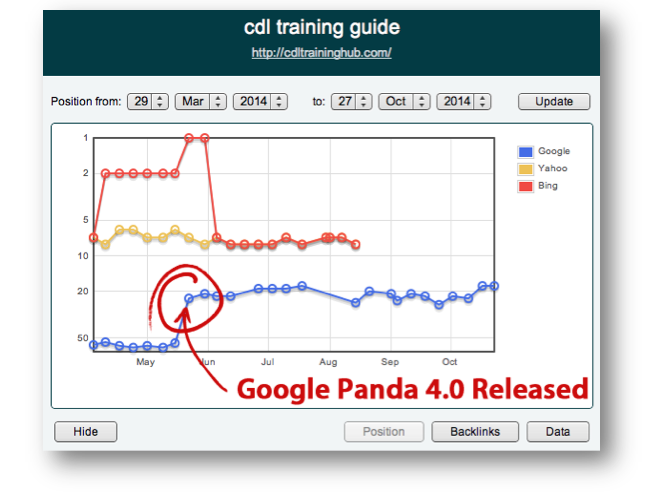 The same pattern is shown here for the keyword "cdl training guide".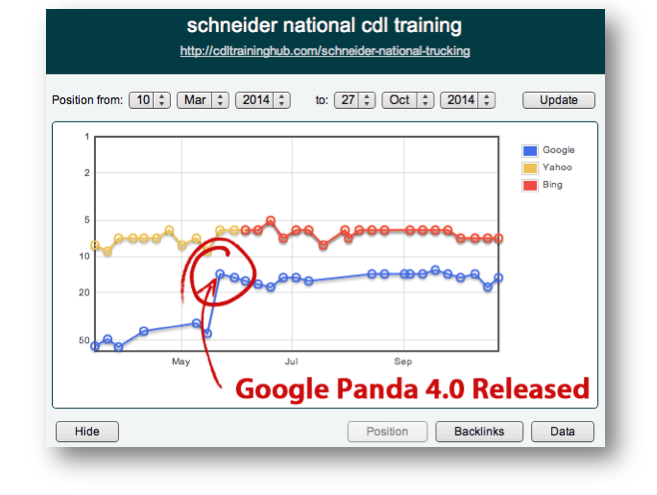 And here's a long tail keyword ("schneider national cdl training") that experienced the exact same jump up the rankings.

What Happened on May 19th?
On May 19th, Google released Panda 4.0.
As you can see from the graphs above, it had a dramatic POSITIVE impact on our rankings for a wide range of keywords (both for our BIG target keywords, and long tail keywords too).
I personally don't think Google Panda is much to worry about. Nothing new is really happening, it's still all about user engagement and quality content.

My big recommendation for you is that you build narrowly focused sites that have GOOD QUALITY content. Make as much of your content completely unique, and work hard to make your site sticky… keep users on your site for as long as you can (internal linking, intriguing articles, videos etc).
If you're working with a local business website, then build it out. Make it thicker (more good content). Many local sites have been hit by Panda because they are often quite thin. If you're working with a local business, this is a prime opportunity to get an edge over your competition.
The other big Google update in the past month is Penguin… let's take a look…

Google Penguin 3.0 was released on October 17th 2014.
To refresh your memory, Google Penguin is the Google algorithm that targets spammy link building footprints. In other words, the websites that suffer are the ones with shady looking link profiles – Google Penguin is ALL about backlinks.
Penguin 1.0 first hit in April 2012. Since then, there have been another 5 "major" rollouts:
Penguin 1.0 on April 24, 2012 (impacting ~3.1% of queries)Penguin 1.1 on May 26, 2012 (impacting less than 0.1%)
Penguin 1.2 on October 5, 2012 (impacting ~0.3% of queries)
Penguin 2.0 on May 22, 2013 (impacting 2.3% of queries)Penguin 2.1 on Oct. 4, 2013 (impacting around 1% of queries)
Penguin 3.0 on October 17, 2014 (impacting around 1% of queries)
As you can see, the recent Penguin 3.0 update was the first in over a year.
As such, there was a LOT of hype and hoopla in the lead-up, webmasters were expecting big things, and I personally know people who have been waiting desperately for this update…
The reason some people were so desperate is because of the way Google Penguin works.
If you're hit by Penguin and lose rankings, even if you make changes, you have to wait until the next Penguin release to see if your changes have done what Google wanted (and to HOPEFULLY regained your rankings). You can't recover from Penguin until the algorithm is refreshed.
As such, this was one of the most anticipated algorithm updates ever!
Unfortunately for SEOers, Penguin 3.0 was massively underwhelming.
Zoolander sums it up best: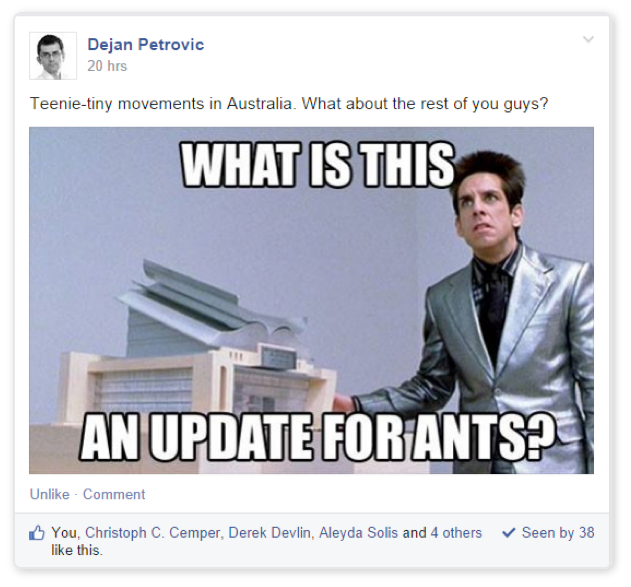 I love Zoolander… Ben Stiller is a genius!

Pierre Far (a Webmaster Trends Analyst at Google) called this update a "refresh".
In Google geek-speak, this implies that nothing new was even added to the Penguin algorithm… it's still exactly the same as it was a year ago (much to the rage of anxious SEOers).
One important thing to remember about Penguin is that it doesn't actually reward websites with better rankings. All it does is demote "bad" websites.
So the ONLY way your website can actually go UP the rankings, is if you fix a bad link profile, or if websites above you get hit.
Google has also repeatedly said that Penguin is NOT a penalty, it's simply the algorithm working. What that means is that once you've fixed your link profile, you WILL bounce back up the rankings the next time it's refreshed (at least that's what you should assume based on what Google tells us).
With so many desperate internet marketers anxiously awaiting Penguin 3.0, why did Google wait so long to release it?
Many suspect it comes down to negative SEO.

Ever since Google Penguin 2.1 was released (October 4th, 2013), Negative SEO has become more and more rampant.
It's turned into a cut-throat battlefield (worse than ever before).
Lots of webmasters are going out of their way to build spammy links to other peoples good quality websites.
It's a case of dog-eat-dog, which is exactly why we changed our SEO approach when penguin was first released. It's not just small time players who engage in negative SEO… it's turning into a BIG business.
There are several individuals who make a (very well paid) living by building spam links to good websites, and then demanding a ransom from you in order to remove the bad links… (they typically charge anywhere from $1000 – $5000 to remove the bad links they've built to your site…).
It's terrible.
Google has been aware of Negative SEO for some time now, and many think that this is why they waited so long to roll out Penguin 3.0.

They didn't!
Nothing has been done about negative SEO. It's still a scary weapon that your competitors can use against you at any moment, and there's nothing easy that you can do about it.
The Google Disavow tool is okay and it does work, but it requires that you constantly check your backlink profile (weekly is best), which is often expensive and time consuming.
Why Wouldn't Google Fix This?
There are two schools of thought…
1. It's too hard to combat.
I don't completely buy this… Google has the smartest engineers on the planet working for them, surely they could think of SOME system to eliminate (or at least minimize) the effect of Negative SEO… surely…
2. Google don't want to fix it…
This is a bit of a conspiracy theory, but it makes a lot of sense.
How do Google make money?
Through advertising.
And what do a lot of the websites that no longer rank at the top of Google do?
They advertise…
What's my take on this…?
I think it's a bit of both. Google undoubtedly benefits from increased advertising revenue, and it probably is quite difficult to stamp out negative manipulation completely…they could do more though.

If you want to get into this fight (specifically the Penguin battlefield), then here's what I recommend…
Use a good backlink checking tool to monitor your links and to alert you of toxic links. Run weekly reports and monitor everything very closely (LinkResearchTools.com is my recommendation). When you find bad links, disavow them using the Disavow tool.
Start building good quality related links. You can use link networks and other shady tactics, but every additional grey-hat tactic you use will put your websites more at risk.
For Panda, get all the basics covered… your site should be 100% error free, have perfect on page optimization, load quickly, have lots of sticky content, and ideally have plenty of returning visitors.
In a nutshell, that's what I recommend you do.

This is a question I get ALL the time… probably 3-4 times a week nowadays. And in light of all the Google shenanigans, it's a great question.
What we do is quite simple…
We JUST use Crowd Force.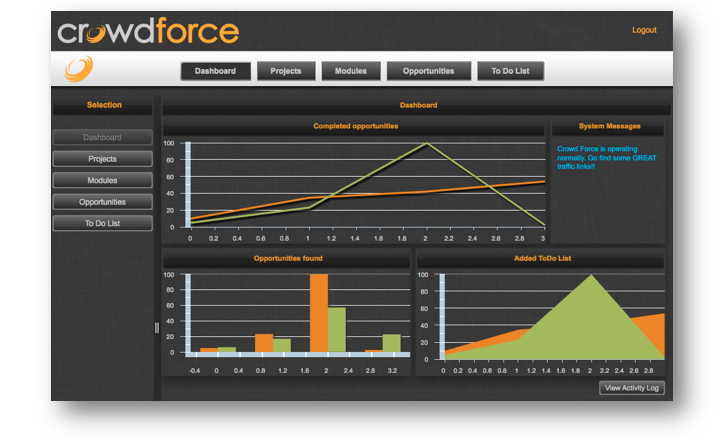 Note: Obviously we also make sure our website have all their on-page stuff fully optimized.
If you've never used Crowd Force or don't know what it is, it's a tool we developed throughout 2013 (it cost us a fortune to develop, probably over $100k in total since it's inception).
Crowd Force is designed to hunt down places where you can get on-topic backlinks that will drive you real traffic. It then serves these up to you on a silver platter.
You're able to do a couple of things at the same time:
Get good quality on-topic links from a variety of places (exactly what Google has wanted for years now)
Build a steady stream of non-Google visitors (so you don't need to rely on Google rankings)
 Crowd Force isn't a robot… while it will automatically hunt down traffic opportunities, getting the links is a manual process (but it's easy and doesn't take long once you get the hang of it).
It's impossible to automate this kind of thing because we're going after high quality links that'll be around for a loooong time to come. The idea is that you do the work once, and it pays you off time and time again.
If you're one of the few people who already own Crowd Force, then my advice to you is that you USE IT.
If you don't own Crowd Force, unfortunately at this point in time there is no way to get it (it's limited to our Blueprint Pro monthly members and a few other course we have – all of which are closed down).
What you CAN do however is manually hunt down these traffic opportunities, and start focusing on getting traffic driving backlinks.
These are golden, and exactly what has helped us continue to succeed with SEO (and traffic in general) for about 18 months now (since Google began with it's major updates).
Love it or hate it, what we've discussed here today is the reality of SEO in 2014. And it ain't gonna change anytime soon… so get comfortable!
Download this blog post as a PDF by clicking the button below. I'll send it to your email address:

Hopefully this post has refreshed things for you, and given you a good summary of the 'state of SEO'.
If you've got any questions about this (or anything else), or if you'd like to share your own observations, please leave a comment! I love getting your comments, and it motivates me to keep working hard on this blog!
Thanks for reading,
Aidan Booth