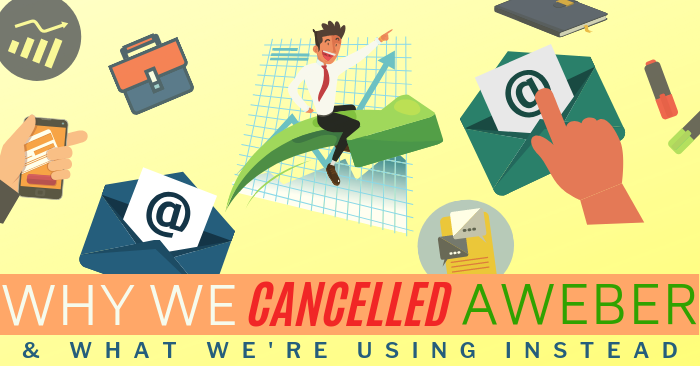 For the past decade, we have been using Aweber in for most of the email marketing parts of our business. In fact, we've generated over 375,000 subscribers – and that's just in one account. Our email list is an important asset which makes us millions every year, in this post I'm going to share why we decided to make a huge change to our email marketing system…
After more than a decade using Aweber (combined with iContact), we felt that it was time for a change.
Aside from the cost (which I'll get into shortly), advanced funnel creation and the ability to automate were factors that led to this decision.
Before we cut ties with Aweber, we knew we needed to identify the best replacement options, so this was my first objective.
After researching and asking our friends and partners for recommendations, we came up with three highly recommended alternatives: Drip, ConvertKit, and Active Campaign.
In the end, we chose ConvertKit.
Choosing ConvertKit ended up being an easy decision for a few simple reasons:
It was simple and easy to get around.
The visual campaigns are intuitive.
It has a lot of good reviews across the web from credible people.
I was able to have a talk with an "onboarder" prior to making the decision.
We also compared costs of Aweber and iContact to other systems, here's what we found…
The Costs Perspective
iContact was always our "Plan B" autoresponder, for which we were paying about $1,500 a month. It was very useful a few years ago, allowing us to auto-import leads without any approval needed.
This auto-import feature has since become standard practice, and eventually everyone (even Aweber) were allowing it.
Our Aweber bill was about $3,800 per month – which actually is a discounted price already from the original price of $4,600!
All in all, we've spent over $200,000 in email marketing autoresponder services in the past ten years.
When we researched about ConvertKit, we found that it would only be costing us about $12,000 per year – $52,000 less from what we used to spend per year for Aweber and iContact combined.
From the cost perspective, this was a bit of a no-brainer. We'll be getting a better system with better results for less of the costs!
But what's even more exciting is that the amount we will be saving from the lowered service costs is less than the extra money we can make through more strategic campaigns. In other words, we'll save a lot of money, and also be able to earn a lot more money. A double win.
Aweber Pricing VS ConvertKit Pricing
Aweber is built on lists and not on subscribers. You pay for each subscriber you have on each list, which includes duplicates. If you have a subscriber in two separate email lists, you will be paying twice for that same subscriber as Aweber counts the subscriber twice.
If you like your email lists segmented and you are using Aweber, this makes things expensive really quickly.
Comparing the Aweber pricing and ConvertKit pricing, it would appear that the latter would be a little more expensive on a monthly basis…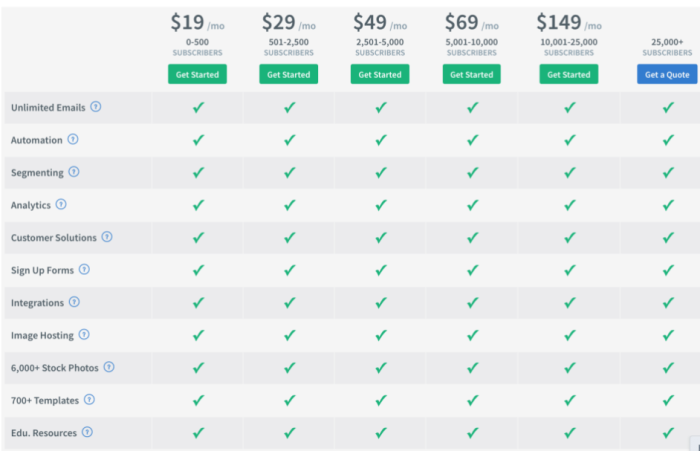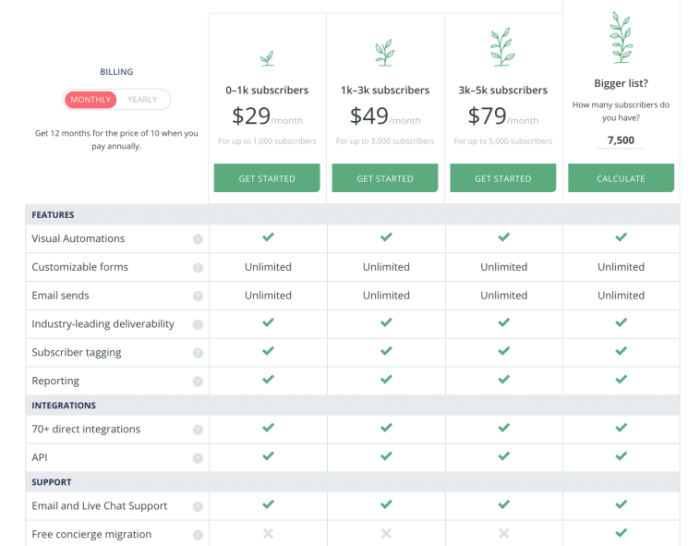 …but then, ConvertKit doesn't charge for duplicate subscribers, so it's almost always going to end up being cheaper.
ConvertKit is a subscriber-centric autoresponder and is built on tags, and each subscriber is only added to the system once. You can then organize your subscribers building email lists through tags without the need to pay for duplicate subscribers.
ConvertKit charges per unique subscriber with the ability to segment them through tagging.
ConvertKit Tags look like this: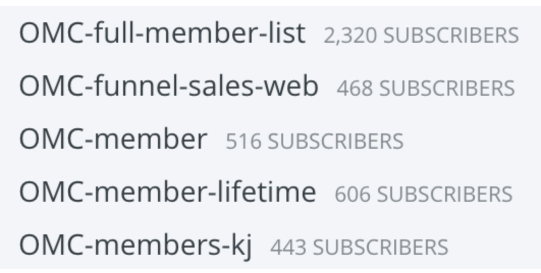 When we transitioned to ConvertKit, we basically just used the names of the lists in Aweber as tags in ConvertKit.
Again, each subscriber name is tagged the same way it is listed in Aweber, but each name is only billed once no matter how many times it is put under a different tag.
Convert Kit is subscriber-centric, not list-centric.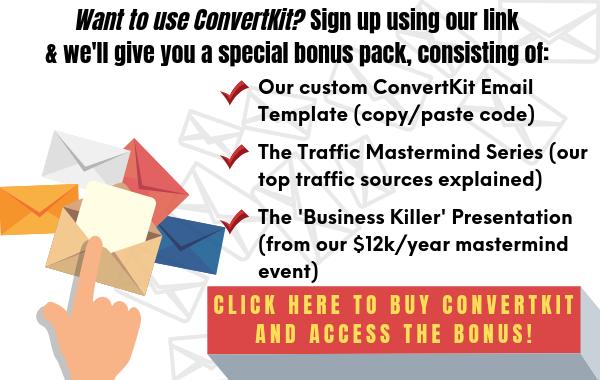 NOTE: If you sign up to ConvertKit using the link above, request your bonus by sending an email to: support@blueprintcentral.com, thanks!
The Automation Perspective
In terms of automation, you have the ability to visually design your funnels with ConvertKit.
The automated tagging in ConvertKit uses the "If..Then" algorithm. In the example below, if someone subscribes using the opt-in form A or opt-in form B, then ConvertKit will apply a specific tag to that subscriber.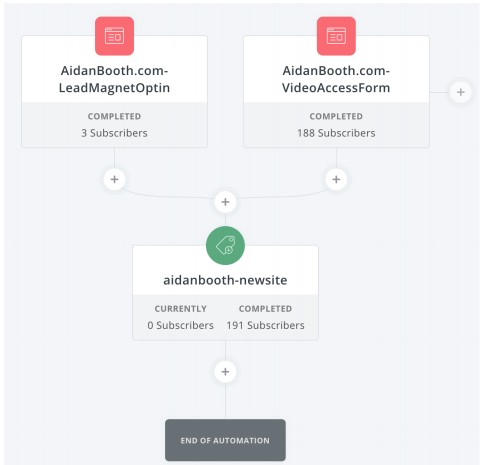 As you can see, this visual automation is like a map where you can organize everything in front of you and see what will happen if someone subscribes. When someone opts in, the automation dictates what will happen next.
Convert Kit also uses Rules in building automations. Again, these are built around "If this…then that" logic, and can be set up for events such as when a subscriber clicks on a link in an email, makes a purchase, has a tag added to them, etc.

The most common rules used in ConvertKit are:
Adding a subscriber to a tag or sequence when a link is clicked
Removing subscribers from a sequence when a certain thing happens
Adding subscribers to a form automatically
Creating custom unsubscribe links
How to Make the Switch
If you have been using the same autoresponder for over a decade like us, switching things over to the new one sounds like a pain to do – but it actually wasn't as bad as we thought it would be!
Here's how we did it:
Step one is to export your Aweber account and get a full back-up.
 Inside Aweber, go to Manage Lists and click Back Up & Export All Active Lists. This will then give you a download link for every single list that you have including all subscribers in it, active or not.
Open ConvertKit and set up a trial account.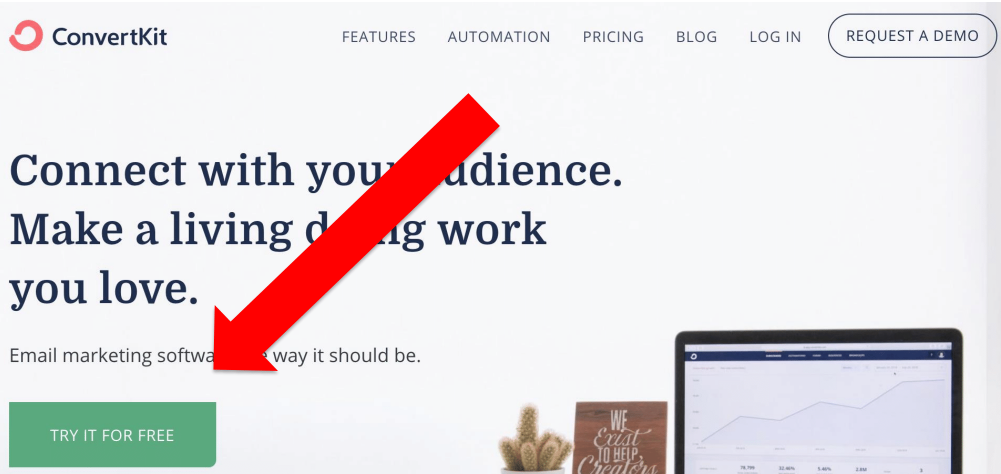 Create a Tag for each Aweber list you currently have.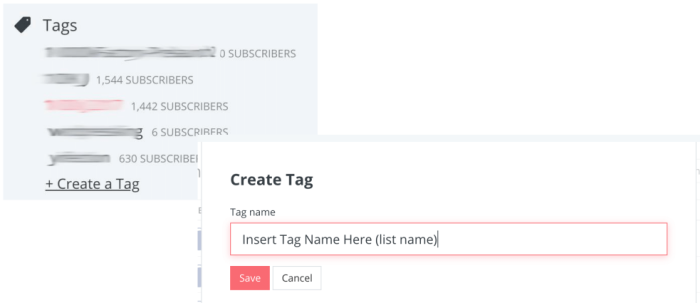 Click on Tag name, and then click Add Subscribers. From here, only upload the active subscribers list. Aweber gives two files when exporting your account, one for active leads and another for inactive leads.

And that's it! Your old Aweber list is now a ConvertKit tag.
*If you have a large list, you can avail of Convert Kit's Concierge Migration service. We used this service as we had over 250 lists in our Aweber account, and they migrated everything for us.
Other Transition Considerations
Aside from migrating all your subscribers and email lists to ConvertKit, you'll also need to copy any automated sequences you may have built on your old automated responder service, which is really just a copy and paste task.
You also need to update any automated lead boxes or other integrations, which can normally be done from within the integration tool i.e., your LeadPages, ClickFunnels, Landing Page Launchpad, etc.
Using ConvertKit – The Basics
In your ConvertKit account, click on the Broadcasts tab in the header menu and click on New Broadcast.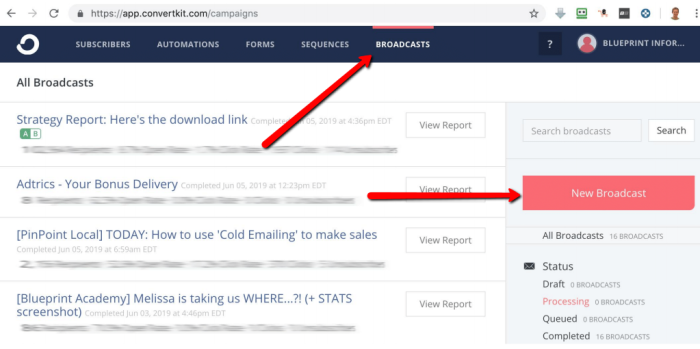 On the next page, select from whom the broadcast will be sent and who the recipients of the broadcast will be.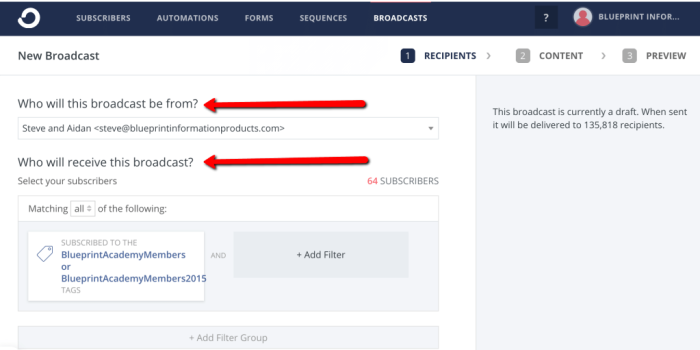 In choosing the audience for a broadcast, you may choose a specific segment of subscribers who will be receiving the broadcast email. You may also exclude people from being recipients of the email.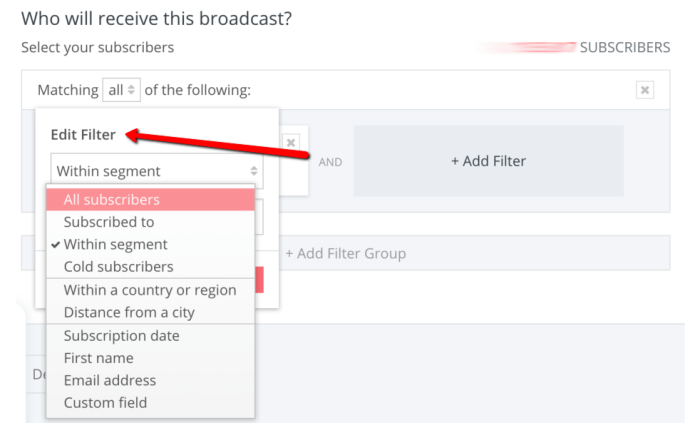 Click Next Step. This will take you to the New Broadcast page where you can craft your email. There is an option to preview the message and send a test email.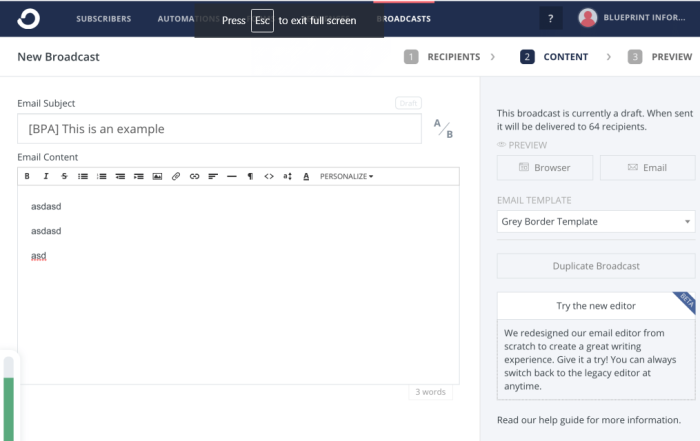 Convert Kit comes with three default email templates you can choose from: text only, classic, and modern. You can also use your own template or customize the default ones.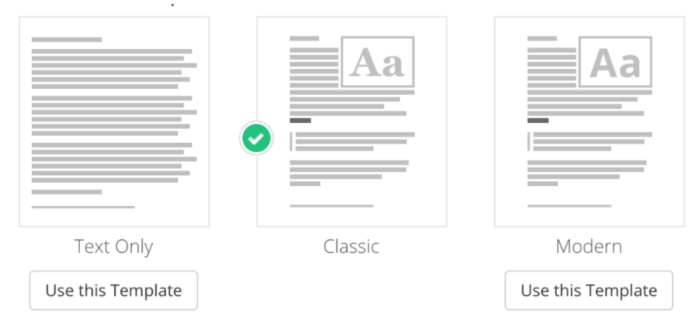 After crafting your message, you can preview your message or schedule it for sending.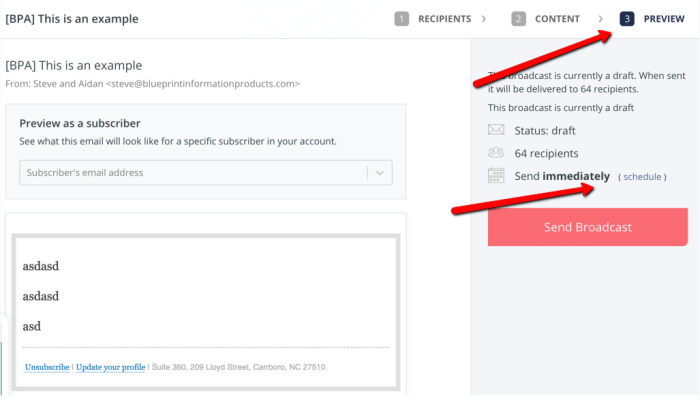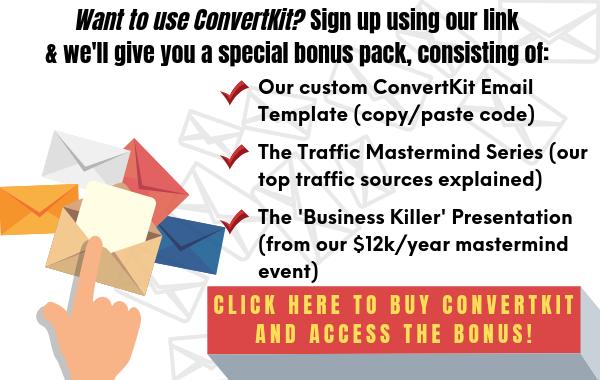 NOTE: If you sign up to ConvertKit using the link above, request your bonus by sending an email to: support@blueprintcentral.com, thanks!
ConvertKit Features I LOVE
Easy A/B Split Test

ConvertKit allows you to put two subject lines in an email, and what it will do is it will send each subject line to 15% of your audience and wait for four hours.
After the four-hour wait time, it will assess the stats of each subject line based on which subject line attracted more subscribers to open the email and the links within.
The winning variation will then be sent to the remaining 70% of your chosen audience.
Resend to Un-opens

Most autoresponders have this feature, but Convert Kit does it in a really intuitive way.
Just open up any email and there will be an option to resend to unopens and it will send out another email to the people who haven't read it.
Easy to interpret stats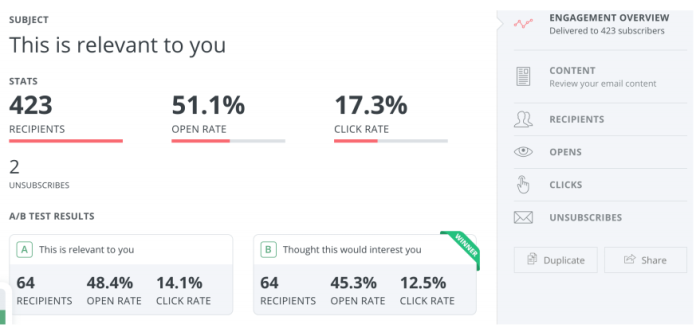 You can quickly see the winning variation in tests. It's still quite difficult to see the audience used in a previous email send, but ConvertKit is already working on improving that part.
Segment Creation
In ConvertKit, a segment is a way to group together different tags. You can start this by clicking on Create a Segment on the Subscribers tab.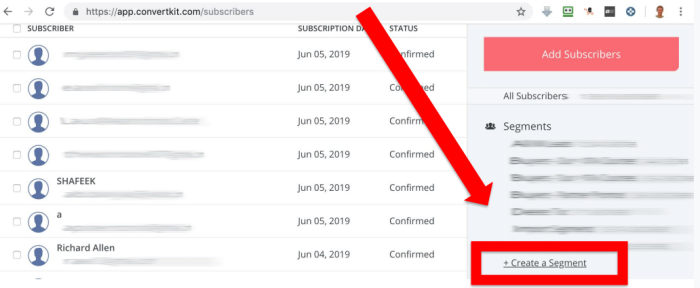 Name the segment, select the subscribers from the tags you have, and you are good to go.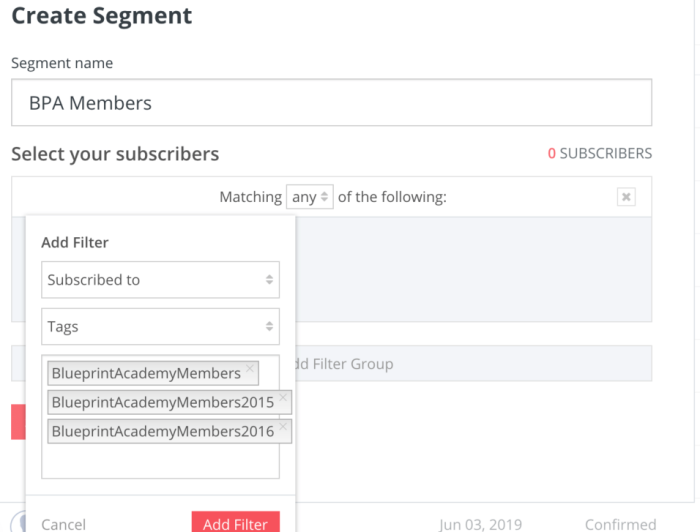 Complementary Migration
As mentioned, ConvertKit did the migration from Aweber to their service for us – and we highly recommend availing this as it saved us a lot of time.
This is all done through a BaseCamp project, and if you have more than 5,000 subscribers, they can do it for you free of charge!
So should you shift to ConvertKit?
This depends on what you do.
Cost may be a reason to change, but if you don't really have a lot of duplicate leads, then cost may not really be a reason.
In terms of deliverability, ConvertKit are Aweber are pretty much identical. However, there are some cool features in ConvertKit that makes achieving higher open rates easier (like resending to unopens, email split tests, etc).
In my opinion, ConvertKit is much better with advanced automation for email sequences, but you need to consider if you really need or use this in your business.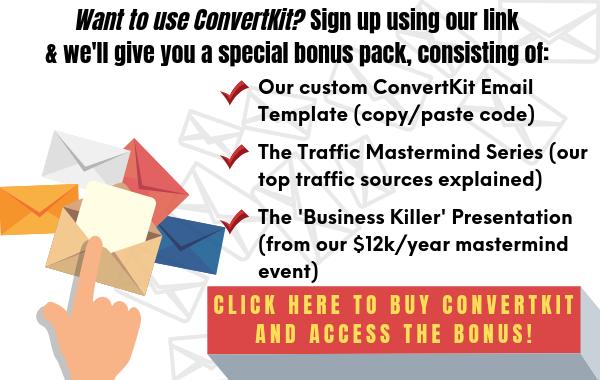 NOTE: If you sign up to ConvertKit using the link above, request your bonus by sending an email to: support@blueprintcentral.com, thanks!
Free ConvertKit Training – COMING SOON
On September 1st (in my next blog post) I'll release a set of 13 step-by-step ConvertKit training videos. These videos will show you exactly how to leverage ConvertKit to the fullest, as well as every step you need to follow to get set up quickly and hit the ground running. Keep an eye out for those videos soon!
As always, thanks for visiting, leave a comment below and remember to come back again soon!
Aidan Booth