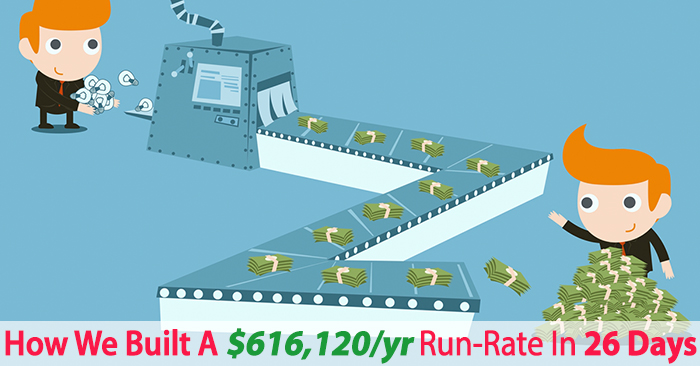 Hi, and welcome to the 1st of March monthly blog post on AidanBooth.com!
I've got some very exciting statistics for you today, as well as details about a revolutionary new system we've been using to really cash-in using a hybrid Facebook + Affiliate + eCommerce + CPA system over the past few months… let's dive right into it!
Check out the screenshot below: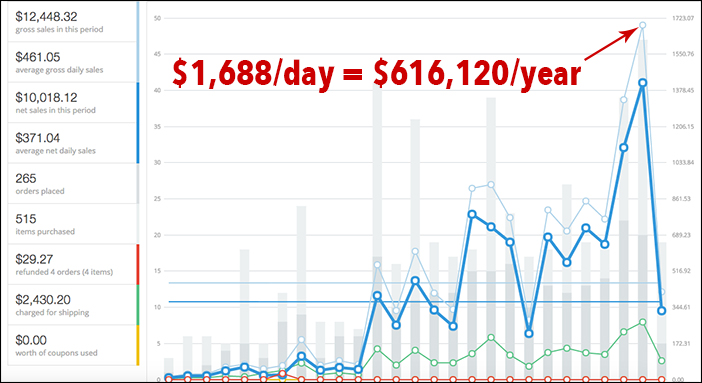 Above: We hit $1,688/day in 26 days on a BRAND NEW website (it still doesn't average $1,688/day, but it will soon!)… that's still on the rise, and even at that established run-rate, we'd make $616,120 per year in sales.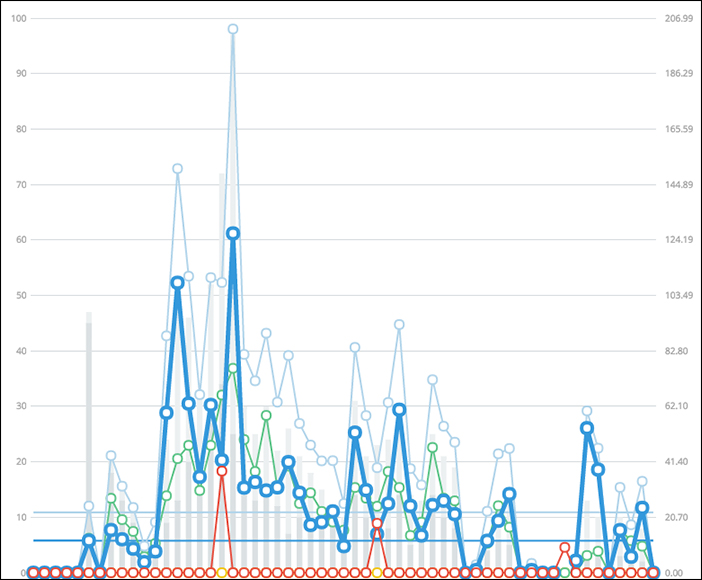 Above: Here's another example, this website cruises along earning between $20 – $100 per day…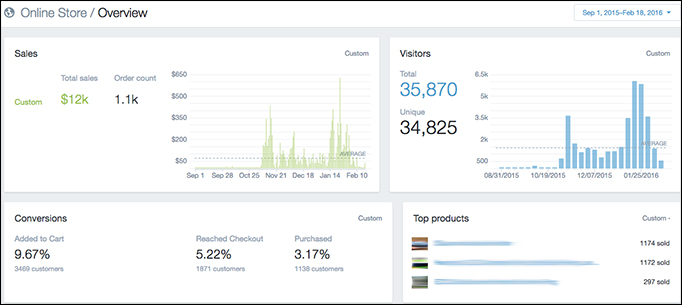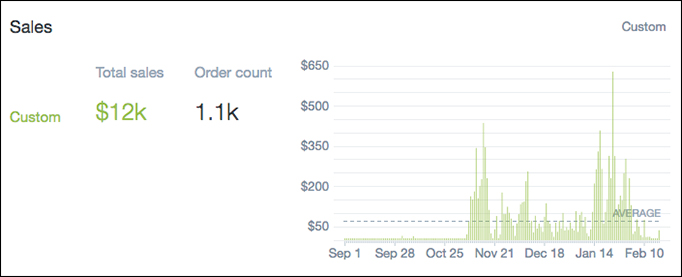 Above: The two screenshots above are from the same website. It's earned over $12,000 since the 6th of November… it averages over $3,000/month in income.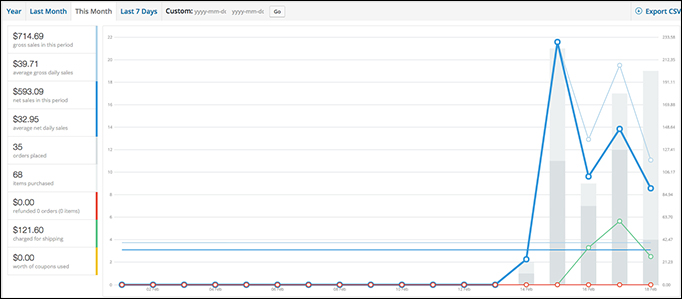 Above: Here's another website, this one is brand new, and has earned $714.69 in it's first 5 days, an average of $142/day (which is $52,172 per year).
These screenshots are the results of a group of test websites we've been working on.
Needless to say, the results are quite astonishing.
A New Golden Age Is Here… (finally)
2005: It Was Easy.
When I started out online in 2005, making money online was easy. You could literally throw up a website, and people would come…
2007: Google Adwords Was Unbelievable…
By 2007 I had started generating money using Google Adwords (pay per click), and it was almost too good to be true.
We would send millions (literally millions) of visitors from Google ads to our websites, and we'd earn millions as a result. It was like printing money and it was a true 'Golden Age' of online marketing.
2009: Google Adwords Became Very Difficult, Pendulum Shifted To SEO
By 2009, the first 'Golden Age' of online advertising was over. Google started changing its advertising policies, it was a LOT more expensive to run paid ads, many types of ads were 'red flagged' and it was no longer profitable… this led us to focus on SEO.
From 2009 – 2011 SEO was a big deal.
We built elaborate systems designed to catapult websites to the very top of Google… I took it to the extreme and created over 1,000 websites that were selling Halloween costumes and Christmas toys. Top rankings in Google were easy. Life was good.
2011: Google Completely Changes The Ranking Algorithm… SEO Gets Harder.
But then on the 23rd of February 2011, Google rolled out the biggest major algorithm update in its history… it was called Google Panda. 12% of websites were affected. It was catastrophic for the SEO community, and a lot of people lost more than their rankings…
2012: SEO Becomes Virtually Impossible… Certainly Not Something You Can Bank On!
On April 24th 2012 Google rolled out another major update… in many ways even more infamous than Panda… it was called 'Penguin'.
The Panda and Penguin algorithm changes were ultimately a good thing for the web, they cleared out a lot of the crap, but unfortunately a lot of innocent peoples websites got caught in the crossfire.
All these changes and all the uncertainty led us to develop Crowd Force, a revolutionary piece of software that allowed us to drive targeted traffic to our websites WITHOUT needing to rely on Paid Traffic or on SEO.
Furthermore, people started looking at Amazon and other non-Google traffic sources. Amazon presented Kindle as a popular monetization option initially, and later selling physical products on Amazon became popular. Both methods allowed marketers to tap into the Amazon 'traffic ecosystem', and not to rely on Google any more.
2013: Facebook Ads Start To Evolve & Graph Search Is Born.
Early in 2013, Facebook rolled out its 'Graph Search', the ability to search for pages and information inside of Facebook. Soon after this rollout, the advertising platform began to change…
Over the past 3 years Facebook has evolved from a mish-mash of advertising options, to the most sophisticated ad platform that ever existed, and it's STILL improving.
2015 – 2016: Facebook Established As The BEST Paid Traffic Source
Today we spend tens of thousands on Facebook ads every single month, and we're able to drive laser targeted traffic to our websites, squeeze pages, eCommerce stores, etc. The dramatic evolution of Facebook ads and the ability to reach your target audience, has FORCED the pendulum to swing again, and is leading us into a new Golden Age of internet marketing…
The Pendulum Swing
In the last 12 months, a dramatic shift has occurred.
And the screenshots I showed you at the beginning of this post are the results of that.
Not only has Facebook advertising matured, but eCommerce and Affiliate marketing have caught up as well.
New Twist On Some Old Traditions
In an extended brainstorming session recently to see how we could best leverage the evolution of Facebook, Steve and I made a list of what we LIKE most about different traditional systems such as:
Affiliate Marketing
eCommerce
Adsense
CPA marketing
Kindle
And even analyzed Search Engine Marketing
Then we looked at how we could re-invent these by removing the things we do NOT like about them and coming up with some kind of a hybrid solution. Here's a matrix that helps compare and contrast the different models: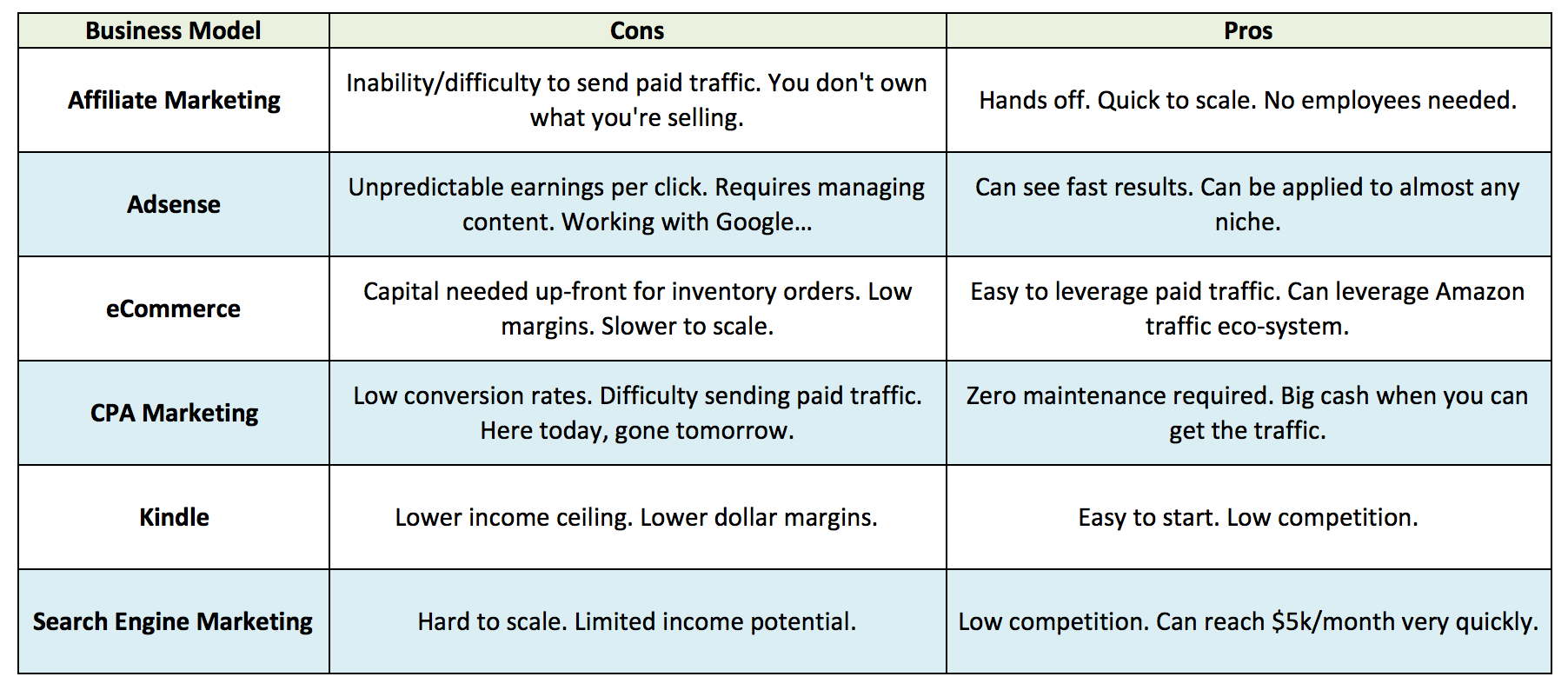 The Things We HATE…
The biggest issues for us revolve around:
Scalability (you need to be able to scale income easily)
Speed (we want to be able to see quick financial results)
Unreliability
Unpredictability
The biggest issue with eCommerce is to do with cashflow and scalability. These are extremely limiting factors for most people. And when you're 'in' on a product… you're ALL IN. You don't have any agility to quickly switch to another product if competitors fill up your niche.
Affiliate marketing has always been great… EXCEPT for paid traffic. Google doesn't really like affiliate sites all that much, so Google PPC is out, and Facebook ads have never performed as well with affiliate sites (historically, they do now!) compared to eCommerce stores/products.
The only real issue with Kindle is the income ceiling. It's kind of slow to ramp up, and you'd need a LOT of books to be making $10,000/month.
As for Adsense, we love the fact it's so versatile and can be added to virtually any website, but it's versatility makes it less predictable in terms of what you'll actually earn. You don't know with 100% certainty what your website will earn you.
The Things We LOVE…
In contrast to what we hate, the ideal online business models should be:
Very scaleable
Quick to start and see results
Very reliable
Very predictable
The PERFECT Hybrid System
With the advancements in Facebook's advertising platform, and the evolution of modern day eCommerce and Affiliate Marketing, we've been able to create a very interesting 'cocktail' of the things we love, and monetize in a WIDE range of ways.
We can sell PHYSICAL products WITHOUT buying inventory (either with Dropshipping OR as an AFFILIATE)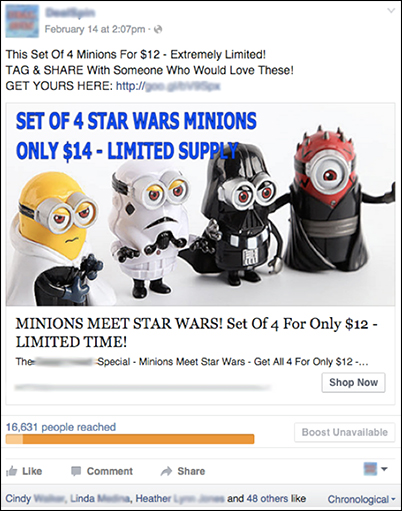 Here (above) you can see how we were able to sell MINIONS (toys)… again, this is WITHOUT buying any inventory at all…
We can grow an Email List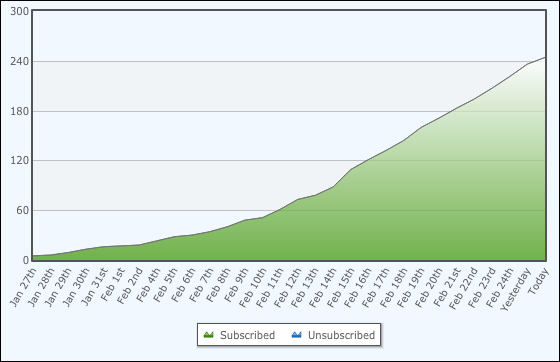 Here you can see email list growth for one simply website since the beginning of the year. 240 emails isn't much, but all these people are buyers of EXPENSIVE products… the value here of each subscriber is enormous!
Traffic Can EXPLODE…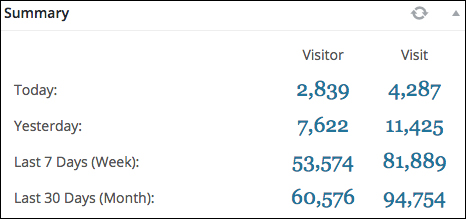 Above: Traffic statistics for a brand new website… over 53,000 visitors in the last 7 days!
And we're able to drill down to find the most lucrative groups of people…
Data Drill-Downs…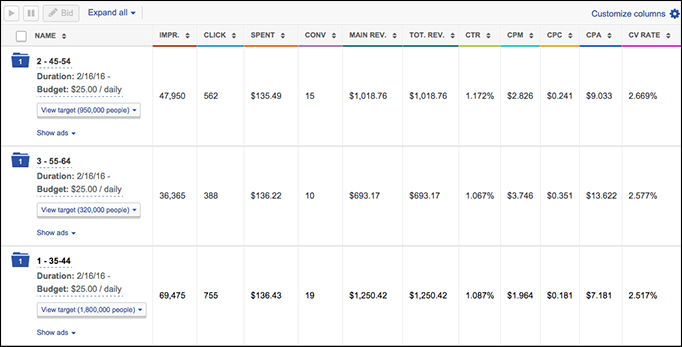 Facebook really is one of the keys, because it means you can advertise with precision and drive laser-targeted traffic to new websites in a matter of minutes (the screenshot above shows conversion data for one of our campaigns for different age brackets). This instant traffic source also allows you to begin to see sales in a matter of hours.
ZERO to $616,120/year in 26 Days
To put this SPEED in perspective, we've been able to achieve a 'run rate' of $616,120/year in just 26 days… and we've replicated this on over 20 different websites now, in a wide range of different niches.
Admittedly, this isn't an average of $1,688/day from this ONE site yet, but we've been able to get predictable and profitable results on websites over and over and over again!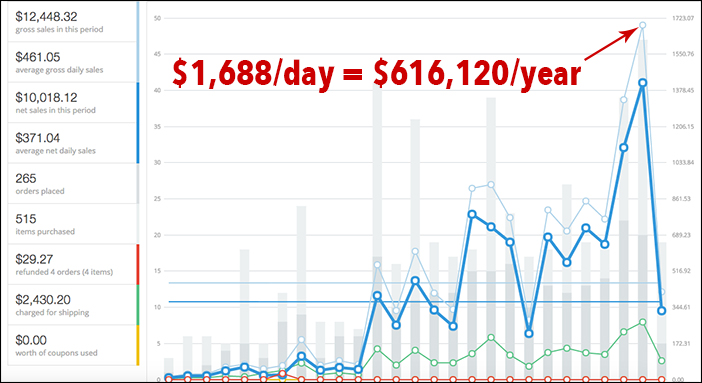 We can measure our conversion rate and ROI 'on the fly' without needing to wade through brain-numbing data sets.
HUGE BREAKTHROUGH!
Perhaps the very best thing of all, is the fact we can SEE if our system will work BEFORE we go "all in".
What we've been able to do is develop a sophisticated 'test bed' that allows us to test the REAL profitability and see REAL return on investment metrics BEFORE we fully proceed with an idea.
This is a GAME CHANGER. 
No more "let's throw mud at the wall and see what sticks". We've developed a precise process that categorically eliminates risk of failure by systematically TESTING which products work, and which don't.
If you've ever built a website only to find that it doesn't make the money that you'd hoped for, then this solves that issue.
If you've ever launched a Kindle book only to find the results leave you feeling deflated and under-joyed, this solves that problem.
If you've ever launched a product on Amazon only to find sales volume is lower that you expect, and fees are higher, this solves that problem.
We know conversion data with exact precision and we can instantly see what works at step one in the process.
I can't emphasize enough just how important this it… this it the reason we're able to launch a new website and see $714.69 in it's first 5 days (like in the screenshot below):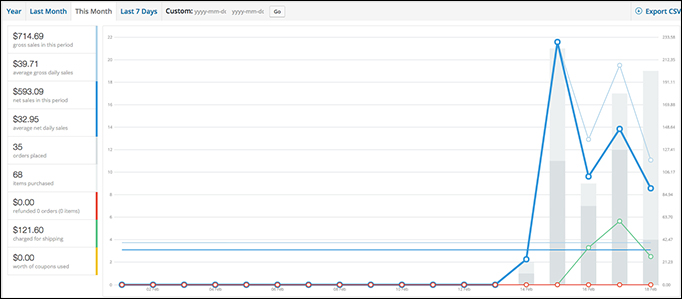 We've removed 'luck' (and BAD LUCK) from the equation altogether.
Unleashing Facebook
As I've eluded to already, Facebook has reached a level of sophistication that allows you to tap into and ENGAGE audiences unlike ever in the history of the internet.
We've been excelling at Facebook audience engagement and Facebook advertising for well over a year now. Our 100k Factory program was built around engaging audiences using Facebook, and the results we (and our students) have got have been staggering (with many people building audiences of over 100,000 targeted Facebook fans in a matter of weeks).
Facebook plays a key role blasting off and seeing lightning fast results. Everything we've learned about Facebook ads has reached some kind of tipping point, and we're now, unlike ever before, able to completely dominate our competition and our marketplaces.
Ninja Facebook advertising methods allow us to quickly target the right groups of people and see conversions and sales in a matter of hours (and we can rapidly expand and tweak our ads with absolute EASE).
You don't need a big budget to begin with. Even with just $2 to $3 per day, you can start driving traffic and seeing sales. As soon as you're profitable, you can scale up to bigger daily budgets.
Easy Optimization = MAGIC COMBINATION
Optimization has been the thorn in the side of many marketers over the years…
Why?
Because traditionally it's not easy.
Up until now, you've needed to be something of a NASA statistician to effectively find and scale winning campaigns. Thankfully, all that is OVER!
We're also able to quickly test multiple ad designs, genders, age, ad text and MUCH more with just a few clicks.
And what this does is show us the EXACT group of people we need to be advertising to. It shows the MAGIC COMBINATION that results in the highest ROI possible (remember, we already know that the product is profitable, because we can use our 'test bed' to verify this BEFORE we begin!).
Check out the screenshot below: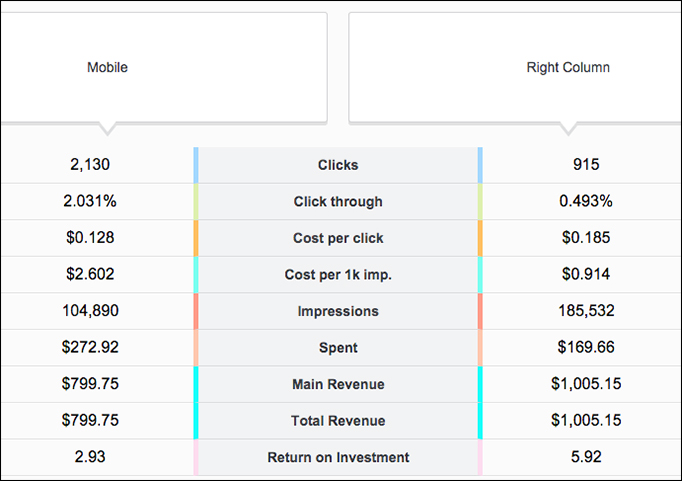 If you look closely at these numbers, you can see how we've spent a total of $442.58 ($272.92 + $169.66), and made $1,804.90 ($799.75 + $1,005.15).
We can also see at a glance that although both ads (Mobile and Right Column) are profitable, the 'Right Column' placement is by far the MOST profitable.
Scaling Costs NOTHING
And scaling your business is also easier than ever because it costs you NOTHING to scale.
Unlike selling on Amazon (which we love BTW), you don't need to buy inventory up front, so you really have NO financial hurdles when it comes to scaling.
And the websites we're building are easy to replicate over and over again (but STILL remain high quality websites… not cookie cut low-grade websites), you don't need to spend hours and hours and hours setting these things up…
Fast. Reliable. Predictable. Scaleable.
What I've been explaining in this post are the results of a system that is built around fusing together a mish-mash of the best parts of traditional business models, and eliminating the bad parts.
We've nailed down the key ingredients, two of which include:
Testing and KNOWING your profitability before going 'all in'
Complete mastery of Facebook advertising
Problems…
What we've discussed here SOUNDS perfect, but it's not quite… at least not yet.
There are a couple of critical things that you need to get right:
You NEED to find the right product or offer to sell or promote. 
Not all products and offers will work. We've pumped over 500 products/offers into our 'machine' now, and we've got a very good idea about the ideal offer characteristics, but the formula is still not 100% perfect… we're working on getting this right.
SIDENOTE: Even if you do choose the 'wrong' offer, you have a safety net in the test-bed, the thing we use to test for profitability. No un-profitable product gets past step 1.
Removing yourself from the business
We still haven't perfected our systems to the point where we can easily remove ourselves from the business. If we wanted to simply disappear for a month, then things would slow down. We're working on a way to fix this.
Where to from here?
Chances are that this blog post will leave you with more questions than answers.
We're currently working on a case study that will piece all this together for you, but it's still not quite ready (it will be soon though).
Once we have the final pieces of the puzzle ironed out, we'll share more information (register using the link above). Stay tuned for an update from us with more details about this soon!
Questions / Comments?
If you've got a question or a comment, leave it below! I'd love to hear what you think (all questions and comments are read, and all are published).