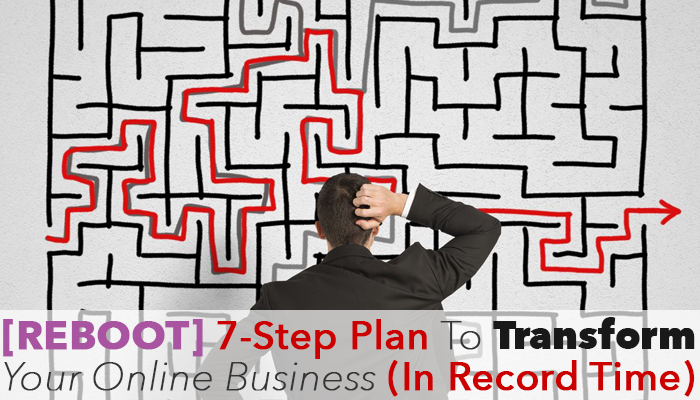 Hi, and welcome to AidanBooth.com!
For over 3 years now, I've been releasing a monthly blog post on the 1st of each month to share things I've learned over the past decade of running an online business.
Today's post is special for a few reasons:
Our 'Inner Circle' is temporarily OPEN (read on for details)!
You're getting access to our Accountability and Task Management sheets
There are THREE new videos for you
I'm explaining a simple 7-step 'reboot' plan
The topic for today was chosen by readers of this website and people who follow my Facebook page who participated in a recent poll. Here are the results: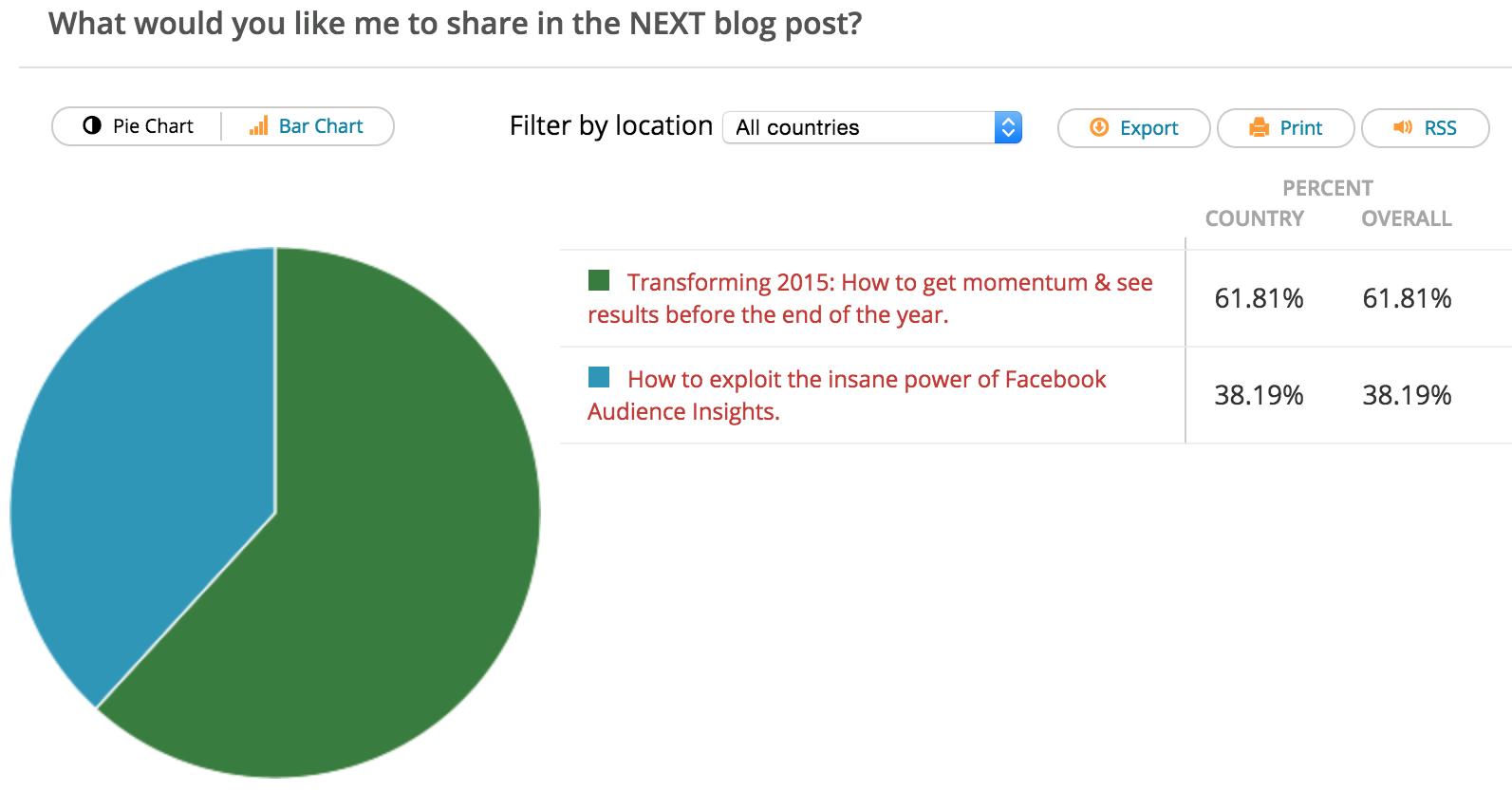 As you can see, "How to get momentum & see results before the end of the year" got 61.81% of the votes, so that's what we'll discuss today.
On a personal note, I'm glad this was the topic that won, because now is the PERFECT time regroup, check where you're at, and reset your plan.
There are exactly 6 months left in 2015, and that is PLENTY of time to build an online income stream using the "reboot plan" I'm about to outline.
So HOW exactly can you get momentum and see results before the end of the year?
I recommend you follow this 7-step process:
Choose a path
Set a realistic goal
Work backwards to define milestones
Put milestones on a timeline
Check that it's realistic
Block aside time
Take massive focused action
If you follow this process properly, you'll have a rock-solid roadmap that'll guide you to results before the end of the year.
And in addition to the plan above… you also need to:
Focus, focus, focus.
Eliminate threats and distractions (unsubscribe from emails).
Know WHY you're doing it.
Without doing these 3 things, the 7-step "reboot plan" won't be as effective.
Trust me on this… the system works.
If you want different results than what you've achieved in the past, then you need to do things you haven't done before. You need to commit yourself like never before, and you need to know EXACTLY why you're doing this.
Let's now flesh out each of the 7 steps in more detail!
1. Choose a Path
There really aren't that many different online business models to choose from. Here are the models we use:
White Label (selling your own physical products on Amazon)
Drop Shipping (selling other peoples physical products through "traditional" eCommerce stores)
Affiliate Marketing (selling other peoples products for a commission)
Selling Ad Space (for example, using Google Adsense and similar)
Kindle (selling eBooks through Amazon.com and other similar channels)
SEM Services (offering search engine marketing services for small businesses)
These are the models I've personally been involved with and had success with over the past decade.
They all work.
Some things work faster than others, some are complex, others are simple, but they ALL work.
This blog post is NOT about outlining an entire business model, you need a complete course for that (for example, 100k Factory). If you don't currently have a course, the only thing I can offer you right now is access to Blueprint Pro (which has a number of fleshed-out blueprint for you to use).

NOTE: Blueprint Pro is officially CLOSED, however Steve and I have agreed to open up a "back door" entrance for people who are reading this blog post (the "back door" will close down in the next couple of days).
To find out more, go here: http://www.blueprintpro.com
IMPORTANT: The link above will ONLY work for the next couple of days, then Blueprint Pro will be unavailable again.
If you already have a path that you're confident will work, then you can follow that (for example, 100k Factory, or eFormula Evolution).
KEY POINT: You only need ONE path. You can certainly combine multiple pathes, but I would NOT focus on more than two models at any one time. Doing this inevitably means you spread yourself too thin and end up achieving nothing.
2. Set a Realistic Goal
Once you know your path, you need to set a specific goal.
There's a specific process I use for this, it's outlined in this video:
The process I use is called 'S.M.A.R.T'. Here's what it stands for:
Simple
Your goal should be simple and well defined. Good: "build a $5,000/month white label income" Bad: "build a successful white label income"
Measurable
Having a measurable goal is essential. Use concrete numbers… in the last example I used '$5,000'. This is measurable.
Attainable
Aim for the stars, but keep one foot on the ground… Not easy… but realistic and attainable in a shorter period of time.
Realistic
Does your goal make sense based on market conditions? If you sell car's in a small village, and half the population is leaving, should you expect to double your sales next year?
Timely
Choose a time frame.
"build a $3,000/month white label income before the 31st December 2015"
What you can achieve in the next 6 months depends on:
The path you choose (step 1)
The time you have available
The money you have available (to accelerate results)
Your experience
If you're unsure of what a realistic 6-month goal is, here's what I think is possible for a complete beginner using each of the models mentioned in step 1 (these are VERY conservative figures):
White Label: 5 products live by December 31st, $8,000/month profit.
Drop Shipping: 2 stores live by December 31st, $3,000/month profit.
Affiliate Marketing/Selling Ad Space: 4 websites live by December 31st, $8,000/month profit (this is EXACTLY what we're doing in the 100k Factory program, $8,000/m is a VERY conservative goal).
Kindle: 6 books live by December 31st, $2,000/month profit.
SEM Services: 4 clients by December 31st, $3,000/month profit.
Again, these numbers are NOT aggressive. The are very CONSERVATIVE goals that anyone using the right system could reach.
So what is your goal?
Here's an example of the kind of thing that you should be writing down:
"Build a $3,000/month white label income before the 31st December 2015"
Once you've got your goal written down, move on to Step 3.
3. Work Backwards To Define Milestones
What I recommend you to do in step 3 is to work backwards from your "end goal" (your December 31st goal) to comprehensively flesh out your monthly milestones AND to uncover EXACTLY what you need to be focused on today.
So where do you start?
Start on December 31st 2015.
Here's what we had written as the example in Step 2:
"Build a $3,000/month white label income before the 31st December 2015"
A run rate of $3,000/month is $100/day.
You could make $100/day with just ONE good White Label product, or you could do it with FIVE.
Let's assume a conservative estimate here and say that each product you launch will make you $1000/month profit, which is $33/day (this is a very conservative estimate).
Based on that, you know that on December 31st, you need to have THREE products up on Amazon, and each one needs to be making $33/day.
You can get even more granular here…
What do you need to do to make $33/day from each product?
Probably somewhere between 1-3 sales (worst case scenario, we can assume that your product will earn you about $11 profit per sale).
So let's use 3 sales/day.
It's now crystal clear how this needs to unfold…
We need 3 products live on Amazon, and each needs to be making $33/day. We know that it's most likely that each product will need to make 1-3 sales per day.
But wait…
We need to dive deeper.
Although you CAN assume that every product you put on Amazon will make you money (it's a very predictable business model), you can't assume that you'll have 3 ideas and will find high quality manufacturers for those 3 ideas.
You'll likely need to come up with 6 good ideas, get sample products from China (or wherever the manufacturer is) for each idea, and then expect to discard half of them because they're not quite good enough.
See how this works?
If you want to make 2015 a breakthrough this year, you need to be prepared for everything and have a rock solid plan in place. That's what I'm trying to show you how to build here.
We have enough now to move on, so let's dive in to the next step.
4. Put Milestones on a Timeline
We need to get some structure around what we did in Step 3…
I recommend you break every single action item down into a spreadsheet, assign dates to each item, and then break the big tasks into small actions on an accountability sheet.
Here's an example that you can copy:
https://docs.google.com/spreadsheets/d/16_9IN1tOth3xXGZIQi8yx_CESNF5coa0mTMYDQsyNPA/edit?usp=sharing
This is EXACTLY how we plan out our milestones. It shows you at a glance what needs to be done it month. It's simple, and it works incredibly well.
GET GRANULAR!
To get best results, as shown in the video above, I recommend that you get granular and make weekly objectives for the current month you're working in.
So, if you're getting started in July, and your July objectives are to:
Make a list of 20 potential products
Order samples of the best 6 products
Then flesh these objectives out some more and assign specific deadlines to them.
For example:
July 3rd – Fully understand the criteria I need for my products
July 10th – Have a list of 20 products that meet the criteria
July 15th – Contact 40 suppliers, 2 for each product
July 25th – Order samples for 6 different products (if possible, multiple samples for each)
See how it works?
Here's an example:
https://docs.google.com/spreadsheets/d/1Ls1uU4MbjyM1wnHM1rFjIUDtxJkd8BYpg1kECrpWdoo/edit?usp=sharing
When you do this, you realise EXACTLY what needs to be done and it makes it EASY to focus.
Once you've done this, move on to Step 5.
5. Check That It's Realistic
Step 5 is where you take ANOTHER look at what you've done in Steps 1, 2, 3 and 4 and give it all a sanity check.
Is this acheiveable for you?
Do you have enough TIME to be able to get this done?
Are your goals REALISTIC???
If you need to make any changes, make them, adjust the timeline your created in Step 4, then move on to Step 6.
6. Block Aside Time
I mentioned this step as one of the '4 secrets to running a 7-figure business' in the blog post I released last month.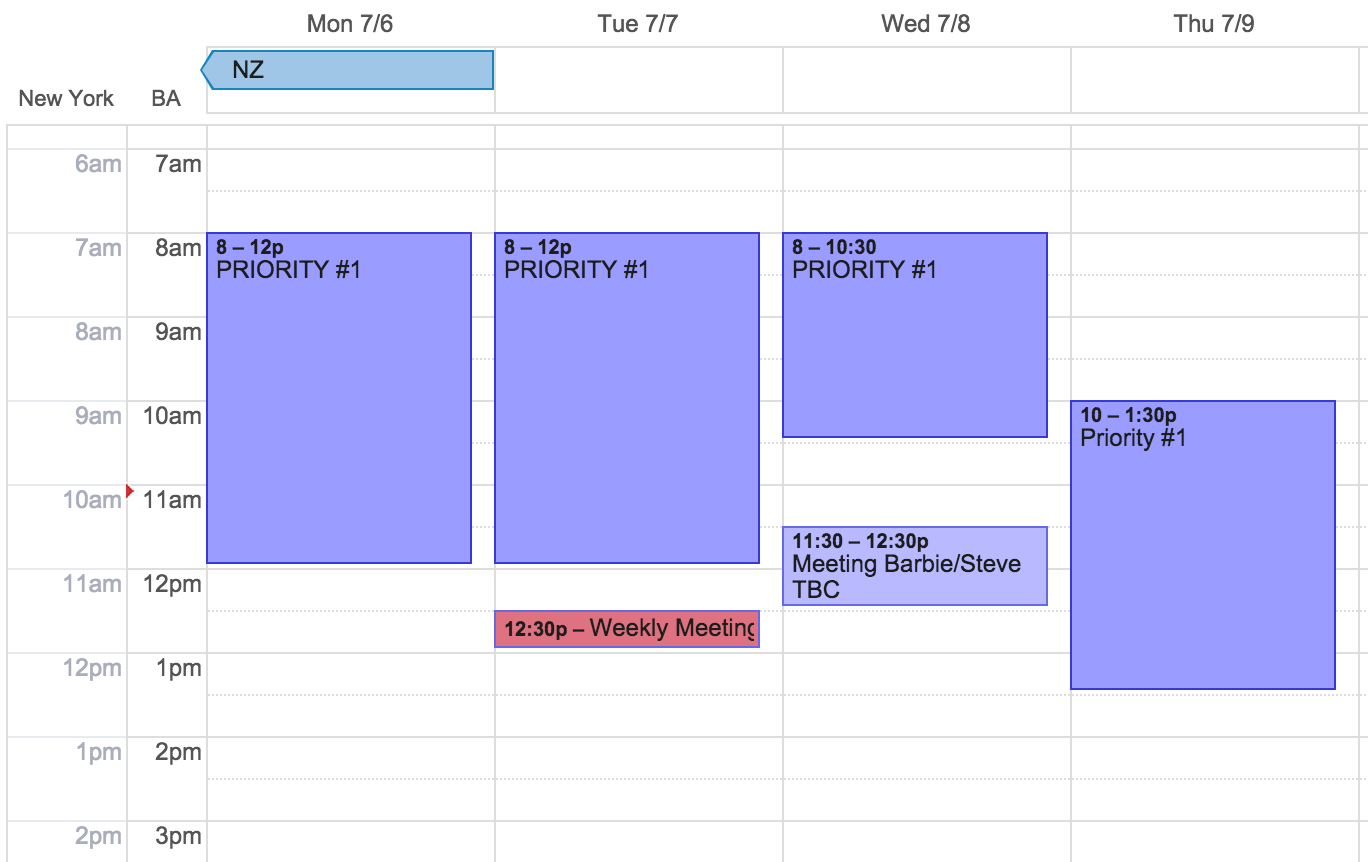 It's KEY.
Once you know what you need to achieve, then you need to block aside time each day to allow you to get everything done.
This is not trivial.
Skip this step at your own risk.
When you block aside time in your calendar, make sure you assign the time slots to the tasks you need to get done. Everything should be built around your ONE focus, which is to achieve your December 31st goal.
To find out more about 'time blocking', read the 'Time Management' section in this blog post:
https://www.aidanbooth.com/the-4-secrets-to-running-a-7-figure-online-business/
Once you've blocked aside time, move on to Step 7.
7. Take Massive FOCUSED Action
This is where the rubber hits the road.
Your plan is made.
You know what you need to do.
Step 7 is implementation.
Not just "take action"… you need to take LASER FOCUSED ACTION.
Start implementing, and don't stop until you get the job done.
Since I started out online about a decade ago, I've seen THOUSANDS of people build online businesses and make money online. Literally thousands…
I've also seen complete knuckle-heads with no-plan succeed online. When I was getting started, knowing that a lot of other people with NO PLAN had been able to succeed was my shining light of hope. I KNEW that if other people could do it, people who weren't as prepared as I was, then I could to.
Use this to your advantage. Loads of knuckle-heads succeed online without a plan, they succeed just by jumping in the deep end and making it work. If they can, so can you!
You have a plan (or you can get one HERE), and you're now armed with the 7 steps process which has proven so incredibly successful for me.
Stop at nothing. Make no excuses. Just take action until you get the job done.
It's time for you to take MASSIVE FOCUSED ACTION.
Three Important Factors…
Before we wrap this up, there are three things I'd like to highlight:
Focus, focus, focus.
Eliminate threats and distractions (unsubscribe from emails).
Know WHY you're doing it.
First, focusing should be a no-brainer by now.
I think I made that clear in Step 7. You need to have relentless focus until you get the job done.
Second, you need to eliminate threats and distractions.
I'm talking about the crappy emails about shiny objects that you just don't need. Get off those peoples mailing lists, and choose 1-2 "mentors" to follow (I'd love you to follow what we do!).
In addition to this, if you've got negative people around you who pull you down, get them out of the way. To get insane results, you need to have everything working in your favor, and negative people will only drain your energy and pull you down. Get rid of them if you can (if you can't, try to minimize the time you spend with them).
If you don't have enough time in your day, stop watching TV. You need to be ruthless, I love TV shows, but I don't spend 10 hours per week watching TV because it's not important compared to my goal… once you've got your online business humming along, you'll have all the time you need to do whatever you want, but first you need to get things moving.
Finally, you need to know WHY you're doing it.
I know for some people this may sound like a waste of time, and I completely get that. But I also know it works…
This video explains what this is about in more detail.
So there you have it.
This is the 7-step system that I recommend you use to get more momentum and money coming in to your business over the next 6 months.
Remember, we're opening Blueprint Pro for a very limited period of time (the link will come down in the next couple of days), so if you're interested in that, I strongly encourage you to check out THIS VIDEO today, we'd love to have you on the inside.
Leave a comment below to let me know what you think about todays blog post,
Thanks,
Aidan