Hey, and welcome to my end-of-2012/start-of-2013 blog post!
First of all, HAPPY HOLIDAYS!!!
NOTE: Normally I post a new article to AidanBooth.com on the 1st of each month – this one is coming a few days early because I'm going on vacation.
I can't believe it's that time of year already…2012 really has flown by…
Things are winding down for me for the year, in fact, this blog post is the LAST thing I'm going to do at a computer in 2012…in about 24 hours I'm heading to the beach…here.
Here's a pic of me this time last year at the same beach learning to surf…
As you can probably tell, I'm excited about putting my feet up, relaxing, and chilling out with friends away from the big city!
When planning this post today, I thought long and hard about the most useful thing I could provide you with to finish out 2012…and the most useful advice I could give you to start 2013.
What I've decided to do is write up a quick summary of the state of SEO, and in particular, the 4 keys to getting top rankings. I'm also sharing my goals for 2013 AND giving you some clues about a couple of products I'll be releasing in 2013…I'm VERY excited about those!
With that said, time to get started…
What Happened in 2012?
The biggest thing of all is that the rules of SEO changed.
The Google Panda algorithm was refreshed and updated no fewer than 13 times and Google Panda 20 was released (Sept 27th 2012).
Google took aim at paid networks (such as Build My Rank) and wiped a few of them off the map (March 19th 2012).
Google Penguin was released (April 24th 2012) and millions of websites lost their rankings literally overnight.
Google released the "Disavow" tool (October 16th 2012) (link to my post about disavow tool) which caused "gurus" everywhere to scream "SEO IS DEAD".
Every change that Google made rewarded some websites, and punished others.
After each update, some websites lost rankings, and some improved their rankings. We mostly heard about the people who LOST their rankings.
On October the 16th, I told people (via my Facebook Page) that SEO was ALIVE AND WELL…and it is.
One of the best examples I can give you is of the website I created for Authority Hybrid (AH members, you know the one I'm talking about). The website was launched in January 2012, by April is was ranking #2 in Google for it's main keyword, and today, it's ranking #5 in Google for it's main keyword.
The website survived Panda, Penguin, the Google EMD update (exact match domain name) and so much more.
That website now has 80 top 20 rankings, of which about half are on page 1 of Google.
Here's how my rankings changed throughout 2012 for my main keyword:
Note: The green line represents my rankings. Sure, they fluctuated a little, but once my site was in the top 10 of Google, it never really left!
Note 2: The SEO Module in Authority Hybrid was titled – "Module 6: Future Proofed SEO"…although it was released before Google Penguin, it was designed for the long haul which is why the website has thrived!
But SEO is not about luck…it's not a case of "pull the trigger and hope"…
Here's a screenshots from another brand new website, I created this one for the Authority Hybrid Elite members (this website is only 3 months old):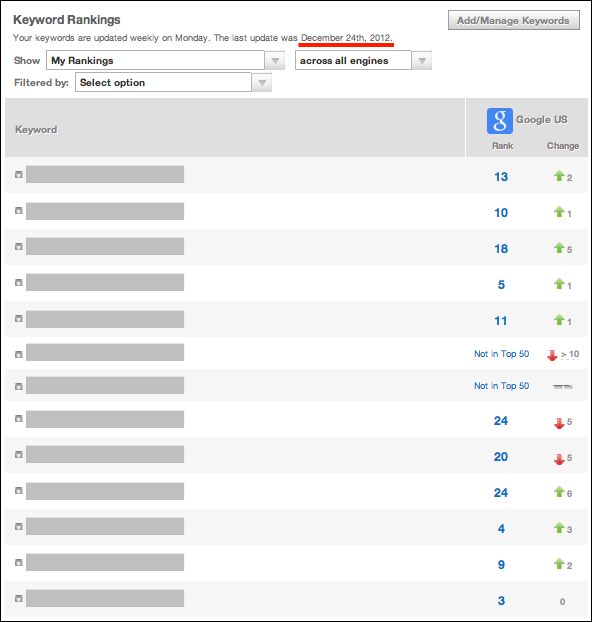 As you can see, of the 13 keywords I'm tracking, 11 are in the top 25 of Google, and 5 of those are ALREADY in the top 10!
And here's more proof that SEO is alive and well, I shared 3 of these images on my Facebook Page yesterday (the follow screenshots are taken from Market Samurai):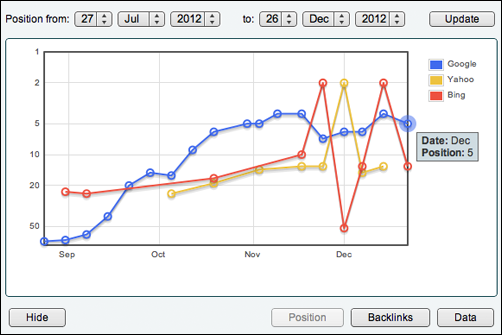 The blue line represents my Google rankings for my target keyword, the yellow line is Yahoo, and the red line is Bing.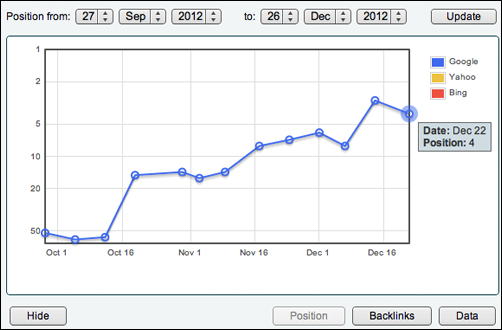 This keyword still isn't ranking for Yahoo or Bing, but it's risen from #50 to #4 in Google in just 3 months.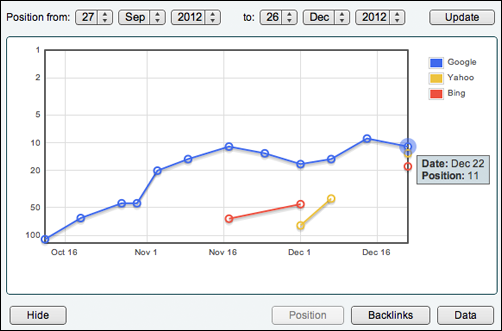 This keyword is ready to break into the top 10 in Google, Yahoo and Bing.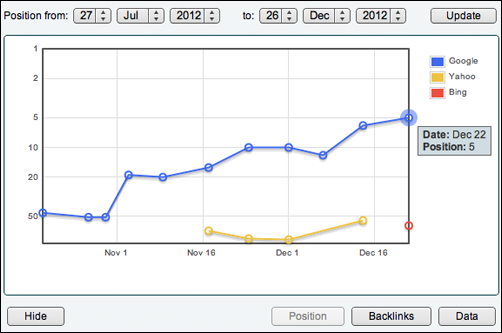 Like other keywords, this one has improved slowly but surely from #50 in October to the top 5 of Google in December.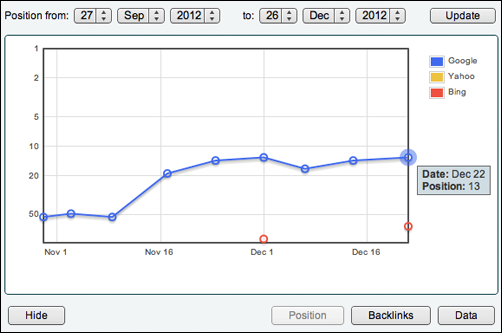 This keyword is about to break into the top 10!
This keyword is at #15…in the next month I'm sure it'll be in the top 10 of Google.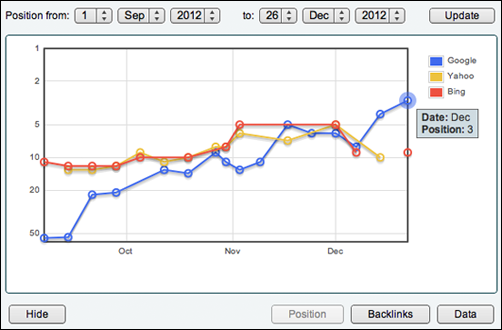 This keyword has climbed steadily for 3 months and is now #3 in Google.
I'm showing you a range of different ranking screenshots because I want it to be crystal clear…SEO STILL WORKS.
The bottom line is this:
You can still use SEO to get rankings in Google and earn a massive amount of money online!
What's more – with so many people quitting because they think "it's over" – perhaps YOU have a better chance than ever before!
The 4 Keys To SEO Success
So what are the keys to getting top rankings (and keeping them)?
Links on relevant websites (websites related to your niche)
Links in different types of places (Web 2.0 sites, Facebook, Press Releases, Videos etc)
Plenty of anchor text variation
User engagement (good on page metrics such as bounce rate etc)
That's it.
Meet those 4 criteria, don't be too aggressive with your link building, and you'll get rankings.
So what should you take away from this and carry on into 2013?
Simple: SEO WORKS.
Don't ask yourself "if it works".
Take my word for it…SEO will keep changing but it IS here to stay!
So choose your niche, take action, follow a good plan, and the results will come!
My Goals For 2013…
Now, obviously you'll have different goals for 2013 to me, but I hope by sharing my goals with you, it'll motivate you to make your own and also offer some clue as to the direction I want to grow my business…
Before I share my goals, here's a really good acronym to remember to help you set your goals:
S.M.A.R.T
SMART means:
S = Specific
M = Measureable
A = Attainable
R = Relevant
T = Timely
Now to my goals:
1. Build 3 New eCommerce Websites That Each Get 250 Visitors/Day By December 31st 2013.
I got started with eCommerce a few years ago as a way to diversify my earnings. eCommerce is a GREAT way to make money online and I'll grow my eCommerce websites even more in 2013.
By reaching 250 visitors per day, I should get a minimum of 1 sale per day. That sale will have a minimum of $30-$40 profit.
2. Launch 2 New Affiliate Websites (Authority Hybrid Elite style) That Each Get 250 Visitors/Day By December 31st 2013.
Affiliate websites continue to be good money makers for me. While they're no longer as popular as they once were (with internet marketers), they still earn me thousands every month and my new affiliate sites still continue to get good rankings in Google.
In 2013 I'll focus on working out how to really deliver value for each site, specifically, the things I can do to give my visitors that little bit of extra value. If I can do this I know my websites will stand out amongst the crowd.
3. Launch 2 New Adsense Websites (Authority Hybrid style) That Each Get 250 Visitors/Day By December 31st 2013.
Similar to the two new affiliate sites I'll be building in 2013, the two new Adsense sites will aim to deliver lots of value to my visitors. If I can do this, the on page metrics such as bounce rate, time on site and pages per visit will take care of themselves.
— — —
So in total I aim to build 7 new websites…doesn't sound like much does it?
But financially it will be significant.
If each of my 7 new websites earns an average of just $30/day (with 250 visitors they could earn even more than that), that'll be $210/day of NEW INCOME (over the course of a year, $210/day is over $76,000).
In addition to developing new websites, I also plan on improving my existing websites.
The way I do this is to choose the best 10 websites (the 10 websites that earn me the most money), and then look at ways to improve my earnings per visitor and increase traffic.
TIP: If you want to focus on improving some of your existing websites, it might be better to focus on just 2-3 of them, not 10 (I can easily scale my business and have employees which allow me to get more done).
So in a nutshell, I'll be building 7 new websites and working hard to improve my best 10 existing sites.
What can you work on in 2013 to grow your business?
Do you have the diversity that you need?
Do you have any existing sites that make money that you can improve?
It's time to get your goals written down, and get ready to face them head on in 2013.
A couple of secrets…
I love teaching and get a real kick out of helping others have success online. I also REALLY enjoy SEO…I love to crunch the numbers, run tests, analyze results and improve my methods.
So…….in a few weeks time, I'm going to release a BRAND NEW product specifically targeted to SEO and how you can make it work for you in 2013.
I won't go into details now, but I will say the following:
It'll be accessible to everyone (price will not be an issue – I promise you that)
It'll contain SEO methods you've never even imagined (methods I've NEVER EVER revealed to ANYONE before – literally…no one has seen this stuff)
It'll show you exactly how to nail down top rankings in 2013 and beyond
I can't wait to get this information to you!
I'm ALSO working on a new plugin that'll increase user engagement on my websites.
I'm not sure if I'm going to sell this, keep it as an in-house tool or give it away – I am excited about it though and will give you more details about it in the near future.
And last, but definitely not least, eCommerce coaching…
It's Time For eCommerce Coaching…
I've never ever revealed anything about my eCommerce business before…but the reality is that it's now a HUGE part of my business and probably the part I enjoy the most.
Every single day I'm thinking about eCommerce and I've got a HUGE amount of information to share.
Here are some of the things I like most about eCommerce:
It's extremely lucrative (far more so than both Affiliate websites and Adsense websites)
It's often easier to get rankings because there's far less competition
There's virtually an unlimited number of niches available
The market is massive (and growing)
Google seems to favor eCommerce websites
I can live in Argentina, but sell in the USA without any issues at all – complete flexibility
I can ship internationally to reach a global market
I don't need to buy goods before I sell them, so I have very few overheads
Day to day operations are simple and can easily be outsourced
I can use WORDPRESS to run my websites!
On top of this, it's also easy to explain to my friends and family! This might sound like a trivial thing, but I like that!
Even though I earn great money online and have done for years now, people STILL seem to doubt internet marketing simply because they don't understand it. eCommerce however, is EASY to explain and EASY to understand.
In case you're not familiar with exactly what an eCommerce website is like, here's an example of the type of site I create:
NOTE: The above website is not mine. But it is VERY similar to the types of website I create!
If everything goes smoothly in the next couple of months, you can expect to hear something from me about my eCommerce coaching program in February or March.
Lastly, THANK YOU!!!
Thank you for continuing to return to AidanBooth.com!
Check out the screenshot below: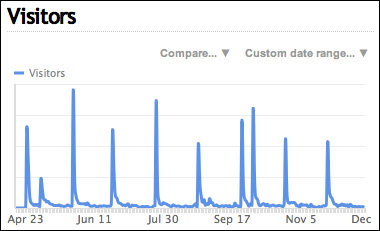 Those blue spikes are YOUR visits, and like clockwork they come every time I make an update.
You rock!
Without your support, I wouldn't be able to run this website, release courses that share my strategies, or share any of what I learn online.
So thank you – I really do appreciate it!
Got a question or a comment? Can I help you with something? Write it below!