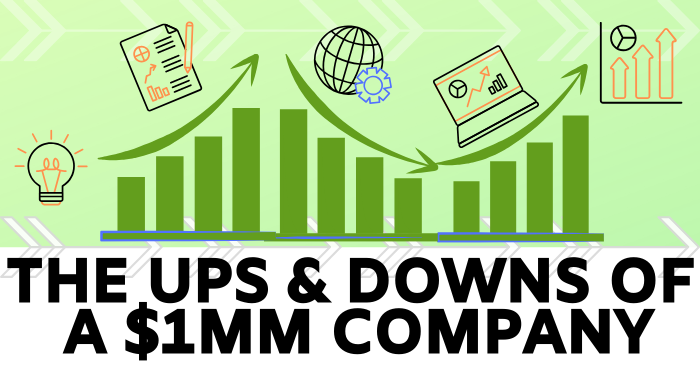 Welcome back to AidanBooth.com, and to another 'first of the month' blog post. I started doing monthly updates on the 1st of May 2012, and if I'm counting correctly, this is #94…
The past month has been hectic to say the least.
I travelled to Mexico to attend the Clickbank Platinum conference: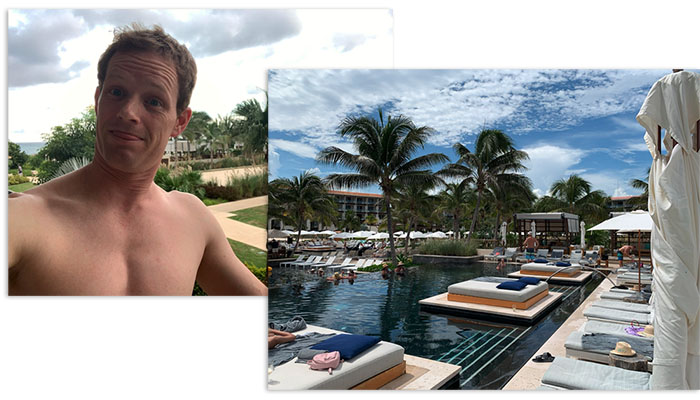 Then to Chicago to host our live Blueprint Academy mastermind group: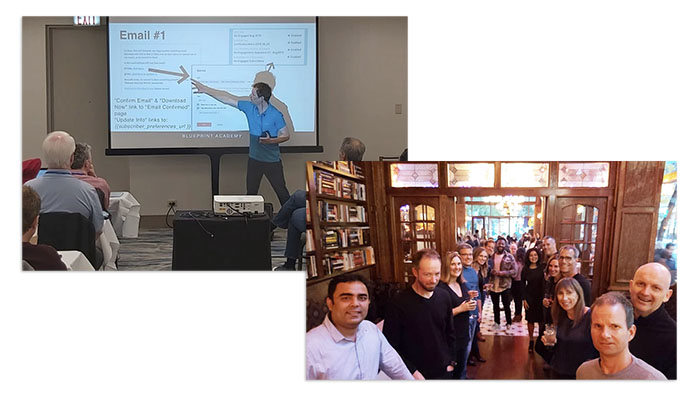 And also juggled family life: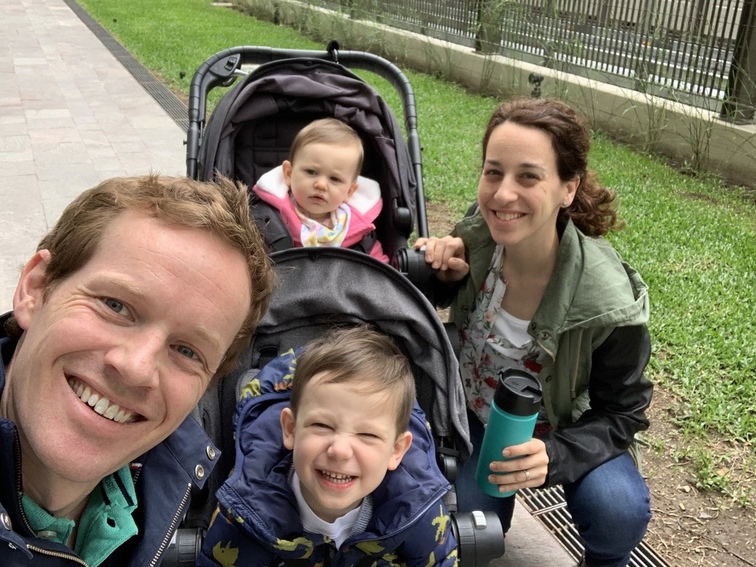 My kids are growing so fast, they'll be 3 years old and 1 year old respectively over the next few weeks, I have no idea where all that time has gone. I'm grateful to have them in my life, they're my driving 'why' and they motivate me to be at my best every single day.
But not all days are great… especially in business, as you'll learn through the story I'm about to share with you.
The story is about what I call the 'Entrepreneurs Journey'.
I hope it inspires you and reminds you that good things take time. Good things take effort. And that you should never give up on your goals.
The story starts in Guangzhou, China, in April 2016. I'm attending the Canton Fair and visiting our office there while simultaneously launching our hosting service (FloatHosting.com) to the public for the first time.

We've signed on over 1,000 customers in the first 24 hours, and I'm pumped.
1,000 active customers puts me at about $18,000 per month in revenue. A good start by most people's measure, we've got a new 6-figure business, and the path to 7-figures is crystal clear.
Faster forward a few months… it's August 2016, and things are a mess.
I'm demoralized because our servers are being attacked relentlessly…
Hackers are hitting Float Hosting customers' websites over and over again… exploiting WordPress vulnerabilities that I'm unable to control.
Float Hosting customers are angry (and rightfully so).
We're doing everything we can, but the wave of attacks is killing us. As soon as one thing is fixed, another hole has been exploited.
It got so bad that we gave every single Float Hosting customer two years of completely free hosting, at a cost of over $200,000 to us.
Steve and I and our entire tech team are in the trenches plugging holes and fixing issues as fast as humanly possible… we're working around the clock trying to make it up to people who had put their trust in us and ensure websites are running smoothly as they should be.
In August 2016 I was regretting having ever offered hosting to the public (something we did because we genuinely wanted to HELP people).
Steve and I vowed to never EVER do this again and that we'd shut down operations as soon as possible, as soon as we'd fulfilled two years of free hosting for the people who had stuck with us.
Fast-forward to today.
Today we have a whisker under 3,000 hosting customers, which puts us on track to clear $650,000 this year, and we're growing.
We should do over $1,000,000 in sales in 2020.
Uptime of client websites is at an all-time high (I'm touching wood right now!), customers are happy, and (I'm nervous to even write this) we've got a well-oiled machine, what we always dreamed it'd be.
High-spec hosting at an affordable price. And most important of all, happy customers.
The past three and a half years have been an emotional rollercoaster for the Float Hosting project, and we've learned an enormous amount about the cut-throat world of web hosting.
Although things have been going extremely well for Float over the past year or so, I still would NOT recommend anyone build their own hosting company, it's a TOUGH industry to be in.
In early 2018 once we'd got through the issues, we decided to give the company (Float Hosting) one final chance to turn itself around and live up to our dream, and we started with a complete overhaul of pretty much everything.
Of our original team, only one person survived.
Of our original infrastructure, nothing survived.
We had to ask ourselves some tough questions and get back to the reason we wanted to offer hosting services in the first place… to get back to our driving reason why.
Once we decided to charge forward, the dramatic changes we made got results.
We built everything from scratch to ensure that our customers did not face the annoying issues we'd experienced in the past (this is called 'LEARNING FROM YOUR MISTAKES!').
We worked on our weaknesses and turned them into our strengths. We made a deliberate pivot in our offer by focusing on high-end hosting services designed for WordPress. This subtle change of direction was built on a bedrock foundation of state-of-the-art servers, better security systems, more structured maintenance programs, and vastly improved customer support.
This story is specific to Float Hosting, but it's symbolic of the entrepreneur's journey…
Up and downs… trials and tribulations… two steps forward, one step backward. Plenty of struggle.
Even with all the frustration, the sleepless nights, and when things were not making sense from a financial standpoint, we were focused on doing what was right for the customers, living up to our promises, and thankfully things worked out. We were able to build a better business and our customers are happy.
From the outside looking in, people see success and often assume the path to success was smooth sailing, a straight-line progression, like this:

In reality, it looks more like this (almost every time):

The Float Hosting journey continues.
I'm sure we'll face new challenges in the future, but I'm far better prepared for them now than I was in 2016.
With whatever project you're working on, don't give up. As an entrepreneur, you need to brace yourself for adversity, it will hit you one way or another from time to time.
Pay Your Success Tax
I'm sure you can think of projects that haven't panned out for you… times you've failed over and over again. This is all part of becoming successful.
Did you know that The Beatles, the greatest band to ever play, played over 10,000 hours of gigs in grimey pubs before anyone took notice of them? Do you think their success was a fluke? Of course not… they put in the work and got a little better each day.
Bill Gates also put in time (his "success tax"). By the age of 12, he was ALREADY one of the world's greatest programmers and able to tackle programming challenges that other people saw no answer to. Sure, Bill was born with a knack for mathematics, a very logical brain, but he still had to put in the time to become great.
You WILL succeed with building an online business, just don't give up before the magic happens.
To all our Float Hosting customers who read this, thank you. Thank you for putting your trust in us and standing by us, we don't take that lightly and are here to ensure you're looked after.
If you are a Float Hosting customer then I'd LOVE to hear about your experiences with us, so please leave a comment below!!
If you're not a Float Hosting customer, but would like to join us, we'd LOVE to have you join our cyber family.
We can help with complete account migration (making it 100% seamless with zero downtime… we'll do ALL the work for you), and I've set up a special limited-time coupon code for anyone setting up a new account.
Use the coupon code 'YH9YDI7UN5' to get 30% OFF the monthly Battleship plan.
And you can save 50% on the yearly Battleship plan using this coupon code during checkout: '01UTFQPNSU'.
NOTE: These coupon codes WILL expire soon, so if you'd like to take advantage of them, use them now. If you have ANY questions about Float Hosting or need any kind of special support, please contact our friendly team here:
https://floathosting.com/clientarea/?ccce=submitticket
Thanks for reading, I hope you've found this useful and inspiring.
Aidan
P.S. For a regular dose of motivation along with marketing news and updates, connect with me on my new Instagram page:
Head over to the page above, and click the 'Follow' button.
If you prefer Facebook for my updates, then connect with me on my Facebook page. Click the LIKE button to get my updates.
THANKS!