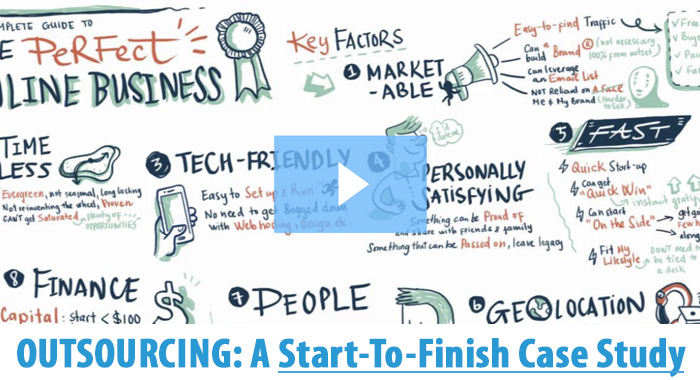 Hi, and welcome to another '1st of the month' blog post here on AidanBooth.com!
With the New Year already becoming a distant memory, are you getting enough done, or is time already becoming an obstacle for you?
Regardless of where you're at, you NEED to be leveraging outsourcing…
By hiring an outsourcer, you can focus on tasks where you can derive the most value, and outsource those that give you less return for your valuable time, or don't necessarily have the skills to complete, and best of all it's really easy to do!
I want to show you how easy it is, so today in this blog post I'll walk you through a case study, showing you how I created the sketch below, using outsourcing: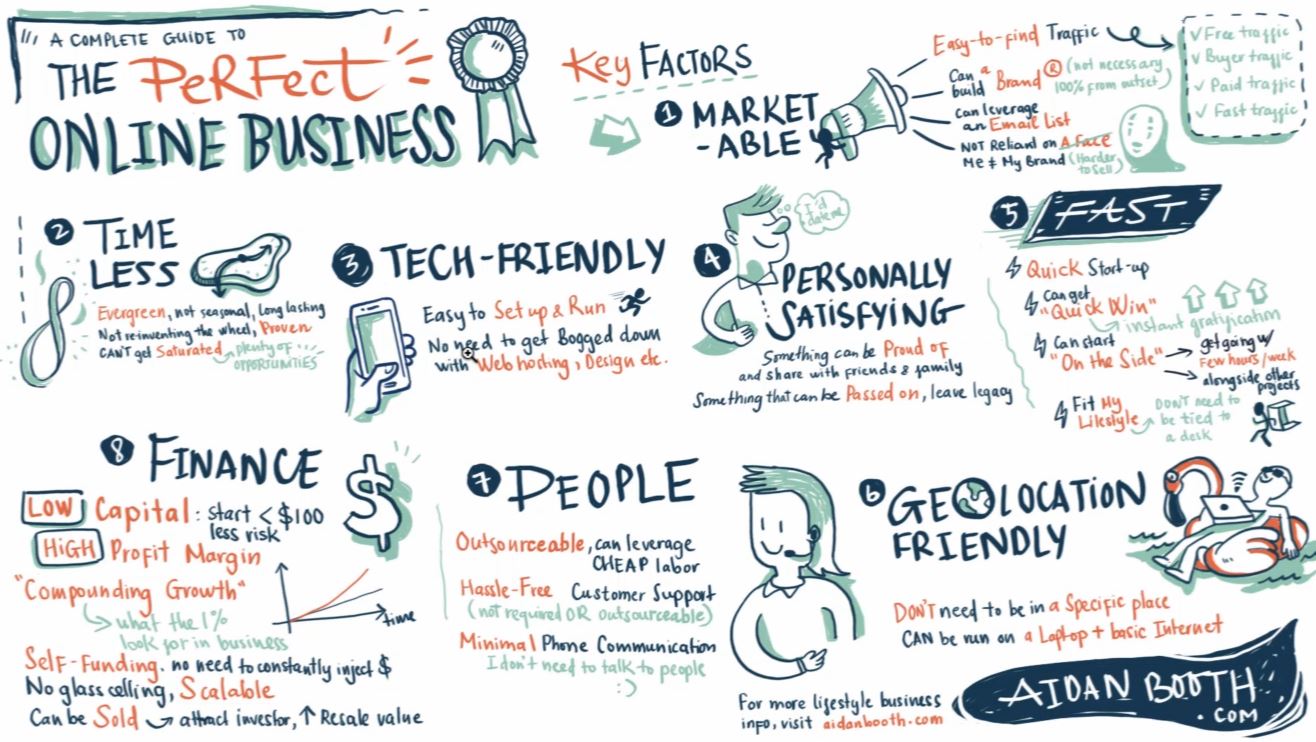 I'm pretty happy with how it came out… but there was an entire process (a simple one) behind this.. it saved me HOURS of work only cost me $70.
So here's what we'll cover:
The EXACT 10-Steps To Outsourcing A Job On Upwork
Choosing The Best Proposal
How To Filter The Candidates Proposals
When To Decline Proposals
What Can You Do If You Don't Get Many Job Proposals
How To Hire The Right Candidate For Your Project
Amending Your Project And The Finished Result
How To Finish The Contract With Your Candidate
How To Leave Your Candidate Feedback
And MUCH more…
Below you'll find four 'over-the-shoulder' videos where you can see the exact approach I took to outsourcing this job, and below the videos you'll find step-by-step screenshots of the entire process.
Video 1: Getting Started
The video above gives you an introduction to the project, and how I'm approaching it.
Video 2: Proposals & Freelancer
In this video we look at the proposals received so far, and set up the job on Freelancer.com as well.
Video 3: Hiring My Designer
Finally I'm able to hire my designer! The video above walks you through the considerations…
Video 4: Final Overview
This video gives a full overview of the process, and shows the back-and-forth messages.
The Exact 10 Steps To Outsourcing A Job On Upwork
So what outsourcing company should you use?
It really makes no difference if you're using Upwork, Freelancer, Onlinejobs.ph, etc., they are all more or less the same. Some of them have got different features but they are all great places to find people to work with.
In the following example, we're going to turn the following simple mind map about building 'the perfect online business', into a really nice sketch: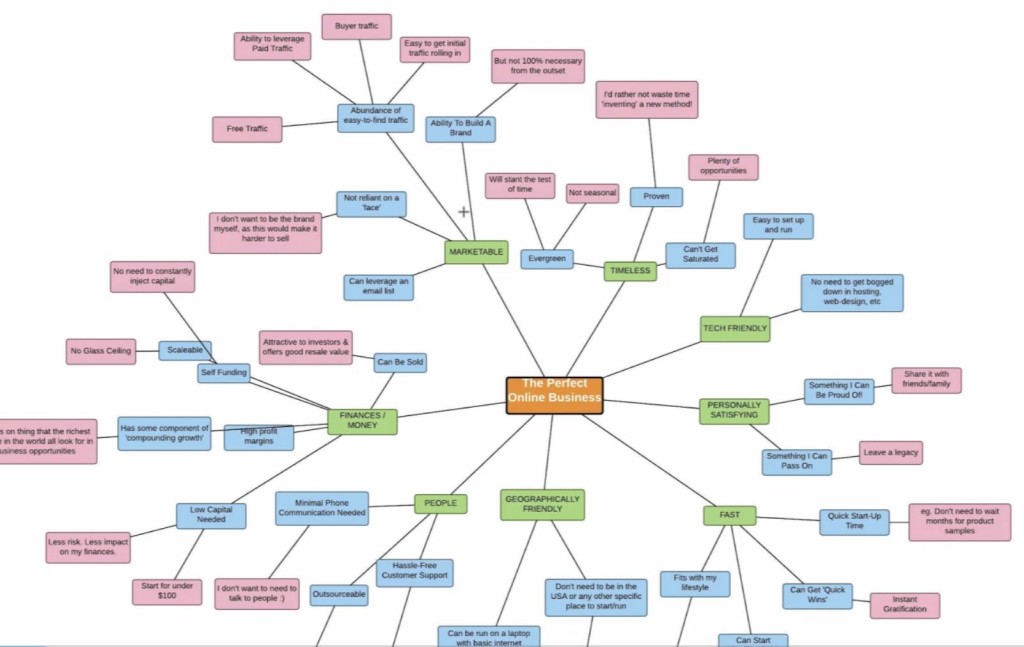 By searching on Google, I found some examples of sketches that I liked the look of which I will use as my example in this case: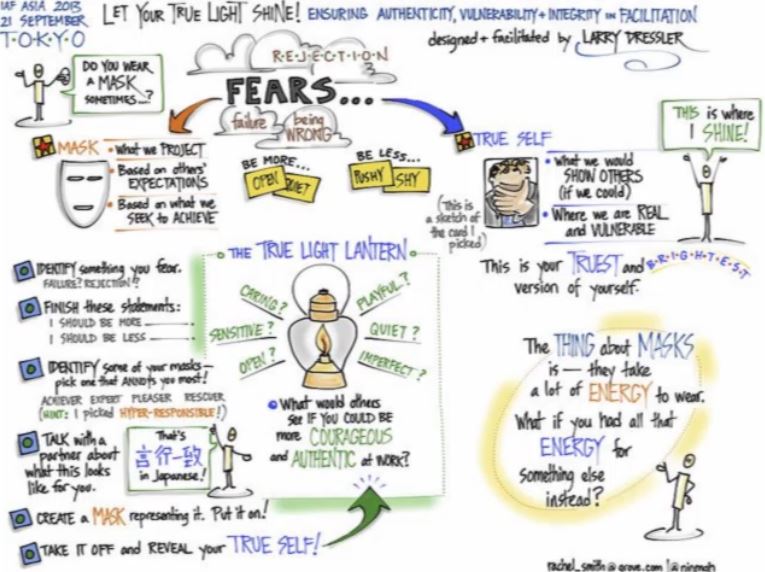 So to post a job on Upwork, firstly log into your Upwork account (or register if you don't already have one), then complete the following steps:
1. Click 'Post a New Job':

2. Select the option for 'Create a new job post', then click 'Next':
3. On the next screen 'What do you need help with?', type in what type of work you want done, and choose a name for your job post. Once this is completed, press the 'Next' button: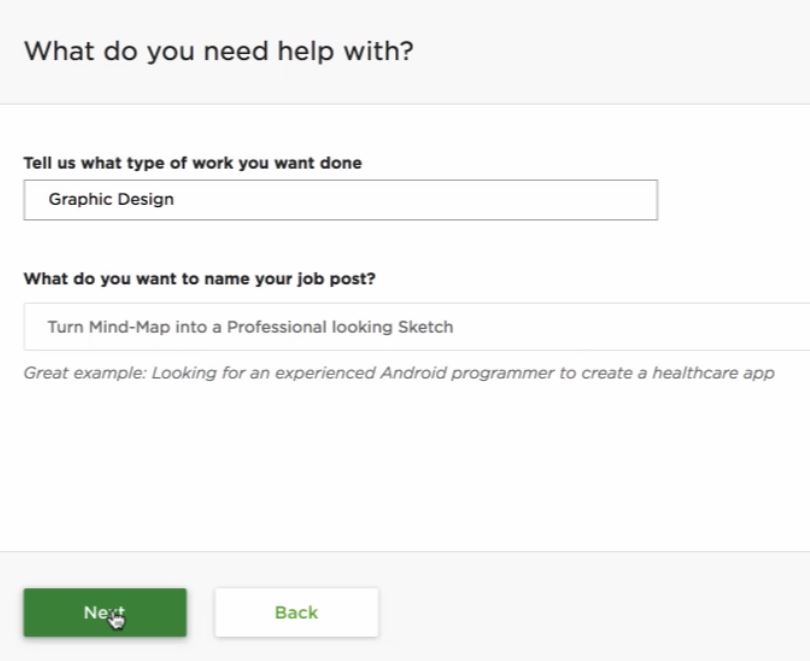 4. On the next screen 'What specifically are you looking for?', select the most relevant option, and then click the 'Next' button: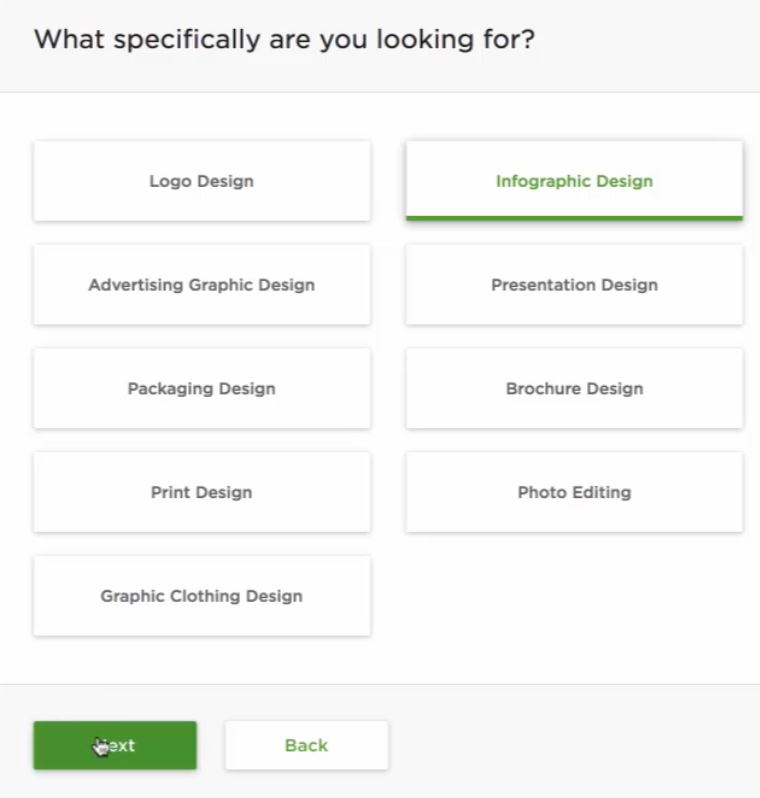 5. On the next screen, 'Post a Job', where it says 'Describe the job', here you can enter your job description. Typically we have this already written out in a notepad document, so it can be simply copied and pasted in:
A really good tip here is to enter a special code into the description, we typically don't deal with anyone that doesn't use the code in their response, it basically shows they haven't read the description in full:

6. Remember to attach your project files, choose the type of project, and then choose 'which of the following best describes your project?':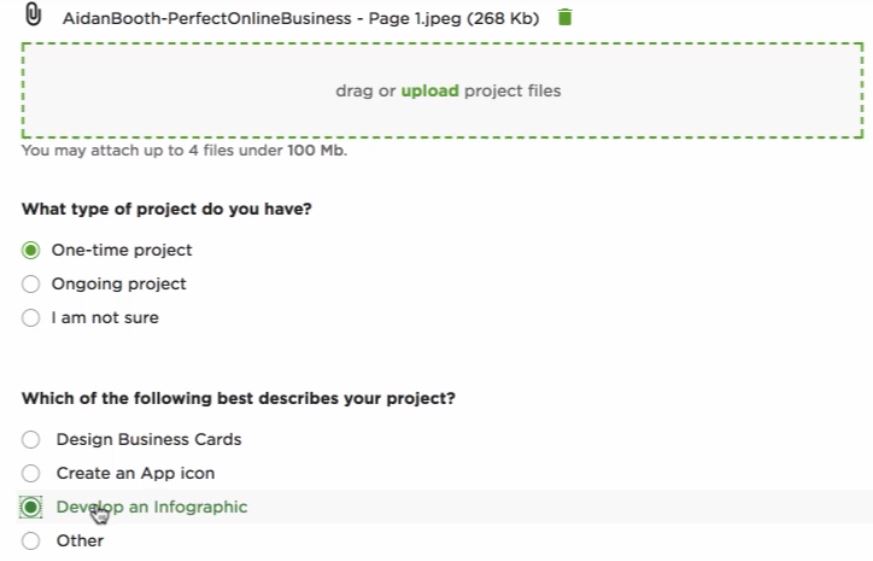 7. As we continue down the page, 'Where will this work be used?', select the most relevant option: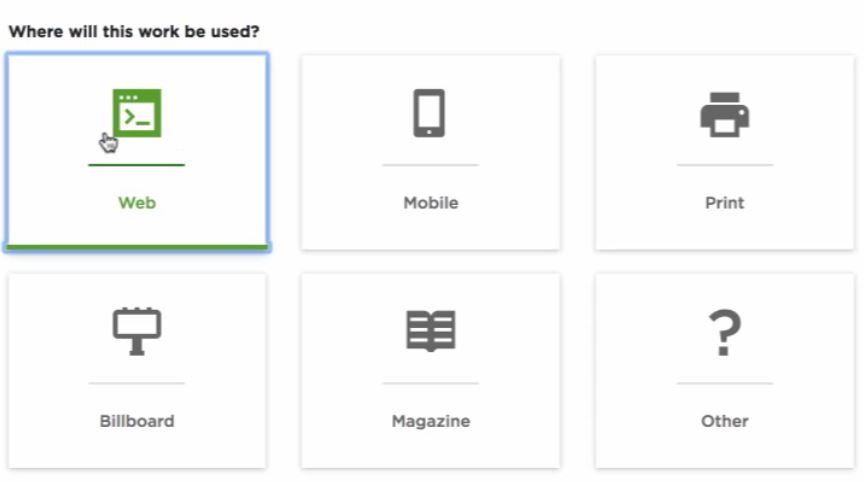 8. Choose 'How many freelancers do you need to hire for this job', and then choose from 'Do you only want freelancers within your country to see and submit proposals to this job?':
9. Choose a start date, and then enter the skills required: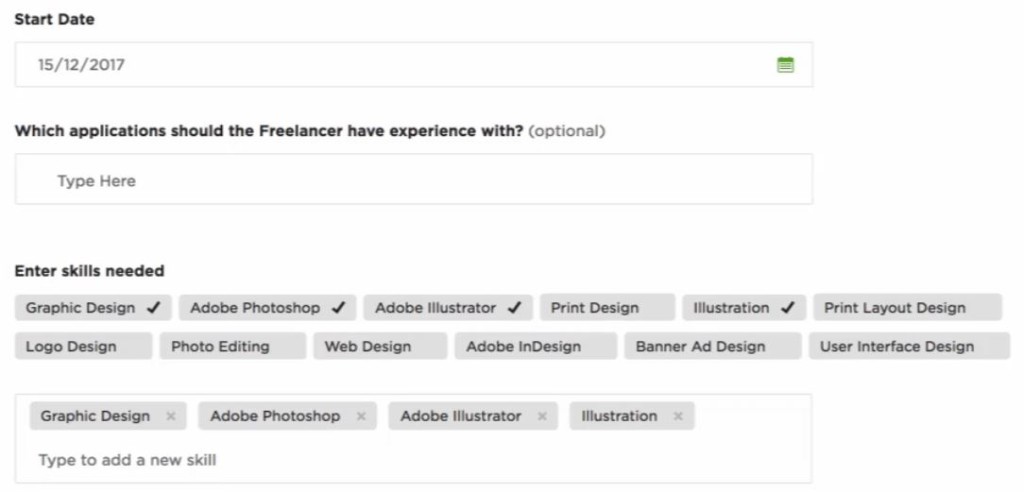 10. In the 'Rate and Availability' section, choose 'How would you like to pay' using the dropdown, the budget for the project, and click on the relevant 'Desired Experience Level':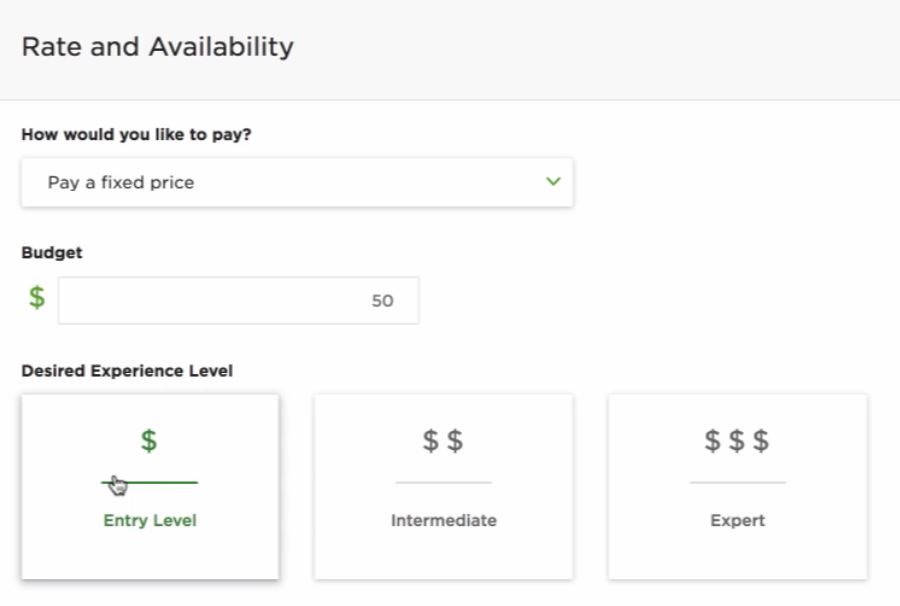 When you are happy with your selection, simply click on the 'Post Job' button, and you're all done posting your job 🙂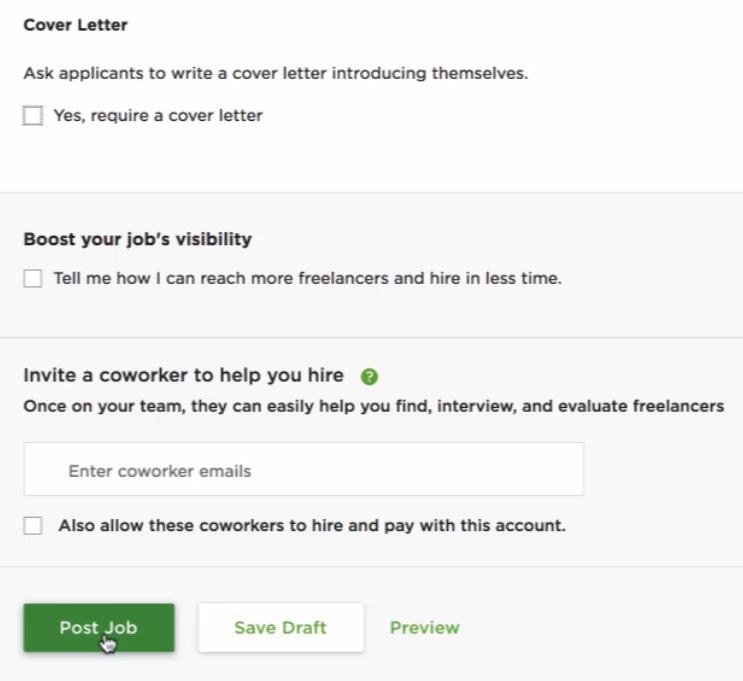 So that's the first part of the process complete, and your job post is now live 🙂

People will now start to send messages and apply for the job, and also tell you how much they will charge to carry out the job.
TIP: You can't really go wrong with your job posting, because you can always change things later 🙂
Choosing The Best Proposal
Once your job posting has gone live, you'll start to receive proposals, the aim here is to choose the best proposal suited to your project.
As you can see in our example, there have been 5 proposals from the job we posted 3 days ago:
When we click on the job post, under 'All Proposals' we can see more information about the proposals we have received: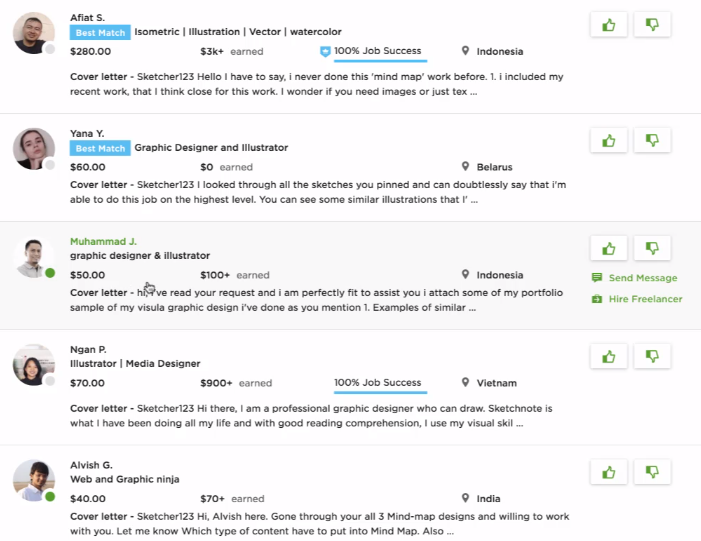 In the screenshot above, you can see 4 out of the 5 have included the special code in their response that we put in the description.
My advice; one candidate didn't use the special code in their response, this shows they didn't read the description fully, so don't even bother proceeding with the proposal, simply archive the candidate:

How To Filter The Candidates Proposals
We then want to open up each proposal and start looking through them, check out samples of their work so see if it is anything like what you had in mind.
Having gone through the samples of work in our example, this is the one most similar to what I'm looking for: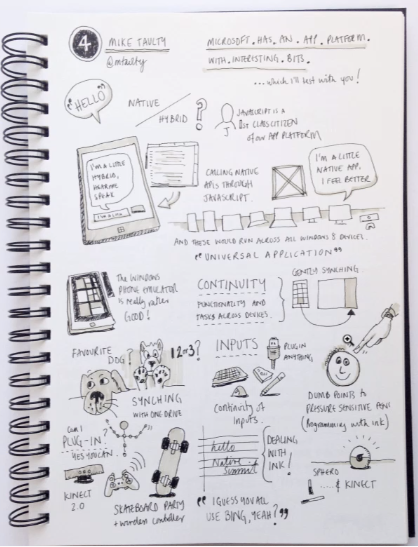 If you have questions, simply contact the candidate by messaging them, which is also a really good test of response time: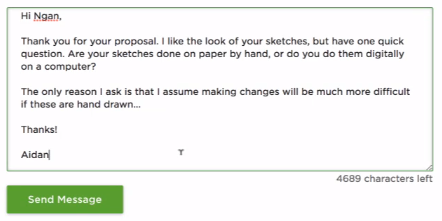 When To Decline Proposals
Now you've filtered through your proposals, you need to know when to decline them, here's our top tips for which proposals to decline:
Any proposals with $0 earned (unless they had some really amazing work in the past)
Any proposals that don't show an example of the work you have requested
Any proposals where you might need to teach or test the candidate
Any proposals that don't use the 'special code' in their response
For any that fit the above criteria, simply archive the candidate(s) as we've shown above.
What Can You Do If You Don't Get Many Job Proposals
5 proposals in our example was actually quite a low response, there may be a few reasons for this such as:
Maybe the price was too low
Maybe the title wasn't descriptive enough
You can certainly change those things to see if you get a better response, but bear in mind you can also use another outsourcing company.
In this case we're going to post the same job on Freelancer to see if we can get a better response, here's the exact steps for doing that:
1. Log in to Freelancer (or register), then click on 'Post a Project':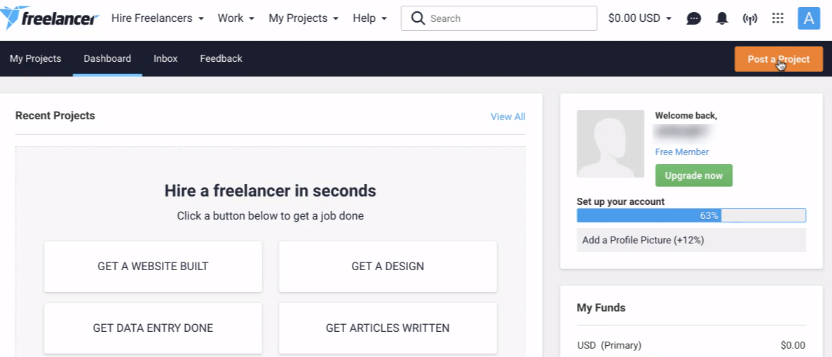 2. Use the exact same name and description for your project that you used previously by simply copying and pasting the information from your notepad file: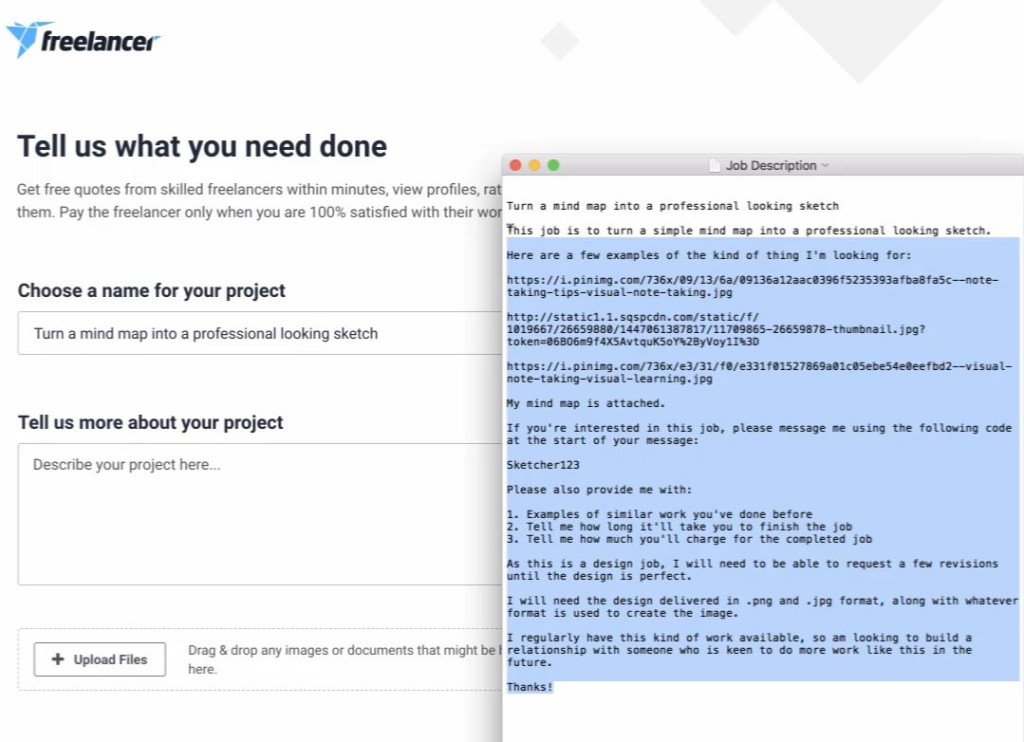 3. Continue down the page, upload your sample work, add skills under 'What skills are required?', and click on your chosen option for 'How do you want to pay?':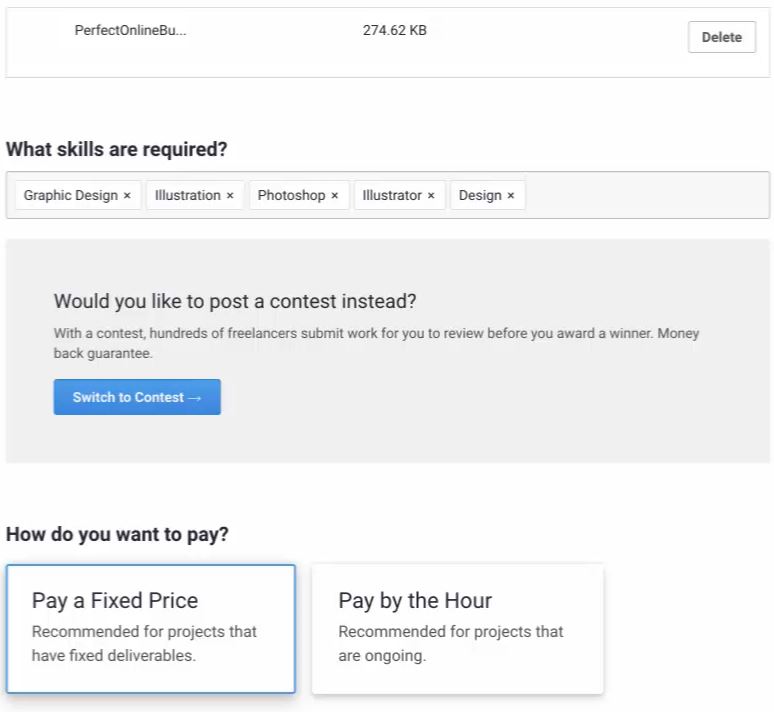 4. Select your budget, from the dropdown options under 'What is your estimated budget', and then click on 'Post My Project':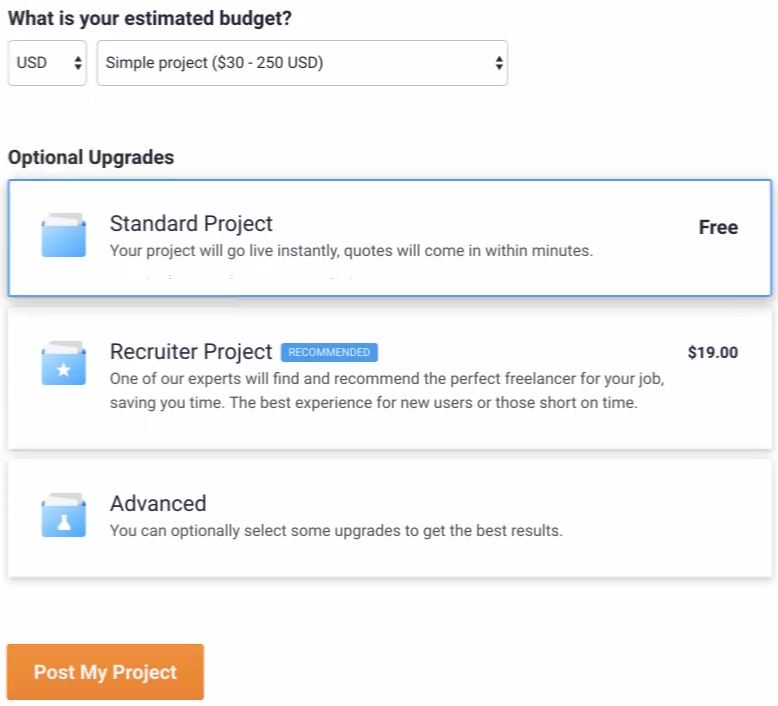 You're job listing on Freelancer is now live, although bear in mind we're not really comparing apples with apples here.  With Upwork we had a budget of $50 or less, however, with Freelancer, the budget range is $30 – $250, so we'll get more people who bid for the project.
Again, pay attention to the special code word, and only research proposals further if it has been included within the candidates response.
How To Hire The Right Candidate For Your Project
So we've now got our proposals whittled down using the tips above, we've been discussing the job with a couple of different candidates on Upwork who both have a great skill set: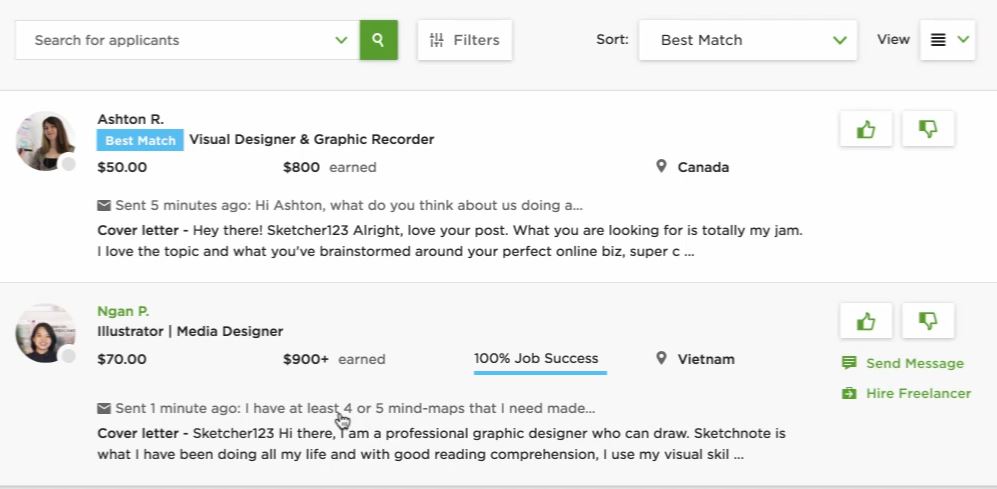 I eventually choose the following person who confirmed she could do the job digitally which is great in case of any spelling mistakes for example as they can be amended easily, rather than a hand drawn sketch.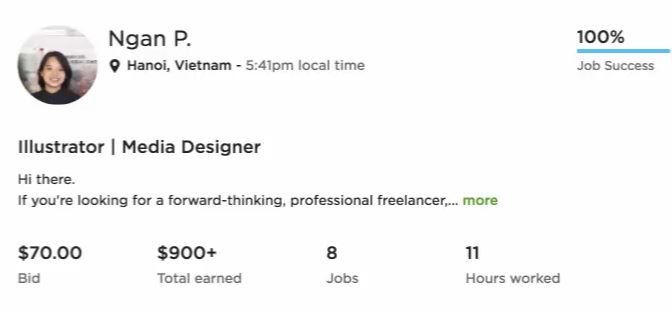 You'll note they bid $70 rather than the $50 we had in mind. You can try to negotiate the price if it's higher than you originally planned, but remember the candidates also have an outsourcer fee, and in our example the mind map also has a lot of things in it, so in this case I've decided to run with it.
TIP: Don't negotiate too hard if it looks like they are going to do a really good job. It's better to build a relationship first and then talk about pricing later
The candidate has also provided examples of the types of things they can do which is similar to what I'm looking for:
Example 1: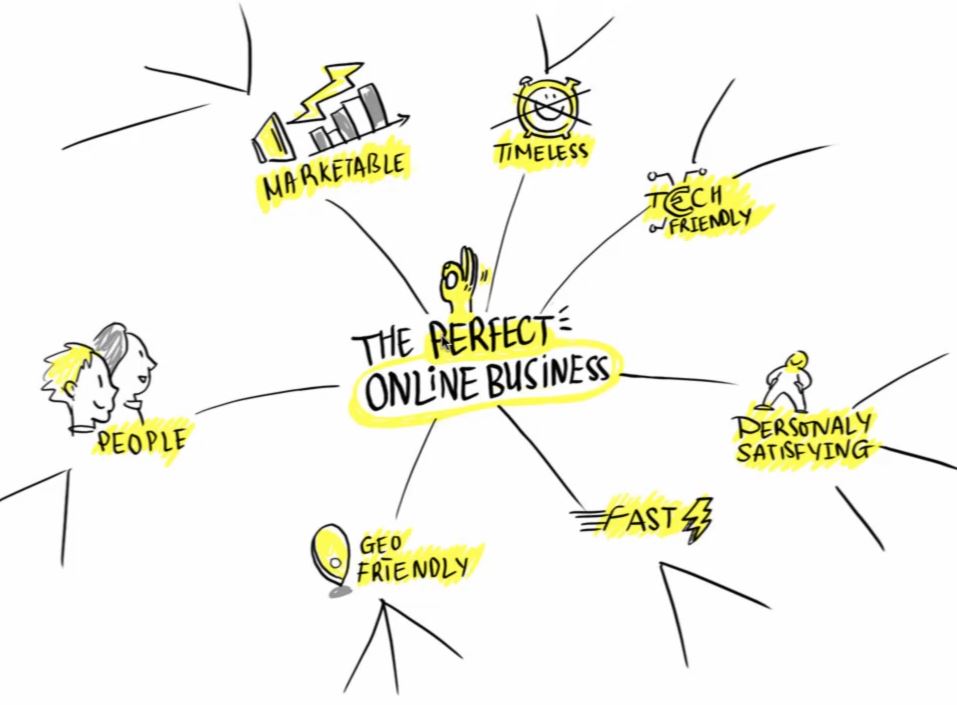 Example 2: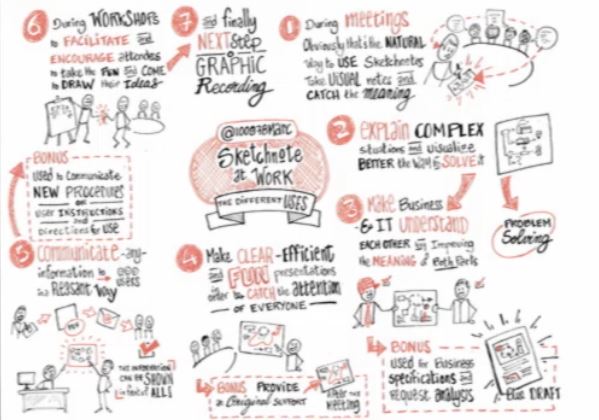 Save the candidate and also any others you may consider for a different job in the future:

Hiring The Freelancer
To actually hire the freelancer, use the following steps:
1. Click 'Hire Freelancer':

You will then see the following screen: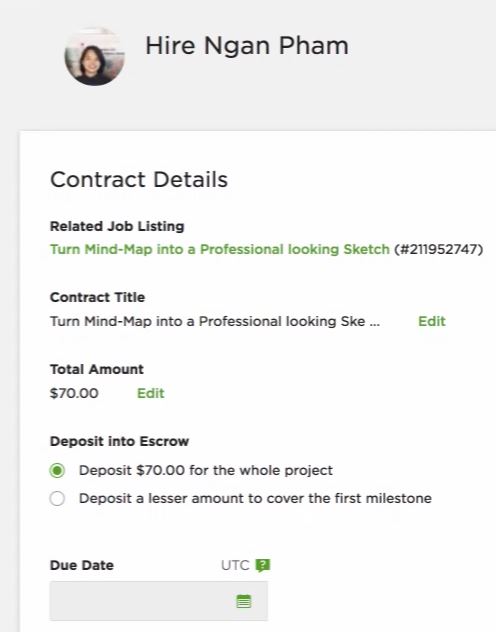 2. Scroll down the screen and accept the terms of service, then click on the 'Hire' button: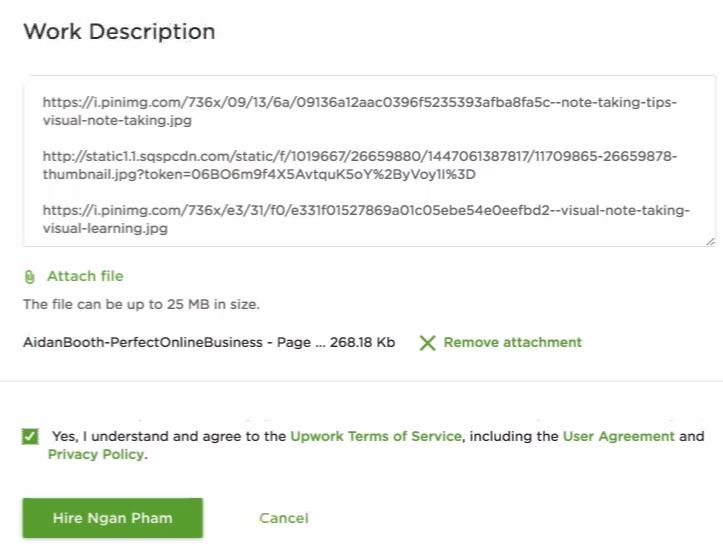 3. Agree to depositing funds into escrow: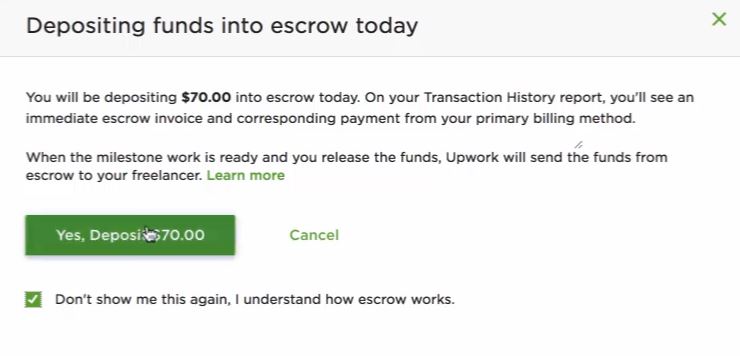 Escrow is a payment service that protects the employee, and the employer (you). The basic Escrow process is as follows:
You hire a worker
You deposit 100% of the job cost into an Escrow account (it's easy)
When you're happy that the job has been completed, you release the funds to the worker
4. You then have two options either:
I'm done hiring for this job or:
I plan to hire more freelancers for this job
In this case, we actually hired both freelancers, as we have another job available for a different mind map, so we can test them both as they seem very talented candidates and good resources to use later on.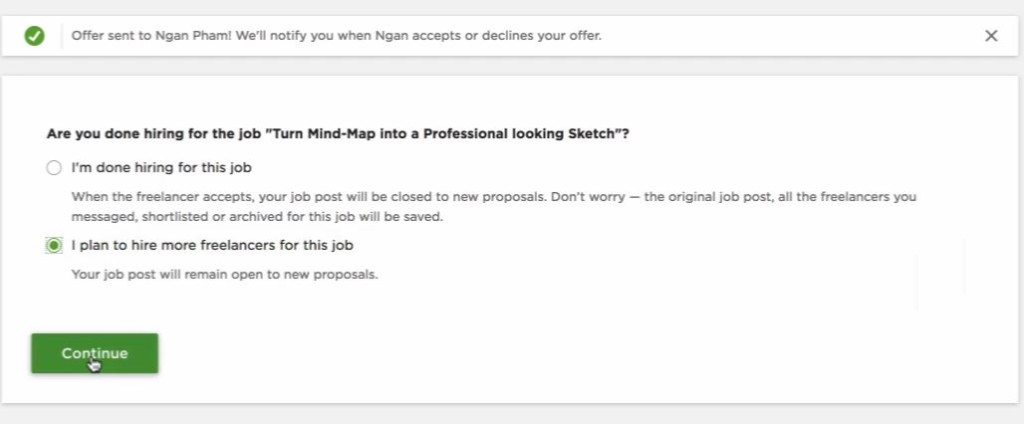 You will then see the offer and as we already are hooked up with PayPal, you can see the budget has already been funded: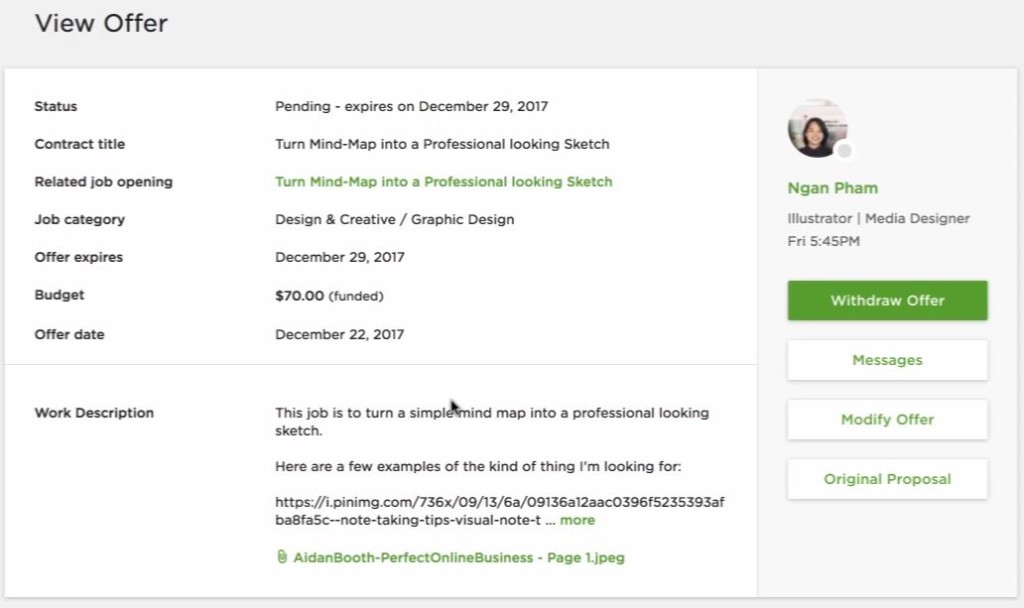 We then continue to communicate with the candidate and get them working on concept designs. Next you'll see how I go about amending the project, before revealing the finished result!
Amending Your Project And The Finished Result
You may recall we also posted this job on Freelancer, but the results weren't great with very few replies, hence finding our chosen candidate on Upwork.
So now we've found the right candidate for our project, I want to show you an overview of the messages exchanged, the corrections that had to be made, and then show you the final result.
This was the first draft from the candidate:

In the first instance, we told the candidate we didn't want it in yellow, so she went away and changed the colors as we requested: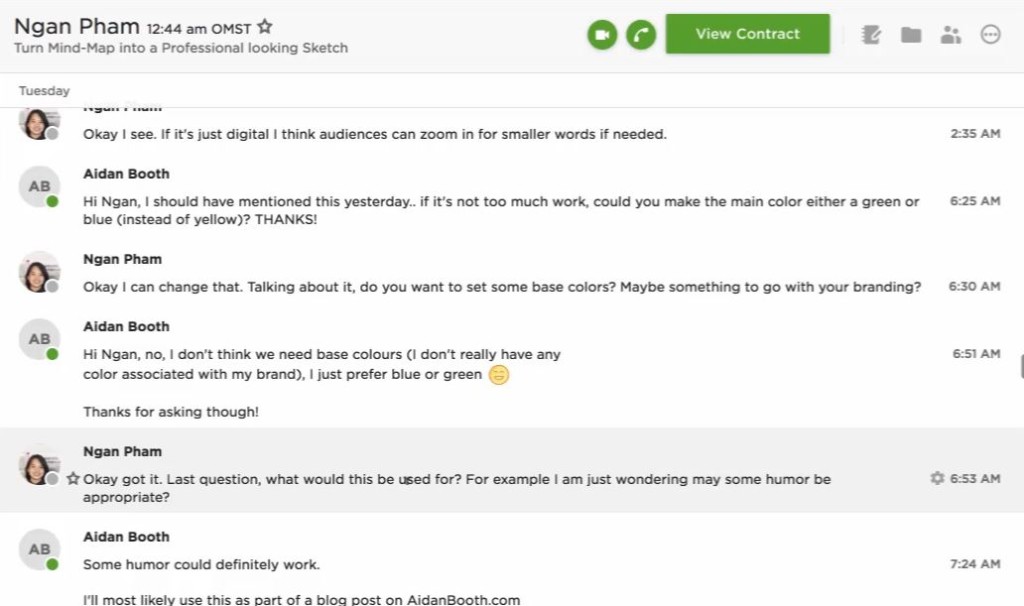 In the first full example, there were quite a few mistakes, so I opened up the original image and highlighted the different places there were mistakes and added an arrow/comment next to it: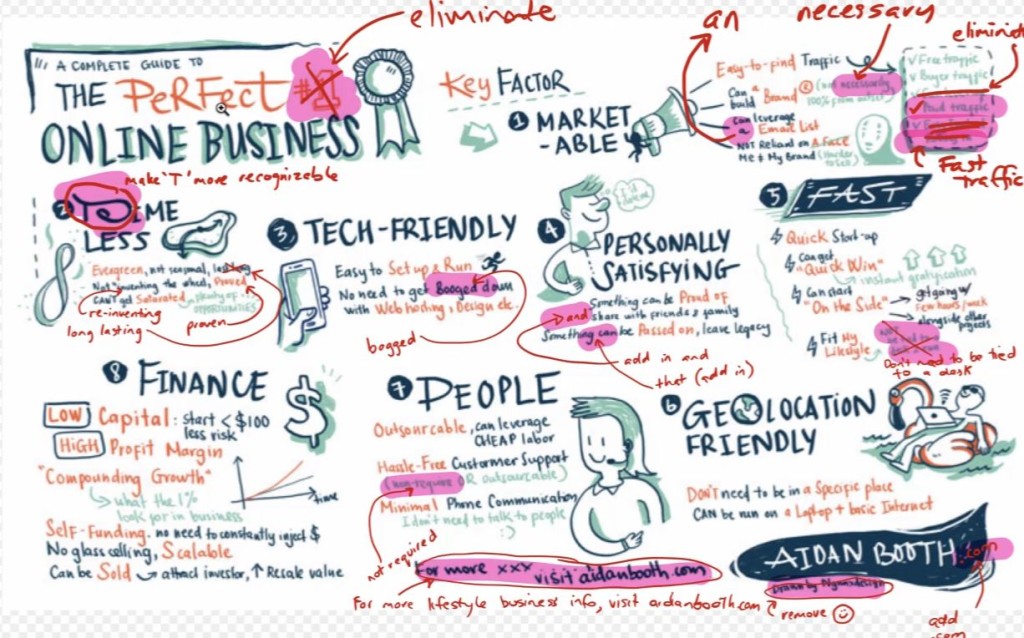 The next draft came back with a few more errors, so again we pointed these out using Photoshop: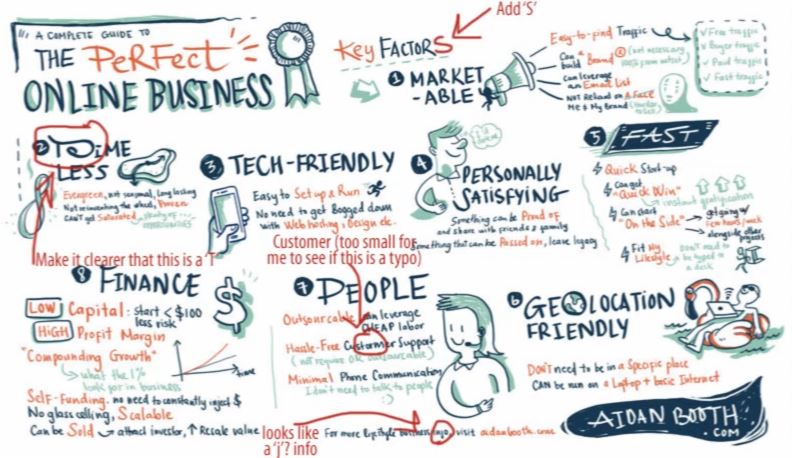 We went back and forth with the candidate until the image was perfect, so here is the final result which we're really happy with 🙂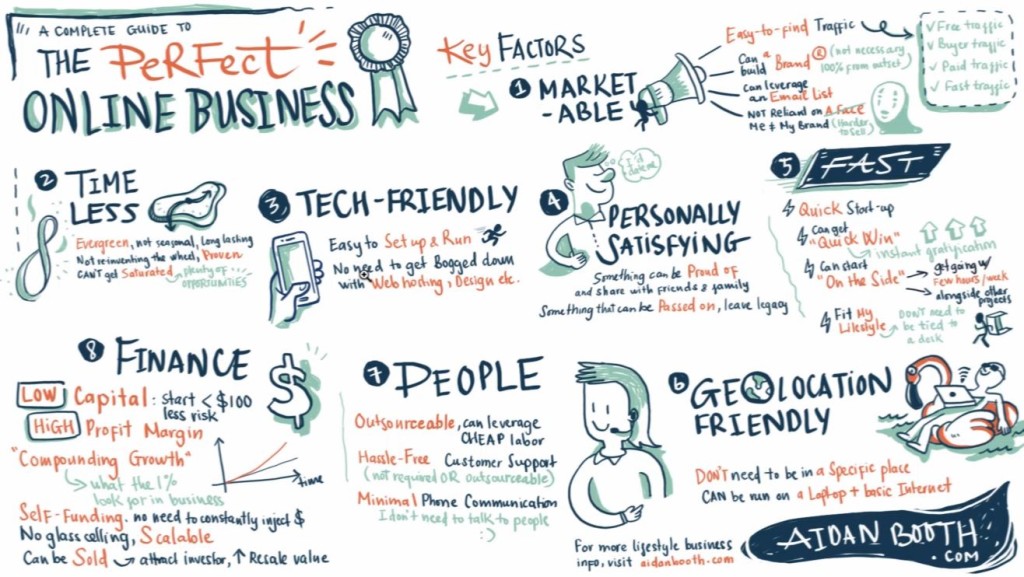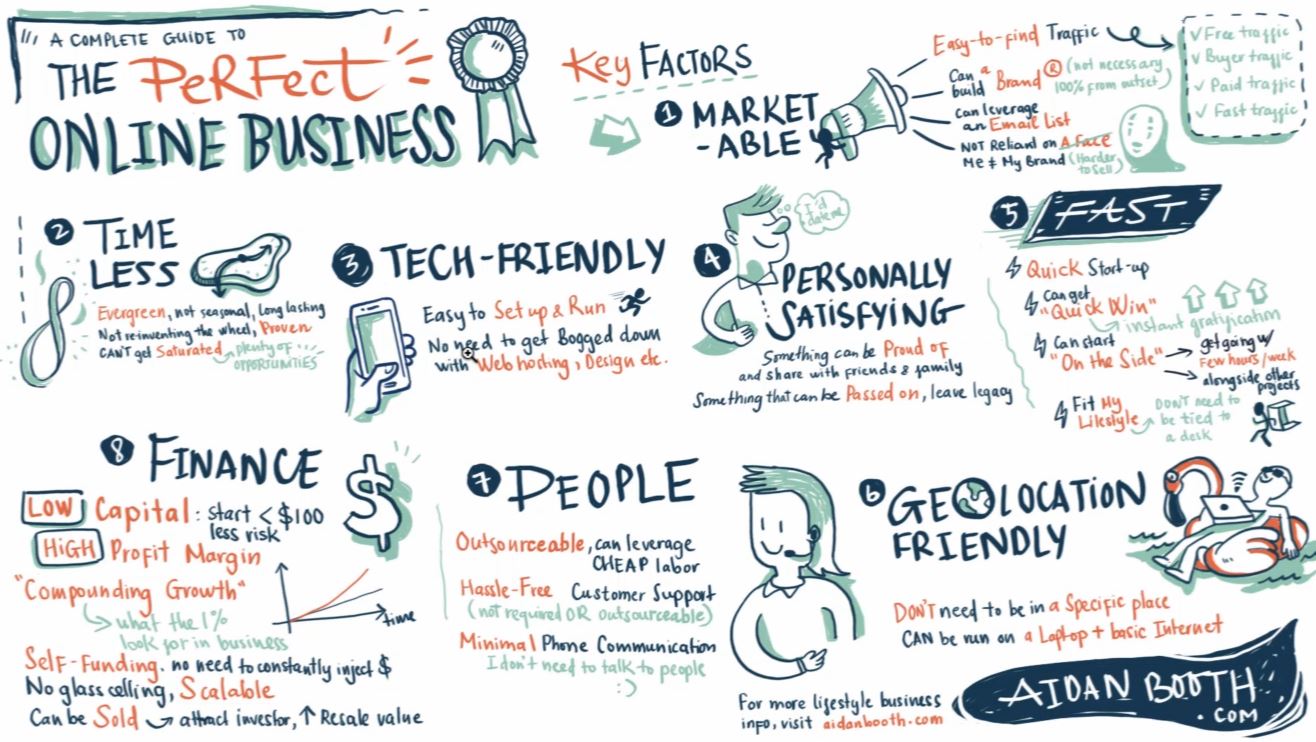 So what could you use this image for, here are a few examples;
* A blog post
* A Facebook post
* An infographic
Hopefully you can see how powerful, and how good a job you can get done for a relatively small budget using Upwork, or indeed any other outsourcing company.
How To Finish The Contract With Your Candidate
Once the work has been completed to your satisfaction, you need to close the contract, here's how to do it.
1. Click on 'View Contract':

2. Click on 'Review & Pay':

3. Click on 'Approve & Pay':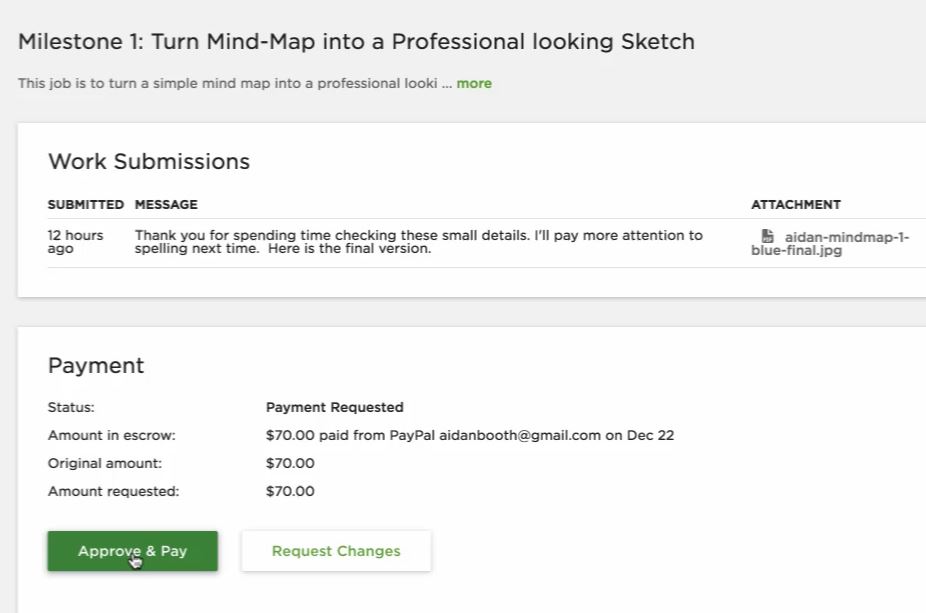 4. On the next screen select 'End the contract – Work is complete' then click 'Send Payment':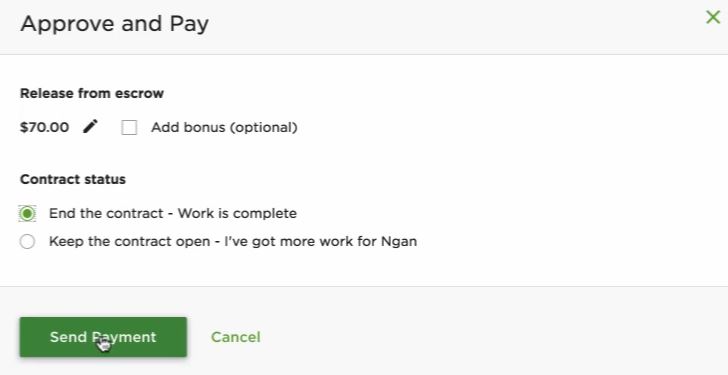 You will then be asked to re-enter your password. Once this has been done, you've now finished your contract with the candidate.
How To Leave Your Candidate Feedback
Once you have paid and ended your contract with your candidate, you can leave them feedback.
Here you want to select the reason for ending the contract, then complete the remainder of the feedback questions: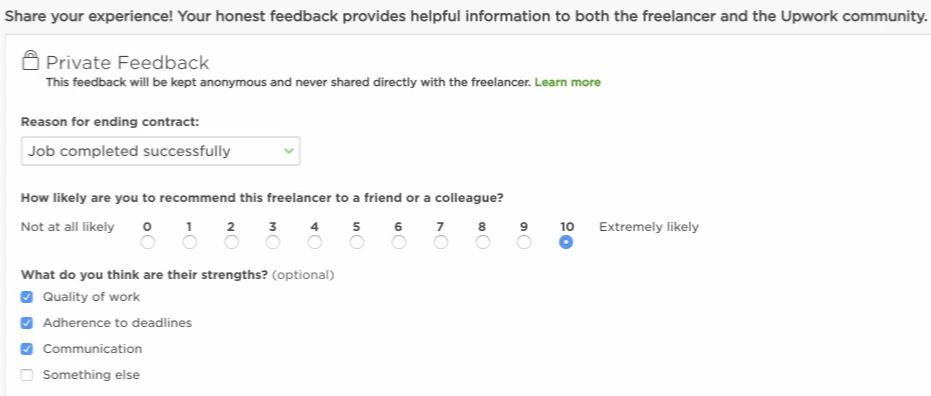 You can also leave public feedback, once this has been left, you can end the contract by clicking the 'End Contract' button: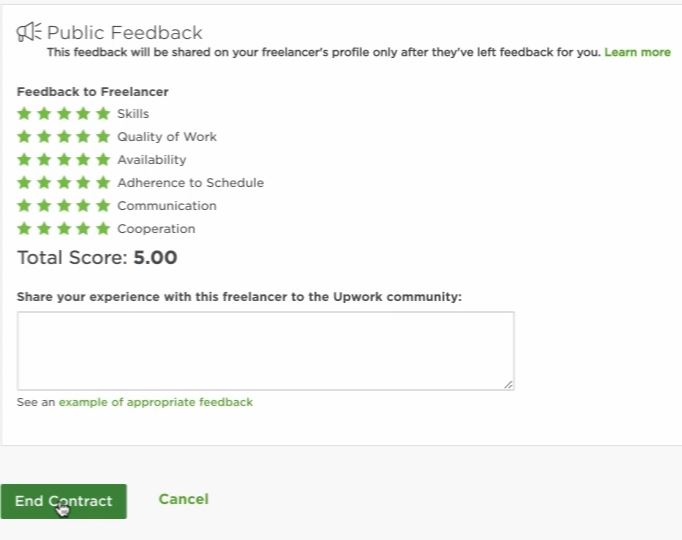 So now you can see how to use Upwork to run a project, you can use these steps in a similar way to handle any project you can imagine, as the process is almost identical each time.
Also bear in mind, that once you have the candidates contract, the process will be so much quicker in future.
As your business grows, it gets harder to do everything yourself, by outsourcing you can focus on your core business, whilst increasing efficiency.
Hopefully you have found this article useful, and wish you good luck with your outsourcing 🙂
All the best,
Aidan