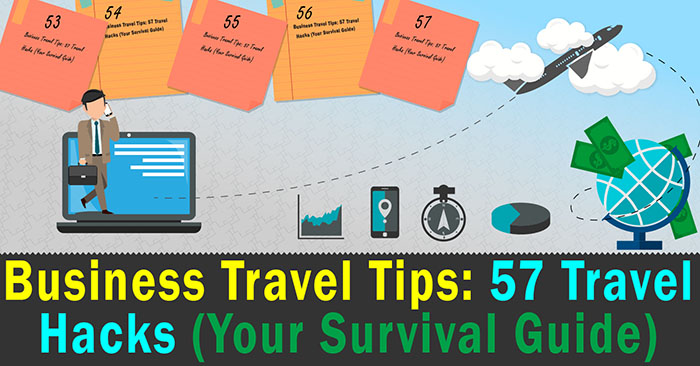 Whether you travel regularly for business or infrequently with family, ride at the front of the plane or the back, there are things you can do to make your life easier and more enjoyable during your trip.
This blog post is my answer to enjoyable travel.
It's based on having clocked up over 500,000 miles in the air, having spent more time than I'd like in shitty airports, a small fortune on flights, and having traveled at both ends of the plane.
You'll find a random selection of hacks and tips to help you get the best out of your travels. Including how to:
Buy business class tickets at rock bottom prices
Save 10% on ALL hotel reservations
Slash your travel insurance bill by 1,000% or more
Virtually eliminate jet-lag
Sky-rocket in-flight productivity
And comfortably get from A to B without stress and headaches
So dive into my Business Travel Survival List, and leave a comment to let me know what I've missed out.
Flight Selection & Bookings
1. Kayak.com
Use Kayak.com to find all the different combinations of flights that get you to and from your destination. Kayak lets you filter based on a range of factors, such as Price, Trip Duration, Layover Time, Business Class or Economy, Loyalty program and much more.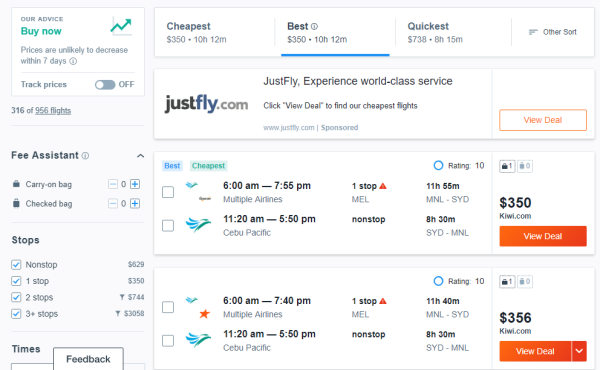 2. Book Direct
Where possible, and especially on long haul flights, book direct. Flights with connections or layovers are normally cheaper (and there are more options), but even the fastest connection is still going to add a few hours to your trip in most cases.
It's not just the extra time that's annoying, but depending on where the connection is, you might need to get your luggage again, pass through security again, and find your way to the boarding gate again. This is the case traveling internationally and having an internal connection.
For example, if I fly from Buenos Aires to Las Vegas, there is no direct flight, so I'll always have a connection somewhere, usually in LA, Miami, Houston or Dallas. At the port of arrival I'll need to get my suitcases, re-check my suitcases, pass through security and then finally get back to the gate and board again.
Sometimes connections are unavoidable, but whenever you can get a direct flight, if you can afford to take it, TAKE IT.
3. Always Fly At Night
If you're flying long haul, fly at night.
This is normally how long haul fights are scheduled anyway, but there are often also day options. By flying at night you can sleep on the plane (which makes the journey seem shorter), get more day-hours on the ground at your destination, and save on a nights accommodation at your destination as well.
4. Use Loyalty Programs & Claim Your Air-miles
One World, Star Alliance and Sky Team are the three main frequent flyer loyalty programs, almost all carriers are part of one of these. Then individual airlines also run their own programs as well, so you can accumulate points for both by regularly flying with the same airline (or airlines from the same group).
By accumulating air-miles (also called Airpoints), you'll be given a special status with your loyalty program (Gold Member, Silver Member, Bronze Member, etc) which will give you some interesting benefits such as:
Cabin upgrades
Access to VIP lounges at airports
Free flights
Free accommodation (at partnering hotels)
Extra baggage
Priority boarding
Priority check-in
Priority phone support
Priority baggage claim (your suitcase will come out first)
And a range of other benefits
Always make sure your loyalty program number is shown on your boarding pass, and that they're added to your membership post-flight. Keep your boarding pass until you can see that your points have been added just in case something goes wrong and they're not added (this has happened to me on a few occasions).
Last year I used my accumulated points for a free trip for my whole family to Mexico.
SIDE NOTE: I just used airpoints to book a long-haul international flight for my entire family. Cost to me? ZERO.
5. SeatGuru.com
I often use Seat Guru to make sure I've choose a good seat, and indeed a good aircraft to travel on. Different aircraft have different seat configurations, and some seats are better than others.
Do you want to be in a row of 2 seats, 3 seats, or 5? Close to the toilet or further away? In an emergency exit row (more leg room) or somewhere else?
Seat Guru shows aircraft maps with seating arrangements. Frequent travelers and Seat Guru experts share information on the pros and cons of each seat, and you can use this to choose a better seat (and aircraft) when booking.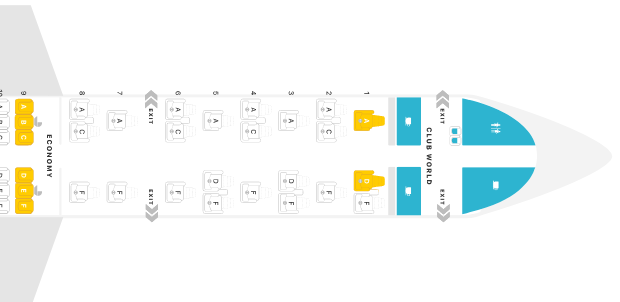 6. Business Class
Cost permitting, travel in Business class. Any time I travel alone (without my 6 month old and my 2 year old) I travel in Business class.
Here's why I choose Business class:
1. It means I can actually get a good sleep during my flight.
I arrive at my destination feeling refreshed and can hit the ground running. When traveling for work, this is really important. Imagine, if I only sleep 1-2 hours on a long haul flight from Buenos Aires to London (13 hour flight), I'll be exhausted for my first day, and lose a huge amount of productivity. Conversely, if I sleep 6-7 hours on the flight, I arrive in good shape, ready to go.
Time is money for me, so I need to be careful with how I use it (I don't want to be slumping around exhausted on day of arrival).
2. I can get work done during the flight.
Working on my laptop in an economy-sized seat is virtually impossible, but it's easy for me to work in a Business class seat. How much is 5 hours of work worth to you? To me that alone is worth the price of the upgrade.
3. Better food and service.
These aren't as important to me as the first two things above, but everything adds up. Priority service and better food options are a perk of traveling in Business class.
4. Mindset.
For me personally, traveling in Business class is a reminder that I am a successful person who travels in business class. This might sound vain, but it's about training your mind to think in terms of abundance, not scarcity. Sure, I can save $2,000 by choosing to travel in economy, but assuming I can actually afford to travel in business, then taking the Business option is means I'm BEING the person I want to be, not falling into the frugal trap. More on this in my 'Recipe for Riches' blog post.
Any one of reasons 1, 2, and 4 are enough for me to justify traveling in Business class, and #3 is a 'nice to have' benefit. By traveling in Business you also normally double or triple your reward miles (point #4), so that's another little benefit.
One last thing to mention about this point, what helped me a lot when choosing to travel in Business class was simply adding it into my business budget. Once it's in the budget, it's accounted for, and you can stop stressing about the price tag.
7. Use 'BCC' To Buy Discount Business Class Seats
Click the button below to get the top 4 tips report and access to this tip!


8. Use Hotels.com To Book Accommodation
By using Hotels.com, you can save 10% on the cost of your accommodation.
It's not that you'll instantly save the 10%, but rather that after accumulating 10 nights of accommodation, Hotels.com give you one night free of charge (at the value of the average cost of your first 10 nights). This works out as a 10% cost saving.
Hotels.com also helps you find good deals and see customer reviews, so using it is a no-brainer in my opinion.
9. Airbnb.com
If you'd prefer to stay in an apartment, or a house, or perhaps just get a room in shared accommodation, then Airbnb.com is a great option. I normally use Airbnb when traveling with my family, as it means we can get a bigger more comfortable place.
10. Ask For An Early Check-In And Late Check-Out
If you need an early check-in or late check-out, ask for it when you make your booking, and you'll get it about half the time at no extra cost. If you book over the phone, the odds of having it added on as a free bonus increase even more (versus asking via email).
And if you're not given this for free, consider paying extra for it.
When I arrive at my destination, the last thing I want to do is need to kill time for hours before getting access to my room. I want to get to my room, safely store my luggage, have a shower and freshen up. If possible, I always try to get an early check-in or late check-out.
Pre-Flight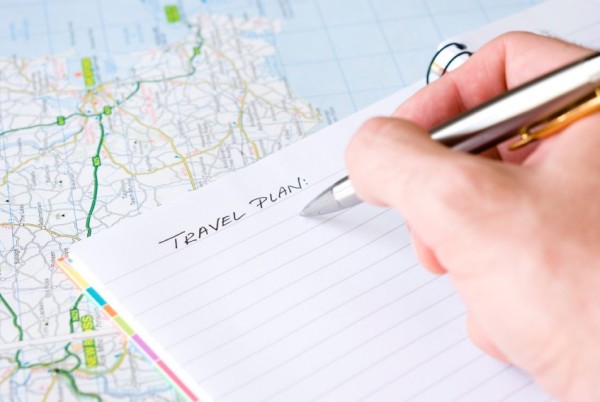 11. Check Weather At Destination
Quite simply, know what waits you upon arrival, and pack accordingly.
12. Notify Your Bank
I've lost track of the number of times one of my credit cards will stop working while I'm at my destination. This happens when the bank suspends your credit card due to fraud concerns ("why is Aidan using his credit card in Mexico?").
If you never use your card in London, and all of a sudden there are a bunch of purchases, then it means you're in London using the card, or someone else has your card and is using it. Some banks default to the defensive strategy and suspend the card.
You can avoid this headache by telling your bank that you'll be traveling prior to leaving.
 13. Get Some Local Cash
Although not as important these days, I always try to travel with some local currency so that I have something when I hit the ground. I find it useful for things like tipping and it's a good plan B in case there are no ATM's near where you're staying or if you need to buy something where credit cards can't be used.
14. Pre-Plan Travel To/From Airport At Destination
Chances are you know the best ways to get to the airport in the town where you live, but what about at your destination?
Jumping in a taxi is NOT always the best or fastest option.
On my trip to London last month, I made a rookie mistake and failed to pre-plan my travel from the airport to my hotel. I was tired, and I took the "easy option" by jumping in a cab. I thought I'd avoid rush hour traffic, but I couldn't have been more wrong.
The trip from Heathrow to my hotel took 2 hours, and cost double what I would have paid if I'd taken the express train (which arrives in 30 minutes!). I should have known better, I've travelled to London a dozen times and this was the first time it ever occurred to me to take a taxi in to my hotel. #BrainExplosion
Don't fall into the same trap.
Do a Google search prior to leaving, and find out the best way for you to get to your hotel. Worst case scenario, Uber is always a cheaper option than a taxi (normally about half the price in fact).
15. Travel Paperless, Download Flight Details To Your Phone
There's no need to print out your boarding passes or itinerary these days. I normally just download it all to the Books app on my phone.
Make sure you also download (or save somewhere) the details of where you need to get to once you land (hotel address), and the best way to get there.
16. Save $1,000's On Travel Insurance
Travel insurance can get very expensive. Click the button below to access tip #16, which is part of my 'Top 4 Travel Hacks' guide (which you can download):


17. Pre-Charge Electronic Devices
Give your gadgets a charge prior to your flight. If you have delays anywhere along your flight, then hopefully you'll have enough juice to stay connected and/or entertained.
Side Note: I don't fly with a power-bank (travel power pack). I've just never needed one, and with all the other gizmos I take with me, this is something I've avoided adding. More on the gizmos I do take with me shortly.
18. Exercise On Day Of Travel
This is an easy way to improve your sleep during the flight. Burn off excess energy by getting a workout in on the day you travel.
Side Note: I sometimes also avoid coffee, coke, or any other stimulant on the day I travel. It seems to help me get a better sleep. The caveat to this is when I WANT to stay away to work during a flight.
19. Set Up Your 'Out of Office' Email Reply
Depending on why you're traveling, you may want to set up an 'out of office' automated email reply.
Even if you can check emails during your trip, setting one of these up takes the pressure off, and will throttle the number of emails you get (because people who regularly email you will normally stop after getting the first auto-reply).
All email providers offer this. Here's the message I use: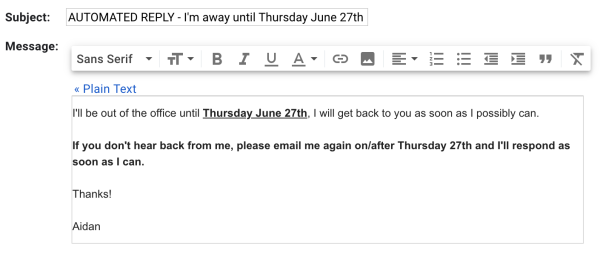 20. Pre-Plan Meetings, Dinners and Appointments
This is especially important when traveling for work. Normally my business trips are jam-packed with face-to-face meetings, and plenty of dining.
By booking these in advance, or at least knowing when you need to meet with whom, you can optimize your time on the ground.

21. Use The Airport Lounges
If you're flying Business class or have been using a loyalty program (tip #4), then chances are you have access to a VIP lounge.
I normally use these prior to flying as they're quieter, and have food and drinks available free of charge, and faster and more reliable internet.
Side Note: First Class lounges are even kitted out with showers, which may seem weird at first (I thought I'd NEVER use them), but having used them on several occasions during long connections, I'm now a believer!
22. Eat Before Flying
One of the reasons people struggle to sleep during a flight is because they've just eaten, and often in an uncomfortable and weird sitting position.
If I have a night flight, I like to eat dinner prior to boarding, and then when I'm on the plane I can either work, sleep or simply enjoy the in-flight entertainment, but I try to avoid eating too much.
During Your Flight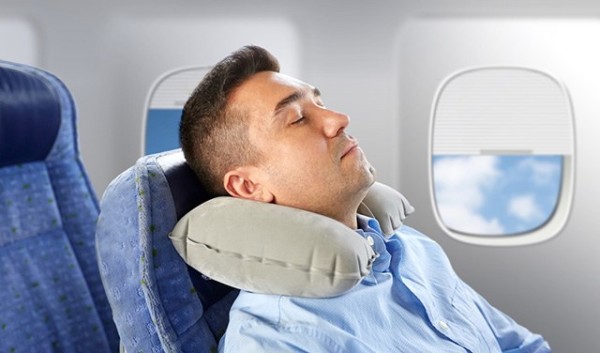 23. Stay Hydrated
Flying at 30,000 feet in an air-conditioned and pressurized cabin takes a toll on your body. One easy hack to get around this is to stay hydrated. Staying hydrated doesn't solve everything, but does take care of a good number of the stresses you'll be exposed to.
My simple hack here is to drink a minimum of 100mL of water for every hour you fly. So on a 10 hour flight, you need to drink 1L of water.
If you drink alcohol during your flight, then add the same volume of water as alcohol on top of the 100mL/hour trick.
For example, if your flight is 10 hours, and you have three glasses of wine, then at a minimum you should drink 1L of water (for the 10 hours) PLUS three glasses of water to compensate for the wine.
Try it out… see how it makes you feel 🙂
24. Sleeping Pills
I don't take pills that knock me out… but if I'm too alert or just really want to ensure I get some good sleep time, then I use CVS Sleep-Aid: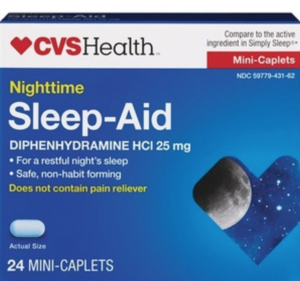 I've found that for me, taking this really has no side effects… I don't feel drowsy when I wake up, and it's not going to knock me out, it just means that I quickly go back to sleep if someone bumps into me or my seat, or if there is a lot of turbulence.
25. In-Flight Wi-Fi
More and more long-haul flights offer Wi-Fi these days, and it's getting more and more reliable as well.
If you want to work during your flight, then investing $15 to use Wi-Fi is just a no-brainer. On a recent flight I was able to knock out three hours of email replies during my flight… was that worth $15? Yes. I would have paid a lot more in fact!
If in-flight Wi-Fi is important to you, check whether or not your flight has it when booking your tickets.
26. Inflatable Pillow
Hopefully you're traveling Business class and won't need this, but if you are in economy, invest in a $10 inflatable pillow, it might help sleep better.
Carry On Luggage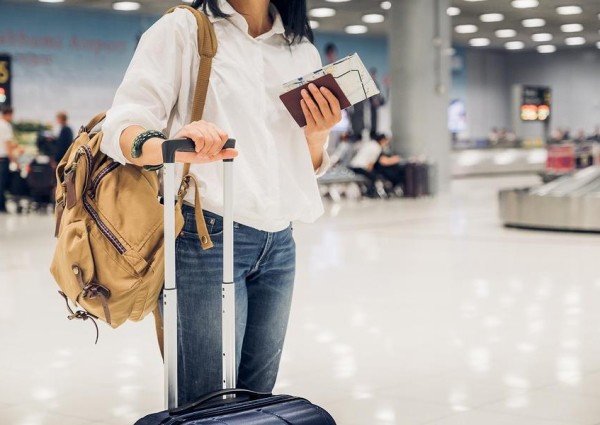 27. Suitcase versus Backpack
The great debate: is it better to travel with a 4-wheel roller suitcase or a backpack?
Here's my take on the pros and cons of each:
4-Wheel Roller Suitcase
Firstly, if you're going to use a suitcase, the 4-wheel rollers are FAR better than the 2-wheel options. Suitcases are better than backpacks when you need more packing space (they have more capacity) and don't want to carry anything.
Backpack
If I travel with a backpack, I make sure it's 'travel optimized', meaning it has special compartments for laptops, cables, and so forth.
Backpacks trump suitcases in terms of ease-of-access during security scanning (you can whip out your laptop in a couple of seconds), they can go at your feet during the flight for easy access, and are sometimes handy to have at the destination.
For me personally, if I don't need the capacity of a suitcase, I go with the backpack option.
In either case though, I always take a small backpack in addition to the big one (or the suitcase) which I refer to as my 'Day Pack'. This is what I keep handy during flight, and use when I'm out and about at my destination.
The 'Day Pack' (during flight, my 'Flight Pack')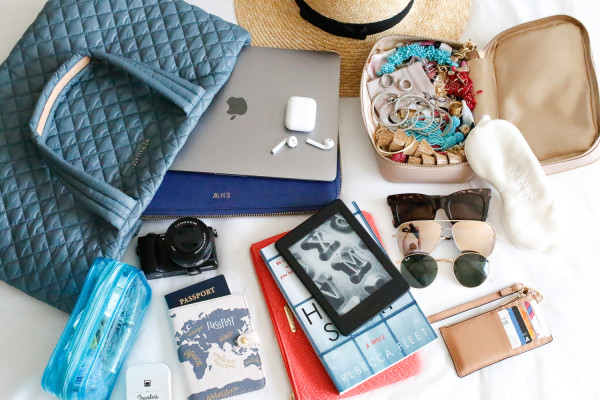 As mentioned above, the 'Day Pack' is something I use in-flight so that I've got easy access to everything I need (without needing to get my backpack or suitcase down), and is also handy once you're at your destination.
Here's a list of what my Day Pack has during flights…
28. Snacks
Just in case the in-flight food is terrible, or in case I'm hungry, I always have a couple of protein bars I can chow down on in my Day Pack.
29. Phone
I often use my iPhone to listen to music during the flight, so it needs to be included in my Day Pack.
30. Spotify
Not a physical item, but rather something I have added to my phone with pre-downloaded playlists for in-flight music entertainment.
31. Noise Cancelling Headphones
These are a must have. The constant engine hum or crying babies will drive you insane otherwise. I use Bose QuietComfort 35, and they're great. They're wireless, which is ESSENTIAL, as it means you've got one less cable to worry about.
Side Note: Having travelled with babies myself many times, I always feel for the parents who battle through long flights with babies in tow. As a parent, sometimes there's nothing you can do to console a crying baby mid-flight (especially when they're in pain or uncomfortable).
32. Apple Airpods
I love these things. I mainly use them while I'm walking through airports or in transit to and from airports. They take up zero space, and a full charge gives you plenty of juice for hours.
33. Multi-Plug Adaptor
When traveling in business you can plug your gadgets in, but sometimes you may need an adaptor, depending on what airline you're using. Having a multi-adaptor handy is also useful when passing through airport lounges.
34. Laptop
I take my MacBook Pro with me when I travel. I'm use to it, I can easily work from it, and it's not too big… it JUST fits in my Day Pack.
Side Note: Some of my friends prefer to travel even lighter, and take the likes of the 12″ or 13″ MacBooks. I don't have a second laptop, but if I did I think it's be useful when flying!
35. Ear Plugs
If you're traveling in Business, you'll get some of these given to you. If you're in economy, buy some before you leave (they'll cost less than $1). I don't actually use these, I prefer over-air noise cancelling headphones, but I know plenty of people who prefer inner-air noise cancelling.
36. iPad Pro (or other tablet)
This is a big part of my in-flight entertainment plan. I use my iPad to watch movies that I've previously downloaded (so I don't need to rely on the in-flight screen or movie options). I also use my tablet for reading using the Kindle app.
37. Netflix
Just like Spotify, you can add Netflix to your tablet (or phone) as an app, and download movies or TV shows prior to flying. It removes the chance of ending up on a long flight without entertainment.
38. A Good Book
From time to time I travel with a physical book, but normally I prefer an eBook on Kindle (saves space and weight, and can be read in the dark).
39. Glasses and Sunglasses
I always take these in my carry-on, as I'd hate to be without them at my destination if there was an issue with my checked baggage.
40. Toothbrush / Toothpaste
I like to brush my teeth after main meals on flights, it freshens me up, and is a good excuse to stretch my legs.
41. Meds
As a precautionary measure, I always carry a little pouch with an assortment of medications in my Day Pack (flight pack). This includes ibuprofen, paracetamol, sore throat lozenges, and other everyday meds.
From time to time these com in handy, and I have no idea why this is, but the airlines do not tend to carry these kind of household medications.
Luggage & Packing

Let's start with the actual suitcase.
 42. Large 4-Wheel Roller Suitcase
I recommend a large 4-wheel roller suitcase. The brand doesn't really matter, but you need something robust, with zips that won't burst open. I've used Samsonite for the past decade and have never had an issue.
Side-Note: If you're doing adventure tourism, you may want to use a hiking backpack instead of a suitcase. I convinced my wife that backpacking for 6 weeks in South-East Asia would be an awesome way to spend out honeymoon (it was!), and we each travelled with a big hiking pack. These are NOT good for living out of (a suitcase is so much more convenient), but they are great for people who are on the move, and need to walk with their gear from place to place.
43. Suitcase Inside a Suitcase
If you plan on going on a spending spree or buying anything sizeable at your destination, then taking a suitcase inside your main suitcase is a good option. It means you can travel to your destination with one piece of luggage, and return with two.
44. Packing Cells
A friend of mine told me about these a few years ago, and I've used them ever since. They help in a couple of ways, firstly by dividing different things into different little cells which makes it easier to find things at the destination (all socks in one cell, t-shirts in another, etc), and it also helps optimize bag space. These are a regular feature for me on every trip.
45. Roll Up Your Clothes
I don't do this with every item of clothing, but the roll-up trick can be useful for some types of clothes. I normally use the roll up trick for jackets and jeans which won't end up full of creases.
46. Travel Friendly Toiletry Bag (Dopp Kit)
I have a friend who travels with his toiletries in a zip-lock bag, but I like the benefit of having different compartments and a way to keep all my items organized. You can find hundreds of good options on Amazon. My preference (and this comes down to taste really) is to go with a hanging toiletry bag or a regular 'dopp kit' style design.
47. Approved Bag Locks
I lock my suitcases with approved locks. This is probably mainly paranoia, but I know that if someone wants to get into my bag, they'll have to do it by opening the lock… it won't be easy for anyone unauthorized baddie to do that.
As I'll discuss later, these locks come in handy at the destination as well.
At Your Destination

The final set of tips I have are related to the destination.
48. Open Table App (or similar)
This is handy for booking dinner reservations without needing to call anyone. A couple of clicks on your smartphone, and you can have a table reserved (you can also see reviews from other customers).
49. The Las Vegas Room Upgrade Trick
An oldie but a goodie. When you check in to a Las Vegas hotel, slip the receptionist a tip IN ADVANCE for her help, and at the time of giving them a tip, as if they've got any upgrades available.
I've used this on several occasions, they biggest win for me came when I was staying in Las Vegas (in The Vdara) for 3 weeks. I gave the receptionist a $100 tip and they upgraded my regular room, to an enormous corner suite on the 52nd floor. They ALSO gave me vouchers for the lobby deli, and upgraded me to their premium wifi… so I actually SAVED money, as I would have been using that deli and upgrading to the Wi-Fi anyway.
50. City Mapper App
City Mapper is a free app that shows you the best ways to get from A to B once you're at your destination. It analyzes different means of transport and traffic, and shows you how long each option will take. Here's an example screenshot: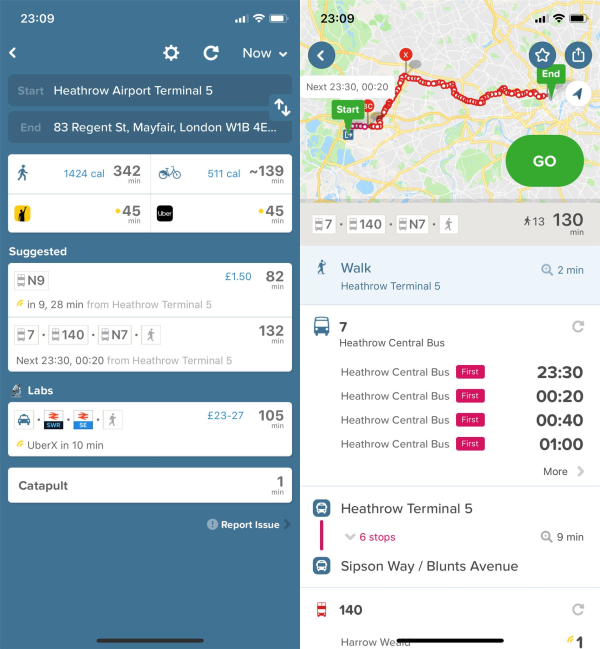 As you can see, it shows me how to navigate through a subway system and where I'd need to walk.
It's simple, and works offline (as long as you've done the search while connected to wifi). This doesn't work in every city, but most major cities are now included.
51. Local Sim Card
Depending on your Roaming plan, you might not need this. Given that I travel to the USA regularly, I have a USA Sim Card which I slot into my phone before I land. It means I have data the moment I land, and the ability to use the likes of Uber, make calls, and just be connected in general (and since I use a local Sim Card while in the USA, it's dirt cheap).
52. VPN (Virtual Private Network)
I use a VPA to ensure I don't get locked out of different accounts. For example, if I try to login to PayPal while outside of Argentina, there's a good chance it'll lock me out. Facebook is now doing something similar (at least for me), where it requires multi-factor login steps if I'm logging in from outside of Argentina. A VPN can side-step these issues.
Side-Note: Using my VPN also means I can watch my regular Netflix shows if they are not shown in the countries I'm visiting.
53. Yelp & Trip Advisor
I use Yelp to find places to eat and Trip Advisor to find things to do. Both give reviews from other traveler, so I can normally avoid bad experiences.
54. Lock Down Valuables At Hotel
I always make use of the hotel in-room safe for my passport and other valuables. If I have my room cleaned, I normally also throw a travel padlock on my bag.
This might sound like an extreme measure, but I've heard horror stories of things going missing from friends who travel a lot… better to be safe than sorry!
55. Get Out And About The Day You Arrive
This is especially important when changing time zones. Getting out and about, and especially getting sunlight, is the fastest way to reset your body clock and eliminate jet lag and tiredness.
56. Get Some Exercise The Day You Arrive
In addition to the tip above, getting a workout in will further speed up getting over jet-lag (or even eliminate it altogether).
57. Enjoy
It's easy to get stressed out when traveling, try to relax and go with the flow. There are plenty of things you can control, but even more things that are beyond your control. I always remind myself that it's a privilege to be able to travel, and to enjoy myself as much as I can regardless of whether everything unfolds according to plan or not. 
There you have it, my 57 travel hacks!
Don't forget to download the free report which shares my TOP 4 tips, you can get that by clicking the button below:

What have I missed?
What do you swear by when traveling?
I'd love to know, and as always I'd love to read any comments or thoughts you may have, so comment below 🙂
To safe and enjoyable travel!
Aidan Booth