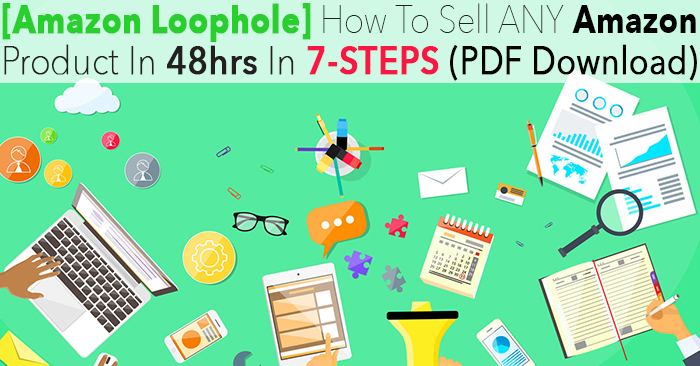 Hi, and WELCOME to the '1st of the month' update to AidanBooth.com for December 2015!
Today's blog post is SHORT… but it's accompanied by a 26-page 'scientific ad strategy' report that explains a systematic process that ANYONE can use to send hyper-targeted traffic to, well… anywhere!
If you're selling any physical product online, doing ANY kind of Facebook advertising, or simply want to understand about conversion tracking and audience segmentation, then it's a 'must read'!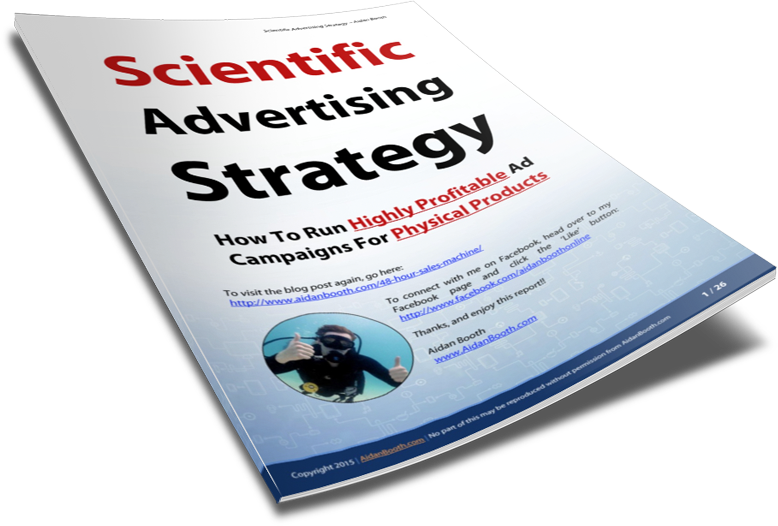 The method I'm sharing today is something I've NEVER ever spoken about before.
It can be used by ANYONE to drive sales and build an online income stream:
You don't need to be an Amazon seller
It doesn't matter where you live.
What I've got for you today will HOPEFULLY have light-bulbs firing inside your head…!
You're about to learn about an eCommerce strategy that is equally effective for people who have their OWN physical product as it is for affiliates (or people with no product at all).
It revolves around Shopify (but any kind of eCommerce platform would work, including WordPress), and how you can build a brand new eCommerce store which can begin to generate income in under 48 hours. We've used this basic strategy several times now, and it works like clockwork.
'48 Hour Sales Machine' Process
Here's a 'birds eye view' of the process:
Find a product that you want to sell
– This can be your OWN product, or a product you have no ownership of whatsoever (someone else's product)
Build a simple store with pictures and information about the product
Choose the product sell price
Send hyper targeted traffic to your store
Accept payment for the product on your store
Ship the product to the customer
Identify and scale the profitable traffic channels
The Shopify 'Loophole'
When most people think of Shopify, they think of an eCommerce platform for people who have their own physical products to sell.
And for the most part, these are the people who are using Shopify.
There is however an off-the-radar way to use Shopify that I've never heard anyone talking about before…
It's a 'hybrid' eCommerce strategy that allows you to sell other peoples products on Shopify without having any special ownership or any special access to the product…
Here's the key…
Shopify does not distinguish between someone who is selling their OWN product, and someone who is selling someone else's product.
For example, you could sell other peoples products on Shopify as an affiliate and Shopify would never know (and they wouldn't care, it's a 100% legitimate way to sell on Shopify).
Here's An Example
Here's a more graphic example of how the system works (the process is virtually the same if you're selling your OWN product, or if you're selling someone elses product)…
1. Find a niche product that you want to sell
For example, this 11-piece tea set: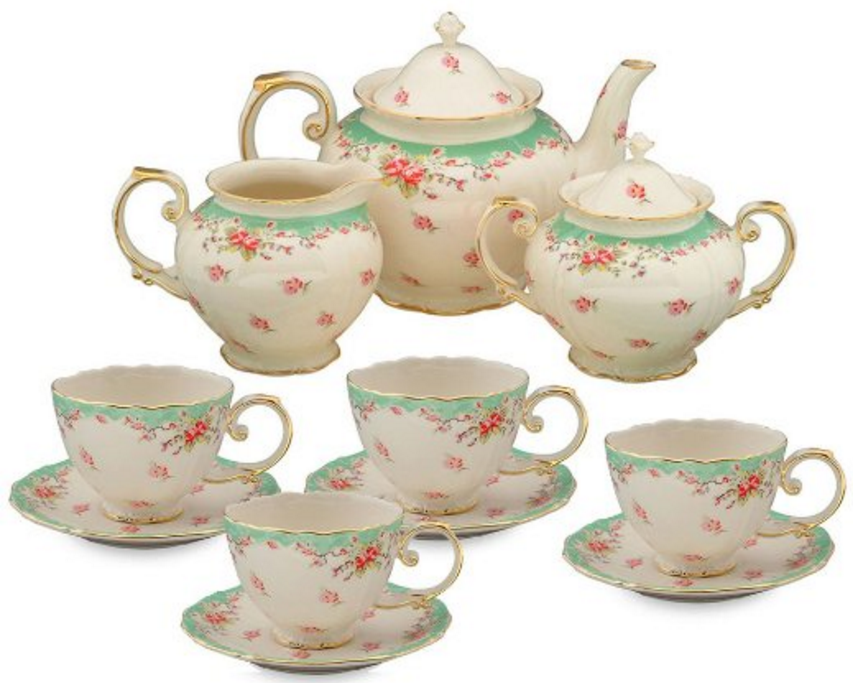 http://www.amazon.com/Gracie-China-Coastline-Imports-Porcelain/dp/B004PGM3B4/
This could be a product you own and developed, or it could be a product you have NO ownership of whatsoever. The process works in both cases.
2. Build a simple shopify store with pictures & information
For example, you could build a store like this: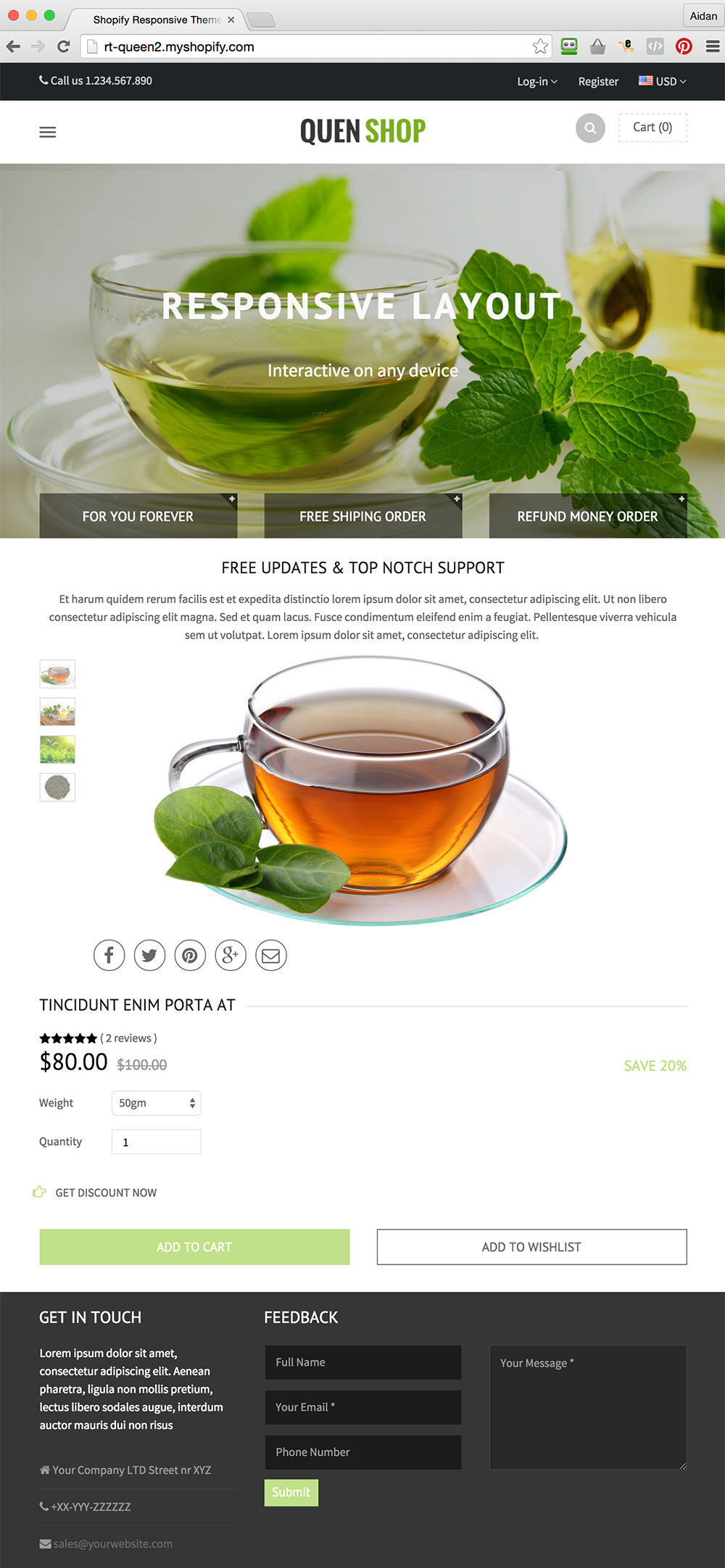 Click here to see the live demo store
NOTE: You don't need a big product catalog, even just one single product is fine (the site shown above is a one-product eCommerce store).
3. Choose the product sell price
If the product is yours and you developed it (for example, in China), then you'll be buying at wholesale, and selling at retail to make a margin.
If the product is NOT yours, it's simply something you've found on Amazon which you think would be cool to sell, then you can just price the product a little higher than what you can buy it for.
For example, the 11-piece tea set above sells on Amazon for $69.25. If I were to buy this as a consumer, I could add a margin to it ($15) and then sell it in my own store to make a profit. I could buy it on Amazon for $69.25, then sell it in my own store for $84.25 (a $15 markup in price).
4. Send hyper-targeted traffic to your store
You can do this in a range of different ways:
Facebook Ads
Google SEO
Pinterest
etc
Facebook is the easiest and fastest way to start, I'll show you how in a second.
Click here to download the 'Scientific Advertising Strategy' report for the detailed process map
5. Accept payment for the product on your store
Shopify can accept payments via Credit Card using Shopify Payments (powered by Stripe), or simply through Paypal. Both options can be instantly set up (without any special acceptance procedure) and both options work just fine.
6. Ship the product to the customer
Once you've made the sale, you need to ship the product. You've got a couple of options here:
If it's your own product, then you can fulfil the order as you normally do (if you're already selling on Amazon, then just use Amazon FBA… it can be 100% automated).
If the product isn't yours, you can personally buy the product on Amazon (or wherever), and send it to the person who purchased on YOUR website.
7. Identify and scale the profitable traffic channels
Now that you're making sales you need to work out your ROI. Measure the ROI for each traffic channel, and scale the ones that are profitable.
***MISSION-CRITICAL STEPS***
Step #4 and Step #7 (above) are absolutely CRITICAL to this process working. Thankfully, both are 'scientific' processes based on numbers and raw data.
I've created a 26-page report called the 'scientific advertising strategy' that walks you through the entire process.
The report covers:
How to build a Facebook Fanbase (and why it's OPTIONAL for this method)
The 3-types of audiences, and why #1 are the people you MUST target
The 10-step conversion tracking system (this is critical to measuring your ROI)
The 4-part ad setup process (and 20 detailed mini-steps so you can easily replicate the process)
The '8 ad segmentation rule', and how it siphons off the more lucrative audience EVERY time
How to use Facebook's '5-image ad' option (and the types of images that work the best)
And MUCH more…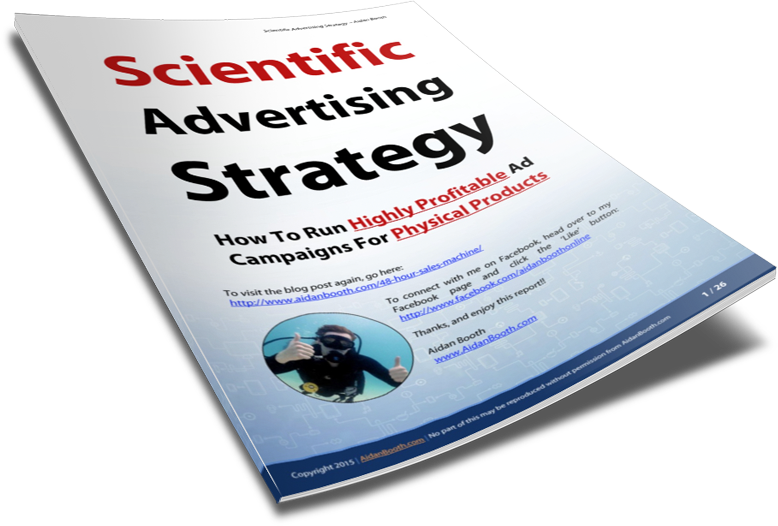 A Few Common Questions
When I've explained this method to my friends and private students, these are the most common questions I've got back…
Won't the product owner (Amazon seller) be annoyed that you're selling their product?
No. Why would they…? I'd LOVE someone to do this for our products! You're buying at FULL price and selling at a margin. They will be happy for the extra sales!
What if you sell someone elses product but are then unable to fulfill it because it's out of stock?
Normally you can find each product through multiple channels… if it's not on Amazon, it's on eBay. If it's not on eBay, it's on the brands own website. If however you absolutely cannot find it, just refund the buyer and say you're out of stock. No harm done, everyone is happy.
How does Shopify pay you?
Depending on how your Shopify account is set up, Shopify will pay you direct to your bank account, or direct to your paypal account.
Do you need to be in the USA?
No. Take me for example… I'm a New Zealander living in Argentina, and the process works FINE.
What about returns?
Returns can be sent to YOU, or directly back to Amazon (since the product was technically purchased through Amazon anyway).
If you have a question you want answered, leave a comment below…
Coming Soon…
We have some VERY exciting things in the pipeline over the next couple of months, including…
The '12 Day Giveaway' Is BACK!
Our annual '12 Day Giveaway' is just a few weeks away! Last year we gave away over $10,000 in prizes, as well as 12 days of rock-solid content.
This year we're doing it all over again, but with BIGGER prizes and BETTER giveaways!
Click Here To Register For 'The 12 Day Giveaway' Prize Draw Now
Questions? Comments?
If you've got a question or a comment about the content today, or anything else, leave it below!
Thanks for reading,
Aidan