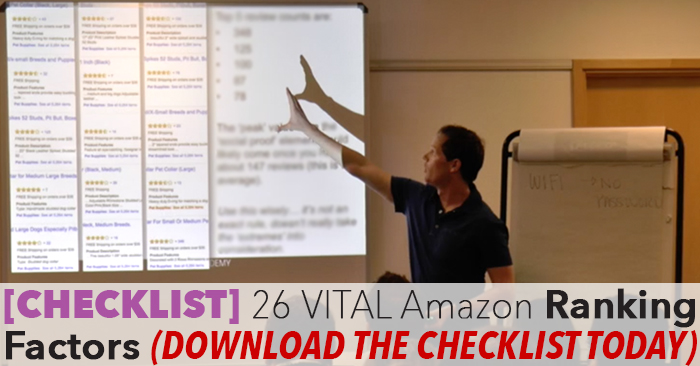 It's the 1st of November, which means that it's time for my monthly blog post!
This month the topic is:
26 Critical Amazon Ranking Factors
In today's blog post you've got access to:
We'll get to the content in just a moment.
Firstly though, if this if your first time here, WELCOME!!
The way this website works is that on the 1st of each month, I release a new blog post about something related to what we do in our business. I've been doing this since May 2012…
I try to make the blog posts as valuable and 'actionable' as possible, and they're all based on things we do in our business (not theory, but 'real life' experiences).
I hope you enjoy my website, and I encourage you to take a look around as there's much more for you to discover.
Since today's post is specifically about selling physical products on Amazon, here are a few links to other blog posts that are also related to Amazon:
Click here to see the full archive
69 Minute Presentation (from our London event)
Please allow 20 seconds for the video to load.
Video not loading? Click here to watch it on YouTube
The video above was filmed at our Blueprint Academy mastermind event in London. The Blueprint Academy is a program we've been running for two years now, where we provide personalized support to a small group of determined online-business entrepreneurs. Steve and I meet face-to-face with Blueprint Academy members four times each year, as well as providing unrestricted access to our teams in China and Pakistan, as well as unrestricted access to Steve and I (Skype meetings, emails, etc).
Download The Amazon Ranking Factors Cheatsheet + Presentation Slides
Before you leave today, click the button below to access the Amazon Ranking Factors Cheatsheet and Presentation Slides:
Got a Question? Feedback?
I'd LOVE to hear your feedback about this blog post, or to answer any questions you may have!
Leave a comment below, and if you've got any questions, let me know. All comments get published, and I read them all!
Thanks for reading,
Until next time!
Aidan
P.S. If we're not already connected on Facebook, head over to my page and click the 'Like' button 🙂