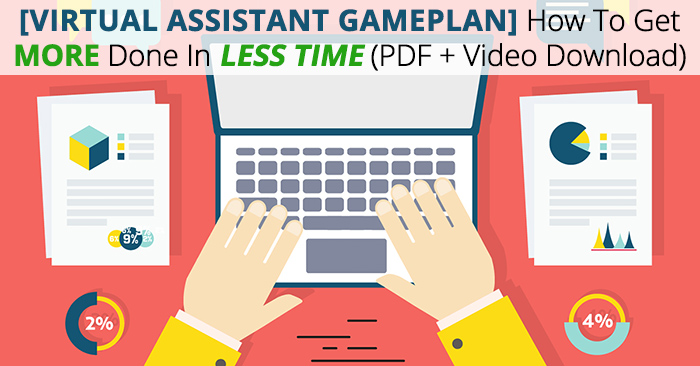 Hi, and welcome to the 1st of June 2016 monthly blog post on AidanBooth.com!
I started my online business in 2005, and by 2006 I was doing 'okay'. Earning enough to pay the bills and a little bit more as well.
2007 was the year when my business exploded… one of the main reasons my business grew so much in 2007 was because I started hiring Virtual Assistants (VA's).
Back in 2007, I realized that time really WAS money, and I needed to find a way to get more done in less time.
I also liked the idea of being able be enjoying an exotic holiday somewhere while other people were growing my business for me… it's not a dream, hiring a VA or simply outsourcing tasks makes this a reality!
Instead of slogging away getting about 20 hours of work done each week (while working a boring 9-5 day job), I started getting more than 20 hours of work done each DAY, and my income skyrocketed as a result.
Today I'm going to share my experiences working with Virtual Assistants. You'll find out:
What kinds of jobs a VA can do
Things you need to do BEFORE hiring a VA
Where to find a good VA
How to hire a VA (without risk of being scammed!)
How much to pay a VA
Companies that specialize in offering VA services
How to track how much your VA is working
How to filter through VA proposals
How to manage your VA's tasks
How to effectively communicate with your VA
How to grow a TEAM of VA's
You can also download a 60-minute training session all about Virtual Assistants that Steve has put together, as well as the PDF version of this blog post, click the button below: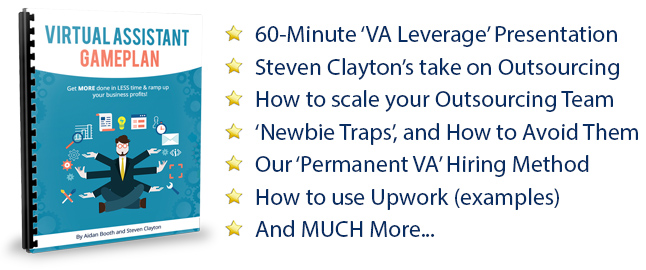 First Time Visiting This Website?
If it's your first time visiting this website, WELCOME! Browse around, there's over 4 years of content on here, some of my recent posts include:
Let's now dive in to how to leverage a VA to explode your business…
What Kind Of Jobs Can A VA Do?
Pretty much ANYTHING you can imagine.
The talent at your disposal will blow your mind… here are a few examples of the kind of jobs you can outsource to a VA:
Market/Product Research
Market Analysis
Proof Reading
Email Promotions
Writing (sales letters, blog posts, eBooks, etc)
Accounting
Blog Posts
Travel Planning
Design
Contact Management
Website Building
Split Testing
Facebook Ad Campaigns
Customer Support
Link Building
Technical IT Support
Networking
There's really no limit to what you can hire a VA to do.
Note to 100k Factory Ultra Edition members: If you're participating in the 100k Factory Ultra Edition program, consider the power of hiring a VA to do all of your product research, product descriptions, website setup, and Facebook ad campaigns… you'd free up a HUGE amount of time even if you just got a VA working on ONE of these things!
Things you need to do BEFORE hiring a VA
Having first-hand knowledge and experience of the job you want to outsource to a VA will help you get the absolute best results.
First hand task knowledge or experience will allow you to:
Easily estimate how long a job should take to complete (so you can plan your budget and manage your own expectations)
Gauge the quality of the work that's being done for you and the overall performance of your VA
Hire the best person for the job (because you'll be able to ask intelligent questions to gauge the VA's current understanding
Do a better job of training your VA
If you're not experienced in what you're outsourcing, the next best thing is to have a clear idea of what the end result should be… this is really the minimum requirement when hiring a VA. To know what finished looks like.
If you need to train your VA, the simple process we use for repetitive task training is:
I do it (you master the task yourself)
We do it (you and the VA work together to complete the task)
You do it (the VA does the work without your help)
This works well, but is really designed for jobs that will be done over and over again. For 'one-off' tasks, you should look for a VA with prior experience, or the ability to quickly learn on the job.
Where to find a good VA (and how much to pay!)
When it comes to finding a VA, you've got a couple of options:
Use a VA staffing company
Hire one yourself
Here's a list of a few of the best VA staffing companies who can provide you with a Virtual Assistant and help streamline the management of your VA:
Here's an example of the typical plans that are offered by these types of VA staffing companies: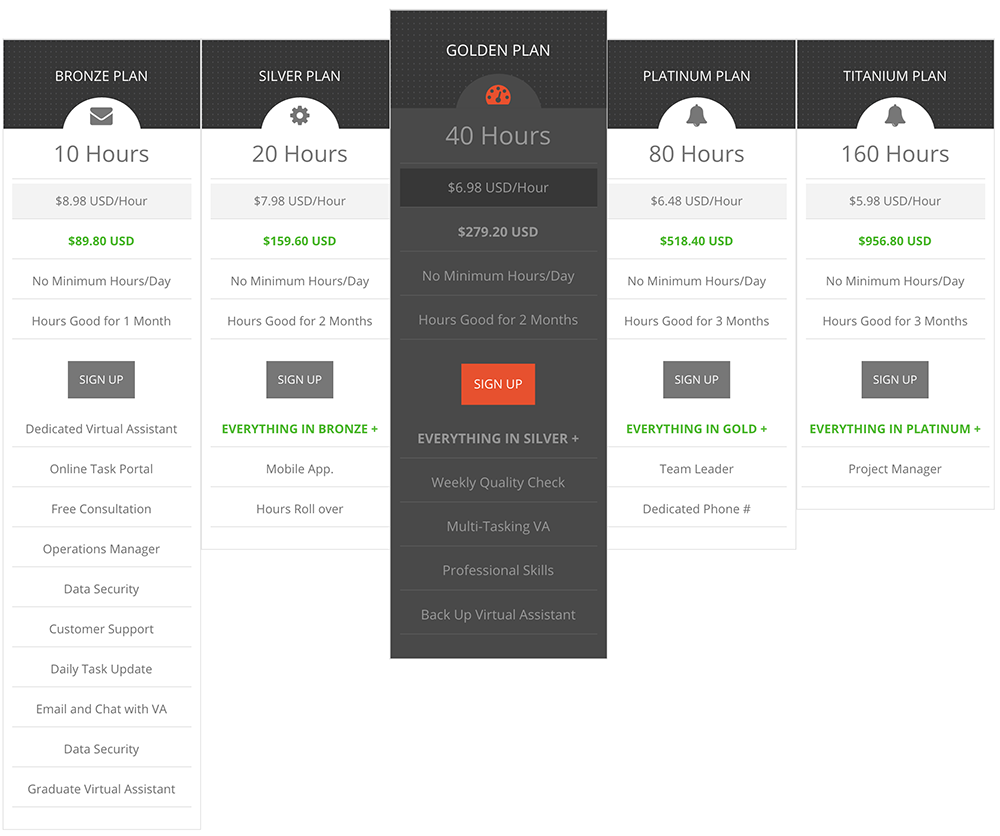 Image taken from: http://www.yourdailytasks.com/virtual-assistant-hourly-basis.html
VA staffing companies are a great option if you want to speed things up and have help in finding and managing your assistant.
They're also great if you want to be able to change your VA from time to time or quickly scale or downsize your outsourcing tasks.
The downside of using a VA staffing portal like the ones mentioned above is that it costs more (obviously these companies charge you a fee to use them), and it means you can't build a personal long-term relationship with one person.
If you want to hire a VA yourself, these websites are a great place to start:
If you're going to take the 'DIY' route, then I recommend you read my Elance case study:
Elance is now Upwork.com, but my case study is still very relevant to hiring a VA, and it outlines many of the challenges you'll face along the way.
If you've decided that you want to hire your own VA, I recommend you focus on hiring someone based in the Philippines.
In my experience, employees in the Philippines are highly educated and diligent workers. You can have a full time assistant for between $400 – $800 per month (that'll get you 40 hours per week).
This is less than half the price you'll pay to use a VA staffing team, but you'll need to manage everything yourself (it's not that difficult).
Like anything in life, you get what you pay for. If you go for the cheapest option, you won't get as good results as if you pay a little more.
How to hire a VA (without risk of being scammed!)
If you're using any of the VA staffing services mentioned above, you'll be given some guarantees of what to expect, make sure you read these carefully, and if you've got any doubts simply ask them for clarification.
The VA staffing services often proactively check that you're happy with the work being done, and if they know you're a potential long-term client, they'll go out of their way to ensure you're well looked after.
If you're taking the DIY route, then you're 100% protected by Escrow.
Escrow is a payment service that protects the employee, and the employer (you). The basic Escrow process is as follows:
You hire a worker
You deposit 100% of the job cost into an Escrow account (it's easy)
When you're happy that the job has been completed, you release the funds to the worker
This process protects both you and your VA.
The absolute KEY to any kind of outsourcing is to have well defined tasks. You need to clearly communicate what 'finished' looks like so that the VA knows your expectations on day 1.
Failure to clearly explain what you want done ends up being a complete nightmare… take the time to make your expectations crystal clear by defining exactly what you want done, when it needs to be done by, and any other important job specifications as well.
How to filter through VA proposals
If you're hiring your own VA (as opposed to using a VA staffing service), then you'll need to filter through applicants.
Here are a few important tips:
1. Check work history and reviews
As generous as you are, hiring a VA is a business decision and you shouldn't be the person 'testing out' new talent. Only hire people who have a proven track record and a history of good feedback and reviews.
2. Ask questions and monitor responses
Asking the applicants questions will give you an idea of how responsive they are, and the experience they have. If an applicant takes a long time to reply, then chances are they'll also be slow to reply when they're working for you. Asking basic questions is also a great way to gauge the experience and knowledge of a worker.
3. Ask for examples of past jobs
If your VA applicant has experience, then they should have no trouble in giving you examples of work they've done in the past.
In addition to vetting your applicant before you give them a job, you can also start with small jobs and scale up.
You should never hire a VA on a full time basis without having any experience in working with them!
Want to hear Steve's take on this? Then make sure you download the Video presentation and the PDF:
How to track how much your VA is working
If you're hiring the VA yourself (not using a staffing service), then you have a couple of tracking options…
Monitor nothing
Carefully monitor exactly what your worker is doing
It might sound crazy to monitor nothing, but this approach works fine for task based work where you're paying for an outcome.
For example, if you have a VA, and you're paying them $50 to complete a product research project, then you simply pay them when the work is done.
Task based outsourcing is the BEST way to start when hiring a VA.
If on the other hand your VA is working on open-ended tasks or much bigger projects, then you might want to consider using a tracking platform such as www.HubStaff.com.
Hubstaff allows you to:
Track the time a VA is working
Send you screenshots of the VA's monitor (so you can see what they're doing)
Track websites visited by your VA
Communicate with your VA through the built-in message portal
Monitor your VA's mouse movement patterns
And MUCH more (you can even track your VA using GPS if you want to!)
HubStaff also allows you to manage a team, and make mass payments to your team, so from a high-level management standpoint, it's also a good option.
Trust is VITAL for a long-term productive relationship with your VA, so be reasonable and flexible. Obviously you don't want to get ripped off, but some VA's simply will not like sharing their every movement with you (which is understandable).
How to manage & communicate with your VA
We've tried a wide range of management tools over the years, including:
Basecamp
Asana
HubStaff
EverNote
Skype
Slack
Email
And a range of others
If I could give you one big tip here, it'd be to KEEP IT SIMPLE.
It's easy to overcomplicate things and go with the most advanced project management tool that exists, but that's going to be overkill for 99% of the people reading this, especially when you're starting out.
I recommend you get started with a combination of Email and Skype.
Send your detailed job descriptions through email, and use Skype for 'on the fly' questions that pop up.
NOTE: If you're using a VA staffing service, you may be forced to communicate through their platform.
If you expand to working in a team, then consider using Slack.
If you've hired a full time employee and expect them to work with you for a long period of time, consider using HubStaff.
How to grow a TEAM of VA's
To truly scale your business, you'll probably eventually need a team of VA's.
In our business, we've got several teams of full time employees that work on different parts of our business and in different companies we own.
Our ultimate goal is always to hire someone to manage the people we hire. This takes us out of the loop, and means we're not bogged down managing people, so we can focus more the more strategic operations of our overall business (instead of micro-managing tasks).
Don't rush in to hiring a team… hire them as you need them, and don't be afraid to let people go when you need to either. We normally hire people as contractors, which gives us the ultimate flexibility to expand or shrink our team as we need to, it also means we're not responsible for paying the employees (contractors) tax.
Create Your VA Action Plan
If you like the idea of being able to get 20 hours of work done per day while you're lying on a beach somewhere, or you simply want to accelerate your online business growth, here's how I recommend you get started:
1. Make a list of all the tasks you currently do in your business.
For example:
Product research
Image creation
Facebook audience research
Website setup
Accounting
Article/description writing
Planning
2. Identify the jobs that you hate, the jobs you're not very good at, or the jobs that you think you could easily outsource.
For example:
Facebook audience research
Website setup
Article/description writing
3. Go to Freelancer.com or Upwork.com and post a job to hire someone to do one or all of your tasks you identified in step 2.
4. Monitor your workers performance. If you're satisfied, re-hire them for something else. If you're not satisfied, go back to step 3 and hire someone else.
5. If you have a huge amount of ongoing work, then consider hiring a VA. First though, go through steps 1-4 above so that you get familiar with the process.
Don't be intimidated by this, it's EASY, and it'll help your business grow to the next level.
Don't forget to download the video presentation and the PDF: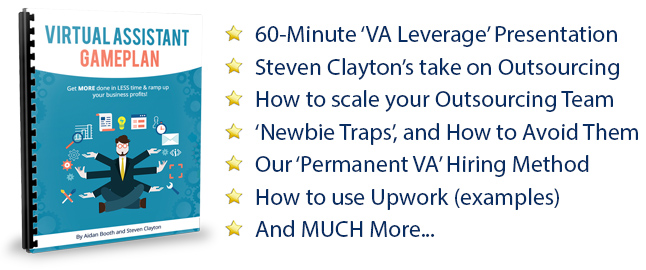 Do you have experience outsourcing?
If you've used a VA at some point, or have outsourced jobs in the past, I'd love to hear any tips or management tricks you've picked up.
If you've got a question about any of this, leave a comment below, and I'll answer it.
Thanks for reading, visit again soon!
Aidan